« Saturday Politics Thread: Familiar Faces (Romney, Ryan, Huckabee, Palin) [Y-not]
|
Main
|
College Football Satursday »
October 11, 2014
Saturday Gardening Thread: Duck and Cover [Y-not and WeirdDave]
Greetings gardeners! Welcome to your Saturday Gardening Thread.
Today's thread is brought to you by pumpkins: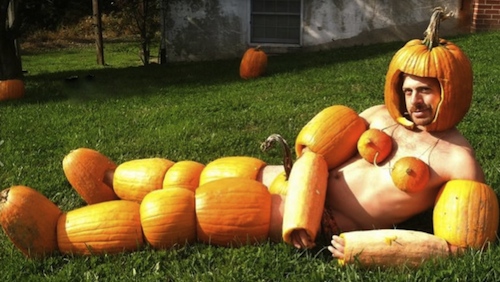 It's hard to believe that we're closer to Christmas than we are to Independence Day, but there you have it. Where did the Summer go?!
Although we are still harvesting some tomatoes and peppers here, it's time to roll up our sleeves and do those Fall chores before it gets to be too cold to work in the yard. Here's a handy list from "Dr. Green":
Clean out old annuals and weeds before seeds drop.

Cut back spent perennials that create hiding places for slugs, snails, and other pests. Prevent problem seeds from spreading.

Leave dried flowers, ornamental grasses, and seed heads that look good and provide food for birds.

Plant a fall cover crop.

Build a simple compost bin for fall leaves. Add fresh leaves and grass cuttings to your compost and cover until spring.

Rake up and dispose of leaves around roses, apple trees, and plants susceptible to powdery mildew and other pests and diseases that overwinter on debris.

Remove diseased tomato, potato, and squash foliage to prevent disease. Do not toss these plants in the compost. Bag and discard.

Remove dead branches from roses and fruit trees (no pruning yet).

Mulch the garden with chopped-up leaves and grass clippings.

Plant spring bulbs.

Clean tool blades with vegetable oil and handles with sandpaper.

Kick back.

OK, we've done some of these things at Casa Y-not. (Particularly the LAST item on that list!) We've also had our lawn fed and aerated, so now our yard is littered with "dirt turds." The dogs love them!
"Cover crops" referenced in the list above are a new concept for me, so I thought I'd do a little "digging" (har har). This article from the National Gardening Association seems like a good primer:
Most gardeners know about the benefits of adding organic matter to the soil. Many of us build the soil with annual applications of compost, manure, leaves, and grass clippings. However, in some areas, these forms of organic matter may be difficult to find or transport, making cover crops an especially good way to add organic matter. Plus, cover crops allow you to avoid importing soil amendments. By growing your own organic matter, you eliminate the fossil fuels needed to transport imported amendments, helping to make your yard a closed loop of energy inputs.
Although this article talks in terms of doing the planting in September, it might not be too late for some of you to choose and plant a cover crop:
To decide which cover crop to grow, consider your region, the soil's needs, and your tools. To help novice gardeners, some seed companies sell mixes of grasses and legumes. Planting mixes is the easiest way to sow cover crops. Here are some examples of cover crops to grow in warm- and cold-winter areas.

Hardy legumes increase soil nitrogen and organic matter. After a slow fall start, they grow rapidly in March and April and may not mature until May in some regions. Mow these cover crops in spring at or before flowering, then till them under.

The tropical legumes below grow quickly in fall to increase soil nitrogen and add abundant organic matter, but need warm growing conditions. Plant in late summer or early fall in the Southeast and Southwest before winter cover crops. These are best grown as summer annuals in the North.

Grasses grow quickly, tolerate cold, increase organic matter, and improve the structure of compacted soils. They also control erosion but don't increase nitrogen. Mow these annual grass cover crops in spring before seeds set, or till under.

Other annual cover crops such as buckwheat, mustard, and phacelia aren't ordinarily considered fall crops. They increase organic matter but not nitrogen.
Follow the link for specific plant recommendations.
It may be too late for me, but I'm kind of tempted to grab a bag of mixed cover crop seeds and toss it in my beds.
While I was looking for images of cover crops, I uncovered some articles about red clover, an edible cover crop that may also have medicinal value. It certainly is beautiful: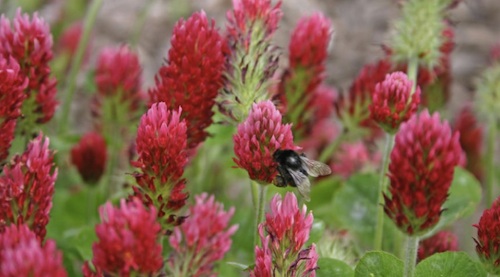 Speaking of Fall, guess what's coming NEXT:
The 2014-15 winter could also be strongly influenced by the warm pool in the northeast Pacific if it persists going into the winter months, and based on some of the things that I have been looking at, chances are good that it will. This would likely lead to another brutally cold winter in the central and eastern United States while the western U.S. would have above average temperatures, particularly in the Pacific Northwest. The good news is that I think central and southern California will receive above average precipitation, and that is due to a developing weak El Nino that will not necessarily be the main driver of this winter but will have some influence. This also means more precipitation across the southern states including the Southwest through the Southern Plains to parts of the Southeast. The regions where the cold air will be in place will have an increased chance at seeing more wintry weather this season, even in locations that typically don't get any snow/ice.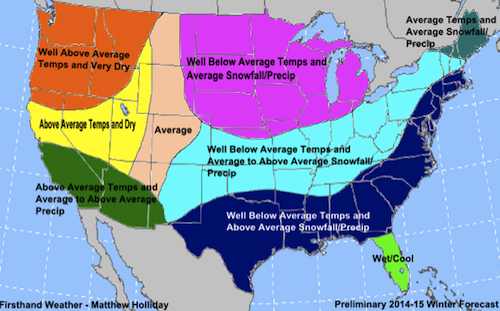 Brrrr!
And now, here's WeirdDave!
Last night I had the first fire of the season, so that must mean that winter is coming. As gardeners, that means our job is done. Time to kick back, enjoy the vegetables that we've put up for the winter, and plan for next year. Or does it? Better Homes and Gardens has a few tips for winterizing your garden.
Putting the garden to bed for the winter is mostly a matter of cleaning up and covering up. As fall progresses and temperatures drop, those plants that aren't killed outright by frost prepare for dormancy. Clear out the blackened stems and foliage of annual flowers and vegetables to prevent the possibility of their harboring disease pathogens and insect eggs over the winter. The cool weather is a good time to make a cold frame, dig and box in raised beds, and make general repairs.
Pretty straightforward stuff. Still, winter gives us an opportunity to prepare for next spring, and if we're smart about it, maybe get a jump on the growing season. Sure, you could bulldoze the garage and put in a greenhouse, and if that's your plan, by all means hop to it. Please send pictures for a future thread. Since that seems a little...extreme, how about making a cold frame? A cold frame is a little greenhouse, and a solid one will let you get a good month on the growing season in the spring. You can find lots of plans here. I've been meaning to make one for a couple of years now, but I keep forgetting. I scrounged a couple of old windows from a house that was being renovated years ago, maybe this year I'll actually build one. Maybe the moon is made of green cheese, wouldn't that be awesome?
How about a compost heap? I have a compost heap, it's the section of the woods where I dump the bagger from the mower. As compost heaps go, mine has the advantage of being non-existent. So why don't I go out there and drive a few fence posts into the ground, run some chicken wire and remember to fork it over every few weeks? Why don't I? Because I'm lazy, that's why. Still, it's an idea. I might just do it. This year. Or next. Sometime before I die, anyway. Maybe after, it's not like I'll have a lot to do then. It's a thought, anyway.
Winter is also a good time to repair and clean your tools. Did you know you should sharpen your shovels? Yea, me too. Have you ever sharpened your shovels? Me either. Here's a guide.
Don't forget the power tools. Power tools need to be stored properly. Drain the fuel from each of them, then replace it with gas mixed with a winter stabilizer. Run the tool until the new, stabilized gas replaces the old gas in the carb, then shut it off. Sharpen the mower blade, and store the tool in a place protected from the elements (I'm looking at you Y-not). What are the chances that I'll do this? I'll let you guess for yourselves. Anyone with a positive number goes to the back of the line.
So, those are my ambitious plans for the winter. They should keep me busy, unless I buy beer or something unlikely like that. We'll see how it goes.

Y-not: Thanks for that, WeirdDave!
Finally, this week we're lucky to have a contribution from Misanthropic Humanitarian:
Thought I would send some photos of Wisconsin flowers in October.
Red/Pinkish is sedum. The others show Black Eye Susans, Shasta Daisys, AZ
daisies and shamrocks. The dried up ones are Star Blazers. We've had our
first frost this week.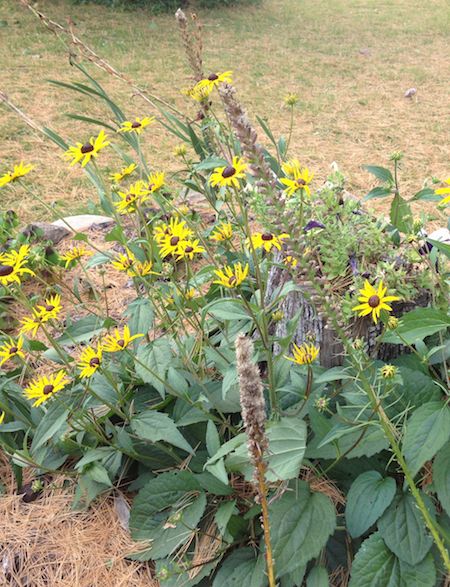 Y-not: Those are lovely. Thanks, MH! I have a weakness for my home state of Maryland's state flower.
To wrap things up, here's Doris Day:

I think it's time for a Summer's End Brag Post. So send me your "brags" in the form of pictures and stories about your gardening triumphs at my g ma il address, bailesworth or at my Twitter account, moxiemom. If I don't get some pictures of rudely-shaped squashes, I'll be really disappointed!

**UPDATE:
SW Ohio MoMe, now just a week away:
Saturday, October 18 in Beavercreek.
Interested? Email swohmome AT mail DOT com for details and to RSVP.**


posted by Open Blogger at
10:35 AM
|
Access Comments