« Early Morning Thread 2/14/15: Saint Valentine's edition. [krakatoa]
|
Main
|
Fundamental Concepts - Less Than Zero(sum) [Weirddave] »
February 14, 2015
Saturday Politics Thread: Labor Policies, Part I [Y-not]
Good morning! Over the next two weeks I'd like to examine the candidates' records with respect to labor laws, focusing in particular on unionization. This has been a hot topic for several years now.
To my recollection, the person who first put this on the map nationally was Chris Christie when he took on the teacher's unions in New Jersey way back in 2010 (a battle that is still ongoing).
More recently, Scott Walker has become a hero on the Right for his battles with the public employee unions in Wisconsin (more about that later).
This topic is huge, so I've decided to divide it into two (I hope) posts, otherwise I will wind up paying short shrift to the candidates' records and accomplishments.
To get us started, here's a bit of background from National Affairs:
The effects of public-sector unionism can be grouped under three broad headings. The first centers on compensation, which includes wages, pensions, health care, and other benefits easily valued in monetary terms -- the core issues at stake in collective-bargaining negotiations. The second involves the amount of government employment, or the size of government, as reflected in the number of workers and in public budgets. The third involves the productivity and efficiency of government services. Insofar as unions negotiate detailed work rules, they share the power to shape the day-to-day responsibilities of public servants -- which influences what government does, and how well it does it.

These are complex matters that are hard for social scientists to measure, and on which scholars disagree. Nevertheless, the evidence supports a few broad conclusions.

Most economists agree that public-sector unions' political power leads to more government spending...
Follow the link to read the whole thing.
If you don't feel like reading, KT recommended this Andrew Klavan video about public employee unions:

As Governors Christie, Walker, and others have discovered, the burden on state budgets produced from public sector unions is onerous. Back to that National Affairs article:
When Chris Christie became New Jersey's governor in January, he wasted no time in identifying the chief perpetrators of his state's fiscal catastrophe. Facing a nearly $11 billion budget gap -- as well as voters fed up with the sky-high taxes imposed on them to finance the state government's profligacy -- Christie moved swiftly to take on the unions representing New Jersey's roughly 400,000 public employees.

On his first day in office, the governor signed an executive order preventing state-workers' unions from making political contributions -- subjecting them to the same limits that had long applied to corporations. More recently, he has waged a protracted battle against state teachers' unions, which are seeking pay increases and free lifetime health care for their members. Recognizing the burden that such benefits would place on New Jersey's long-term finances, Christie has sought instead to impose a one-year wage freeze, to change pension rules to limit future benefits, and to require that teachers contribute a tiny fraction of their salaries to cover the costs of their health insurance -- measures that, for private-sector workers, would be mostly uncontroversial.
Whether or not Christie succeeded (it appears he has not, by and large), what he set out to do in New Jersey is something that many states are confronting these days.
This is an encouraging sign:
You can read more about the new Illinois governor here.
A somewhat related issue is so-called Right-to-Work legislation:
The Right to Work principle... affirms the right of every American to work for a living without being compelled to belong to a union. Compulsory unionism in any form--"union," "closed," or "agency" shop--is a contradiction of the Right to Work principle and the fundamental human right that the principle represents.
Here's a recent map showing the states that have enacted Right-to-Work laws: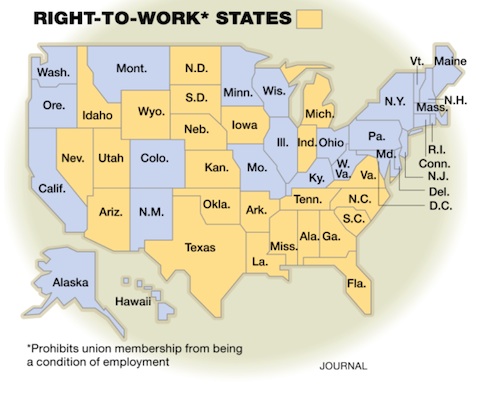 Map showing Right to Work states
And this link lists when each state adopted RTW laws.
Of the candidates we're studying in depth, the governors of Texas, Louisiana, South Carolina, and Indiana are from Right-to-Work states, while Wisconsin and New Mexico have yet to pass Right-to-Work legislation.
Finally, this link to the AFL-CIO provides you a window into the other side's mindset:
Extremist groups, right-wing politicians and their corporate backers want to weaken the power of workers and their unions through "right to work" laws. Their efforts are a partisan political ploy that undermines the basic rights of workers. By making unions weaker, these laws lower wages and living standards for all workers in the state. In fact, workers in states with these laws earn an average of $5,971 less a year than workers in other states. Because of the higher wages, working families in states without these laws also benefit from healthier tax bases that improve their quality of life.
I think it's important to pay attention to how our opponents are making their case against right-to-work laws because it will certainly be an issue in the general election. Frankly, if the GOP is successfully painted as being hostile to the American worker, we will lose big in 2016.
It seems to me that there are several issues at play here. One is demonstrating fiscal responsibility by addressing budgetary burdens caused by public sector unions. Another is fostering pro-growth policies by creating a favorable labor market for employers. And the third, the kitchen table economics that affect the average American voter (for example keeping unions from picking the pockets of workers through forced dues).
But there are other factors at play that concern me when it comes time to make the case to general election voters.
One, do general election voters really vote for fiscally responsible Presidential candidates? When I looked at the 2012 and 2014 exit polling a while back issues like deficit reduction were less important to the voters than the economy, health care, and illegal immigration.
Two, the Democrats have been hammering on the class warfare thing for a long time now. Whatever the reality, they were effective at painting Romney/Ryan as being less concerned with "average Americans" than they were with the One Percent and Evil Corporations. Will the GOP be able to successfully counter the charge that by being anti-union they are putting the goals of corporate fat cats ahead of the average American worker?
That argument can be countered, but I'm concerned it becomes much harder to deflect if the GOP doesn't put a stake through the heart of the "more cheap labor" crowd, because then it will appear the GOP's policies are all about driving down wages for American workers.
I asked on Twitter if I was worrying needlessly. What do you think?
See you next week!

Previous "issues" threads:
Economy Jobs and Wages
"Fiscal Scorecards" for each candidate (Mike Pence's is here)

Candidate Backgrounders:
Walker, Perry, Jindal here
Paul, Rubio, Cruz here
Kasich, Haley, Martinez here
Pence here
Gowdy, Sessions, Carson, Lee here
Huntsman, Bush, Christie here
Romney, Ryan, Huckabee, Palin here

(As a reminder, the candidates being studied in depth were determined after reviewing 20 prospective GOP candidates' records and conducting some highly unscientific polling at HQ. The goal is to determine which, if any, of these candidates are "conservative enough" (or qualified enough) for us to support, either as first choices in the primary against a Jeb Bush type or in the general election against the Democrat nominee.
ICYMI, Conservative Review is doing in depth treatments of fifteen 2016 prospects. Their list differs from ours to some extent (for example, they'll be reviewing Donald Trump, but not Governors Haley or Martinez), so you might want to check out their posts as they become available.)

posted by Open Blogger at
08:45 AM
|
Access Comments