« Early Morning Thread 2/28/15: Visions from Spiritus Mundi. [krakatoa]
|
Main
|
Fundamental Concepts - Molon Labe [Weirddave] »
February 28, 2015
Saturday Politics Thread: Labor Policies, part II [Y-not]
Good morning! After a brief hiatus, we'll be resuming examining our top prospects' records and views with respect to labor policies, especially public employee unions and right-to-work.
This will be a little less thorough than usual as I have been feeling under the weather this week. However, I wanted to continue with our issues coverage rather than take another week off.
In February 14th's Saturday Politics Thread I reviewed two major labor issues, public employee unions and the so-called Right-to-Work movement. Please refer to that post for background.
As we go to review the 7 GOP prospects we've been covering, I thought it would be helpful to add a graphic that shows the political environment in which they were (or are) working:


**UPDATE: There's a mistake in the chart. New Mexico's upper chamber is controlled by Democrats, but the lower chamber is in Republican hands. Color-coding is correct, but the last cell should read "D/R".**
*Corrected party control table inserted above.*
The chart shows the composition (by majority party) of the state legislatures that each of the six governors we've been tracking have enjoyed during their terms. In Ted Cruz's case, I'm showing the party split for Congress. Note: I've collapsed Perry's first seven years as governor into two columns to make the chart more legible. When he assumed office, Texas had a "purple" legislature.
Without further ado, here's a review of our GOP prospects.

GOV. SCOTT WALKER, WISCONSIN
Scott Walker made his name battling public employee unions during his first term as Governor of Wisconsin. Last summer, he emerged victorious from his three-year battle to loosen the grip that Wisconsin's public employee unions had on his state's taxpayers. The pivotal court ruling held "that collective bargaining over a contract with an employer is not a fundamental right for public employees under the constitution."
You can read more about Act 10 at the Governor's website.
Just this week, the Wisconsin Senate passed Right-to-Work legislation. The Wisconsin Assembly is expected to pass it next week for Governor Walker to sign. Wisconsin's measure is modeled after Michigan's RtW law, which has already withstood court challenges. Wisconsin will be the 25th state to have enacted Right-to-Work.

FMR. GOV. RICK PERRY, TEXAS
Texas is a right-to-work state (since 1993). As we discovered several weeks ago, Texas has performed best out of all states in the union in terms of median household income over the past several decades, which tends to argue against the AFL-CIO's assertion that RtW depresses wages.
Perry went on record as supporting a national Right-to-Work law during his ill-fated 2012 presidential run.
Here's a link to Rick Perry talking about unions on Cavuto last Fall.
Although CATO gave Perry a solid B in its 2014 Governors Report Card, I did find some recent articles referring to Texas' public pension debt.

GOV. BOBBY JINDAL, LOUISIANA
Louisiana is a Right-to-Work state.
I found conflicting reports of how Jindal has dealt with Louisiana's public employee unions. It appears that he was pushing for major education reforms in his state a couple of years ago, including school vouchers and addressing tenure.
Jindal's reforms would also scrap the statewide salary schedule. Teachers would continue to be paid at their current levels, but future raises would be tied to decisions by principals and other officials. The current system of last-hired-first-fired, which often forces newer and better teachers to be the first to go in layoffs, would be scrapped. Another reform would allow a majority of the parents at a failing school to vote to trigger a state takeover of that school.
According to Heritage, education reform is prominently featured in Jindal's developing national platform as well.
But Jindal is not without his critics, including this guy (who really seems to hate him). Here's a sample:
Yet you won't find Jindal talking much about addressing the long-term defined-benefit pension and unfunded retired civil servant healthcare costs that are now burdening the balance sheets of every state government. For good reason. Jindal has done almost nothing to address the Bayou State's massive pension deficits. Two years ago, the Pew Center on the States reported that the Bayou State's collection of pensions were only 56 percent funded. Because of the state's fiscal fecklessness -- along with the high costs of the deals it made with local governments and public-sector unions -- the state was faced with paying down $51 billion in unfunded pension liabilities, along with another $10 billion in unfunded retired civil servant healthcare costs (for which Jindal and his predecessors have put away no money to cover). Moody's Investors Service determined last year that the state's pension shortfalls, when accurately determined, were 30 percent greater than revenue. Even with such high-profile spankings, Jindal, along with his colleagues in state government, have still done nothing to address the problem.
To be honest, I haven't felt healthy enough this week to wade through these allegations. I will note that CATO gave Jindal a respectable "B" on its last Governor's Fiscal Report Card. In addition, I think that Louisiana's "red" legislature may not be all that conservative. As I was researching the political party controls for Louisiana, it appeared that some Ds had switched to Rs (perhaps to save their seats). Make of that what you will.

GOV. NIKKI HALEY, SOUTH CAROLINA
South Carolina is a Right-to-Work state. In her recent State of the State speech Haley addressed South Carolina's labor situation thusly:
Any truly objective review of South Carolina's business landscape notes the benefit we get from the minimal role unions play in our state. In 2013 we had the third lowest percentage of union workers in America, with just 3.7 percent of South Carolina workers choosing to join a union.

I cannot express to you the extent to which this is a game-changer when we are trying to bring new businesses to our state. We have a reputation -- internationally -- for being a state that doesn't want unions because we don't need unions. And it is a reputation that matters.
My search for news about South Carolina's public employee unions didn't yield much fruit. The state overhauled public employee pensions in 2005. Those reforms were challenged by the unions in the courts. The latest challenge was tossed out last December.

GOV. SUSANA MARTINEZ, NEW MEXICO
Perhaps the biggest surprise for me this week was learning that New Mexico, which had been controlled by Democrats until a few years ago and even now has a "purple" legislature, is on the verge of passing Right-to-Work legislation. It passed the NM House this week and is headed to the Senate. Although the upper chamber is controlled by Democrats, it appears that it may pass and be signed by Governor Martinez.
Gov. Susana Martinez has indicated previously that she is open to a modest increase in the minimum wage, as long as New Mexico stays competitive with neighboring states.

A Martinez spokesman reiterated that stance Wednesday, while also saying the Republican governor backs the concept of making New Mexico the nation's 25th state with a right-to-work law.
(Note: The RtW bill has a 50-cent minimum wage increase, which would bring New Mexico's minimum wage to $8/hr. Here's a link to a chart of all of the minimum wages by state, for your reference.)
As with South Carolina, there didn't seem to be much "hot news" with respect to public employee unions in New Mexico.

GOV. MIKE PENCE, INDIANA
Indiana passed RtW a couple of years ago. And just last week the lower chamber passed so-called "common wage repeal", "the law that allows a board of contractors and taxpayers to set baseline wages for public construction projects worth more than $350,000."
In terms of public sector unions, Mike Pence inherited a great situation from his predecessor, Mitch Daniels, who had already fought (and won) battles with his state's public employee unions.

SENATOR TED CRUZ (TEXAS)
As a Senator in Harry Reid's Senate, Ted Cruz has not been in a position to do much of substance on these issues. Things may change now (or they may not, given how this past week went). Cruz's colleague Rand Paul introduced Right-to-Work legislation earlier this month.
Unions seem to hate him, so that's reassuring.

So that's a round up of what I could glean of the 2016 prospects' positions (and accomplishments) on two major labor issues. Although the problems associated with public sector unions are far from resolved, it appears that most of the GOP has woken up to the issue. Right-to-work is now the law of the land in nearly half of the states. One assumes that both Wisconsin and possibly even the true purple state of New Mexico may also be getting on board with RtW in the near future.
Ultimately, the proof is in the pudding. Where have policies encouraged the growth of good jobs and which states' fiscal houses are in order? We tackled those issues in previous posts. In job growth (and household income), Texas leads the pack amongst our presidential hopefuls' states. In fiscal scorecards, all of the governors we're considering did well, with the leaders on CATO's report being Gov. Mike Pence of Indiana and Gov. Susana Martinez of New Mexico.
To close things up, I'll leave you with a link to this encouraging graphic showing how union membership has declined over the past five decades.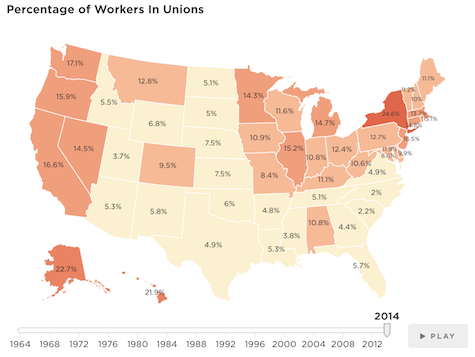 The lighter the color, the lower the union membership.
Obviously, this map is racist.

See you next week!

Previous "issues" threads:
Labor Policies, Part I
Taxes
Economy Jobs and Wages
Energy here and here
Common Core
"Fiscal Scorecards" for each candidate (Mike Pence's is here)
Candidate Backgrounders:
Walker, Perry, Jindal here
Paul, Rubio, Cruz here
Kasich, Haley, Martinez here
Pence here
Gowdy, Sessions, Carson, Lee here
Huntsman, Bush, Christie here
Romney, Ryan, Huckabee, Palin here

posted by Open Blogger at
08:45 AM
|
Access Comments