« Saturday Politics Thread: Labor Policies, part II [Y-not]
|
Main
|
So? And What Does THAT Have To Do With Anything? - [Niedermeyer's Dead Horse] »
February 28, 2015
Fundamental Concepts - Molon Labe [Weirddave]
In 480BC, Xerxes of Persia demanded that the Greeks under King Leonidas of Sparta surrender their weapons. King Leonidas responded with a laconic "Molon labe", which translates as "Come and take them" and a legend was born. Even though the Greeks lost the Battle of Thermopylae that followed, King Leonidas' stirring phrase has echoed with defiance down through history. The phrase has a rich history in America, too. From Fort Morris, Georgia, to Gonzales, Texas to Second Amendment defenders today, "Come and Take It" resonates in American hearts.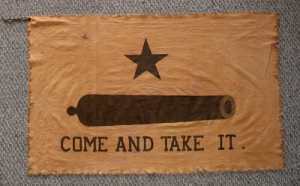 With the disturbing news this week about BATF's attempt to ban M855 NATO Ball ammunition, the internet has been alive with people swearing fealty to the idea of molon labe. I approve. However, talk is cheap they say, and internet talk is cheaper than most. Anyone who considers themselves a patriot needs to take a good long moment of quiet reflection and ask themselves, honestly, what does molon labe mean? More specifically, they need to ask themselves what are the ramifications of defiantly proclaiming "Come and take them" if the authorities say "OK".
The ramifications are simple: YOU ARE GOING TO DIE.
This isn't universally true, of course, but in order for molon labe to mean anything, in order for it to be effective, you have to accept that it IS true. If we ever get to the point where the authorities are attempting to forcibly disarm the population at large, the only way to prevent it from happening is to meet force with force. If it comes to this, you will lose. Every time. Even if you are armed, ready, and respond instantly to aggression by the authorities, there are a whole lot more of them than there are of you. You might kill one, or even several, but they will keep coming and they will bring resources to bear that you can not hope to match. Officers. SWAT teams. Snipers. Air cover. Drones. They WILL take you down, and that's not all. No, you have to accept something else too:
YOUR FAMILY IS GOING TO DIE TOO.
Think I'm talking crazy talk? Ask Vicki Weaver. Ask Sammy Weaver. I'll wait.
Do I have your attention yet? Good. This is deadly serious. In a worst case scenario like I'm outlining, with a government in armed insurrection against its citizens, lots and lots of people are going to die. It isn't a joke, it isn't faux tough guy posturing, it's a life and death situation.
So what's the point? Is it hopeless? We either roll over like sheep or die in a futile display of defiance?
No.
Should these events come to pass, it will not be the first time in history than men have faced such a choice, nor will it be the last. 239 years ago a different group of men faced a similar choice, and they came up with something quite remarkable. You may not be familiar with it, it isn't taught much in schools anymore, but if you can get your hands on a copy of the document they produced, it's a good read.
And for the support of this Declaration, with a firm reliance on the protection of divine Providence, we mutually pledge to each other our Lives, our Fortunes and our sacred Honor.

They pledged their lives, and nine of them had to make good on that pledge. The first of them to die, John Morton of Pennsylvania, said on his deathbed about the Declaration "they will live to see the hour when they shall acknowledge it to have been the most glorious service that I ever rendered my country." Many lost their fortunes. Here in Baltimore, you might find yourself driving down Paca Street. Not one person in a hundred could tell you that it is named after William Paca, signer of the Declaration who spent his entire fortune outfitting and supporting troops for the Continental Army. None of them lost their sacred honor. Not one of the fifty-six men turned their coats (from our POV. I'm sure the British would classify all fifty-six as turncoats).
I used this as an example to illustrate that while fifty-six men pledged their lives, only nine had to relinquish theirs. The same would be true in a molon labe scenario. Most disarmament raids would succeed. The result of these raids would probably range from simple confiscation of weapons to perhaps arrest. No fatalities. Others would result in only the deaths of civilians, If firing breaks out, a Ruby Ridge scenario(standoff, deaths on both sides) might be the best result that could be hoped for. Sometimes, however, it would be the authorities who died, and for all of the advantages that they have in any individual situation, they have a huge weakness too.
There are a lot more of us than there are of them.
At its peak, the SS only numbered one million men. That's a formidable force, and it rounded up some twenty million people and sent them to the camps. If only one in ten had been able to successfully resist ("success" being defined as taking at least one SS man with them), half of the people who wound up in concentration camps would have been spared.
This post is a lot more sober than most of my usual Fundamental Concept threads. It's meant to be. It's easy to brag "They can have my gun when they take it from my cold, dead hands", or to joke about canoe accidents or to slap a molon labe sticker on the back of the minivan. The reality is that those things only mean something, really mean something, in the context of a hot Civil War. A hot Civil War means that the country we love is (temporarily? One would hope) dead, and everything we believe in has been destroyed. It seems to me that it would be in all of our best interests to do everything humanly possible to prevent that from coming about. If our Representatives aren't representing, elect new ones. Donate money. Donate TIME. Talk to friends, talk to relatives, talk to strangers. Old Glory may be faded and tattered, but she's got a lot of life left in her. It's up to us to nurture that life. Many of us seem to have given up and sunk into apathy, or resigned ourselves to hunkering down and awaiting the burning times. Hopefully I've inspired you to take a long hard look at just what that would entail, and hopefully a long gaze into that abyss will motivate you to redouble your efforts to avoid it at all costs. If not, however, then only one question is left, and only you can answer it:

posted by Open Blogger at
10:32 AM
|
Access Comments