« Chris Klein: Still A Dick
|
Main
|
Top Ten Signs You're At A Somali Wedding Party »
January 09, 2007
AP Runs Unverified Report: Somali Strikes Kill Newlyweds!
Update: And a "boy" too! (Also unverified.)
There are only four sorts of people killed by US (or Israeli) strikes, according to AP and Reuters.
1) Children, which are military-aged men under 30 years old
2) The elderly, who are military-aged men over 30 years old
3) Women, who are military-aged men who do not have moustaches or beards
4) "Newlyweds," who are military-aged men killed in the compromising position of participating in a Men's Doubles Aerobic Dance Competition
Remember, even by AP's own admission, this report is completely unverified. So why are they running it?
Helicopter gunships attacked suspected al-Qaida fighters in the south Tuesday after U.S. forces staged airstrikes in the first offensive in the African country since 18 American soldiers were killed there in 1993, witnesses said.

Witnesses said 31 civilians, including two newlyweds, died in the assault by two helicopters near Afmadow, a town in an area of forested hills close to the Kenyan border 220 miles southwest of Somalia's capital, Mogadishu. The report could not be independently verified.
Yeah? Well I have an unverified report they they nailed a "big fish."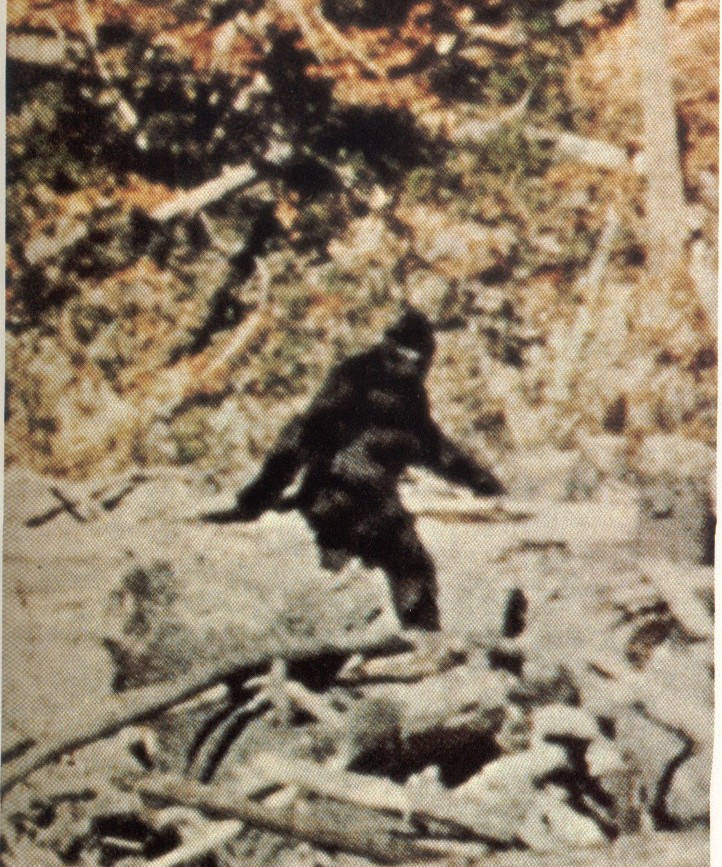 Alleged Islamic extremist Bigfoot, seen
in the Peshewar region, 2002
They really are very protective of their terrorist friends.
When the terrorists are in trouble, they put out propaganda designed to get us to stop fighting back, and damn if AP and Reuters don't instantaneously put out the word that really, we ought to let these sweet-souled kite-flying "rambunctious youths" retreat and regroup in peace.

More... Hm. The article was written by someone named Salad Duhul. I did not see that coming.
After getting the propaganda out of the way -- I'm Ayman al-Zawahiri, and I approved this message -- the article goes on to tell us about yesterday's strikes.
On Monday, at least one U.S. AC-130 gunship attacked Islamic extremists in Hayi, 30 miles from Afmadow, and on a remote island 155 miles away believed to be an al-Qaida training camp at the southern tip of Somalia next to Kenya. Somali officials said they had reports of many deaths. The Pentagon confirmed the strike, but declined to comment on any details.

The U.S. is targeting Islamic extremists, said the Somali defense official, who spoke on condition of anonymity because he was not authorized to talk to reporters. Earlier, Somalia's president said the U.S. was hunting suspects in the 1998 bombings of two U.S. embassies in East Africa, and had his support.

The Islamic extremists are believed to be sheltering suspects in the embassy bombings, and American officials also want to make sure the militants will not longer pose a threat to Somalia's U.N.-backed transitional government.

The aircraft carrier USS Dwight D. Eisenhower arrived off Somalia's coast and launched intelligence-gathering missions over Somalia, the U.S. military said. Three other U.S. warships were conducting anti-terror operations.

U.S. warships have been seeking to capture al-Qaida members thought to be fleeing Somalia after Ethiopia's military invaded Dec. 24 in support of the interim Somali government and drove the Islamic militia out of the capital and toward the Kenyan border.

President Abdullahi Yusuf, head of Somalia's U.N.-backed transitional government, told journalists in Mogadishu that the U.S. "has a right to bombard terrorist suspects who attacked its embassies in Kenya and Tanzania."

But others in the capital said the attacks would increase anti-American sentiment in the largely Muslim country, where people are already upset by the presence of troops from neighboring Ethiopia, which has a large Christian population. The U.S. Embassy in Nairobi, Kenya, reissued a terror warning Tuesday to Americans living in or visiting the Horn of Africa.
I don't get it. Why would Muslims' anger at America necessitate a terror warning? It's confusing; the two bits of data seem to have no connection whatsoever.
One more "unverified report" for ya:
...

Witnesses said at least four civilians were killed Monday evening in Hayi, including a small boy. The claims could not be independently verified.

The boy's name is said to be Adnan al-Cutevictim, though he is generally known by his nom de guerre Adnan "The Adorable" al-Cutevictim. Poignantly, he died just as he was blowing out the candles on his ice-cream birthday cake.
He was only 47.
Let me run my own bit of propaganda:
Somalia … Somalia

Come to her aid O Muslims!

Ethiopia brought in her army, by land and by air, in a criminal aggression upon the Muslims of Somalia and announced this intervention after having done it before without any announcement. Her reason this time being self-defence, that is, the defence of Ethiopia, but where? In Somalia!?
Please hurry! 72 sexy, sculpted, Spandex-wearing virgins are awaiting you!

posted by Ace at
02:31 PM
|
Access Comments