« Margot Cleveland: The State Department Funded a Private Group to Draw Up Lists of Conservative Outlets Who Should Be Censored, Then Used This List to Pressure Advertisers Not to Do Business With Them
|
Main
|
IRS Whistleblower: The "Investigation" of Hunter Biden Is Being Deliberately Tanked Due to "Preferential Treatment and Politics"
Update: Letter Added »
April 19, 2023
Hackers Stole 20 Years' Worth of Matt Walsh's Emails
They also took over his Twitter account but I imagine that will be reversed shortly and will have zero impact.
The massive invasion of privacy, however, may hurt.
Remember the leftwing propaganda media screaming about the "hacking" of Rahm Emanuel? And claiming that this hack constituted the "stealing" of the election by the Russians, for Trump?
Do you think they'll have any compunctions about using a criminal hacking group's stolen data to destroy one of their enemies?
Spoiler Alert: they won't.
Jeremy Boreing @JeremyDBoreing

You may be aware that @MattWalshBlog had his @Twitter account hacked last night.

What you may not know is that the attack went well beyond Twitter.

The hackers have managed to gain access to, well, everything, including twenty years of Matt's emails.

What scandalous information will the hackers find in Matt's email? I do not know. I'm sure I said things in my twenties that I wouldn't feel great having aired publicly.

What will @realDailyWire's response be to things 20-year-old Matt may have said?

#LOL


This hack, as terrible and invasive as it is, is just another day at the office for us.

Here is a brief look at just the last 48 hours @realdailywire

First, @MattWalshBlog was demonetized on @YouTube for violating some opaque, arbitrarily applied standard or another related to speaking the biological truth about Dylan Mulvaney.

I can't be more specific because the capriciousness is the point for these platforms.
Jeremy Boreing @JeremyDBoreing

Just 24 hours later, @imbrettcooper was PERMANENTLY BANNED from @tiktok_us.

Her crime?

I don't know, because, again, the capriciousness is the point.

At the exact moment @MattWalshBlog was being hacked by criminals, @michaeljknowles was being evacuated from @PittTweet because of a violent riot protesting his speech in which trans activists and sundry other leftists BURNED MICHAEL IN EFFIGY and tussled with police.

That's just the last 48 hours, and that's in addition to all of the usual death threats, harassment, and corporate targeting that are our daily companions @realDailyWire

Do assholes on the right make death threats against, say, @AOC? Sure. And damn them for it.

The difference for us is that virtually every institution in public life agrees we should be removed and silenced.

Tech giants like @youtube, @facebook, @tiktok_us, and - until @elonmusk
wrote a check - @Twitter, flagging, banning, throttling, shadow banning, and demonetizing us is a constant occurrence.

We're continually fact checked. Almost all of the fact checks are removed on appeal, btw, but not before they have the desired effect of stunting our reach and effectiveness and making it impossible to earn revenue.

Billionaire-funded non-profits like @mmfa pay people to post out-of-context clips from our shows and to pressure advertisers not to spend money with us.
He now talks about corporations absolutely refusing to advertise on conservative websites. This is due to their own woke leanings, but also due to Media Matters and Sleeping Giants pressuring advertisers to starve us to death.
And, for the last few years, it's also been due to the US government acting through cut-out groups it formed and controls branding conservative sites as "disinformation."
The entire advertising industry creates bogus, euphemistic policies to "protect brand safety" by discouraging advertising on shows with "controversial political opinions."

BTW: If you're openly pro-choice, that's not a controversial political opinion that could compromise brand safety.

If you're pro-life, that is.

This means we don't get any so-called brand advertisers - the ones who pay almost double.

Think about that. If we were on the left, and all of our positions were CERTIFIED BRAND SAFE!, we would make almost twice as much money. Twice as much to pay staff, healthcare, rent, marketing, growth...

The advertisers we do get - the ones who believe Americans who think what every American thought five seconds ago still deserve good products - have to be brave enough to stand up against all of the organized pressure that comes their way.

All this while also dealing with organizations like @HubSpot, @jwplayer, @eventbrite, and many other backend infrastructure companies who take our money and then decide we don't deserve to use their services and kick us off their platforms.

Why do they hate us? Well, because we're free. We're one of the last truly independent media companies. The majority and controlling interest in this company is held by @benshapiro, Caleb Robinson, and me. No one can tell us what to publish, what to say, what to do.


No investor or board of directors can maneuver us into acquiescing to their demands or expressing their values. We only express our own.

And we're smart.

We don't let the machinations of the left force our hand.

@YouTube wants to keep @MattWalshBlog from being able to monetize because they know it will drastically stunt his growth and make his content far less viral.

They expect us to throw a fit and play right into their hands.

We won't.

We'll play smart. We'll continue to say what we believe, but we won't let them minimize us and bar our access to two billion potential users.

We're not in it for catharsis; we're in it for victory.

And, of course, we'll leverage our influence to hold @YouTube, @tiktok_us, and all the rest accountable.

We'll press our claims in court, though government, and with the public.

We won't make it easy for them to make us less successful and less effective.

#Nope.

And that's what they hate the most: not only do we say what we believe, not only do we find a way to continue to succeed on their platforms, but we win.

Daily Wire and @benshapiro sue the Biden Admin to stop the OSHA Vax Mandate, and win.

@MattWalshBlog works to change laws around the mutilation of children, and he wins.

We launch new companies like @JeremysRazors to compete with the woke hegemony, and we win.

That's what keeps us fighting.

We believe success is possible. Not promised, not easy. Possible.

We believe we can preserve our values for another generation.

And we're having a damn good time doing it.

Hell, I'm looking forward to pressing charges on the Walsh hackers!
A Wired editor was already openly soliciting the hacked emails: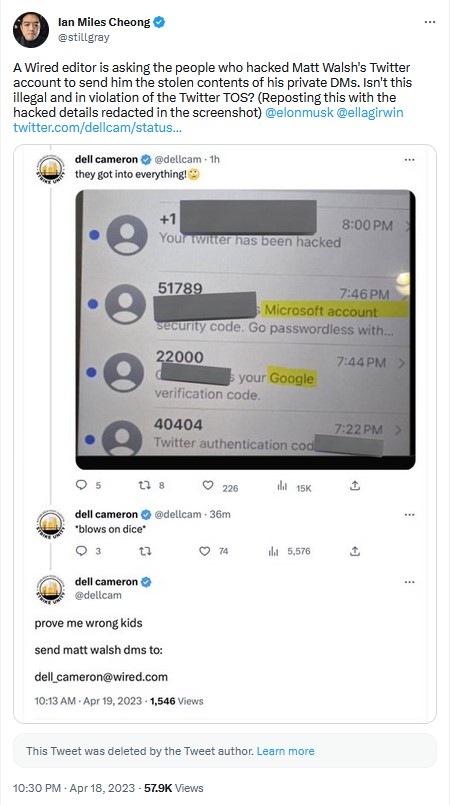 The hack will obviously turn out to have been committed by a leftwing group, probably antifa affiliated, probably "Trans Rights" affiliated.
That's why the FBI will make investigating this Censorship By Intimidation case a very low priority, and Merrick Garland will plead them out to community service if somehow private detectives are able to find them.
Here's a bit of good news, thanks to bonhomme and Jack Straw (and a massive brick of marijuana): Oracle has cut ties with the "Global Disinformation Index," the foreign group, yet funded by the US government, that draws up lists of conservative websites for advertisers to bankrupt, citing Oracle's commitment to the principles of free speech.
Disinformation Inc: Massive corporation Oracle severs ties with conservative blacklist group by Gabe Kaminsky, Investigative Reporter

April 19, 2023 03:43 PM

EXCLUSIVE -- The multinational software company Oracle is cutting ties with the Global Disinformation Index, a State Department-funded group that the Washington Examiner revealed has been secretly blacklisting conservative media outlets.

"After conducting a review, we agree with others in the advertising industry that the services we provide marketers must be in full support of free speech, which is why we are ending our relationship with GDI," Michael Egbert, vice president for corporate communications at Oracle, said in a statement on Wednesday to the Washington Examiner.

Oracle announced a "collaboration" in 2021 with GDI, which has continued to come under fire from Republican lawmakers in connection to its covert operation of feeding blacklists of conservative websites to advertisers with the intent of shutting down disfavored speech. Egbert declined to comment on whether it has yet notified the British organization, which has two affiliated American nonprofit groups, and whether the action is effective immediately.

"To prevent placements on disinformation sites, brands require a proactive, always-on brand safety approach that helps marketers identify suitable environments while avoiding brand-damaging ones," Oracle said in August 2021 as part of its prior GDI-related announcement. "Today, we're proud to announce a collaboration with The Global Disinformation Index (GDI), an independent non-profit that provides trusted, non-partisan ratings to assess a site's disinformation risk, to help marketers safeguard ad spend and protect brands from inadvertently supporting disinformation sites."

...

The major move comes over two months after Microsoft, whose advertising company Xandr once subscribed to GDI's "dynamic exclusion list" of conservative websites, temporarily severed ties with the blacklist group, the Washington Examiner reported. Microsoft launched an investigation, and internal data provided by ad industry whistleblowers showed that conservative websites no longer are labeled by Xandr as "false/misleading," "hate speech," or "reprehensible/offensive."

More at the link.

posted by Ace at
04:50 PM
|
Access Comments