« New Netflix Series Depicts Cleopatra as Black, Despite Being a Descendant of the Macedonian Alexander the Great;
Egyptians Complain of Netflix Stealing Their Cultural Patrimony for Woke Points
|
Main
|
Hackers Stole 20 Years' Worth of Matt Walsh's Emails »
April 19, 2023
Margot Cleveland: The State Department Funded a Private Group to Draw Up Lists of Conservative Outlets Who Should Be Censored, Then Used This List to Pressure Advertisers Not to Do Business With Them
Here's some background. Do you remember this story? In 2018, a leftwing group was faking "Russian bot" support of the Republican candidate Roy Moore. They then took the fake Russian bot story, that they had created out of whole cloth, to the media, to help the Democrat win the election.
It was all fake. The only "Russians" in the story were the ones created by this leftwing group.
Here's the New York Times, spinning insanely for their Democrat "disinformation" buddies.
As Russia's online election machinations came to light last year, a group of Democratic tech experts decided to try out similarly deceptive tactics in the fiercely contested Alabama Senate race, according to people familiar with the effort and a report on its results.

The secret project, carried out on Facebook and Twitter, was likely too small to have a significant effect on the race...
Sure. We know for sure that $150,000 in Russian ad buys on FaceBook to support both Trump and Hillary Clinton definitely swung that election to Trump, but no one can say if this Democrat op had any "significant" effect on a statewide race, during a period of Peak Russiagate Paranoia in the media.
... in which the Democratic candidate it was designed to help, Doug Jones, edged out the Republican, Roy S. Moore.
Oh he edged him out? Definitely, there's no way this op could have contributed to that edging.
But it was a sign that American political operatives of both parties have paid close attention to the Russian methods, which some fear may come to taint elections in the United States.
Of "both parties"! It was the Democrats that did this, but don't you worry -- this is about both parties!
One participant in the Alabama project, Jonathon Morgan, is the chief executive of New Knowledge, a small cyber security firm that wrote a scathing account of Russia's social media operations in the 2016 election that was released this week by the Senate Intelligence Committee.

An internal report on the Alabama effort, obtained by The New York Times, says explicitly that it "experimented with many of the tactics now understood to have influenced the 2016 elections."

The project's operators created a Facebook page on which they posed as conservative Alabamians, using it to try to divide Republicans and even to endorse a write-in candidate to draw votes from Mr. Moore. It involved a scheme to link the Moore campaign to thousands of Russian accounts that suddenly began following the Republican candidate on Twitter, a development that drew national media attention.
"We orchestrated an elaborate 'false flag' operation that planted the idea that the Moore campaign was amplified on social media by a Russian botnet," the report says.
Mr. Morgan said in an interview that the Russian botnet ruse "does not ring a bell," adding that others had worked on the effort and had written the report. He said he saw the project as "a small experiment" designed to explore how certain online tactics worked, not to affect the election.

...

Despite its small size, the Alabama project brought together some prominent names in the world of political technology. The funding came from Reid Hoffman, the billionaire co-founder of LinkedIn, who has sought to help Democrats catch up with Republicans in their use of online technology.

The money passed through American Engagement Technologies, run by Mikey Dickerson, the founding director of the United States Digital Service, which was created during the Obama administration to try to upgrade the federal government's use of technology. Sara K. Hudson, a former Justice Department fellow now with Investing in Us, a tech finance company partly funded by Mr. Hoffman, worked on the project, along with Mr. Morgan.


The Alabama project got started as Democrats were coming to grips with the Russians' weaponizing of social media to undermine the presidential campaign of Hillary Clinton and promote Donald J. Trump.
Oh I see -- we know that scheme swung an election.
But not this one!
Now, note the name Renée DiResta:
Mr. Morgan reached out at the time to Renée DiResta, who would later join New Knowledge and was lead author of the report on Russian social media operations released this week.

"I know there were people who believed the Democrats needed to fight fire with fire," Ms. DiResta said, adding that she disagreed. "It was absolutely chatter going around the party."

But she said Mr. Morgan simply asked her for suggestions of online tactics worth testing. "My understanding was that they were going to investigate to what extent they could grow audiences for Facebook pages using sensational news," she said.
Mr. Morgan confirmed that the project created a generic page to draw conservative Alabamians -- he said he couldn't remember its name -- and that Mac Watson, one of multiple write-in candidates, contacted the page. "But we didn't do anything on his behalf," he said.

Oh she just was a Helpy Helperton in all this. She was Advancing Science.
So who is Renée DiResta?
Well, she's a former CIA employee -- she claims she was just an "intern," um, whatever, she's not exactly a reliable witness -- who just so happens to have lead the "Global Engagement Center" and then the "Stanford Internet Observatory," two government-funded groups that carry out "disinformation" operations against the right.
In other words, she's the government's Queen of Disinformation -- and labeling Republicans as almost exclusively guilty of spreading it.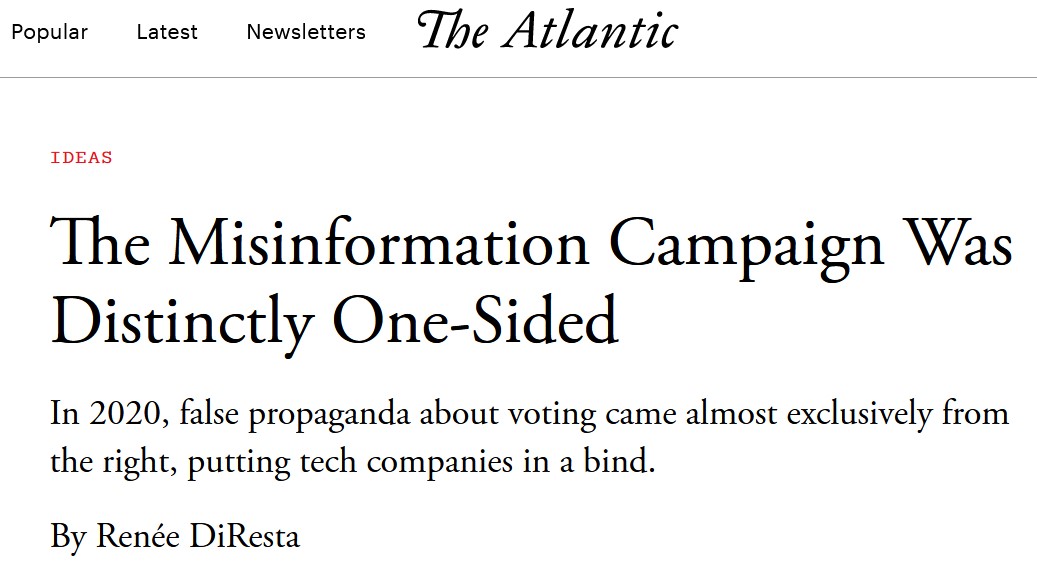 And yet the Queen of Disinformation-Labeling was guilty of having helped a Democrat group create a Fake Russian Conspiracy in order to swing an election.
The woman who claims to be an expert in disinformation was a critical part of spreading actual disinformation (involving Russia) in a closely-fought election in which the Democrat "edged out" the Republican.

So obviously -- Let's promote her to running the government's biggest anti-disinformation cut-out groups!
She claims that she thought she was just participating in "an experiment" -- an experiment to see if disinformation could successfully get a Democrat to edge out a Republican in a real live election. She claims -- and those behind this disinformation scheme claim -- they were just running an "experiment" during a real election using real ads intended to manipulate real voters, but they "designed the experiment" to be so "limited" as that it could not have any significant impact on the race.
This is their cover story. The New York Times obviously was convinced of this -- or rather, they walked into the story already convinced of the notion that if Democrats ever engaged in disinformation themselves, it must only be for Scientific Purposes, to better understand how Russians and Republicans (but they repeat themselves) use disinformation.
No one else believes this. Just the hard-left propagandists of the media.
And the Disinformation-Industrial Complex itself.
So keep Reneé DiResta in mind as you read Margot Cleveland's article about the "Global Engagement Center," which DiResta used to run.
Meet The Shadowy Group That Ran The Federal Government's Censorship Scheme

The biggest concern is what GEC paid Park Advisors to do: fund and coordinate the censorship of Americans' speech and our supposedly free press.


Margot Cleveland

@ProfMJCleveland

The State Department's Global Engagement Center used a cutout corporation headed by a former intelligence officer to fund and promote the blacklisting of conservative media outlets and other censorship endeavors, research by The Federalist reveals.

When Elon Musk gave a group of independent journalists access to internal Twitter communications, the resulting "Twitter Files" quickly revealed the existence of a Censorship-Industrial Complex that included an array of federal agencies colluding with social media companies to censor disfavored speech. One of the many federal players was the State Department's Global Engagement Center (GEC) -- but GEC did much more than cajole tech giants to censor viewpoints the government didn't like.

As The Federalist previously reported, GEC funded the development of censorship tools and used "government employees to act as sales reps pitching the censorship products to Big Tech." Further investigation into its operations now reveals the government's GEC used one or more for-profit businesses to lead four separate censorship initiatives with contractors at times engaging in "inherently governmental functions."
[A]s part of its "Silicon Valley Engagement" initiative, GEC pushed social media companies to join Disinfo Cloud, which helped users identify technologies for censoring speech. This has huge First Amendment implications because although many details of Disinfo Cloud's operations and funding remain obscure, it's clear U.S. tax dollars funded both the platform's development and maintenance.

A State Department spokesman previously explained that an outside group, Park Advisors, managed Disinfo Cloud, awarding the group approximately $300,000 to manage the platform. Christina Nemr, a former State Department employee who had been a founding member of the Countering Violent Extremism (CVE) program, served as the director of Park Advisors and the administrator of Disinfo Cloud.

While Disinfo Cloud was a GEC initiative, it appears Park Advisors and Nemr controlled the platform at DisinfoCloud.com, which has since been shuttered....


Disinfo Cloud also helped users -- including private social media companies -- identify the best available censorship tools "to counter propaganda and disinformation."
This included running GEC's "Testbed" program, which tested government efforts to censor speech it didn't like in the real world.
...

While Disinfo Cloud's role in the Tech Demo Series is unclear, GEC's "Testbed" operated from Disinfo Cloud, and Park Advisors also managed that government initiative.

According to GEC's webpage, "Testbed" "tests specific tools or technologies against a submitted proposal," over the course of six to eight weeks to see how successful the tools are in countering supposed propaganda in "real operational" situations....

Park Advisors also handed out government money -- awards -- to companies for technology that made it easier for the government to censor conservatives.
Nemr stressed that eight awards were granted. At least two of the monetary awards went to organizations targeting conservatives -- including news outlets -- for censorship, namely the Global Disinformation Index and the Institute of Strategic Dialogue. Despite purporting to fund foreign-based tech experts "to implement a tool, locally, to address misinformation and disinformation challenges in the region," these U.S.-Paris Challenge awardees reached squarely into the American marketplace of speech.

The Global Disinformation Index (GDI) purports to assess the "disinformation risk" of media outlets and declares conservative media, including The Federalist, as the "Ten Riskiest Online News Outlets." In contrast, the supposedly "Ten Lowest-Risk Online News Outlets" consist of a who's who of left-wing legacy outlets, including those that regularly botched big political stories, such as the Russia-collusion hoax and the Hunter Biden laptop story.

At the 2021 U.S.-Paris Tech Challenge, GDI's founders explained the goal of the risk-rating technology: to disrupt the funding of so-called disinformation by steering away "ad dollars."

Danny Rogers, the American partner in the initiative, stressed in the team's presentation that "over a dozen ad-tech companies," covering "20 different media markets," used GDI's technology. That technology succeeded in "cutting the number of ad options" by over half, "redirecting millions of dollars away from disinformation peddlers toward quality journalism," Rogers boasted.


Significantly, after learning GEC had selected the Global Disinformation Index as one of the winners of the U.S.-Paris Challenge, Rogers' U.K. partner, Clare Melford, explained that the award, in addition to allowing GDI to increase its "language coverage capability," would also allow GDI to expand its risk assessments into video news and bolster the infrastructure "underpinning all of the GDI's activities ... so that the ad tech base can offer advertisers the chance to choose which their ads support."

In other words, our government paid for the infrastructure of GDI's ratings system that resulted in conservative news outlets being blacklisted -- $100,000 worth of U.S. tax dollars in total, funneled by the GEC to the Global Disinformation Index through Park Advisors.

Here's another winner: Leftwing group Newsgard, which consistently rates conservative sites as "unreliable" and most leftwing conspiracy-mongering sites as "reliable."
One of the winners of this challenge was the irresponsible, reliability-ratings company NewsGuard. Like GDI, NewsGuard also champions leftist outlets that peddled the Russia-collusion hoax and wrongly framed the Hunter Biden laptop as Russian disinformation, while branding conservative outlets such as The Federalist as unreliable.

That GEC used Disinfo Cloud as a pass-through to award $100,000 to the Global Disinformation Index, an unspecified amount to the Institute of Strategic Dialogue, and $25,000 to NewsGuard and other winners of the Covid challenge makes no obvious sense -- unless the State Department sought to avoid a public connection to the funding.
All paid for by the State Department, in program of widespread, massive government censorship with an avowed goal of starving right-leaning sites of ad dollars.
David French just emailed me to say, "Snooze, what a nothingburger, this is just 'jawboning' by the government. The government has the right to free speech too, and the most important part of free speech is using taxpayer dollars to censor speech."
One more story: "disinformation" groups refuse disclose their donors.
They even refuse to disclose, on their legally-required Form 990 charitable organization disclosure forms, who their directors and principals even are.
They claim their refusal to engage in the most minimal levels of disclosure is justified -- to stop "harassment" by the right.
'Disinformation' network blacklisting conservative news hides tax forms over 'harassment' by Gabe Kaminsky, Investigative Reporter |


EXCLUSIVE -- Two U.S. nonprofit groups tied to the Global Disinformation Index, a British entity blacklisting conservative media outlets, are refusing to disclose key details about their operations, citing an obscure federal exemption law on "harassment," according to a Washington Examiner investigation.

The private AN Foundation, also known as the Disinformation Index Foundation, and its affiliated public charity, Disinformation Index Inc., provided the Washington Examiner with heavily redacted copies of their 2021 IRS tax returns. A lawyer for the two entities is alleging that these redactions were made because the groups are the target of a coordinated "harassment campaign," a claim that multiple tax experts warn does not allow them to hide information on officers, board members, and, in the case of one group, omit the source of a donation.

"I don't think I've ever seen a 990 that excludes the names of officers and directors," said Alan Dye, a partner at Webster, Chamberlain, & Bean who has specialized in nonprofit law since 1975. "And I've looked at hundreds."

Redaction-riddled disclosures

The lack of transparency on tax forms filed by the GDI groups could result in lawmakers and watchdog groups propelling their investigations into the purported "disinformation" tracking network, which has come under fire ever since a Washington Examiner report on Feb. 9 detailed its efforts to feed blacklists of conservative websites to advertisers. Several Republican members of Congress, including House Oversight and Accountability Committee Chairman James Comer (R-KY), have demanded answers from the State Department for steering grant money to GDI between 2020 and 2021.

On March 31, the Washington Examiner obtained physical copies of 2021 tax forms filed by the AN Foundation and Disinformation Index after a written request to GDI was made. But the documents, which combined total 56 pages, redact or omit various information that is raising major legal and ethical red flags among a handful of lawyers specializing in nonprofit groups.

...

But the federal 2021 forms provided to the Washington Examiner by the charity, which posted over $1.1 million in revenue after its $345,000 haul in 2020, as well the private foundation, which disclosed $367,000 in revenue, notably conceal who prepared the documents, who its books are in the care of, and the names of officers and directors.

The private foundation even omitted the source of a $115,000 donation it received that year, even though such entities are ordinarily required under federal law to publish such information, according to the IRS.
This "disinformation group" is violating US law.
"This is outrageous," said Paul Kamenar, counsel to the National Legal and Policy Center, a conservative watchdog that plans to file an IRS complaint against both nonprofit groups.

Upon inquiring about omissions on the sets of tax forms, a lawyer representing the GDI groups sent the Washington Examiner a letter on April 6, which appears to have also been sent to the IRS and tax administration inspector general for the Treasury Department. The attorney, Marcus Owens of the firm Loeb & Loeb, said that the groups are "withholding" details from their disclosures due to federal codes and regulations concerning "harassment campaigns" against groups.

"The Index's personnel and their families have received multiple threats and hacking attacks, including threats of violence against their children," Owens, who directed the Exempt Organizations division at the IRS between 1990 and 2000, wrote in the letter. "As such, the organization is working [with] appropriate law enforcement authorities, telecommunications and Internet organizations; has appropriately withheld information that could lead to furtherance of this behavior."

...

The British group has not announced which conservative media outlets are on its "dynamic exclusion" blacklist, which comprises who it deems as the foremost "disinformation" peddlers and is fed to advertising companies. GDI has said that the 10 "riskiest" news outlets for "disinformation" are the American Spectator, Newsmax, the Federalist, the American Conservative, One America News, the Blaze, the Daily Wire, RealClearPolitics, Reason, and the New York Post.

The Washington Examiner only learned through sources in the ad industry that it was on this blacklist and was never directly informed by GDI.

Moreover, GDI quietly scrubbed its website, after reporting on its blacklist, of advisory panel members. The panel, which is said partially to oversee its exclusion list, has included the likes of Finn Heinrich, a division director at the George Soros-funded Open Society Foundations grant-making network, according to his LinkedIn account.

...

"It's kind of ironic that a group whose mission is transparency is withholding the names of its officers," said the lawyer for the National Legal and Policy Center.
So: "business defamation" is a real tort. You can sue for this.
But these companies operate in secret -- they spread their defamations on the down-low to advertisers and social media monopolies. The victims of their defamations don't even know why their ad revenue has suddenly dropped to zero.
Congress needs to pass a bill specifically empowering business defamation victims to sue their defamers, and further, because leftwing judges will claim that these defamations are made as part of "spirited public debate," the new law should make it clear that a defamation, passed privately to an advertiser or social media company, is obviously not part of a "spirited public debate" and therefore cannot be said to have special protection under the First Amendment.
The law should mandate that any group engaged in efforts to censor speech must keep strict records of exactly what is said to the companies they talk to, so we have a record of what defamations were made. And if their records appear incomplete or "edited," then juries may infer that what they said was legally defamatory.
Further, the law must specify that the any "malice" standard, if applicable at all, can be satisfied by proving the defamation-throwing company is politically biased and has a substantial history of animus against particular political groups and ideas.
Allowable evidence to prove this should include demonstrating that the "disinformation" defamer employs almost exclusively people from one side of the political aisle. I believe it was Reneé DiResta herself who admitted there are barely any Republicans at the Sanford Observatory (for tracking "disinformation" online), explaining that Republicans just aren't interested in fighting disinformation.
They're the primary purveyors of it, as she explained in that Atlantic article.
Lastly, there must be allowance for huge, and I do mean huge, punitive damage awards if the company engaged in suppression-of-speech-by-defamation is funded by any government money at all.


posted by Ace at
03:45 PM
|
Access Comments