« Hackers Stole 20 Years' Worth of Matt Walsh's Emails
|
Main
|
Canine Cowboy Cafe »
April 19, 2023
IRS Whistleblower: The "Investigation" of Hunter Biden Is Being Deliberately Tanked Due to "Preferential Treatment and Politics"
Update: Letter Added
I know, I know -- you're all stunned, you're all baffled, you're all walking around mumbling and hugging yourselves because life just doesn't make sense any longer.
I'm here. I'm your Cognitive Dissonance Guide. I'm going to try to make your Gaslighting Trip as pain-free as possible.
I mean, I'll help you once I get over my own psychic shock.
IRS Whistleblower Says U.S. Is Mishandling Hunter Biden Probe In letter to lawmakers, Internal Revenue Service supervisor says he has information of 'preferential treatment and politics'


WASHINGTON--An IRS supervisor has told lawmakers he has information that suggests the Biden administration is improperly handling the criminal investigation into Hunter Biden and is seeking whistleblower protections, according to people familiar with the matter.

A letter sent to Congress on Tuesday says a career Internal Revenue Service criminal supervisory special agent has information that would contradict sworn testimony by a "senior political appointee." The supervisor also has information about a "failure to mitigate clear conflicts of interest in the ultimate disposition of the case," according to the letter.

The supervisor has details that show "preferential treatment and politics improperly infecting decisions and protocols that would normally be followed by career law enforcement professionals in similar circumstances if the subject were not politically connected," according to the letter.

The letter says the supervisor has been overseeing an "ongoing and sensitive investigation of a high-profile, controversial subject since early 2020," which it doesn't name. The investigation at issue is into the younger Mr. Biden, the people familiar with the matter said.

The WSJ goes on to mislead that the US Attorney, David Weiss, is "Trump appointed" but held over by Biden. In fact, US Attorneys are chosen from a list of names presented by the senators representing the state in question, and as both Senators from Delaware are left-liberals, obviously then Trump would have had his pick of this leftwing Marxist or that leftwing Identity Politics shitlib.
Biden held this guy over for a reason.
More from Just the News:
According to a letter from the whistleblower's attorney Mark Lytle to Congress obtained by Just the News, the IRS agent revealed he is seeking to provide detailed disclosures about a high-profile, sensitive case to the tax-writing committees in Congress, which have special authority under federal tax privacy laws to receive such information. That could pave the way to share the details with other committees in coming weeks.

The letter does not state that the whistleblower disclosures are related to Hunter Biden. However, Just the News has independently confirmed the agent's allegations involve the Hunter Biden probe being led by Delaware U.S. Attorney David Weiss, a Trump holdover, according to multiple interviews with people directly familiar with the matter.
Thanks to Robert for that last link.

Flashback: Back in February, Hunter Biden's lawyer, who is being paid by Biden's mysterious "Sugar Brother" who also paid $2 million in back taxes for Hunter, sent threatening emails to various media figures demanding retractions on pain of lawsuit, and also demanded that the government run by his daddy launch investigations into Hunter Biden's critics and journalists covering the laptop story.
Update: Below, the letter.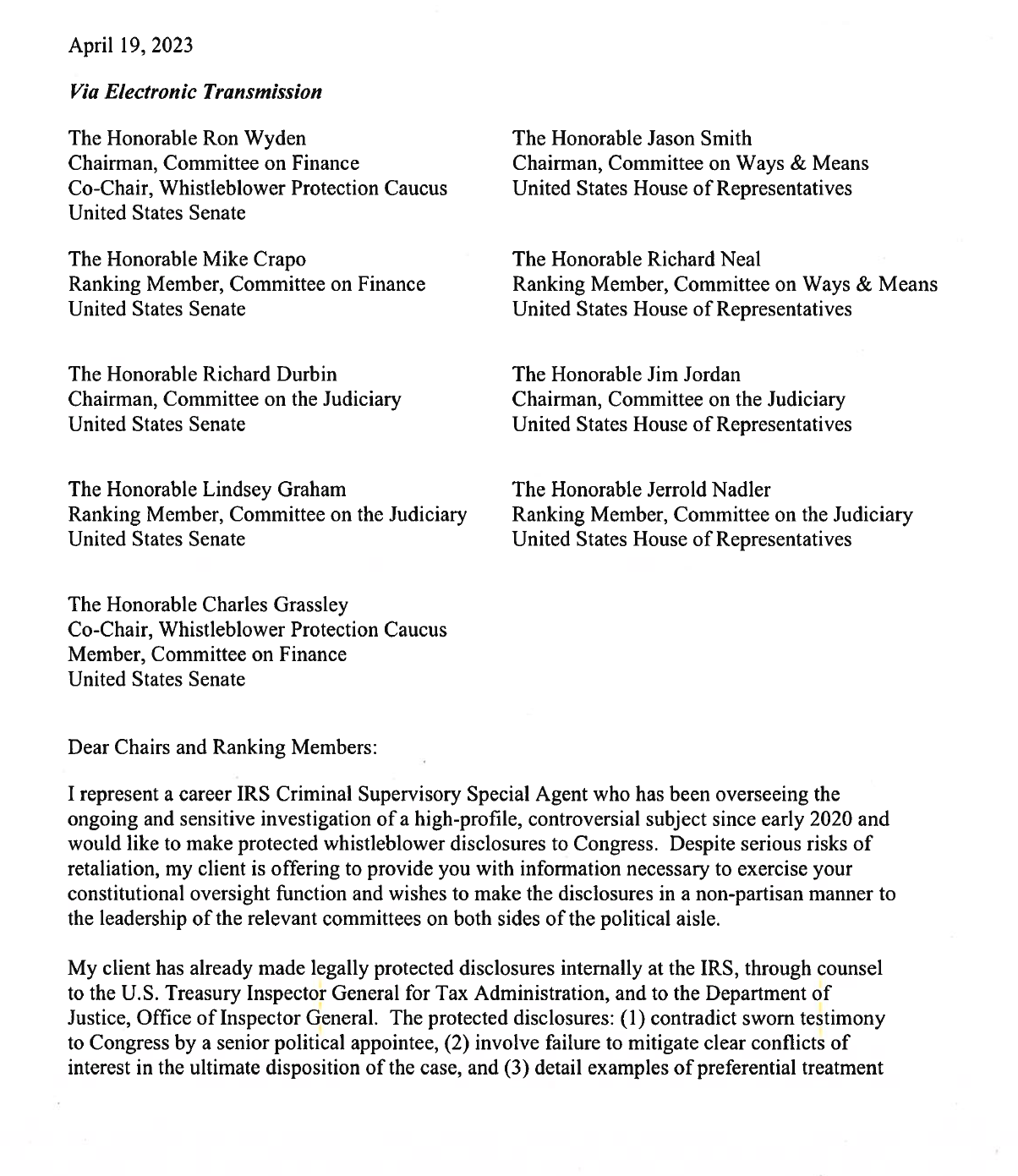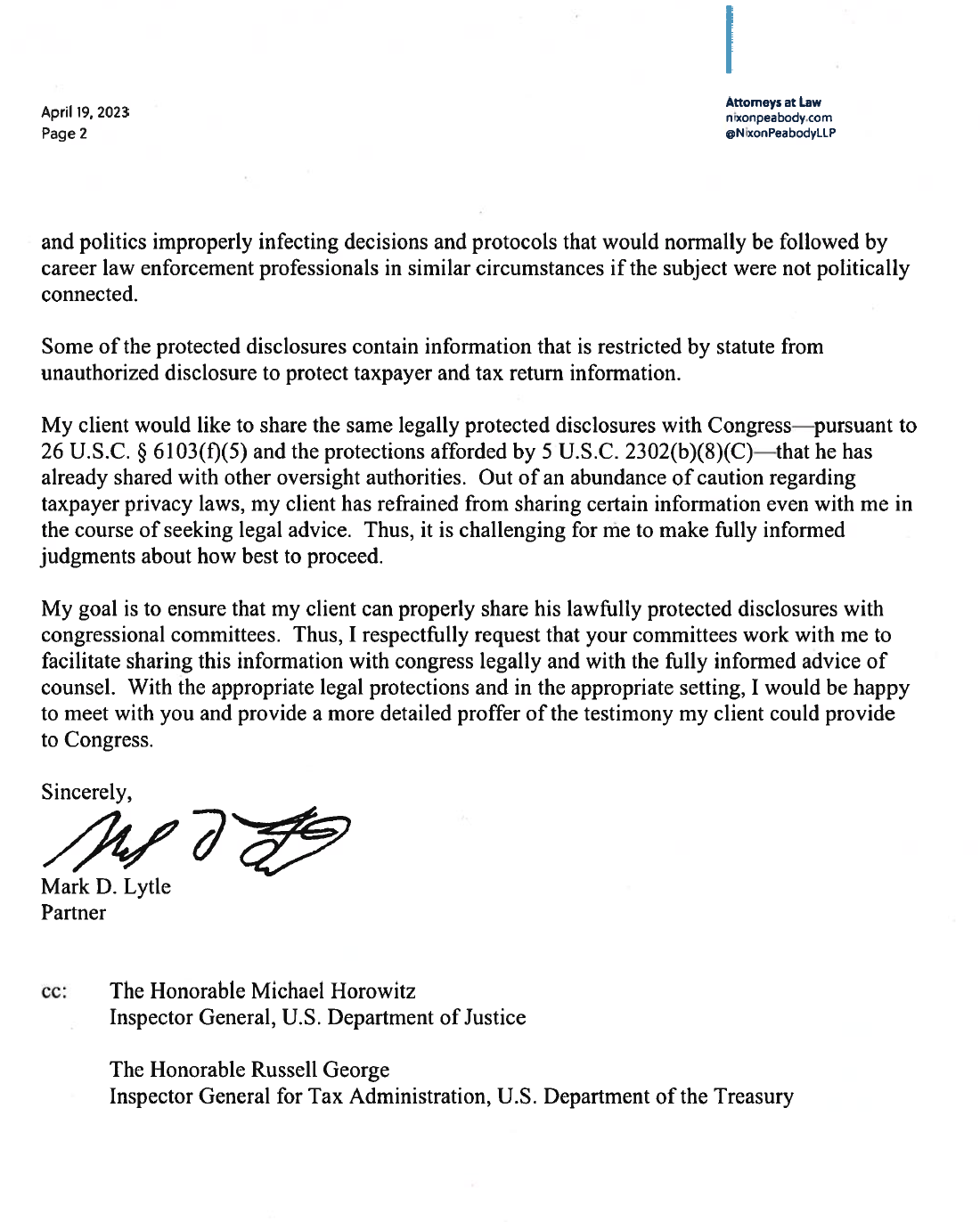 Tucker Carlson likened this to Iraq under Saddam Hussein -- if Uday Hussein blows a red light and runs over your kid, you best be quiet about it, or Daddy Hussein will sink his torturers on you.