« Beaver Retriever Cafe
|
Main
|
Daily Tech News 14 April 2023 »
April 13, 2023
Thursday Overnight Open Thread – 4/13/2023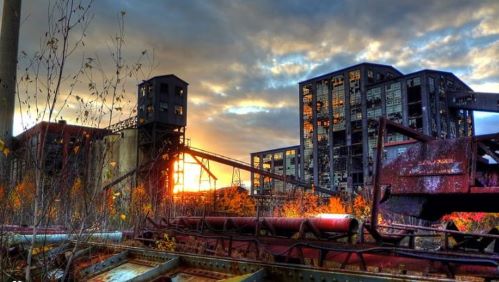 *****
Designing The Worst Possible Volume Control Interface
Are you a connoisseur of awful computer interfaces? If so, you'll appreciate this. In 2017 a group of developers had a competition to see who could create the worst volume control interface in the world. Here are just a few.
I think my favorite is the volume randomizer which requires you to keep clicking "Change" until you randomly get the volume you prefer. They're all hilarious, and there are plenty more at this guy's Twitter feed than just these few.
*****
COBs On Stage
As loyal readers of the ONT know, Weird Dave has been involved in a local play somewhere behind the East Texas pine curtain. I believe he actually has a role on stage. Well, it's finally show time for Dave! So, while he's up there performing in "The Royal Nonesuch" or whatever play he's in, you're going to have to deal with backups in his ONT slots for a short while. You get me tonight.
Are any of you involved in community theater? As a performer? Or maybe a financial supporter? Maybe a backstage hand?
My "acting" career is very brief. As I recounted once before in an ONT, I played the part of Revolutionary War General Israel Putnam in an elementary school play. My one line was supposed to be "Don't fire until you see the whites of their eyes." But once I was on the stage, I tensed up and blurted out "Don't let them see the whites of your eyes." I never got another speaking role in a school play.
Another opportunity came my way a few years later, this time to sing on stage, which as it turned out caused much frustration for the Director. When I was a teenager my church's music director decided it would be good for the youth of the church to perform "Oliver." Since this meant social interaction with girls, my best buddy and I decided to participate.
I played the role of the undertaker, Mr. Sowerberry, and I had to sing a tune called "That's Your Funeral."
The line, "That's your funeral" is repeated frequently throughout the song, but the Director, who was from England, was greatly annoyed with my pronunciation. Apparently I was singing "That's yerrrr funeral."
He reminded me that Oliver is set in England, not Texas, and to please work on that one word. To help me, he then spoke "your" as a British actor might, and asked if I could do the same. I told him "shurrr" and then proceeded to belt out "That's yore funeral." He was still not happy. He expressed how he was frustrated with my inability to pronounce "your" without so much emphasis on the "r." He then suggested I try dropping the "r" sound when singing, which led me to sing "That's Yo Funeral," which also didn't please him.
He finally found a workaround, asking me to replace the word "your" with "y'all" but without strangling the L-sound. So I ended up singing "That's Yaw Funeral."
Here's a little clip of "That's Your Funeral" from some production or other of Oliver.
*****
How Christians in Texas Respond to a Natural Disaster
Every natural disaster prompts a response from the left demanding eco-communism to appease the angry weather God.
I prefer the response from the Christian group, Texas Baptist Men.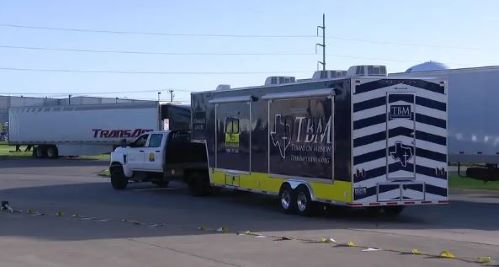 When Arkansas was pounded by tornadoes recently, the Texas Baptist men did what they always do…they loaded up their trailers with provisions, grabbed their chainsaws, and headed out to assist those affected by the disaster.
Texas Baptist Men sending disaster relief crews to Arkansas after deadly tornadoes [KDFW – 4/01/2023]
On Saturday, the first team of volunteers from Texas Baptist Men started their trip from Dallas to Little Rock, where a deadly tornado left behind a path of devastation.

Director of disaster relief, David Wells, said he had volunteers on standby watching the weather Friday.
"We basically are always ready to go, but [Saturday] morning, we are sending out our first wave," he said.

The first equipment dispatched includes a command center and a large generator.

This weekend will be dedicated to assessing the damage the tornadoes left behind, before even more volunteers arrive next week with a mobile kitchen and power tools.

"We have chainsaw teams that will come in on Monday," Wells explained. "These folks going [Saturday] will assess for the chainsaw teams."

"We want to help them. We want to pray for them. We want to give them comfort and confidence that we are there to help them," Wells said.
Volunteers who had just returned from disaster relief in Mississippi quickly loaded up a 2nd team to assist in Arkansas.
Arkansas Tornadoes: Texas Baptist Men sends second team of volunteers [KDFW – 4/03/2023]
"Luckily here in Texas we're bedded with so many people that want to help," said Rand Jenkins of the Texas Baptist Men.

Jenkins just got to North Texas from helping folks in Mississippi, impacted by severe weather last week. "It's the Christian thing to do. When somebody is hurting you go and help. You don't ask questions, you know what they need," said Jenkins.

The volunteers are taking a mobile kitchen, capable of feeding some 3,000 people per day. They're also taking portable washers and dryers.

"We want to meet needs as quickly as possible and help deliver help, hope, and healing in this situation," said John Hall.
What wonderful men, and a wonderful mission.
*****
A Ghost Town In Antarctica
Leningradskaya was a Soviet research base in Antarctica that was built in 1971 but abandoned in 1991 when the Evil Empire imploded.
During its tenure, the base, which sits atop a tall cliff, was assailed by extreme winds and storms that made base life a harrowing affair. Finally, in 1991, the station was evacuated after the Soviet Union fell and funding for the base was discontinued.

In the time since the base was abandoned, the various huts have simply sat vacant, collecting ice. Most of the old huts were left just as they were with supplies and equipment intact, the idea being that one day, researchers might return and pick up where they left off.
Old west ghost towns in America have a little more charm than Soviet ghost towns in Antarctica.
*****
Speaking of Ghost Towns
When I was a kid in the 1970s, old west ghost towns still loomed large in popular culture. My buddies and I loved to check out "history" books from our school library about ghost towns, and the storylines of some of the children's books I read had children poking around in ghost towns, finding adventure.
Even the Brady Bunch had a ghost town episode. Here's a little snippet of the Bradys getting locked up in an old west jail by Jim Backus.
*****
Bubba Gump Electric Vehicle Company
Back when American auto companies were something beyond de facto government enterprises, executives would be fired for their catastrophic mismanagement.
GM Only Sold 2 Hummer EVs in Q1
One vehicle that didn't help GM's performance much was the electric GMC Hummer EV pickup, which contributed just two deliveries to the tally. This after 854 were sold last year.
There are excuses, of course, but the bottom line is that General Motors is not capable of being a high-volume EV manufacturer, in part because GM is a mass market manufacturer and there is not mass market demand for this boutique product, but also because the vendors and supply chain are different from what GM historically worked with. But that doesn't seem to matter, as GM is willing to commit suicide trying to become an EV company.
With 90,000 reservations on hand for the pickup and upcoming SUV, the issue is supply, not demand. GM is still ramping up production and the Hummer EV was hit with a recall late last year to address an issue with its battery packs that could allow water to seep into them.
Of course, taxpayers will ultimately be on the hook.
And once CEO Mary Barra has thoroughly destroyed GM as a functioning company, she'll be the Belle of the Ball in Davos because of her leadership in ending production of gasoline powered cars at that once-great company.
*****
Ford E-dsel
Everything I just said about General Motors' CEO and leadership is also applicable to Ford's CEO Jim Farley and Ford's executives. Farley's celebrity and global prestige will only increase if he is the one who puts Ford out of business in service to the Net Zero agenda.
Ford Says It Will Lose $3 Billion on EVs This Year as It Touts Startup Mentality
A tip of the hat to AOS commenter "Tex Lovera" for designating Farley's disastrous electric car division the "Ford E-dsel."
*****
Bird Watching
When you go bird watching, be sure to look up in the sky, into the tree canopy, down at the ground…and also into the horns of ungulates.
*****
The Global Warming Hoax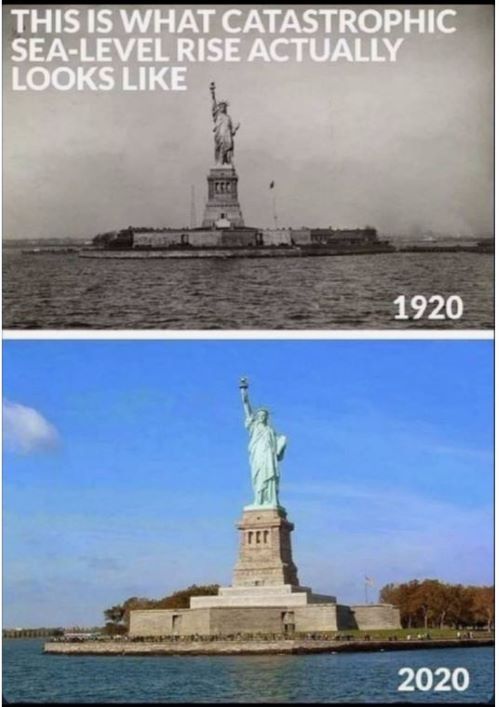 *****
Trust the Science
The Intergovernmental Panel on Climate Change just came out with its latest and scariest prophecies yet, and you people are just ignoring their report! Why don't you people believe "the science"?
As a result, concerned scientists are being forced to unleash some extreme science on y'all to make you understand the magnitude of this mass hallucination crisis. What are the scientists doing? They're blindfolding famous statues. And if you don't think that will have an impact on the climate, then you must be a "climate denier."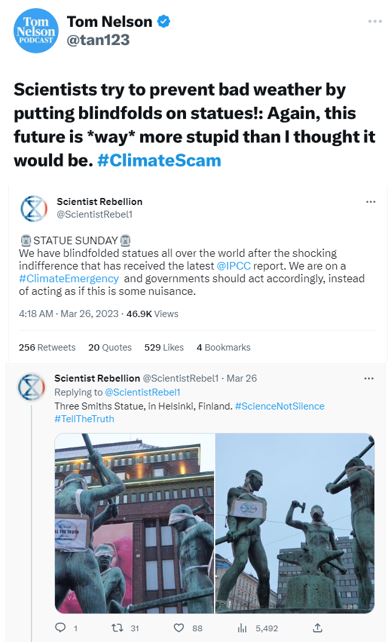 *****
Throckmorton's First Law of Live Music: If There's An Upright Bass In The Band, It's Probably Going To Be Good
One of y'all sent me an email some time ago telling me to check out The Obscuritones, a British rockabilly band. Wow, they're spectacular!
Whoever you are, you deserve a hat tip, but I apologize because I can't find your email. Thank you for introducing me to their music.
Here is The Obscuritones with Rockabilly Boogie
*****
Tonight's overnight thread has been brought to you by Prophets of Doom.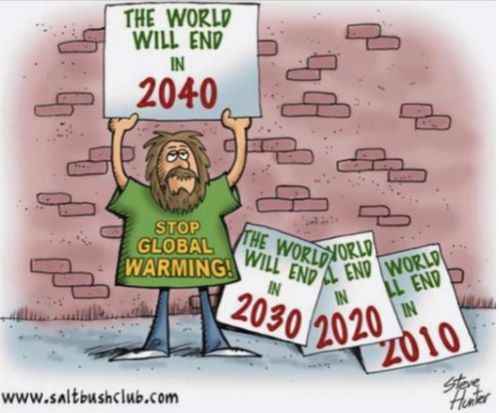 *****
Thanks again to the horde for letting me play host tonight. Please feel free to offer any helpful feedback, insults, or tips at buck.throckmorton at protonmail dot com


posted by Buck Throckmorton at
10:00 PM
|
Access Comments