« First-World Problems...
|
Main
|
Gun Thread: Happy Independence Day Weekend Edition! »
July 03, 2022
Food Thread: Frog Travel Edition
It's time to be plagued by my mediocre food photos from a recent trip. At least I haven't set up a slide projector in the living room!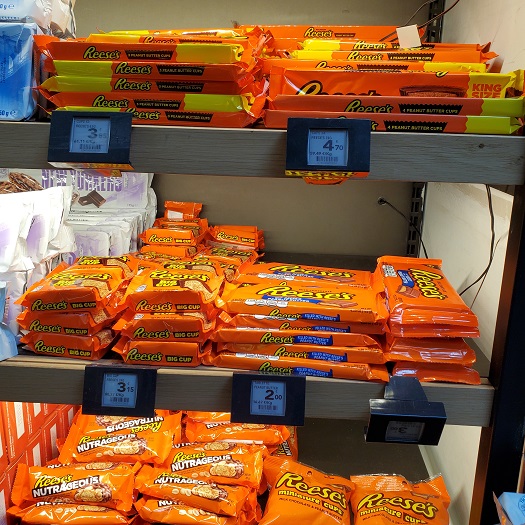 Yup...some things are universal, and peanut butter and chocolate is one of those things. Even in the middle of Paris at a fancy grocery!
My guess is that this store (Le Bon Marché ) is catering to Americans living in Paris who crave a taste of home, but I suspect that the French buy them also. They have a sweet tooth just like most people. The number of chocolate stores in Paris and even in the boonies is amazing.
The trip was half Paris and half small country towns. We enjoyed the neighborhood restaurants so much that we cancelled our reservations at two upscale places. Why bother with that sort of food when the casual places we tried were so damned good and friendly.
So without further ado...on to the food!
******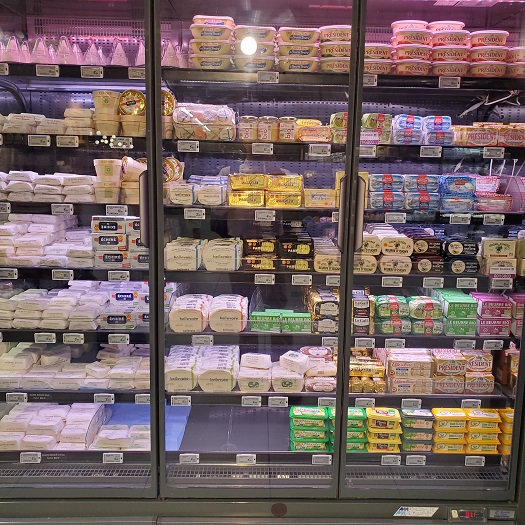 Yes. That is an entire refrigerated display case with nothing but butter. All shapes and sizes and flavors...it was amazing. French butter tends to be cultured (bacterial, not social), so there are regional varieties that are radically different. Even the standard stuff has a subtle tang that is quite nice.

***
Now we get to the good stuff. This is the second night's appetizer (the Frogs call them "entrées"), and it was a doozy!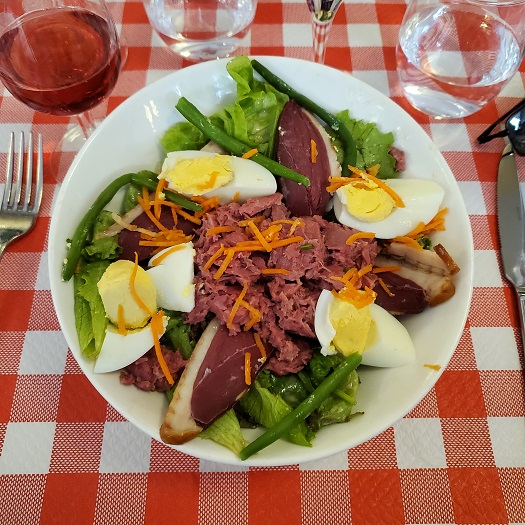 Yup, that is confit of chicken gizzards with slices of smoked duck breast. And some other stuff that sure did go well with the rich meat. It was delicious. So good that I had the same dish a few days later.
Many people are less than enthusiastic about organ meats, but when made well they can be absolutely wonderful. I guess it seems sort of disgusting at first thought (I don't know...I grew up with the stuff so it seemed normal to me), but I think it is worth trying at least once.

***
Speaking of organ meats...
This is a dish called ris de veau, which is the thymus gland (sweetbreads) from veal. I have never seen it served as a chunk in the United States; it is usually cut up into small pieces.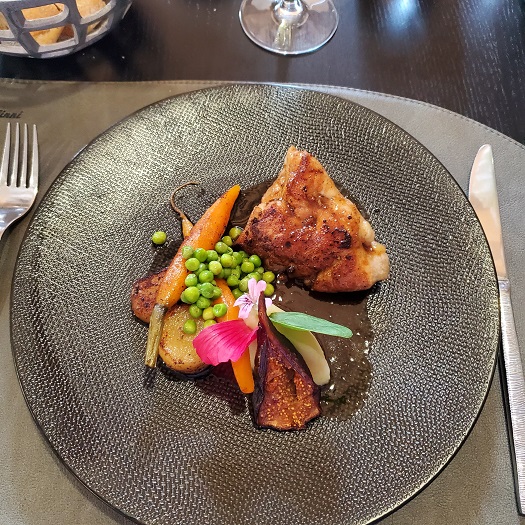 This dish was spectacular, and my favorite meal of the visit. I spoke with the chef, and she told me how she cooked it. Go ahead...guess!
Yup. Sous Vide! That way the large chunk was cooked evenly, because overdone sweetbreads is dry and crumbly and not much fun at all.

******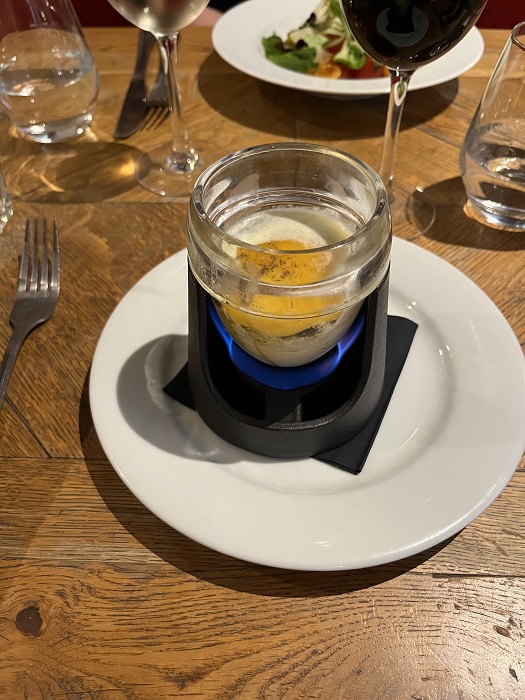 I had no idea how this was going to be presented when I ordered it. I just liked the idea of eggs and truffles. It's really a simple dish: an egg, some cream, a bit of shaved truffle, and salt and pepper. But the presentation was great! Sure, it was a bit of a shtick, but it cooked perfectly and was fun to watch. And better to eat. Creamy and eggy and altogether delicious.

******
That's an
amuse-bouche
we were served one night. I looked at it and thought, "Hmmm...the waitress screwed up and gave us someone's dessert order: Crème Brûlée."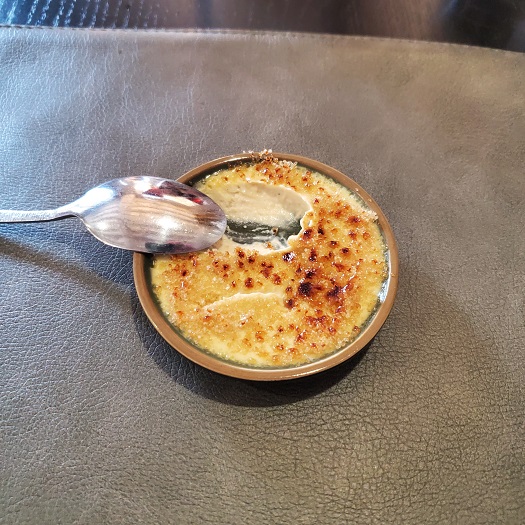 Well, I was half right and half wrong. It was Brûlée all right, but underneath wasn't a sweet custard; it was a creamy duck pâté. Weird but good. I think I will try that at home!

******
We spent part of the time on the French coast, mostly in Normandy. And when on a sea coast, my thoughts turn to oysters. Lots and lots of oysters! Say what you will about the French, but they appreciate a good oyster, and these were wonderful.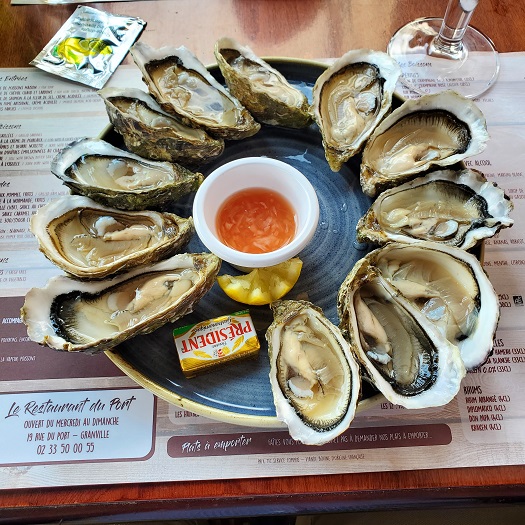 And not expensive at all. I had many dozens, and they all cost a little more than half of what they cost in the United States. And I wasn't chasing oyster happy hours!

******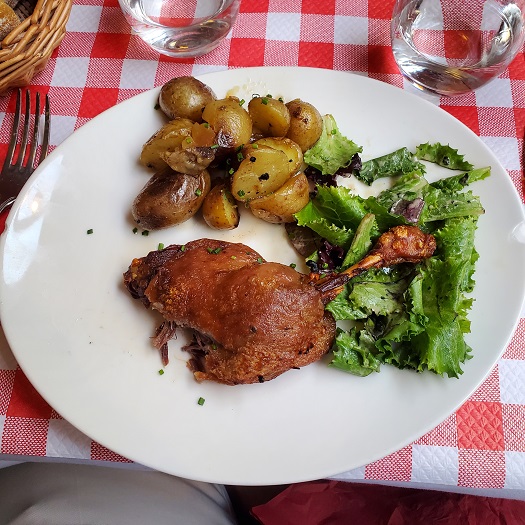 Duck confit. What can I say? It's delicious stuff, and I will eat it whenever I can. It's simply a duck leg that is poached in duck fat, some garlic, and probably fresh thyme. Then seared in a pan to crisp the skin. It is a straightforward preparation, and something that we home cooks can do easily. In fact, it works pretty well with chicken legs!
By the way, those potatoes were excellent; firm and tender and buttery. Which brings me to the only dud...French Fries! They were just okay. Nothing terrible, but I will take the UK version or the American version any day.

******
Did I mention that I like oysters, and that the oysters in Normandy were great?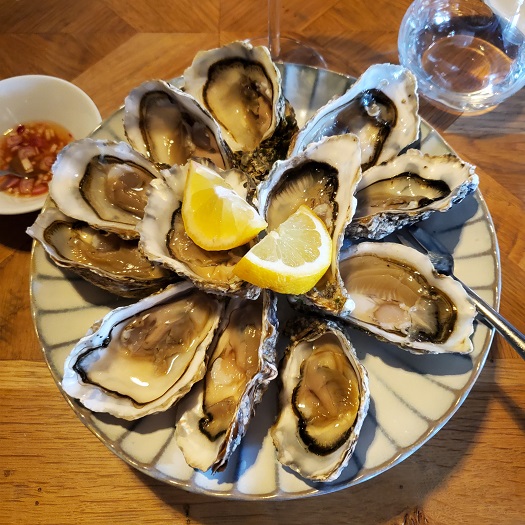 ******
I hadn't been to France in more than a dozen years, and I was curious how we would be treated, since 1) we are American and don't hide it, and B. the French are often notoriously smug, dismissive and rude with foreigners. But I was pleasantly surprised by how friendly most people were. I imagine that a difficult few years has focused the minds of the French and helped them realize that alienating foreigners who want to spend money in France probably isn't a good idea. And clearly English is much more popular as a second language than even a few years ago. We also tried to speak French whenever possible. That might have helped, even though my French is horrible.
And a last and serious note. We visited the Normandy invasion sites, including The Normandy American Cemetery and Memorial in Colleville-sur-Mer. I did not know what to expect...part of me assumed that it would be diminished and disrespected. But I was very pleased to discover that not only was it physically in even better shape than the last time I visited; the other visitors were respectful and focused.
We saw a large group of teenagers, all of whom were carrying small bouquets of flowers and a slip of paper on which was obviously the location of a particular grave. I did not probe, but the idea that a bunch of kids were going to honor some of the men who gave their lives in the summer of 1944...65 years before they were born...gave me pause. Is it possible that there is hope?

******
Romaine lettuce that is green, instead of the white crap they sell that has never seen a photon, pork rib roasts from the front end of the pig where all the good and fatty meat lives, carrots that don't taste like stalky chalk, spare bottles of Van Winkle Special Reserve 12 Year Old Bourbon, an herb garden that actually produces herbs (but no basil!), well-marbled NY strip steaks and elk backstrap to:
cbd dot aoshq at gmail dot com.
And don't think that you are off the hook with maple syrup and French Toast: I'm watching you...all of you! And I am watching you perverts who shake Manhattans and keeping a list for the Burning Times.

posted by CBD at
04:00 PM
|
Access Comments