« Beaver Reaver Cafe
|
Main
|
Daily Tech News 10 May 2022 »
May 09, 2022
Monday Overnight Open Thread – 05/09/2022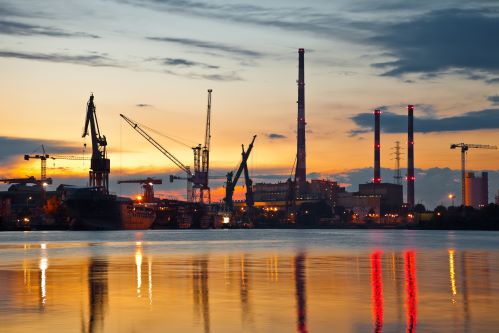 *****
"HOW ARE THINGS GOING WITH THE BABY?"
A Belgian guy named Kenny Deuss likes to send "neglectful dad" photos to his girlfriend when he is caring for their baby and she asks how things are going.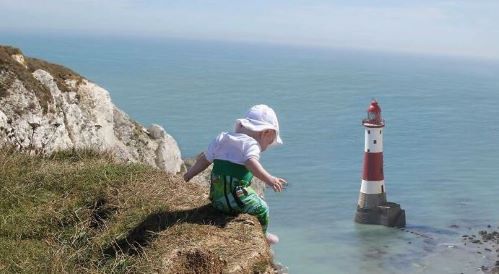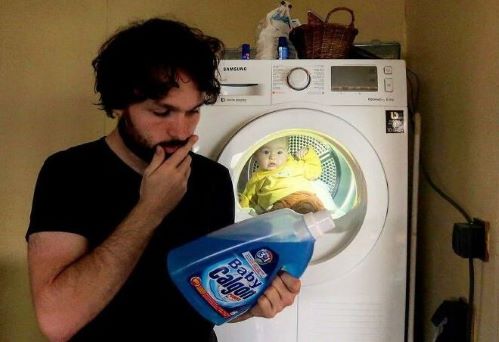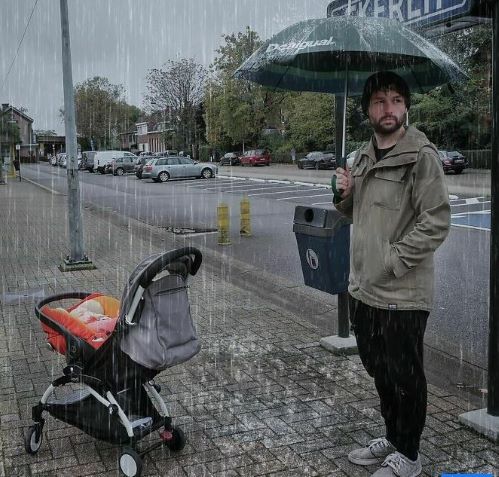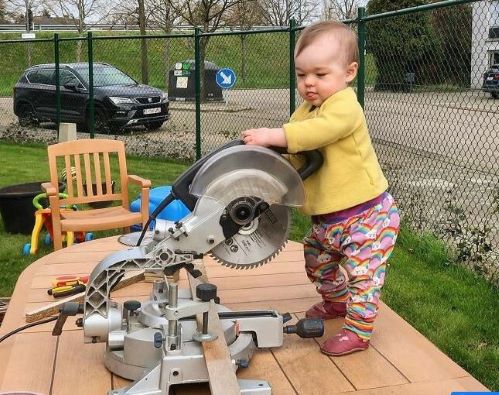 *****
FLYING FISH
Flying fish have a tough life. To escape from predators, they launch themselves from the sea and try to glide away from the danger, but while airborne they might just get intercepted by a frigate bird.
I've seen plenty of flying fish while I was fishing in the Gulf of Mexico, but I've never seen them getting plucked from the sky by hungry birds. There is some really spectacular footage in this short video.
*****
PAPER STRAW IN A PLASTIC BAG
This captures nicely how fraudulent so many environmental fads are.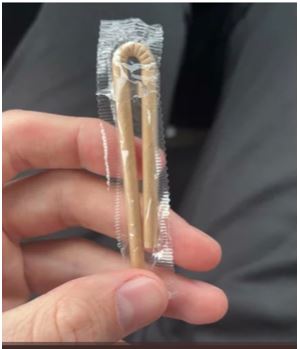 *****
WAS "JACK THE RIPPER" ALSO THE "AUSTIN SERVANT GIRL MURDERER"?
In the mid-1880s, there was a terrifying string of murders in Austin, TX known as the "Servant Girl Murders."
There were eight murder victims.

Jan. 1, 1885, began a year of unprecedented violence for the small city as four Black servant women, an 11-year-old Black girl, one Black man and two white women were murdered by axe or knife in just under a year.

According to the Statesman's May 30, 1886 edition, "all these murders occurred about midnight, in a majority of instances on moonlit nights, and the same mysterious and utterly impenetrable silence, unbroken by sound or cry, reigned while the assassin was at his terrible work."

The murders ripped a young Austin apart, causing the city's raucous nightlife to come to a halt and servant women everywhere to keep their eyes peeled and doors locked. But perhaps most chilling is that the city's most prolific killer was never caught.
The murders suddenly stopped. Three years later, Jack The Ripper terrorized the White Chapel district in London. Could he have been the same serial killer? Probably not, but there are a couple of theories tying the two sprees together:
In November 1888…the Austin American-Statesman reported on a possible American connection to the Ripper: a Malay cook on an ocean vessel was suspected in the White Chapel killings. The article went on to report that a Malay cook had been working at a small Austin hotel called the Pearl House "near the foot of Congress Avenue." The Austin reporter learned a Malay cook named Maurice had worked there in 1885 before departing in January 1886. The last killings occurred just before Maurice left Austin.
2) The Liverpudlian With A Cheating American Wife
It suggests that Maybrick, a Liverpool merchant who, furious with his American wife's infidelity, went periodically to London to butcher prostitutes who walked the streets close to where he had first seen his wife with her lover. Now, Shirley Harrison presents startling new evidence that Maybrick was also in Austin, Texas at the time of a horrific killing spree—eight murders, all likened to those of the Ripper.
If you ever find yourself strolling around the Four Seasons Hotel in Austin, you can impress your guests by telling them that a woman named Sue Hancock was murdered at that site on Christmas Eve 1885, and that her killer might have been Jack The Ripper.
*****
LUGGAGE TAGS
Mrs. Throckmorton usually ties a colored ribbon around the handle of her suitcase, but I think I prefer this method.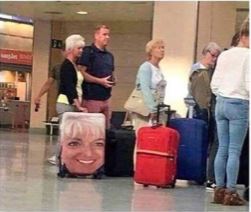 *****
FONDUE PARTY
I recall people giving and getting fondue sets at Christmas when I was a kid in the 1970s. I also recall disposing of old fondue sets some years later when helping family members move or downsize. What I don't ever recall, however, is anyone actually using a fondue set.
But the way fondue was marketed sure did make it look like some groovy fun.
Did any of y'all ever actually use a fondue set? More than once? Let's hear it if you have a story about fondue parties.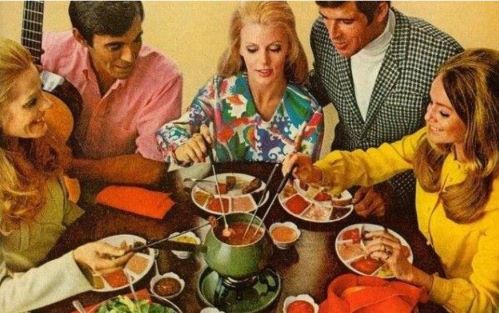 *****
TRANS-SPECIESISM
Father Of 5-Year-Old Pterodactyl Finds It's Not Easy To Get Species-Affirming Care In America
According to sources within the family, Madison first discovered his true pterodactyl identity when he put on a Halloween costume and then refused to take it off. It was then his parents knew he was a dinosaur trapped in a human child's body.

UPDATE: Madison has changed his mind and has decided he is now a sea lion. His parents are currently looking for a giant aquarium to keep him in.
*****
CLASSICAL & WESTERN
There was a wonderful musical fusion in the mid-20th century, with American composers creating new classical music that was infused with a sense of the American West. Here is one example, performed by The Mormon Tabernacle Choir Orchestra.
Elmer Bernstein's "The Magnificent Seven"
The Magnificent Seven was released in 1960, and Elmer Bernstein received an Oscar nomination for the score. It became such a cultural phenomenon that it was recorded in other musical styles. Here is John Barry (composer of James Bond scores) doing a surf rock version of The Magnificent Seven.
*****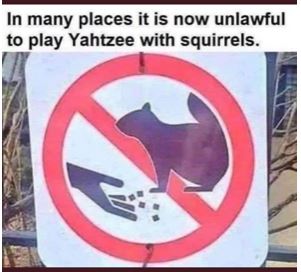 *****
THROCKMORTON'S FIRST LAW OF LIVE MUSIC: IF THERE'S AN UPRIGHT BASS IN THE BAND, IT'S PROBABLY GOING TO BE GOOD
Riders In The Sky got their start as a campy, cowboy, throwback act, but over the past four decades they've become a beloved institution at the Grand Ole Opry.
"Ranger Doug" Green possesses an incredible knowledge of western music, and he was featured on Ken Burns' "Country Music" during discussions of the cowboy music era.
Despite their cornpone act, these cowpokes aren't hayseeds. Green has a Masters in Literature from Vanderbilt. Bass player Fred "Too Slim" LaBour has a Masters in Wildlife Management from Michigan, and fiddler "Woody Paul" Chrisman has a PHD in Plasma Physics from MIT.
If you've ever wondered why cowboys started yodeling, you'll learn the painful truth in this song:
"That's How The Yodel Was Born" (Riders In The Sky)
*****
Tonight's overnight thread has been brought to you by Dancing Sandwiches.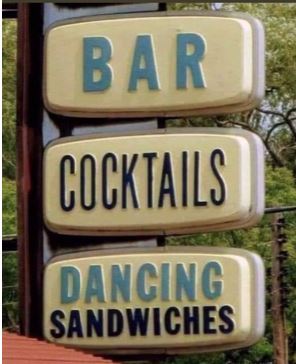 *****
Thanks again to the horde for letting me play host tonight. Please feel free to offer any helpful feedback, insults, or tips at buck.throckmorton at protonmail dot com


posted by Buck Throckmorton at
09:45 PM
|
Access Comments