« Nurse Suspended From School -- For Revealing That Teachers Were Counselling 12-Year-Olds Students to Become "Trans," While Keeping This Secret From The Students' Parents' Backs
|
Main
|
Sad! Nancy Pelosi and a Bunch of Other Democrats Test Positive for Covid »
April 07, 2022
Revealed: Joe Biden Wrote a College Recommendation For a Chinese National He Never Met In His Life, But Just Happened to Be the Son of One of Hunter's Chinese Communist "Business" Palz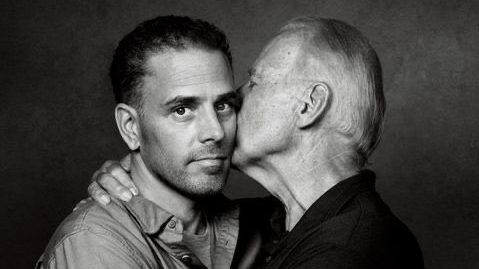 President Biden, in 2017, wrote a college recommendation letter for the son of a Chinese executive who did business with Hunter Biden, according to emails reviewed by Fox News Digital.

The president has repeatedly denied discussing Hunter's business ventures with his son.
He just felt like writing a recommendation for a random Chinese Communist princeling he never met, I guess.
Fox News Digital obtained emails between Hunter Biden and his business associates involved in his firm Rosemont Seneca's joint venture with Chinese investment firms Bohai Capital and BHR.


Hunter held a 10% stake in BHR as recently as last year, the White House previously acknowledged. Hunter's attorney told the New York Times in November that he had since divested.

In an email dated Jan. 3, 2017, and sent to Hunter Biden and his business associates Devon Archer and Jim Bulger, CEO of BHR Jonathan Li writes:

"Gentlmen[sic], please find the attached resume of my son, Chris Li. He is applying the following colleges for this year," Li writes, listing Brown University, Cornell University, and New York University.

Li goes on to attach an "updated version" of his son's "CV" in a subsequent email.


Hunter's associate, James Bulger, cc'ing Hunter and Archer, replies saying they have "received the updated version of the CV."

"Lets [sic] see how we can be helpful here to Chris," Bulger writes.
The emails originated from a laptop said to belong to Hunter Biden.

When asked about the contents of the emails, White House deputy press secretary Andrew Bates told Fox News Digital: "We don't comment on the laptop."

...

President Biden has adamantly denied knowledge of his son's business activities.

As recently as Tuesday, White House press secretary Jen Psaki was asked to confirm if Biden's statement that he has not discussed with his son his overseas business dealings still stands, to which she replied: "Yes."
The investigation was triggered by SARs, Suspicious Action Reports, concerning all the millions of dollars flowing to Hunter Biden from foreign oligarchs and cut-outs for the Chinese Communist Party.
Another source familiar with the investigation told Fox News in December 2020 that the SARs were regarding funds from "China and other foreign nations."

A Treasury Department official, who did not comment on the investigation, spoke broadly about SARs, telling Fox News that SARs are filed by financial institutions "if there is something out of the ordinary about a particular transaction."

Meanwhile, the a podcast host who has a copy of Hunter Biden's laptop says they've just found 450 gigabytes and 20,000 images and videos -- many of them featuring underaged girls in sexual poses, like sticking their tongues out -- that no one has seen yet, but which he says he'll be releasing.
He's fled the country. He's in Switzerland, because he fears the White House retaliation.
Which he should.
Everyone who's touched this hard drive has legitimate fears that the corrupt government will prosecute them for possession of child pr0n -- for trying to expose the President's son's child pr0n collection!
EXCLUSIVE: Whistleblower who handed Hunter's abandoned laptop to congressmen and DailyMail.com reveals he has 450 gigabytes of DELETED material including 80,000 images and videos - and has fled to Switzerland fearing retaliation from White House

Whistleblower Jack Maxey gave DailyMail.com a copy of the hard drive from Hunter Biden's abandoned laptop in the spring of 2021

DailyMail.com has published dozens of stories exposing Hunter's drug use, sex obsession and questionable business dealings

For the past two weeks, Maxey has been in hiding in Zurich, Switzerland, working with IT experts to dig out more data from the 'laptop from hell'

He says he intends to post them all online in a database in the coming weeks
Maxey says he has found '450 gigabytes of erased material' including 80,000 images and videos and more than 120,000 archived emails

The former podcast host says he fears retaliation from the Biden administration
He says that after contacting DailyMail.com about the laptop last year, black suburban SUVs appeared outside his house
To be honest, after hearing about "child pr0n" on the hard drive, if it turns out it's just girls sticking out their tongues -- well, that's bad, but not as bad as it had been touted.

But then again: the girls sent Hunter Biden these pictures.
Why was Hunter Biden "chatting up" underaged girls on the internet at all?

Meanwhile, Jonathan Turley says it's "hard to imagine a stronger case" for a special prosecutor, given that the DOJ, which is under Joe Biden's direct control, is currently investigating his crack-smoking influence-peddling FARA-evading son for federal crimes, and might just wind up investigating Joe Biden himself for crimes.
10% for the Big Guy -- "held by H," so that it wouldn't have to be disclosed to the government or taxed.
And also: Joe Biden has repeatedly claimed that Hunter was innocent, which is Joe Biden telling his subordinate employees how he expects their final report to come out.
"We absolutely stand by the president's comment." With those words, White House communications director Kate Bedingfield reaffirmed that President Biden maintains his son Hunter Biden did "nothing [that] was unethical" and never "made money" in China.

Those claims appear demonstrably false -- and they make the positions of both the media and Attorney General Merrick Garland absolutely untenable.

For the media, the ongoing investigation of Hunter Biden by U.S. Attorney David Weiss in Delaware has presented a growing danger of self-indictment over its prior coverage (or noncoverage). Weiss has called a long line of witnesses before a grand jury, and there is growing expectation of criminal charges against Hunter Biden.


...


The key in any influence peddling scheme is to protect the principal. People apparently were told to avoid directly referring to President Biden. In one email, Tony Bobulinski, then a business partner of Hunter's, was instructed by Biden associate James Gilliar not to speak of the former veep's connection to any transactions: "Don't mention Joe being involved, it's only when u [sic] are face to face, I know u [sic] know that but they are paranoid."


Instead, the emails apparently refer to President Biden with code names such as "Celtic" or "the big guy." In one, "the big guy" is discussed as possibly receiving a 10 percent cut on a deal with a Chinese energy firm; other emails reportedly refer to Hunter Biden paying portions of his father's expenses and taxes.

...

There are emails of Ukrainian and other foreign clients thanking Hunter Biden for arranging meetings with his father. There are photos from dinners and meetings that tie President Biden to these figures, including a 2015 dinner with a group of Hunter Biden's Russian and Kazakh clients.

...

The new narrative suggests that, while Hunter Biden maintained one of the largest influence-peddling schemes in recent history, it did not involve the object of that scheme -- his father.

...

The point is that President Biden really did not have to ask [why foreign operators were paying his crackhead son millions]: Hunter Biden had nothing to sell but influence. All President Biden had to do to facilitate such schemes was to be accessible -- to allow his family to deliver face-to-face meetings and photo ops.

And that brings us to the untenable position of Garland.

It is hard to imagine a stronger case for a special counsel. Any effort to investigate Hunter Biden's dealings will lead investigators to encounter repeated references to the president and how he may have benefited from those schemes. At the same time, the president is "absolutely" standing by his denial that his son did anything wrong or made any money from China.

The White House statement this week serves as a reminder to investigators that the president is heavily invested in this narrative and his denial of now-established facts.

...

Garland pledged to protect the Justice Department from such conflicts and to avoid even the appearance of political influence. He now has a president stating that alleged wrongdoing by his son is "absolutely" untrue, including dealings possibly impacting the president personally and financially. If Garland declines to appoint a special counsel, he will absolutely fail on his pledge.
The Loudly Virtuous Norms-Guardians of NeverTrump remain silent as stones on the need for a special prosecutor.
Remember, they're the Real Patriots. As opposed to you (spit) mere "nationalists."
And all they want to do is Protect America's Precious Norms.

posted by Ace at
01:42 PM
|
Access Comments