« Controversial Florida
Dave in Fla, Guest Monkey
|
Main
|
Revealed: Joe Biden Wrote a College Recommendation For a Chinese National He Never Met In His Life, But Just Happened to Be the Son of One of Hunter's Chinese Communist "Business" Palz »
April 07, 2022
Nurse Suspended From School -- For Revealing That Teachers Were Counselling 12-Year-Olds Students to Become "Trans," While Keeping This Secret From The Students' Parents' Backs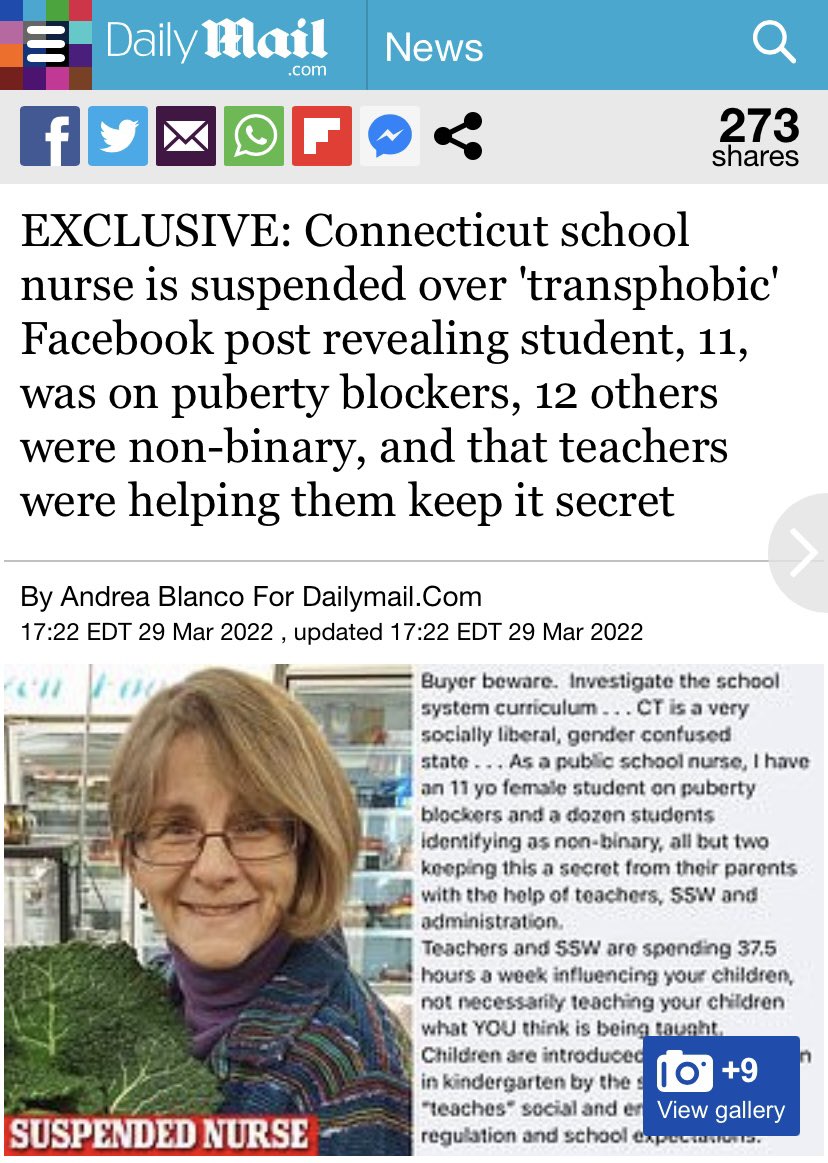 The left, including NeverTrump, is now shrieking about calling people who induce kids to "transition" behind their parents' backs "groomers."
Note these are the same people who claim all of their enemies are "racists," "QAnon types," "conspiracy theorists," and "traitors."
AllahPundit explicitly excused the latter slur by saying "but the 'populists' call us 'chickenhawks.'"
Yeah but you guys literally are chickenhawks, as the term is defined. People who don't want to fight all the wars you chickenhawks propose for lower- and middle-class people to fight for you are not "traitors."
No one is a "traitor" for not wanting to involve themselves in Ukraine -- we can't be traitors to the Ukraine. Ukraine is not our country.
What is galling is that the NeverTrumpers are all globalists themselves and find debate about which country is our own to be a tedious and tendentious question. They routinely attack "nationalists."

We're Citizens of the World, they believe, along with the (get this!) progressive transnationalists. (Almost as if they were some type of progressive transnationalist themselves.)
And if we pledge allegiance to America at all, we only pledge allegiance to the America that can be.
They are patriots for Ukraine and expats for America.
At any rate, as they scream that "traitor" is a fine twitter put-down but "groomer" is not -- what else would you call people who deliberately groom young children to become "trans"?
Just some freelance Gender Scientists running some well-meaning experiments on other people's children?
EXCLUSIVE: Connecticut school nurse, 77, is suspended over 'transphobic' Facebook post revealing that student, 11, was on puberty blockers, 12 others were non-binary, and that teachers were helping some keep it secret

Kathleen Cataford, 77, was suspended by Hartford Public Schools School after she posted comments containing specific and private details about students

The post came to the attention of officials at the Richard J. Kinsella Magnet School after the mother of the 11-year-old mentioned saw the post online

'Teachers...are spending 37 hours a week influencing our children, not necessarily teaching our children what YOU think is being taught' she wrote

'I have an 11yo female student on puberty blockers and a dozen identifying as non-binary, all but two keeping this as a secret from their parents,' she added

Hartford Public Schools Superintendent Dr. Leslie Torres-Rodriguez issued a statement condemning the Cataford's remarks

Cataford remains suspended pending an investigation by the school district into her Facebook comments
The reason for the suspension, supposedly, is that she revealed a child is on puberty blockers. She did not out the child by name, but there is in fact an 11-year-old on puberty blockers, and the school takes the position that she "outed" that student, sort of.
They have no comment on the spate of 12 year olds who have decided that they are also "trans" or "non-binary.

A Connecticut school nurse has been suspended over a Facebook post revealing that an 11 year-old at the school where she worked was on puberty blockers.

Kathleen Cataford, who worked at the Richard J Kinsella Magnet School in Hartford, was axed from her role Monday over the post, which was branded transphobic.

Writing on a local mom's group in response to a request for local school recommendations, the 77 year-old said: 'Investigate the school system curriculum...CT is a very socially liberal, gender confused state,' the post read.


It continued: 'As a public school nurse, I have an 11yo female student on puberty blockers and a dozen identifying as non-binary, all but two keeping this as a secret from their parents with the help of teachers, SSW [social workers] and school administration.

'Teachers and SSW are spending 37.5 hours a week influencing our children, not necessarily teaching our children what YOU think is being taught.'

Cataford went on to claim that 'children are introduced to this confusion in kindergarten.' DailyMail.com's attempts to contact her Tuesday were unsuccessful.

Puberty blockers are used to delay puberty in transgender children, and are a current hot-button issue in the United States.


Supporters say it saves trans children from undergoing potentially traumatic changes to a body they already feel uncomfortable in.

'I have an 11yo female student on puberty blockers and a dozen identifying as non-binary, all but two keeping this as a secret from their parents,' Cataford wrote

Opponents say that while billed as reversible, the blockers can have irreversible side effects which can cause serious harm to users' wellbeing later in life, such as sterility and the inability to achieve orgasm.

The post came to the attention of Hartford School District Officials after the mother of the 11 year-old mentioned saw it, and flagged it to school officials.

This is not the first time teachers have conspired against parents.
Outraged parents in Spreckels, California tore into the school board Wednesday night, accusing school staff of pushing gender dysphoria on their children.

One parent's voice shook with rage as she accused school staffers of making her daughter suicidal after they caused her to question her gender, and change her preferred pronouns.

"My child almost lost her life! You didn't tell me that my child was suicidal!" she exclaimed during public comments at the Dec. 15 Spreckels Union School District (SUSD) board meeting.

The mother, Jessica Konen, has alleged that her then 12-year-old daughter was tricked into joining a predatory LGBTQ group that was deceptively named an "Equality Club," the Epoch Times reported.
Weird how they're the ones complaining about the "Don't Say Gay" law -- but it seems there's a lot of things school employees are not allowed to discuss, and they're foursquare behind those forbiddances.
Are they allowed to say it's "okay to be straight," for example? No, of course not; they'd be fired for saying that.
Can they tell students that gay marriage isn't real marriage? No, again: they'd be fired.
Can they tell students that "transitioning" is dangerous and unhealthy, and that it's impossible to change your sex anyway? No, again: they'd be fired.
The people screaming about "Don't Say Gay" have already imposed a large series of controls on what teacher and school officials are allowed to say -- in brief, they're not allowed to speak of heterosexuality in a positive way, they cannot express their opinions about gay marriage except an enthusiastically supportive way, and they cannot say a single thing about "transitioning" except that it's a great thing to do and any student who even mentions being confused about gender must be "affirmed" in their gender choices.
If the "Don't Say Gay" critics were serious, they'd allow teachers and officials to speak about these issues openly, with all sides and perspectives allowed.
But they don't -- they say they want these issues discussed, but then mandate that they must be discussed ONLY in an "affirming," gay-positive/heterosexuality-negative, pro-transitioning way.
So it seems to me that parents are getting wise to this situation and saying, "No, if schools are saying that teachers are permitted to talk to our little ones about sex, but only to evangelize them into homosexuality and transgenderism, then no, we'll be having no conversations with the little ones about these topics at all."
Do the "Don't Say Gay" freaks disagree? Would they permit teachers to suggest that maybe biological gender is very real and that pre-pubescent children taking powerful synthetic hormones is a dangerous experimental procedure they should maybe not try?
No, of course not: they want these issues propagandized to children, but only in the "Gays are Marginalized and Therefore Good, Straights are Dominant and Therefore Bad" and "Transitioning Is Just You Discovering Your Authentic Self" way.
And those who say this isn't "grooming" must account for this fact: 20% of all Gen Z pyrsyns now claim to be some kind of LGBT.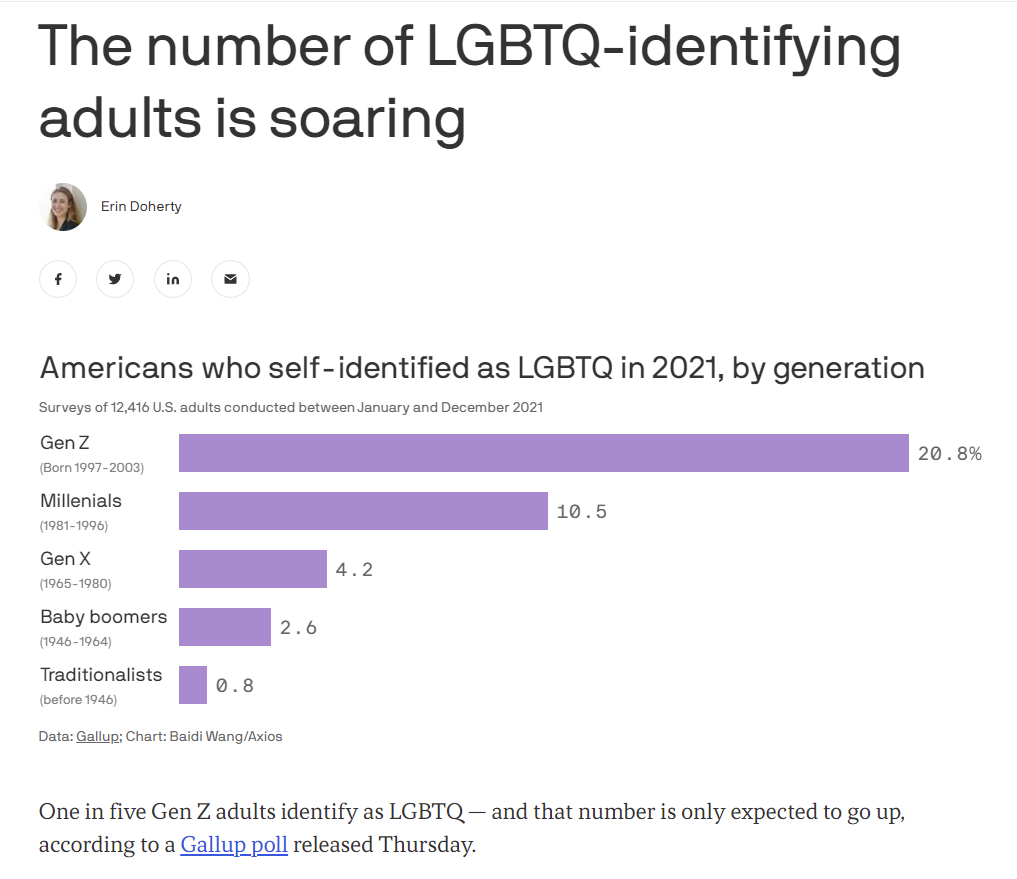 Are the groomers really claiming that the rate of homosexuality increasing by a factor of ten, an entire order of magnitude, over a couple of generations, is just Young People Naturally Discovering Their Authentic Selves?
That human beings "naturally" have a homosexuality rate of 20%, and are only now embracing that because they feel validated in their true sexuality?
Or could it be that when you relentlessly propagandize to young, immature minds that "Gay or Trans Equals Marginalized and Good" while "Straight Equals Dominant, Oppressor, and Bad" that some of these very young children just might believe you and adapt their sexuality to conform to your rules?
And if it's just people embracing their True Genders now that Gender Repression has abated -- how come Gen X and Baby Boomer gay and trans identification rates aren't also skyrocketing? They, too, must feel the liberating air of Gay Ideology freeing them.
So why then are they not free?
Why is it only the little kids exposed to this propaganda effort who are identifying as gay or trans at such impossibly high rates? Why are older adults, who have also been propagandized to on this issue for decades of their lives, not also identifying as gay or trans at 10% of 20% rates?
Answer, obviously: Because it's much harder to groom an adult.
The advocate for the "Future of Sex Education" admitted that:
This is a quote from the "Future of Sex Education," a group devoted to changing sex education and indoctrinating younger and younger children into the joys of homosexuality and transgenderism.

They euphemize this as "Comprehensive Sex Education," or CSE.

Actually, the full quote is:

"early grades may be the best time to introduce topics related to sexual orientation, gender identity & expression, gender equality & social justice related to LGBTQ+ community before heteronormative & cisnormative values & assumptions become more deeply ingrained & less mutable"


"Less mutable" means, of course, "less changeable."

OK Groomer.

posted by Ace at
12:12 PM
|
Access Comments