« The Morning Rant: Minimalist Edition
|
Main
|
Biden's Surgeon General: Joe Rogan Should be Censored »
January 27, 2022
Monmouth Poll: Republicans and Republican-Leaning Independents Now Make Up the Majority of the Country
Four years ago, Democrats had the edge on who seemed more concerned about the "average Americans' economic well-being." 35% of the public said that Democrats seemed unconcerned about the average Americans' economic well-being, compared to 40% of the public saying that about Republicans.
That's now flipped.
Specifically, just 23% say the Democrats in Congress are very concerned with looking out for the economic well-being of average Americans while at the other end of the spectrum 47% say the Democrats are not really concerned. Similarly, just 20% say the Republicans in Congress are very concerned with average Americans' financial status versus 42% who say the Republicans are not really concerned about it.
So the numbers have changed from 35% of the public thinking the Democrats don't care about the average Americans' well-being to 47%. Whereas with Republicans, it went from 40% to 42%.
The edge is now reversed -- Republicans have a five point lead on the issue where they used to have a five point deficit.
"The GOP advantage on the economic concern question is not large as a percentage, but Democrats had a similarly small edge on this metric in 2018 and ended up gaining 41 House seats," said Patrick Murray, director of the independent Monmouth University Polling Institute.
The public feels the same way about Brandon.
The poll finds that opinion of how much the president is concerned about the average American is no better than views of the two congressional parties. Specifically, just 30% feel Biden is very concerned with looking out for the economic well-being of average Americans. On the other hand, nearly half (47%) of the public feels he is not really concerned.
It's rare that Republicans outnumber Democrats. This is one of those rare times.
Just 24% of Americans feel the country is headed in the right direction. Another warning sign for the party in power is a shift in self-reported partisan affiliation. Currently, 26% of American adults identify themselves as Democrats, a number that ranged from 30% to 34% in Monmouth polling throughout last year. Republican identifiers currently stand at 31% of the population, which is up from a range of 23% to 27% in 2021. Moreover, when these numbers are combined with independents who say they lean toward either party, Republicans (51%) have a decided advantage over Democrats (41%).
Brandon's disapproval rate went up to a new high, jumping a substantial 4%: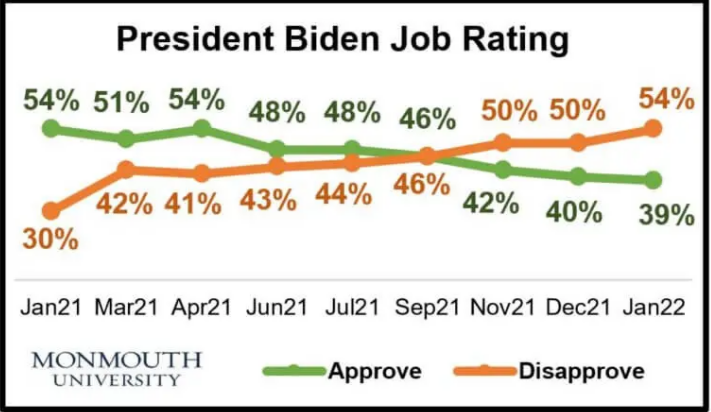 As to preference for control of Congress, Republicans lead 35-33. But, when those who say it "doesn't matter" who controls Congress are pressed to say who they lean to are included, Republicans' advantage surges to 50-43.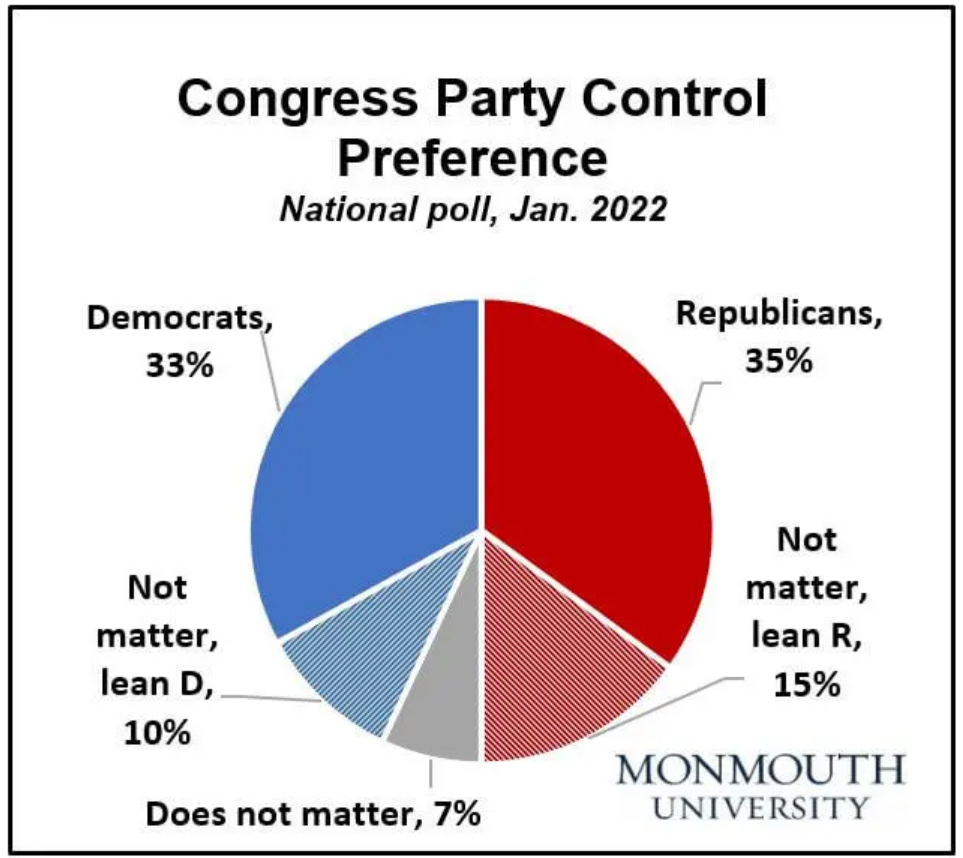 Actually RCP says the advantage is +8 so it's probably something like 50.4 to 42.5.
Are people finally done with Wokeness?
Or is this only based on temporary conditions, covid and inflation?
Let's Go Brandon theme song by Loza Alexander. I'm always in the mood for this song after some good news. He's kind of like a tatted-up, sleazy conservative-leaning Will Smith.


posted by Ace at
12:21 PM
|
Access Comments