« Monmouth Poll: Republicans and Republican-Leaning Independents Now Make Up the Majority of the Country
|
Main
|
Squad Member and Racist and Police-Defunder Demagogue Cori Bush's Vehicle Struck by Gunfire in St. Louis »
January 27, 2022
Biden's Surgeon General: Joe Rogan Should be Censored
For Public Health.
Socialist fascism is coming, as long predicted, under the banner of Health and Safety.
Biden's Surgeon General Vivek Murthy came out against Joe Rogan and his podcast on Tuesday in a segment with MSNBC. When asked by Mika Brzezinski about The Joe Rogan Experience, which has featured interviews with noted doctors Robert Malone and Peter McCullough, Murthy was unequivocally opposed to Rogan's being platformed on streaming service Spotify.

"Rogan, who hosts the Joe Rogan Experience podcast, has frequently promoted unproven methods for treating COVID-19," Brzezinski began, "and downplayed the need for vaccines. Last year, Spotify purchased his podcast library for an estimated $100 million. Dr. Murthy, what do you think are the best ways to push back on misinformation about COVID that continues to be aggressively pushed whether it be Joe Rogan's podcast or all over Facebook?"

"It's such an important question," Murthy replied, "because we can have the best science available. We can have the best public health expertise available. It won't help people if they do have access to accurate information."

In July, Murthy also called for social media companies to censor what he termed misinformation on COVID....

Murthy went on to explain his position to Brzezinski, saying "...Number one, we've got to recognize that our technology platforms, whether particularly social media, these have an important role to play. These are the predominant places where we're seeing misinformation spread," he went on."

"These platforms have still not stepped up to do the right thing and do enough, I should say, to reduce the spread of misinformation," Murthy said.
Libby Emmons points out that 1000 people demanded that YouTube take down the video of Rogan interviewing Robert Malone, and they complied.
And now they've also permanently deplatformed Dan Bongino.
On Wednesday, YouTube permanently banned conservative commentator Dan Bongino from the platform, saying he attempted to evade a previous suspension reportedly given for breaking the platform's COVID-19 misinformation policy.
Apparently he dared to question the CDC's claims on masks, which literally everyone knows are completely false and Dangerous Disinformation themselves.
Though it is nice that the CDC has finally, after two years, admitted that the cloth masks that everyone uses "provide the least protection." I dunno, does "least" mean zero?

The government is quite open about demanding that social media companies censor dissidents, and the NeverTrump corporate-funded shill wing continues whining: buh Muh Corporations' right to free censorship.
Except this "right to free censorship" is being dictated by the government.
Something they're not willing to admit.
Because they've joined they left, and support the censorship too. By Whatever Means Necessary. Whatever it takes to defeat the real enemy, the conservatives.
And also: Because most of them are being paid directly or indirectly by Monopoly Tech to shill for them. Either directly by FaceBook and Google, or indirectly by "think tanks" being paid by FaceBook and Google, like Noted Oxycontin Booster AEI, and, before they renounced Monopoly Tech money, Heritage.
A lot of them get paid indirectly and directly by Monopoly Tech.
And never disclose it. Ever.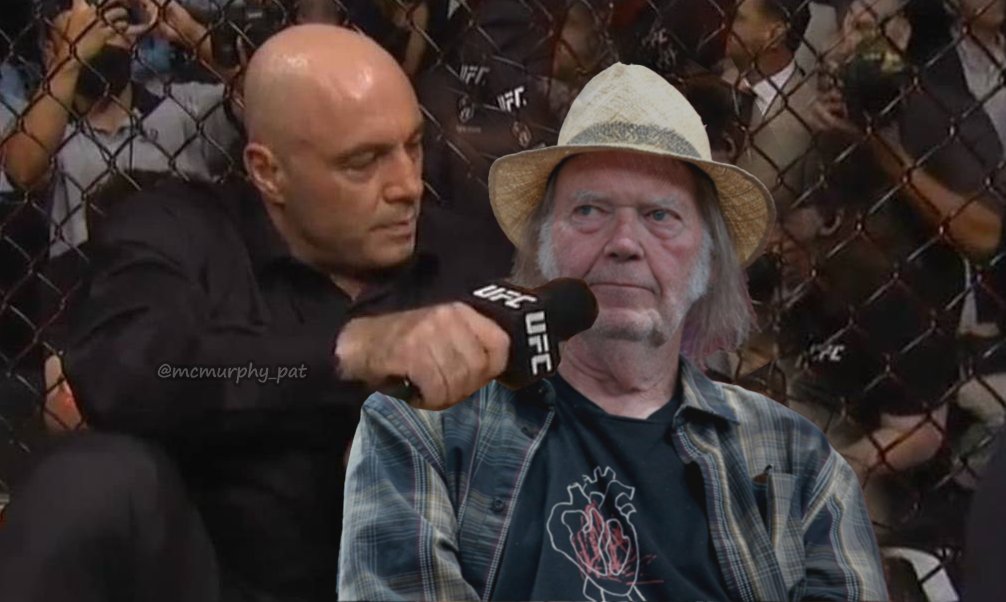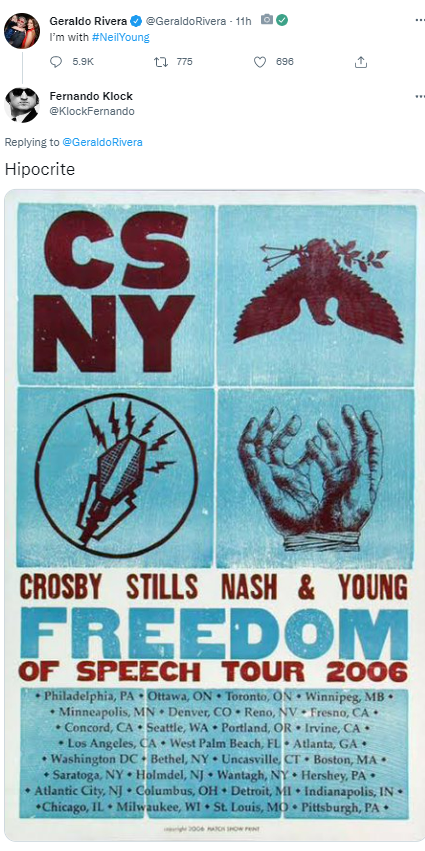 I wrote yesterday:

I'd like to associate myself with the below tweet: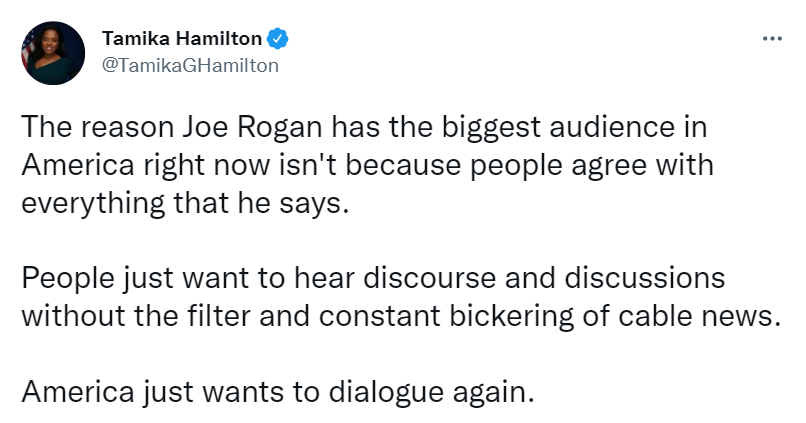 Agreed. I'm not a huge fan of Rogan. I don't listen to him much, even when he has on someone I'd like to hear from. I just don't really love his presentation or his vibe.
I don't really share a lot of his obsessions, like psychoreligious tripping on DMT.
But...
That said, I have enjoyed hearing him in the past, and what I do appreciate is his openness. No matter how flakey or absurd the topic -- UFOs, Bigfoot, seeing your past selves on an ayahuasca dream quest, cold therapy, whatever -- he's just curious, and willing to suspend judgement and disbelief (if he has any, not sure if he does!) and go along with it and ask questions about it and elicit information.
Some of that information may be interesting or useful.
Some topics I don't really care all that much about, but I'm happy to hear about them any way. For example, he talks about drugs and controlled supplements like HGH a lot. I don't take illegal drugs or HGH but I like hearing these conversations. You know why?
Because, frankly, I'm sick to death of everything being so controlled. Oh, you're not supposed to do LSD, so you, as an adult, are not allowed to hear this quack extolling the benefits of LSD, for fear you'll get Wrong Ideas.
The medical community advises against HGH except for certain narrowly defined cases so you, as an adult, are not allowed to hear about the positive uses of HGH for fear that, oh my gosh, you'll contact a Mexican pharmacy and get HGH on your own and take it without a doctor's permission.
I am now an adult very close to turning 29 and yet I get an incredibly giddy feeling about getting to feel like an adult and hear about forbidden topics, just like adults used to do, routinely.
I am sick to death of being fucking nannied to death by
IDIOTS
CRIMINALS
CHARLATANS
GRIFTERS
THIEVES
PERVERTS
MIND-CONTROLERS
AND MENTALLY-ILL TECH WEIRDOES SEEKING VENGEANCE ON NORMIES
about what it is they think, exactly, that I as a quite able-minded and rational adult am allowed to know and think about and decide for myself.
Vaccine skepticism? Oh horrors, no. Not people hearing some things I disagree with about a recent medical invention with a short record. Oh no oh no oh no, we'd better shut this down or else some other adults, who apparently I'm responsible for patrolling the minds of, might become Misinformed.
What. The Fuck. Is Happening?!?!
Anyway, although I do not really love Joe Rogan, I do love his openness, and I have learned from it. I've personally learned that I like being a bit more open-minded, a bit more willing to say "Oh cool, tell me more about that" than to judgmentally, close-mindedly say "That's stupid and wrong, I don't want to hear about that dumb thing."
I think it's often better to err on the side of silliness and foolishness than rigidness and (often false) certitude.
And I do love that he's doing good work in forcing the tiny, cramped space of What We Are Allowed to Hear and Say, Read and Write a little bit more open.
So I support him, gladly, though I don't listen to him much.
And I'll always champion him over nasty, bitter old authoritarian Feds and Censors like Neil Young.
And the Media Faction, desperately attempting to deplatform their competition as they lose credibility and audience and income.
And Conservative, Inc. Doing the exact same thing.


posted by Ace at
01:20 PM
|
Access Comments