« Rand Paul: "Welcome to Day Three Hundred Sixty Seven of 'Fifteen Days to Flatten the Curve'"
|
Main
|
Biden Again Calls Kamala "President Harris" »
March 18, 2021
Former Director for the "Drag Queen Story Hour Foundation" and a Children's Court Judge Arrested On Seven Counts of Child Pornography
Another David French Blessing of Liberty (TM)!
Weird how it turns out that someone with a keen interest in playing sexualized dress-up games with children turns out to also have sexual interest in children.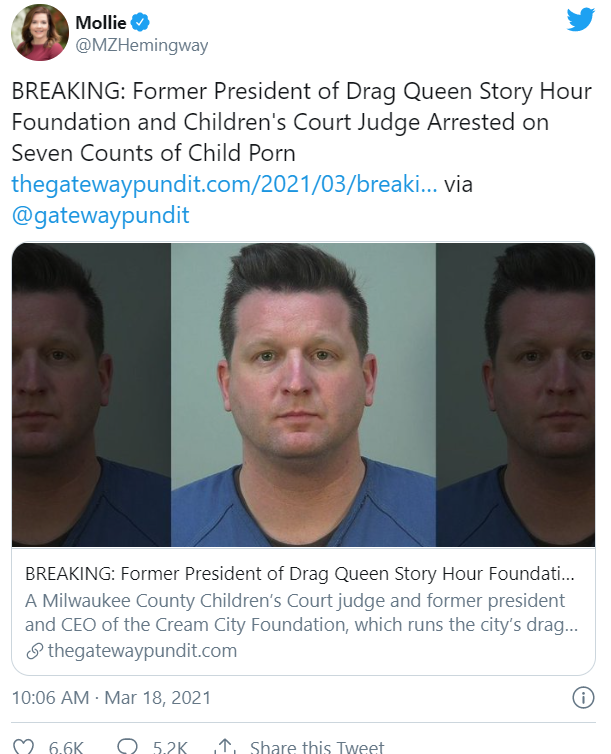 Via Twitchy, but really from Gateway Pundit.
Brett Blomme, 38, was arrested on Tuesday for allegedly uploading 27 images and videos of children being sexually abused on the messaging app Kik.

Blomme was held overnight and released with a signature. He has been ordered to stay off social media and file-sharing services and is not allowed near any children except the two that he adopted with his husband.

"The couple has two adopted children. Court records do not suggest they are part of any of the illegal images. Child Protective Services is involved with their current placement, defense attorney Christopher Van Wagner said during the court hearing," the Milwaukee Journal Sentinel reports.

Blomme is accused of uploading the images both from his home and from the judge's chambers.
From the judge's chambers. Mwah, chef's kiss. Perfect.
The criminal complaint charges that Blomme uploaded as many as 27 images and videos of children being sexually abused last fall, using the messaging app Kik. The uploads charged in the complaint occurred from a home he and his husband own in Cottage Grove, in Dane County.
I'm glad he has a husband. So at least we don't have to hear the usual, "You know, men who abuse underaged boys are really straight."
Whatever.
Note that this child predator has two adopted children with his husband.
He is forbidden from contacting any children.
Except, you know, the two trapped in his house with him.