« Saturday Morning Coffee Break
|
Main
|
Saturday Gardening and Puttering Thread, Flying High in 2021 [KT] »
January 02, 2021
New ways to think about nihilism [KT]
UN Women
"Can you imagine a world where gender equality is real?
This is what antifa thought they were doing with CHAZ

Utopias always end up as hellscapes in reality
2 black teenagers were shot to death in CHAZ and the media doesn't even talk about it. "I talked to one of their rescuers. He said the kid who survived got shot in the head and won't have a normal life. Antifa was on edge and shot these two kids up for no reason."
Happy New Year!
This last year has had some unfortunate features. I have been thinking this week about resistance to reality. The word "nihilism" seems to be popping up in my head. Here are some recent, diverse examples. Hope we can stay grounded in reality a little better this year.
A seasonal note: Kwanzaa and the afrocentric hustle. As celebrated by the family of Kamala Harris. According to legend.
Gender and Nihilism
Last week, we mentioned the beginning of the countdown of the most-read pieces in Areo for 2020. Areo is largely a project to defend the remnants of the left which retain some connection to classical liberalism from the insane left. Well, now we know what their most-read piece was.
Have the Women of the UN been paying attention to the efforts to destroy JK Rowling this year?
JK Rowling recently published an eminently reasonable, heartfelt treatise, outlining why it is important to preserve the category of woman. There's only one thing wrong with it: it assumes a rational interlocutor. Rowling outlines why the biological and legal category of sex is important: in sports, in rape crisis shelters, in prisons, in toilets and changing rooms, for lesbians who want to sleep with natal women only and at the level of reality in general. . . At no point does she use exclusionary or hostile language or say that trans women do not exist, have no right to exist or that she wants to rob them of their rights. Her position is that natal women exist and have a right to limit access to their political and personal spaces. Period.

Of course, to assume that her missive would be engaged with in the spirit in which it was intended, is to make the mistake of imagining that the identitarian left is broadly committed to secular, rational discourse. It is not. . .

The Balkanisation of culture into silos of unreason means that the responses have not followed what might be loosely called the pre-digital rules of discourse. These rules assume that the purpose of public debate is to discern truth and that interlocutors on opposing sides--a reductionist bifurcation, because, in fact, there are many sides--engage in argument because they are interested in something higher than themselves: an ideal of truth, no matter how complicated, multifaceted and evolving. While in-group preferences and biases are inevitable, these exist within an overarching deliberative framework. This style of dialogue assumes the validity of a persuasive argument grounded in reason and evidence, even if--as Rowling does--it also utilises experience and feeling. By default, it assumes that civil conflict and opposition are essential devices in the pursuit of truth.

Three decades of postmodernism and ten years of Twitter have destroyed these conventions and, together with them, the shared norms by which we create and sustain social consensus. There is no grounding metanarrative, there are no binding norms of civil discourse in the digital age.
Trans women are women is not an engaged reply. It is a mere arrangement of words, which presupposes a faith that cannot be questioned. To question it, we are told, causes harm--an assertion that transforms discussion into a thought crime. If questioning this orthodoxy is tantamount to abuse, then feminists and other dissenters have been gaslit out of the discussion before they can even enter it. This is especially pernicious because feminists in the west have been fighting patriarchy for several hundred years and we do not intend our cause to be derailed at the eleventh hour by an infinitesimal number of natal males, who have decided that they are women. Now, we are told, trans women are women, but natal females are menstruators. I can't imagine what the suffragists would have made of this patently absurd turn of events.
Hilaria is not hilarious to the New York Times
Of course, you remember the reports about Alec Baldwin's wife inventing a new identity for herself, and Alec going along with the charade.
Well, Steven Hayward wrote a piece singling out the part played by the New York Times in covering for her, and for other elites.
Whatever else might have once been said about liberal bias at the New York Times, at least you could say that they covered the elites. What else can you say about their wedding announcements section, which, as I think David Brooks once joked, reads more like a mergers and acquisitions page, since the couples spotlighted are invariably ivy league uber-overclass climbers.

But now it seems the Times mission is to provide cover for the elites. Their long story about the Hilaria Baldwin scandal a couple days ago reads like a Babylon Bee parody designed to ward off any criticism of lying about one's identity on a grand scale. All these puff pieces about her in Spanish language publications? Hilarious Baldwin now says she didn't see or read any of them. . .
He mentions other elites who have changed their personal stories with the support of the legacy media. " . . . this example raises a deeper question: why do so many liberals feel compelled to embellish or make up stories about themselves?"
This resonated with me.
I suggest there is something about the fundamental nihilism at the heart of modern liberalism--the view that there is no truth, that the "narrative" is the only important thing, that creating your own "reality" is perfectly fine--that compels liberals to lie about themselves. And a newspaper that has employed fabulists as "reporters" (e.g., Jayson Blair, or the recent 12-part podcast series about the ISIS caliphate that turned out to be completely phony) is more than willing to fall into line to defend liberal fakery, when they are not faking it themselves (Janet Cooke, anybody?). Just as liberalism as a political ideology depends on lies ("gender is a social construct" "raising taxes won't affect the economy"), individual liberals apparently can't live contented lives without lying about themselves.
Nihilism and the Treatment of COVID-19

Facebook is suppressing the efforts of numerous doctors to promote, or even think about, early combination therapies for COVID-19, even banning a peer-reviewed position paper.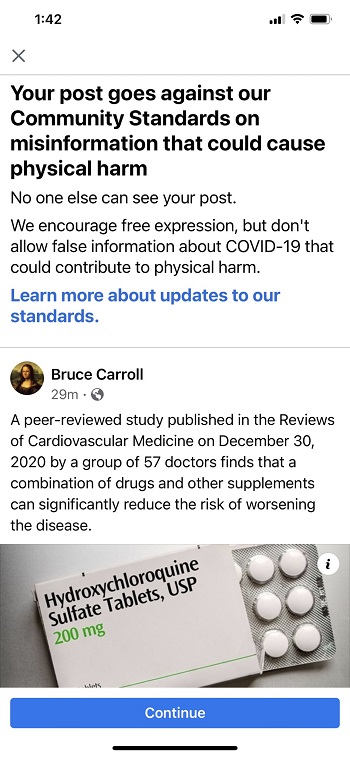 The paper expresses the frustration of the 57 authors with the current "state of the art", which is basically to send COVID-positive patients home to wait until they are sick enough to go to the hospital. It notes countries where treatment packets are passed out to the population so they can treat themselves if they are exposed, or if they come down with COVID-19. Some of the numbers in these countries are better than numbers in the USA. Multifaceted highly targeted sequential multidrug treatment of early ambulatory high-risk SARS-CoV-2 infection (COVID-19):
In countries where therapeutic nihilism is prevalent, patients endure escalating symptoms and without early treatment can succumb to delayed in-hospital care and death. Prompt early initiation of sequenced multidrug therapy (SMDT) is a widely and currently available solution to stem the tide of hospitalizations and death. A multipronged therapeutic approach includes 1) adjuvant nutraceuticals, 2) combination intracellular anti-infective therapy, 3) inhaled/oral corticosteroids, 4) antiplatelet agents/anticoagulants, 5) supportive care including supplemental oxygen, monitoring, and telemedicine. Randomized trials of individual, novel oral therapies have not delivered tools for physicians to combat the pandemic in practice. No single therapeutic option thus far has been entirely effective and therefore a combination is required at this time. An urgent immediate pivot from single drug to SMDT regimens should be employed as a critical strategy to deal with the large numbers of acute COVID-19 patients with the aim of reducing the intensity and duration of symptoms and avoiding hospitalization and death.
Well, you can understand why Facebook would want to prevent people getting THAT kind of deadly information.
We've seen some information on emerging early therapies here in previous posts here. I have some thoughts, which I can add later in the comments if anyone is interested. I had an appointment with a specialist this week who seemed actually afraid to learn anything about them. So stuck in the "large RCT trials or nothing" mode. RCTs are underway for some of them, though.
Of course, it is hard to do a randomized, blinded controlled trial when doctors insist on tailoring other treatment options to the needs of individual patients. Increases variables.
Music

This is the Thread before the Gardening Thread.
Serving your mid-day open thread needs

posted by Open Blogger at
11:27 AM
|
Access Comments