« Saturday Morning Coffee Break
|
Main
|
Saturday Gardening and Puttering Thread, Day after Christmas, 2020 [KT] »
December 26, 2020
It's the Week Before New Years [KT]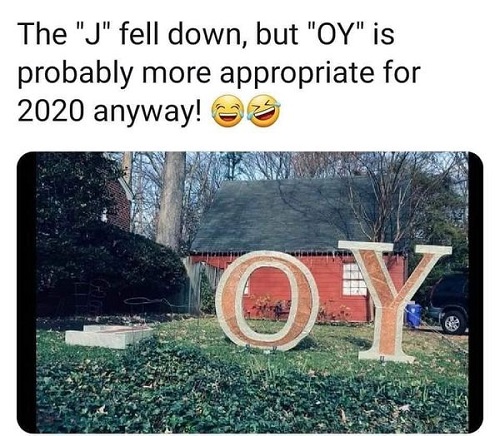 Hope everyone had a good Christmas yesterday. Ours was quiet, but nice. It's been such a strange year. About now, the holidays start to sort of run together. And the retrospectives of the last year start. Why, here's one now:
It's "Areo", not "Oreo"
You might remember Helen Pluckrose from this, written in 2018, about the award-winning fake "study" of rape culture in dog parks, the paper using Mein Kampf re-written in feminist jargon, etc.:
Over the past 12 months, three scholars--James Lindsay, Helen Pluckrose, and Peter Boghossian--wrote 20 fake papers using fashionable jargon to argue for ridiculous conclusions, and tried to get them placed in high-profile journals in fields including gender studies, queer studies, and fat studies. Their success rate was remarkable: By the time they took their experiment public late on Tuesday, seven of their articles had been accepted for publication by ostensibly serious peer-reviewed journals. Seven more were still going through various stages of the review process. Only six had been rejected.
The objective of these three scholars was to shake up the left. Not necessarily to attack the left. They are not conservatives, though Lindsay is moving in that direction now in some ways.
Of course, they became targets for destruction. Pluckrose and Lindsay wrote a book together. Pluckrose also started on a personal training program and started editing an online magazine, Areo, which emphasizes free speech. Something along the lines of Quillette.
Anyway, Areo has begun its retrospective of its most-read articles of 2020. If you want to understand the opposition to reality and history in academia and institutions infected by today's academia, this is not a bad place to start:
Remember the Harper's letter? OregonMuse had some great observations. Areo published a piece by "a nobody". Probably one who doesn't hold opinions a lot like those of OregonMuse.
I'm terrified to write this--and that's the problem.

In the wake of the Harper's letter, I've witnessed flabbergasting displays of casuistry. Critics have attacked the motives and character of certain signatories, as though accusations of hypocrisy--whether justified or not--could invalidate the principles within the letter itself. Many have argued that the cancel culture the letter decries doesn't even exist, despite seemingly unending examples. Perhaps more alarming were those who didn't deny the existence of cancel culture, but considered the term loser-speak for the consequences of bad behavior, an argument reeking of well, what were you wearing?

These attacks, with the venom and vitriol that often accompanied them, have only proved the letter's point. One criticism was particularly frustrating: the idea that this was merely a tantrum on the part of privileged, platformed elites, whinging over finally being brought to task by nobodies--a mass of the formerly voiceless, newly gifted with power that the establishment and its gatekeepers could not suppress. But, in their fervor against the letter, these warriors of virtue seem to have forgotten something.

I'm a nobody too, and many like me don't agree with you.

True, a large number of the signatories are in positions of influence and prestige, and another criticism thrown at them is that people have therefore found it virtually impossible to cancel them (though not for lack of trying). So, why the whining? Despite this explicit statement in the letter--"The restriction of debate, whether by a repressive government or an intolerant society, invariably hurts those who lack power and makes everyone less capable of democratic participation"--its detractors completely missed the point. The signatories are doing this on behalf of those of us who aren't immune from cancellation. They're doing it for people like me, who have way more to lose.
People are still putting out pieces suggesting that J.K. Rowling has become some sort of monster bent on destroying the lives of trans people, though. So bizarre.
The Critical Social Justice (CSJ) movement relies on a specific conception of the world: it does not understand or interpret reality in the same way as the rest of us--especially liberals--do. Our goal is to help people understand this worldview movement and explain how the movement has gained so much traction, despite the fact that so many of its fundamental tenets are bizarre, blatantly false and cartoonish oversimplifications of reality.

The methodology of CSJ is not only incorrect but unfalsifiable, not only ethically dubious but plainly ideologically motivated--so its wide acceptance and social prestige are both bewildering and alarming. But its methodology and cultural prestige are based on two big underlying claims, both of which are false.
First, Critical Social Justice scholars and activists believe that they comprise a new and radical grassroots movement pushing back against dominant white, male and Western discourses.

They do not.

Second, Critical Social Justice scholars and activists believe that they have a much more sophisticated understanding of social justice issues than the average person. The average person needs CSJ to teach them to engage their critical consciousness or wokeness because we are all mere receptacles of discourses of power, which we repeat uncritically, thus perpetuating oppression.

No, they do not. No, we do not.
Got an acquaintance in college who needs to read this to prepare for the New Year?
A case in point, illustrating number 9.
Robin DiAngelo's theory of white fragility is defective on so many fronts that it is a wonder people take it seriously. But they do.
Quoting a feminist scholar as an introduction to a critique:
I never again want anyone to say theorizing doesn't lead to change. Black feminist theory and intersectionality informed the creation of black lives matter. We'd never be this close to change without powerful black queer women organizing & theorizing.
I expect that the Areo countdown will continue.
Gird up your loins
Doing anything to prepare for next year? Glen Loury is doing something a little different. What do you think?
We still have a lot to be thankful for. In case you missed it, here's Muldoon's salute to the greatest generation from a previous thread, featuring an excerpt from his Dad's diary.
Try not to get snockered next weekend
Stay light-hearted
Participate with others as appropriate
But watch out for fakes.

Hope you have a great weekend and a good week.

This is the Thread before the Gardening Thread
Serving your mid-day open thread needs

posted by Open Blogger at
11:18 AM
|
Access Comments