« It's the Week Before New Years [KT]
|
Main
|
Ace of Spades Pet Thread »
December 26, 2020
Saturday Gardening and Puttering Thread, Day after Christmas, 2020 [KT]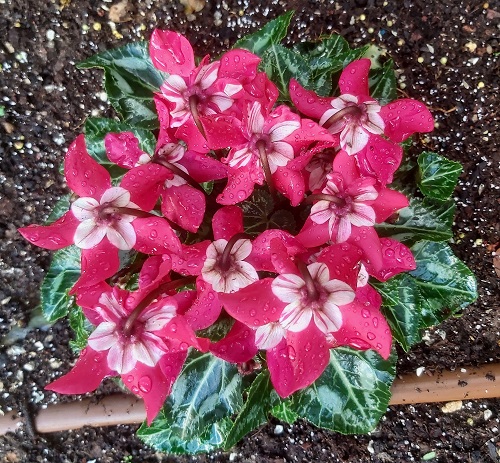 Happy Day after Christmas! Above, a Cyclamen like no other I have ever seen, sent in by Neal in Israel. He has others in his yard, too. Breeders have been hard at work! More details and photos to come.
Even though it is winter, there is still some gardening activity going on. But there may be more puttering this time of year.
Puttering
Photography and related endeavors
This week, we had the "Christmas Star" (the conjunction of Jupiter and Saturn). Did you get a chance to see it? Much too foggy where we were.
By-Tor started taking photos as they neared each other. You can tell they're planets, not stars, here:
Best I could do without some sort of telescope attachment. This is from a Canon EOS d50, with a Sigma 100-300 EX lens, with Sigma 1.4X teleconverter. ISO at the max, 3200. I tried all sorts of settings; the best seem to be in the 1/20 to 1/40th between f4 to 5.6.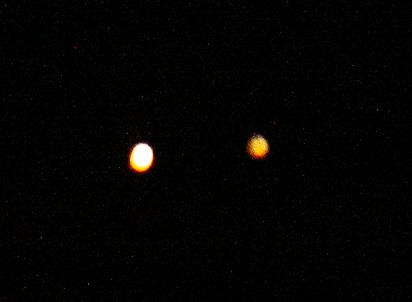 And another aerial object, photographed in the daytime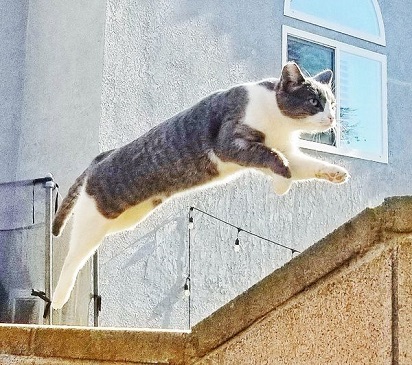 Here's a photo taken near Livermore, California.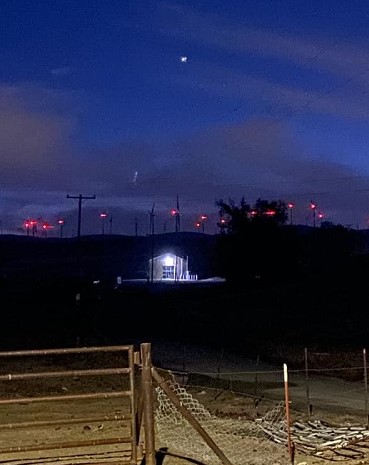 And one taken either at Ball State or Boise State. The facts are not clear.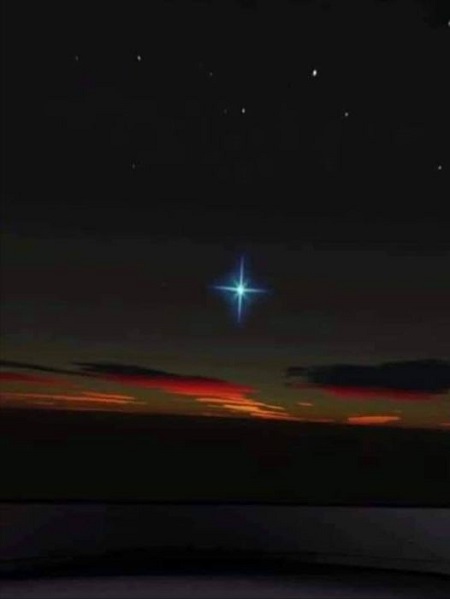 Kilauea had a new eruption this week. Someone reported a double moonbow.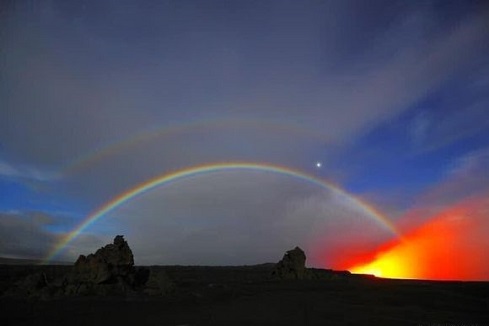 The eruption itself was pretty dramatic.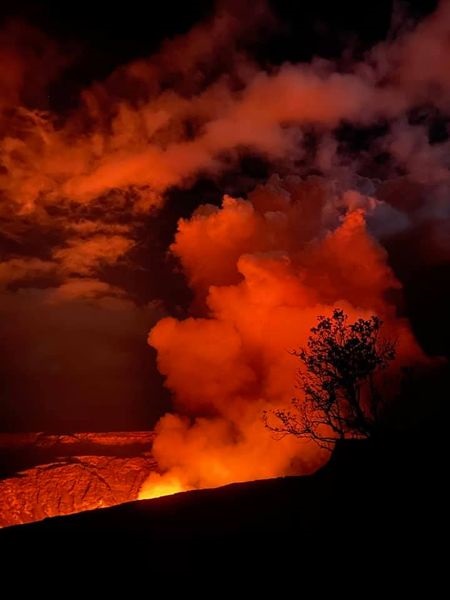 Puttering involving or inspired by trees
This is a family tradition being passed down in one branch of my family. Do you have any Christmas tree-related traditions in your family?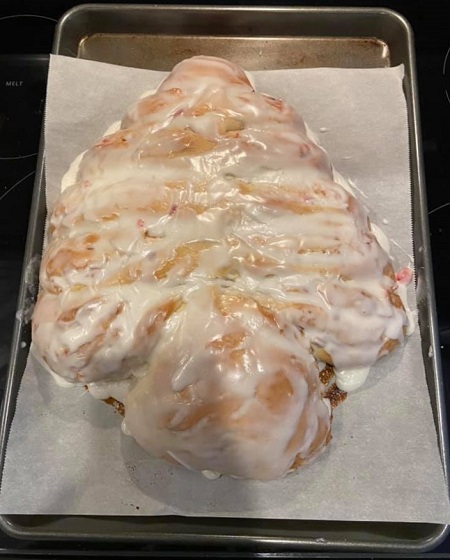 And a distant relative made this for other relatives, so they could take nativity photos. Ever thought of making a manger with your tree prunings?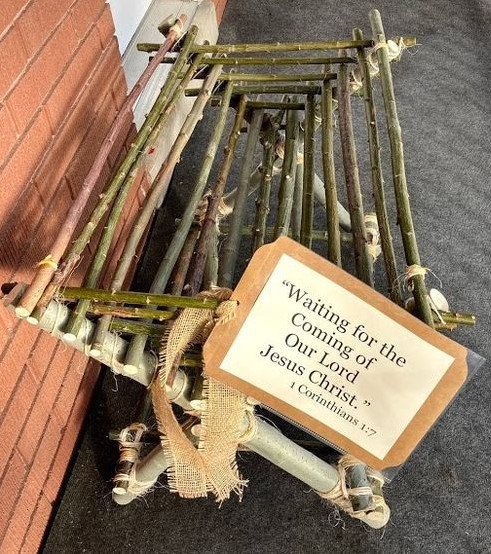 Useful in do-it-yourself Nativity scenes.
Attractive to cats.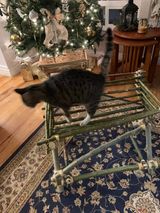 Seems to calm babies. You can also place a light in the folds of the cloth and photograph children or even adults looking into the manger in a darkened room.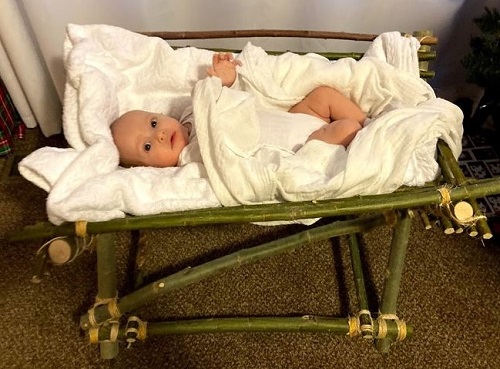 Christmas (and Lenten) Roses
Some people get roses for Christmas, but there is an unrelated, non-edible Christmas Rose that blooms outdoors at Christmastime in some climates. We've discussed hellebores before, but it's been a while. There is some dramatic history connected with these flowers.
There are about 20 species of hellebores. Most of them prefer dappled shade to full shade. Some are more tolerant of warm winters than others. . . Some species are evergreen. Some, like the Christmas Rose, are quite hardy and will bloom in the snow. The Lenten Rose is reputedly the easiest of the common garden species to transplant.

Hellebores tend to produce inter-species hybrids easily. Specialists have also done a great deal of work on flower forms, including double forms. There is now a much wider range of colors than in the past. Named varieties and seed strains produce plants with predictable, desirable characteristics.
Most hellebores are toxic and acrid and are therefore deer-proof and rodent-proof. If you have a pet that eats strange stuff even if the strange stuff really tastes nasty, you may need to take some precautions.

The Wiki on hellebores is quite informative. One species was reportedly used in early chemical warfare, to poison the water supply during the Siege of Kirrha in 585 B. C., allowing the slaughter of the entire population. Nevertheless, hellebores have been used for medical treatments, including treatment for insanity.

Some people think that Alexander the Great accidentally killed himself with a hellebore preparation while trying to self-medicate. I don?t know how much evidence there is for this theory.
The Christmas Rose is H. niger.
How to grow Christmas Roses in Oklahoma
Care guide
How to make a Christmas Rose from crepe paper
I love this piece. Played the piano in a string trio arrangement with my Mom on cello and a violinist. But this is exceptional.
Art and Nature
Dr._No sent in some of his creations to remind us of the cycle of nature.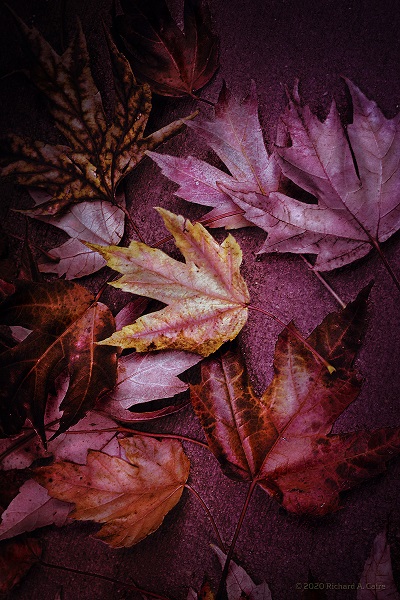 Memories of Warm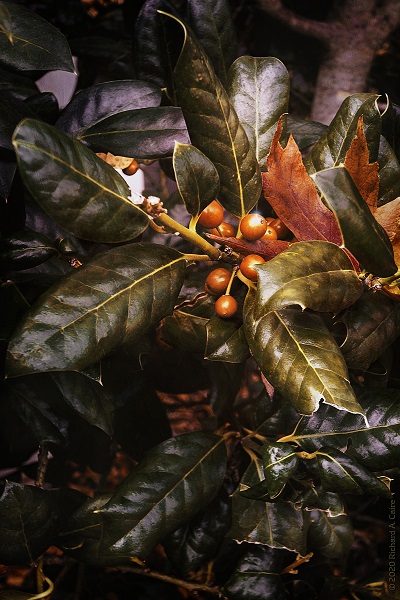 The Red Berries
Those are Pyracantha berries. He has a recipe for jelly made from them. They are related to roses and apples.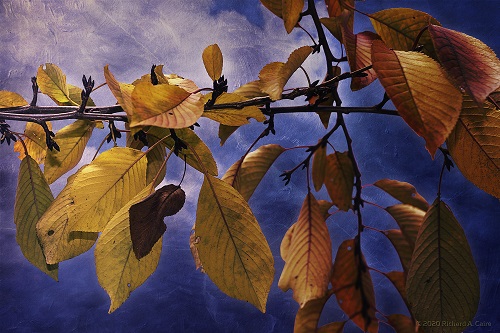 Next Year's Leaves

Gardens of The Horde
My Tropical Milk Weed is still blooming. Hard to believe!
Birds feasting on lambs quarters seeds. The wild ones here have smaller leaves than the ones I grew up with, and have a lacy look. But can grow 8 feet tall.
The navel oranges are starting to get really good in the foothills. Hope we don't have a hard freeze.
Anything going on in your garden?
If you would like to send information and/or photos for the Saturday Gardening Thread, the address is:
ktinthegarden
at that g mail dot com place
Include the nic by which you wish to be known when you comment at AoSHQ,
unless you want to remain a lurker.

posted by Open Blogger at
01:07 PM
|
Access Comments