« Saturday Gardening and Puttering Thread, Day after Christmas, 2020 [KT]
|
Main
|
Saturday Afternoon Chess thread 12-26-2020 »
December 26, 2020
Ace of Spades Pet Thread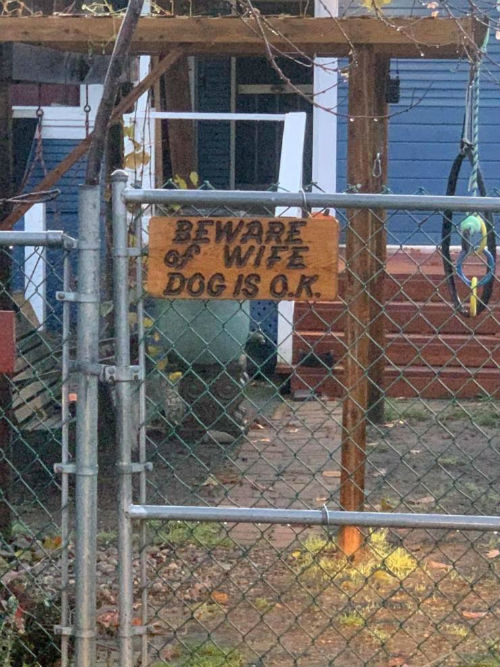 ***

Good afternoon and welcome to the almost world famous Ace of Spades Pet Thread. Kick back and let some of that fudge, fruit cake, eggnog, turkey and/or ham sammiches settle and enjoy the world of animals.

***

From a Lurker,

Long time lurker; love the animal and vegetable related posts. Here is a 'shout out' to a great group from the Fort Worth area, Animal Investigation and Response.
A.I.R. assists law enforcement when animal hoarders/abusers are caught with enormous numbers of animals. An all volunteer organization they
are experts in removing animals of all sorts from hoard/abusive situations.
Not many people realize local law enforcement rarely has the knowledge and resources to handle rescued animals. A.I.R. volunteers have that knowledge.
A.I.R. logistical experts coordinate short and long term care, rehabilitation and transport to adoption facilities. It's a terrific non-profit for your 'pet moron' donations.
They do good works with cheer and whole hearted enthusiasm.


Here is a 'shout out' to a great group from the Fort Worth area, Animal Investigation and Response.


Please list me as longtime lurker # 997

thanks and happy holidays
***

How much would you spend on your pet? I know I spent a ton over the years. It was worth it.

Father And Son Rescue A Dog Locked In A Crate On The Side Of The Road That Was Left To Die

Did you get a new puppy for Christmas? Puppy starter kit.
The hardest thing about having pets? Saying Good-Bye.
***
Meet The PetMorons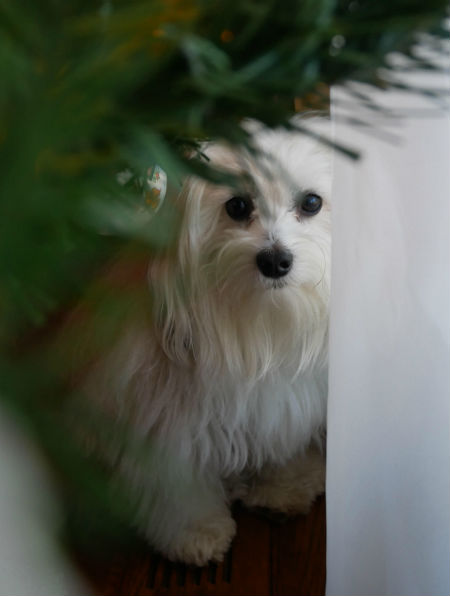 Hi,
I continue to look forward to the pet thread every Saturday! Our buddy Henry made an appearance there almost 2 years ago. He is now our official holiday package delivery guard dog. Here he is on duty at the front window by the Christmas tree. Every delivery vehicle that drives down our street gets the full barking alert, complete with hind leg kicks. Merry Christmas and Happy Holidays to all! - Kay
Happy Holidays to you Kay and your super-killer doggeh Henry. He looks right at home guarding your estate. Thanks for sharing.
***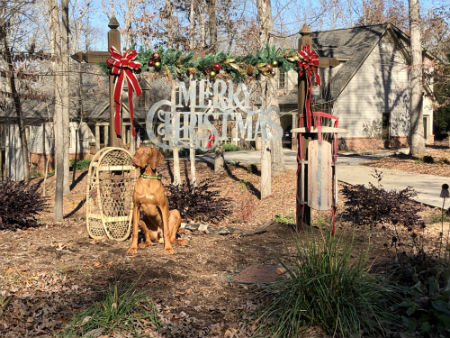 Since everyone seemed to like Rudy posing in front of the flag I thought you all may enjoy a Merry Christmas greeting from Rudy and us.

Merry Christmas and a Happy New Year,

Ken, Emily and Julia

A belated Merry Christmas to you and your family including Rudy. So why do you folks have snowshoes out front? I don't see any of the fun white stuff! Thank you for your contribution today.
***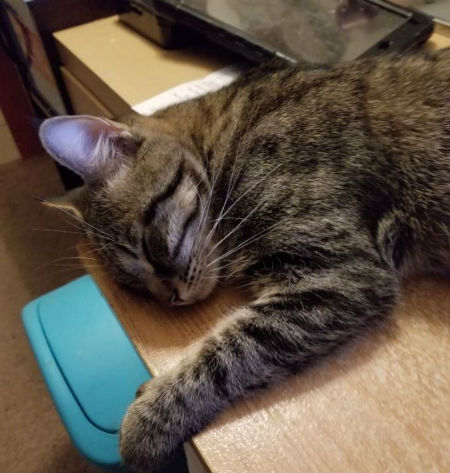 This is our kitty Ace, almost 3 yrs old now. Also referred to as "Squeeky McFuzzyButt". Can leap onto your neck without warning. Also, do not leave drinks unattended. - AshevilleRobert

Robert, I had no idea you had a cat. Hope you are feeling better. Your kitteh is a typical PetMoron, you can never leave drinks alone. Thank you for your submission.
***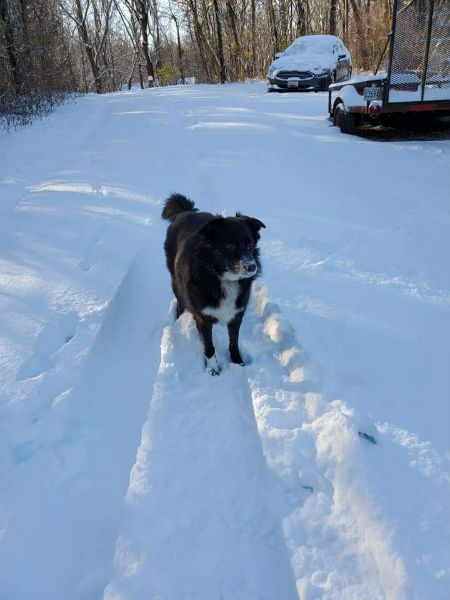 Border collie and Australian sheepdog hybrid. He's as intelligent as a first-grader. Loves the snow. Heck, he loves everything. - Skip
So Skip does your first grader have a first name? If he he does can you inform us today? Thank you for sharing.
***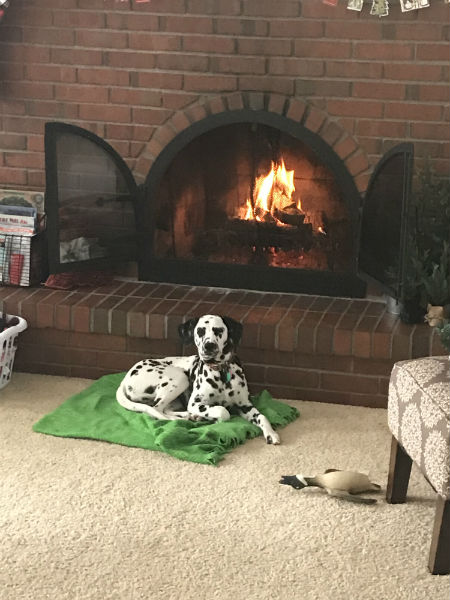 Hello Mis Hum,

Darley, my grand puppy Dalmation, wishes the horde a Merry Christmas.

And, of course, the food providers are a firefighter and his Oncology/ICU nurse wife. Go First Responders!

Onward,
Java Joe
That is quite the portrait quality photo of Darley. What a proud Grandpa you are. I hope you get to spoil her and send her home frequently.
***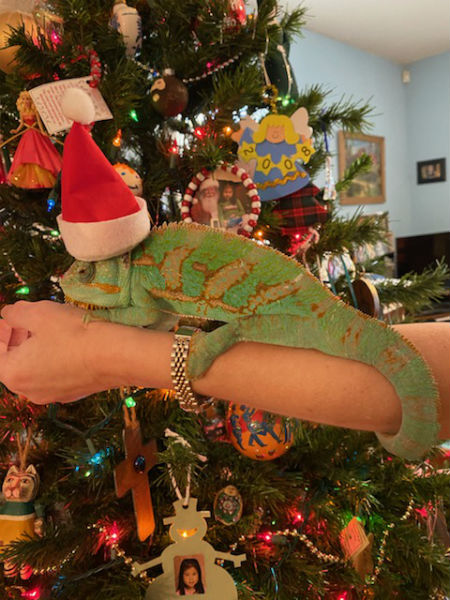 Merry Christmas from Charlie Brown our chameleon. He's almost 2 years old and a very good boy. Along with Charlie Brown, I raise his feeder bugs too. I don't comment much but read everything. - Ramblingmother
Thanks for sharing Charlie Brown with us. It appears he is really into Christmas as you are. How do you keep a hat on him? I'm glad to hear you read much of the blog.
***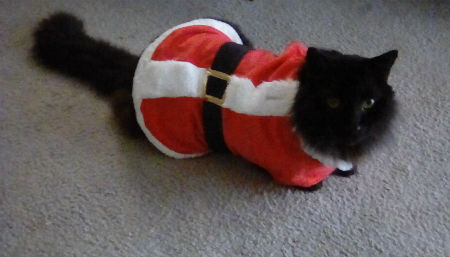 AND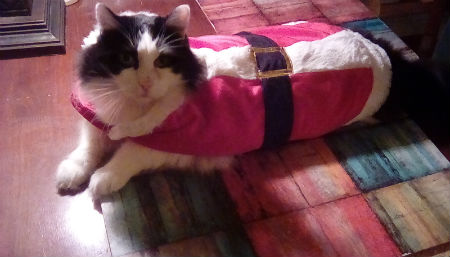 Maybe this is too late, but this Saturday is still the Christmas season, isn't it? Attached are pics of Wolf (the black cat) and Chekov (the white-and-black), my two companionable if often thuggish cats. Somehow Linda got this Santa suit on each of them long enough for a picture. There was howling and hissing and growling -- and the cats weren't happy about it either -- but the result, I guess, is worth it!

Wolfus Aurelius
It's never too late to share pet photos especially if someone went to the trouble to dress them up. What does one wear when trying to dress cats? We appreciate your contribution of your kittehes today.
***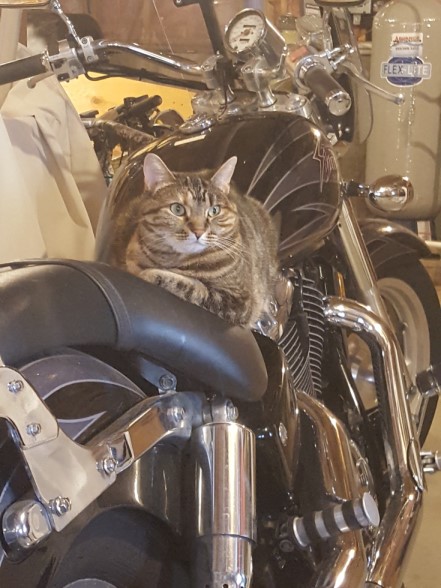 AND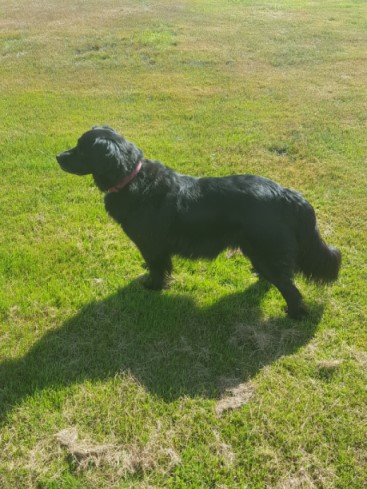 Good afternoon MH -

Having parked the motorcycle until springtime down in our basement, I came in from outside to see Dini our 2yr old cat making herself at home on the bike. Also here is a beautiful shot of our 10yr old Flat-Coat Retriever mix named Fenway. Starting to get a lot of gray on the muzzle, just like me. But there is plenty of puppy in her. I'm sure many of your readers will attest that if it wasn't for our pets, 2020 would have been unbearable. - Our Country is Screwed
Yes indeed, pets did help out us immensely this past year. So does Dini go riding with you? Wonderful pets you have there. Thank you for sharing.
***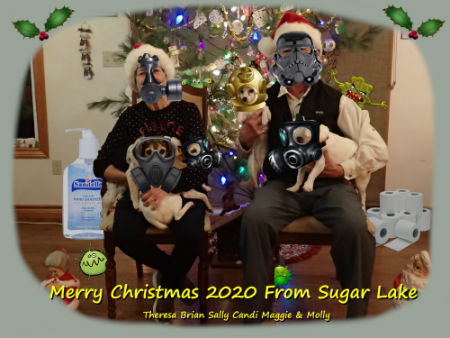 Hey PetMorons

I hope you're all OK during these crazy times. Everything is good here in the bush with our 4 dogs.

The 6 of us wish you all the best & good health for 2021. - PointyHairedBoss
I have to let the Horde know you submitted 2 photos, this one and the other without the gear. I didn't feel comfortable publishing the non-gear photo so I went with this one. Besides it took you extra effort to dress this way. Thank you.
***

We hope you folks had a wonderful Christmas yesterday. Or this weekend if you are celebrating this weekend.
If you have something animal related to share, you can reach us at petmorons at gmail dot com.
Have a great week and see you next year!


posted by Misanthropic Humanitarian at
03:00 PM
|
Access Comments