« Saturday Morning Coffee Break
|
Main
|
Saturday Gardening and Puttering Thread, August 15, 2020 [KT] »
August 15, 2020
Us? Think about maintenance? This is California! [KT]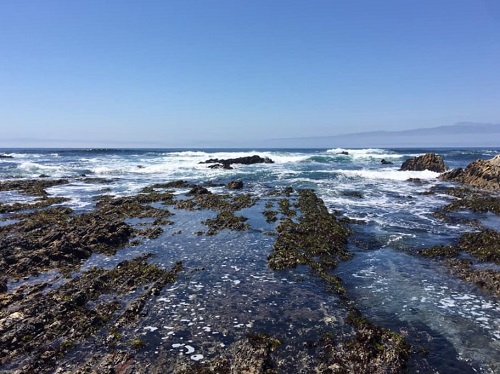 Near Pismo Beach
Nice scene above, don't you think? Make you want to go on vacation? Maybe not now, when so many things are locked down in California. This photo actually was taken during a vacation, but the family lives within driving distance.
Things are not going as smoothly as a comb through Gavin Newsom's hair in California. Part of the problem is that maintenance is being neglected. Particularly in the case of the remnants of the High-Speed Rail project, where delays lead to degradation. But there's more.
The Fantasy Railroad Breaks Down Again
Well, here's the latest on Jerry Brown's Dream for Connecting California, which has now become Gavin Newsom's fiscal project (involving federal money). Excellent report in the LA Times by Ralph Vartabedian. If more newspaper stories were this informative. . . .
A series of errors by contractors and consultants on the California bullet train venture caused support cables to fail on a massive bridge, triggering an order to stop work that further delayed a project already years behind schedule, the Los Angeles Times has learned.

The bridge is longer than two football fields and is needed to shuttle vehicles over the future bullet train right of way and existing BNSF freight tracks in Madera County.

Authorities have yet to finalize a plan to repair the bridge. Late last year, crews installed temporary steel supports to prevent it from collapsing.
Last I read, it's actually not going to be a "bullet train" any more. Just a somewhat faster version of Amtrak, basically.

The bridge is part of Gov. Gavin Newsom's plan for a 171-mile, $20.4-billion bullet train operation from Merced to Bakersfield.

The bridge work began in 2016 and was supposed to be completed in 12 months. Relocation of underground utilities became a problem, as there were schedule glitches, according to rail authority and Madera County officials. Months turned into years, during which thousands of residents were forced to take long detours around the site.
171-miles! 20.4-billion dollars!
Imagine the uproar if this bridge had been in a highly populated area of California. The station in San Francisco was supposed to be finished in 2017. They finished it (for bus service) late in 2019 and had to close it for repairs, years before they didn't finish this rural bridge on flat land, for a dreamy rail system which was supposed to connect San Francisco to Los Angeles but won't anymore. Back to the LA Times piece:
Then last year came a series of blunders.

High-strength steel strands supporting the 636-foot-long structure began to snap on Oct. 22, one after another. Ultimately, 23 of the strands, which are composed of seven individual wires each, broke unexpectedly, according to rail authority documents and officials. The order to stop work was issued Nov. 4.
A comprehensive safety examination is in order. Ya think?
The problems on the Road 27 bridge reveal project management hitches that have dogged the bullet train for years. The California High-Speed Rail Authority has five separate layers of consultants and contractors on the bridge. Any one of them could have identified a long series of errors, but it appears no one did so.

Apart from those problems, the state issued a variety of nonconformance reports on the company's work, including an instance where a crane boom hit part of the bridge construction, contaminated concrete was found in a bridge support pier, incorrect alignment occurred on a bridge pier, and steel dowel rods were missing in concrete, among other items. . .
Gov. Gavin Newsom told The Times in 2019 that he was "going to get rid of a lot of consultants," but they remain integral to the project, according to engineering specialists and officials involved with bullet train planning. . .

Some outside engineers compare the situation to the 2018 Miami International University disaster, in which multiple players failed to recognize defects in a pedestrian bridge that collapsed onto a roadway. . .
There is a lot of technical detail in this piece, considering its short length. Take a look. This piece was found on Instapundit, where it is noted that the State of California PROBABLY USED CONTRACTORS WHO THINK MATH IS AN EXPRESSION OF PATRIARCHAL SUPREMACY.
Does this mean that Antifa would not have done it better?
Rolling Blackouts
I woke up to this National Weather Service warning today:
Excessive Heat Warning until WED 9:00 PM PDT

Action Recommended
Execute a pre-planned activity identified in the instructions

Issued By
Hanford - CA, US, National Weather Service

Affected Area
Portions of central California
Then I found this. If you don't hear from me for a while, you'll know why:
FRESNO, Calif. (KFSN) -- For the first time in nearly a decade, California has begun imposing rolling power blackouts in tens of thousands of homes.

PG&E turned off power to about 200,000 to 250,000 customers in rotating outages for about an hour at a time until around 11 p.m. Other utilities were told to do the same.
Around 10,000 PG&E customers were also out of power in Fresno and Clovis on Friday night, but a PG&E spokesperson told Action News this was due to heat, not due to the rolling blackouts.
So, double threat. Government and nature. Government and PG&E have been pretty tight since PG&E took a liability hit from the fires.
The utility company says you can prepare by keeping cell phones and electronics charged up in the event of another outage.
Not that cell coverage around here is particularly reliable.
They had to be pretty desperate to issue this advice, though:
An alternative: keep your vehicles gassed up in case you need to use the air conditioning in the car to cool down.
Just so you know, the forecast here is only for 112 degrees on Wednesday. No big deal in, say, Phoenix. But a front went through that left behind some humidity. So it may not really be "dry heat". Oppressive. Dangerous to some folks stuck at home due to the "virus".
Shouldn't California have been better prepared through ongoing maintenance? The state was involved in the earlier fire liabilities that are contributing to PG&E's problems now.
Jon Gabriel, who lives in Arizona, suggested that the rolling blackouts in California = a failed state.
Don't get me started on the condition of Highway 99. Or cracks in dams. Or lack of dams. Or . . .
Is your state experiencing any serious problems due to neglected infrastructure?
Music
No foggy mountain necessary for a breakdown in California.

Stay cool this weekend.
This is the Thread before the Gardening Thread.
Serving your mid-day open thread needs

posted by Open Blogger at
11:20 AM
|
Access Comments