ę Saturday Morning Weird News Dump
|
Main
|
Saturday Gardening Thread: Hip Houseplants [KT] Ľ
March 11, 2017
If you build a train station, will trains come? [KT]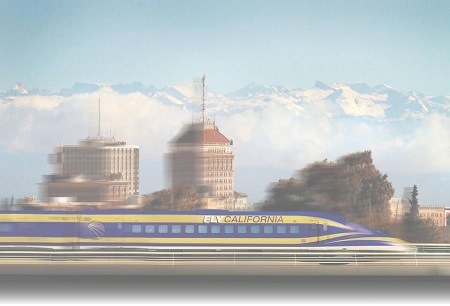 High-speed train flies through downtown Fresno
Such a beautiful dream.
Wait - I thought the train was supposed to STOP in downtown Fresno. Well never mind. The California high-speed rail debacle just gets bigger and stupider over time. I have a hard time keeping track, even though I see some of the construction on the project from time to time. I have friends who have already had their lives changed by it.
Below is a rough timeline from some recent stories about developments in Sacramento, San Francisco, Washington D.C. and Fresno. The demise of this program has been announced several times before, but I was not aware of some of the current problems outside the Central Valley.
Thursday, March 2, Sacramento and Washington, D.C.

Dan Walters reports:
Late Wednesday, the California High-Speed Rail Authority dispatched a report to the Legislature, crowing about progress in building a statewide bullet train system. . .

The report implies that the bullet train, a high priority legacy project for Gov. Jerry Brown, is on a fast track to completion.

However, the financially challenged project had just suffered two immense hits, either of which could be fatal.

Just hours before the report was issued, results of the state's latest cap-and-trade auction of greenhouse gas emission allowances - the only source of ongoing bullet train funds - were released and once again it produced almost no money.
Surprise!
Moreover, the report was aired just days after the Trump administration had put an indefinite hold on a $647 million grant for electrifying the Caltrain commuter rail service on the San Francisco Peninsula, a major component of the "blended" bullet train system.
The money spent so far on the project is "virtually all federal money". There are a lot of nitty-gritty details at the link. More on the Caltrain electrification project below.
Friday, March 3: Sacramento and Fresno
Jerry Brown doubles down. From one of the stories included at the link under the artist's rendition at the top of the page:
After years of prep work, Gov. Jerry Brown's finance department decided Friday that California's $64 billion high-speed rail project is ready to lay some track.

The administration approved the rail authority's request to spend $2.6 billion on work in the Central Valley. The decision lets the authority ask the state treasurer's office to sell a portion of the nearly $10 billion in bonds voters approved in 2008 for a bullet train.

However, the first 29-mile segment of track isn't expected to be completed until at least August 2019.

The bullet train's long-term prospects remain clouded because of uncertainty over funding and several pending lawsuits. . . .
I'm not sure if tracks have been laid, but demolition and construction is underway in the Fresno area. An internal Federal Railroad Administration analysis in December found that the trainís first segment is running 50% over budget.
Dignitaries touring construction on the viaduct over the Fresno River didn't seem to be too concerned that they were walking in a dry riverbed during an extended drought. The construction money could have built dams for water storage and flood prevention from this winter's rains.
Monday, March 6: San Francisco
The San Francisco Chronicle reported on the new Transbay Transit Center. It is scheduled to open THIS YEAR. Long before the first 29 miles of high-speed rail is (or was) scheduled to be completed in and near Fresno.
The three-block-long behemoth was envisioned as the Grand Central Station of the West, a dynamic hub for buses and high-speed rail that would draw more than 100,000 visitors a day.

Come opening day, however, there will be no high-speed rail. Instead, for many years, the five-level showcase just south of Mission Street between Second and Beale streets will be little more than the world's most expensive bus station -- serving mainly the 14,000 transbay bus commuters who roll in and out daily on AC Transit.

That reality is starting to sink in and has city officials scrambling -- because without the big crowds that trains were supposed to bring in, there are serious questions about where all the money needed to keep the place secure, clean and well lit will come from.
So, JUST NOW the reality is starting to sink in? Five levels, 3 blocks long, 14,000 bus passengers a day. I wonder if the janitors will pull six-figure overtime pay for sitting in a closet?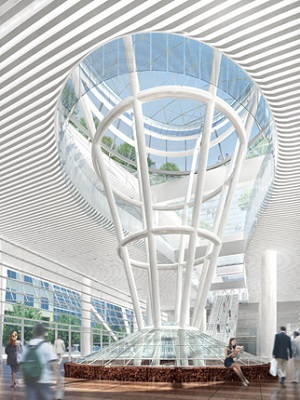 Pretty fancy for a bus station
Tuesday, March 7: Washington D.C. and the Bay Area
On Tuesday, the WSJ ran an editorial congratulating Elaine Chao for Chao's Choo-Choo Stop. (Sorry about the paywall.) It provides some sleazy details about the CalTrain electrification project previously mentioned. Obama's Federal Transit Administration chief Carolyn Flowers approved a federal grant for the electrification project two days before President Obama left office. She is now employed by a contractor for the Caltrain project.
How does the electrification of Caltrain connect to high-speed rail? Good question. The bullet train will supposedly link to Caltrain, though that may not be for several decades, if ever, at the current rate of construction. Since the choo choo may never reach the Bay Area due to litigation and funding shortfalls, Bay Area Democrats late last year wrote legislation that would make $600 million of the $10 billion in high-speed rail bonds that voters approved in 2008 available for electrifying Caltrain. This may be unconstitutional as legislators aren't allowed to amend measures passed by voters, and some taxpayers have sued.

Ms. Flowers decided to help her progressive friends in San Francisco on her way out the door by fast-tracking the federal grant for Caltrain. Now she's returned through the other door to collect a piece of the cash. Sacramento is America's western swamp. . .
The Orange County Register also ran an editorial about the entire High Speed Rail project. It includes some interesting information about the State's "cap-and-trade" auctions and the plans to use them to fund the project.


From the very beginning, the California High-Speed Rail Authority's business plans have been based more on hope and fantasy than on sound finance or economics. Proponents seem to have adopted the "in for a penny, in for a pound" strategy: Just grab as much money as you can, as quickly as you can, and start building. Once the track has been laid, there is less likelihood the public will mount strong enough opposition to stop the project, which might be seen as wasteful and cost even more money to tear up the track.
Yes, yes, yes. Make it too expensive to stop! Sacramento started this project in a relatively sparsely-populated, economically-depressed area where they could even get some support from Republican politicians. Opposition to suggested routes came from farmers and small businesses - not from high-powered environmentalists and progressive bigwigs. How many people need to take a bullet train from Shafter to Merced? And why didn't they start with the Los Angeles to Bakersfield segment, where there is currently no direct rail service at all? Because it would be hard.
Wednesday, March 8: Fresno
In the middle of the day, I drove past the support towers under construction for the viaduct intended to carry high speed trains over Cedar Avenue and Highway 99 in the southern part of Fresno. There were some really, really tall cranes standing near the towers, but I saw no work underway.
Friday, March 10
Via J.J. Sefton in the sidebar, there was a tear gas attack on a German train, a few days after an axe attack at a German train station. This could never happen on the future California High Speed Rail system, though. Right?
Are things this bad outside of California?
Years ago, I read a book called Barbarians to Bureaucrats about the rise and fall of corporations. Parallels were drawn to civilizations throughout history. At the end of the typical corporate life cycle, the corporate leadership was described as proceeding from a corrupt bureaucratic stage to an insanity-tinged aristocratic stage. Fiscally irrational behavior and extravagant monument-building are common features of the aristocratic stage.
When I first read the book, I was working for a corporation, but also dealing with a corrupt State agency. I kind of wished that the author had written a similar book about government entities. It occurred to me that infusions of tax money kept the corrupt bureaucratic apparatus, and sometimes some aristocratic insanity, going far longer than would be possible in a market-driven organization. So creative destruction is delayed as the mess gets bigger and bigger.
The State of California seems to have pretty much graduated from a corrupt bureaucracy to the insane aristocratic stage since then. I think that is reflected in some of the developments above.
In summary, officials continue pushing projects like the Transbay Transit Center bus station along with a bullet train from Shafter to Merced even though they have just evacuated roughly 200,000 people because they neglected warnings about the condition of a dam. Additional water storage (like back-up dams) could have avoided current emergency actions around the state to prevent disasters due to spring runoff. Do they think the drought year/flood year cycle is going to end in California? Why isn't water management a higher priority than managing the movement of people?
I know this kind o stuff goes on in other parts of the country, but is there anywhere else (well besides Washington D.C.) that politicians are so disconnected from reality?
Open Thread.

posted by Open Blogger at
11:11 AM
|
Access Comments