« If you build a train station, will trains come? [KT]
|
Main
|
Ace of Spades Pet Thread »
March 11, 2017
Saturday Gardening Thread: Hip Houseplants [KT]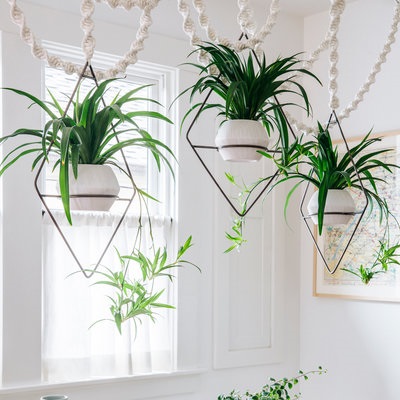 Back from the '70s: Hanging plants, complete with macrame
Back in February, I saw the photo above in a Sunset Magazine article at a doctor's office, 19 ways to decorate with houseplants. The online version is now part of their current "Ultimate Guide to Indoor Plants". I don't remember the macrame and Spider Plant combos of the '70s as being quite that striking. Notice that the plants above are straight green - not the once-ubiquitous variegated numbers that were commonly sold as "air purifiers".
Are we on our way back to the '70s? There seems to be a resurgent interest in houseplants now.
Millennial "Plant Parents"
I hope we don't have to go back to the '70s. But WeirdDave linked this piece on Millennials becoming Proud Plant Parents in a recent ONT.
How did plant parenting become socially acceptable to hip young people? Concerning an Instagram plant guru:
As a man and a millennial, Cheng is also challenging the stereotype that houseplant hobbyists are older women. Tena van Andel, a board member of Master Gardeners of Ontario, notes that the feminization of indoor gardening started during the Victorian era.

Houseplants were once reserved for upper class men who competitively built elaborate greenhouses and conservatories out of newly industrialized glass, filling them with expensive exotic plants taken from Africa, Australia and South America.

"After a while, plants were permissible and something a woman could do that was 'feminine'," van Andel says, "Indoor gardening would give bored, wealthy housewives something to do to keep them happy and healthy...It also gave women who had to work, a job. Working at a flower shop was still seen as feminine but an advancement for women."
Oh, good grief. Just grow some plants if you want to. Here are some easy, but bold selections. And some for lower light: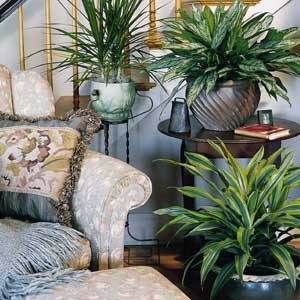 Some plants that do well near a north window
Millennial "plant parents" focus on indoor gardening, partly out of necessity. I went through a phase during which I had a lot of indoor plants. I never really thought of my indoor plants as children, though. Not that I didn't baby some of them. Probably more than most of today's new "plant parents" baby their plants. I even tried to grow Streptocarpus plants from seed once. Like it says in the article, "But unlike children, you can slowly kill your once beloved plants and dispose of them without any consequences, or even shame."
Some "plant parents" choose plants that they can neglect for weeks at a time. I don't think substituting plants for kids on a widespread basis is a good way to maintain a society. I am old enough to remember when children and houseplants could coexist. In fact, I know of some treasured houseplants (Hoyas, Christmas and Easter Cactuses, etc.) that have been passed down from parent to child. Don't know how many millennial plant parents would be interested in this concept, but I welcome them to the world of growing plants. I'm still a little leery about calling them your kids, though.
I don't currently have any houseplants that could be considered family heirlooms. I do have a couple of African Violets. And at one time I made a pretty serious effort to grow some of their hybrid relatives developed from the Streptocarpus species. You know, some of those plants that were "once reserved for upper class men who competitively built elaborate greenhouses and conservatories out of newly industrialized glass".
Streptocarpus
If you have ever wondered what a cross between an African Violet and a Gloxinia would look like, you might want to check out their fellow gesneriads from the genus Streptocarpus. Many of the species first grown in Europe are from South Africa.
Although it is rare to see these plants in the supermarket's floral section, their requirements are a lot like those of African Violets. In fact, African Violets are thought to have evolved from the subgenus Streptocarpella, which has stems on the leaves. While the flowers of the subgenus Streptocarpus often resemble orchids, flowers of the subgenus Streptocarpella tend to resemble primroses. Here's an unusual Streptocarpus from the British Streptocarpus Society. Their site features many spectacular specimens.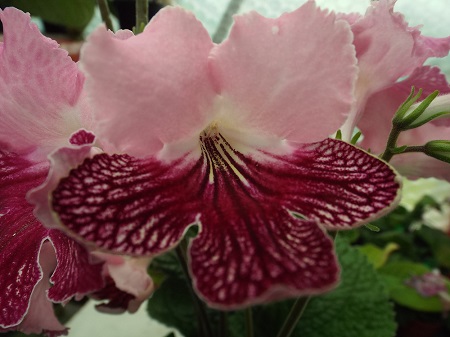 Natasha
One reason Cape Primroses are not sold in supermarkets like African Violets is that they have long, strappy leaves that are easily injured. Although with patience you may be able to start a new plant from a leaf. Here is a well-grown specimen.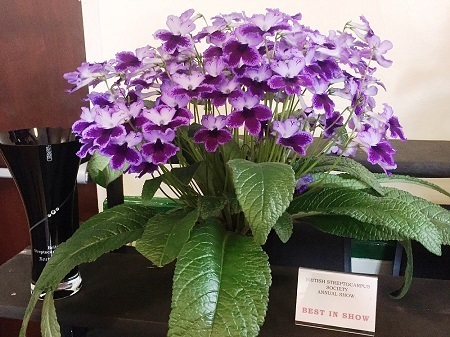 Katie, Best in Show, 2016
I once lived near an orchid greenhouse that also sold Cape Primroses. Orchids always seemed daunting to me, but I did buy some of these plants. I got some of them to bloom before killing them. I started some from seed and a few from broken leaves but never got one of those to maturity. Over-watering young plants is really easy.
Here is a basic guide to growing Streptocarpus. "Once you've grown one Cape primrose successfully you'll be hooked forever."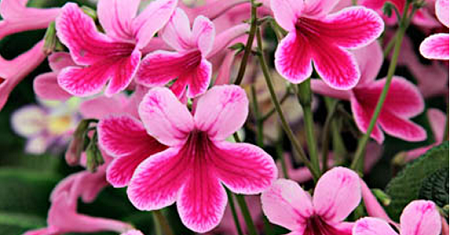 Gardens of The Horde
Last night in the ONT, CDR M noted the return of winter weather after plants had already started blooming. He worried that this could affect crop harvests later on. Has a change in the weather affected your garden? I noticed yesterday that cauliflower is four bucks for a small head now. I think that price is related to earlier weather.
Anybody have something nice to report from a garden or farm?
Last week, I promised a little more information on the highly invasive Himalayan Blackberry to some of our foragers and Northwest Morons. This species of blackberry was previously known as Rubus discolor or R. procerus. Its current name is R. armeniacus. It is from Armenia and northern Iran. Luther Burbank had in mind breeding a thornless blackberry. But in the meantime, he marketed the "Giant Himalayan" blackberry because of its fruit quality. Never mind the thorns. He had received the seeds from somebody in India and thought the berries came from the Himalayas. Here's a creepy side-note to this story:
Burbank had become an international celebrity. He was so successful at breeding plants that he became interested in applying the same principles ... to people. And that's where his tale gets problematic.

He started selling a new book that he'd written in his catalogs, The Training of the Human Plant.

Burbank wrote that the crossing, elimination and refining of human strains would result in "an ultimate product that should be the finest race ever known,
Well. He considered the USA to be the best place to try this experiment.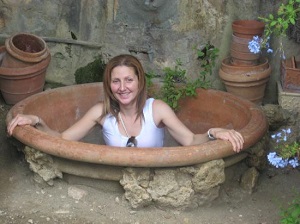 A Human Plant in Italy
Here in the Central Valley, I've got some tomato plants now. Just hybrids so far: Better Boy, Champion (the indeterminate sibling to Celebrity), Ace (a local favorite) and Lemon Boy, noted as the best tomato for Green Fried Tomatoes. Also makes pretty salsa.
Below, Yellow tomato and tomatillo salsa. If you're growing your own tomatillos, 'Pineapple' could be an interesting choice. There's also a ground cherry called 'Pineapple'. That's probably not what you want for salsa.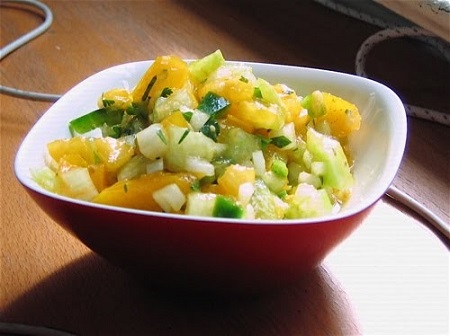 Have a great week.

posted by Open Blogger at
12:20 PM
|
Access Comments