« Saturday Morning Coffee Break
|
Main
|
Saturday Gardening And Puttering Thread, November 9 [KT] »
November 09, 2019
When reality does not conform to the dream [KT]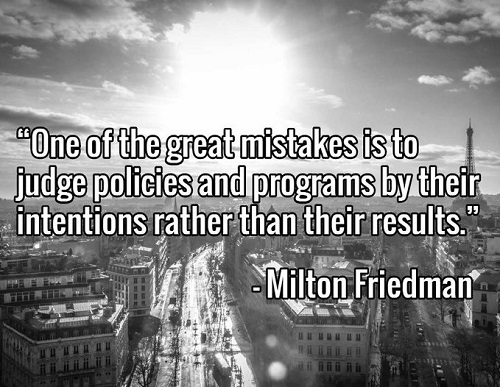 Uncle Milton was a smart man. We all know that dreams do not always come true. But it makes a difference how we react to that knowledge. I am seeing some evidence of that now in California.
Chicago Boyz has some interesting posts up right now. In particular, I would like to draw your attention to a long book review by David Foster of Red Plenty, by Francis Spufford:
The idea of centralized economic planning is a very seductive one. It just seems to make sense that such planning would lead to more efficiency...less waste...and certainly less unnecessary human suffering than an environment in which millions of decision-makers, many of them in competition with one another, are making their own separate and uncoordinated decisions, resulting in pointless product redundancy, economic cycles driving unemployment, and lots of other bad things.

Red Plenty...part novel, part nonfiction...is about the Soviet Union's economic planning efforts as seen from the inside. . .
Seems an appropriate topic in light of the Democratic debates.
On a more personal note, Village Idiot writes about a particular reaction to the failure of a dream:
This article from Law & Liberty reminded me of the 1989 Revolutions, the largest political and cultural events of our lifetimes. I felt pricked that I had also forgotten and de-emphasised those events in my thinking, I who have two sons born behind the Iron Curtain. Shameful, really. John-Adrian's first memory is of angry crowds milling outside his apartment building in Oradea, shouting "Iliescu SOS!, Ceausescu JOS!" in 1989 when he was four.
We get caught up in anger at the issues of our day, but some are never going to amount to much. We are fighting over whether people who claim to be a different gender from their birth sex are going to be able to game the system and make us all have to go along with it. Americans are very big on individual rights even at great inconvenience to the group, and Europeans are very big on looking modern and free of tradition (especially when they can compare themselves favorably to Americans), so transgender people in either direction may succeed in having the rest of us be made to shut up and go along. As I said, it's gaming the system, but it could work. And that will irritate many of us and have bad unforeseen consequences.

But it won't be execution, or labor camps, or inability to choose our profession or where we live.

No, the rise and fall of communism has been the largest event of our days, but even those of us who should know that get distracted. Popular culture has distracted us away from that main point to hand-wringing about smaller items. . .
Yes. We need to remember the magnitude of the rise and fall of communism and teach about it! Though there is an argument to be made that now, the approach to establishing a similar system may be more gradual.
Now for some smaller items from California
Mental Health
Here's a story about a Stanford professor who may have had good intentions, who published a small study in 1973 describing the experiences of eight pseudopatients who went undercover in mental hospitals. He apparently ignored the data from one of his pseudopatients who was well-treated, and may have invented other pseudopatients out of thin air.
And today, what we have is a mental-health crisis of epic proportions. Over 100,000 people with serious mental illnesses live on the streets, while we are chronically short of safe housing and hospital beds for the sickest among us.

Had Rosenhan been more measured in his treatment of the hospitals, had he included Lando's data, there's a chance a different dialogue, less extreme in its certainty, would have emerged from his study and maybe, just maybe, we'd be in a better place.
And Jeffrey Epstein didn't kill himself.
The Safest Building in the World
We discussed the Transbay Transit Center in San Francisco back in April of 2017, when Jerry Brown was still in office. At that time, Brown was still clinging to the dream of high-speed rail all the way from Los Angeles to San Francisco. But the Transit Center was scheduled for completion before the first segment of track was scheduled to be completed in the Central Valley.
The month before, this was written:
By failing to require an update to California High Speed Rail's Environmental Impact Report, state officials are violating a key provision of both the National Environmental Policy Act (NEPA) and the California Environmental Quality Act (CEQA). This failure lends an air of hypocrisy to Sacramento's criticism of Trump Administration environmental stewardship and it also gives Elaine Chao, Trump's Secretary of Transportation, an opportunity to derail the HSR project.
Of course, the reason that Sacramento officials started in the Central Valley is that the sparse population there did not have the political clout to mount effective environmental suits of their own, as were anticipated in areas where high-speed rail might actually be somewhat useful. Ironic that California imposes its own environmental standards, stricter than federal standards, on citizens where they see the opportunity to virtue signal.
It is also somewhat ironic that Gavin Newsom killed Jerry Brown's dream by shortening the HSR route to an idiotic one that starts and stops in the Central Valley. And last I heard, projected rail speeds were slower than first promised.
As a resident of the Central Valley, I have seen lots of giant equipment for this project idled in fields for a long time, at great cost to the taxpayers. Well, the giant equipment is moving again, snarling traffic but giving us hope that the few people who might be interested will be able to take a pretty fast trip from Bakersfield to Merced someday.
But up in San Francisco, the Transit Center site still represents the hope that somehow, someday trains will zip in from Los Angeles. In the meantime, the Transit Center, touted as perhaps the safest building in the world, opened for bus service -- then closed again because it cracked. Popular Mechanics has the long, detailed story, which ends like this:
I wander past the bamboo and cactus groves and the monkey puzzle tree. I read a plaque explaining that the park rests on a base of structural foam, designed to let the structure ride out earthquakes, which, here on the lip of the San Andreas Fault, are sure to come. I recall architect Fred Clarke's claim that the STC was probably among the safest buildings in the world.

At the mere thought of an earthquake, however, I reflexively imagine a transit-center apocalypse: buses crashing through the roof of the grand hall, smoke rising from shattered steel.

The vision passes as quickly as it arose. With a combination of fatalism and blind faith, I again trust the minds and hands that have built the $2.2 billion dream of the Salesforce Transit Center.
Music
Feels so good
Hope you have a good weekend.
Yes, this is the Thread before the Gardening Thread
Serving your mid-day open thread needs

posted by Open Blogger at
11:18 AM
|
Access Comments