« Saturday Morning Coffee Break
|
Main
|
Saturday Gardening Thread, February 23 [KT] »
February 23, 2019
Mobility [KT]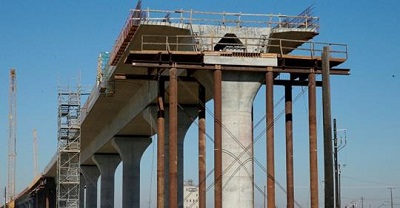 Where do we go from here?
Last week, we discussed here how Gavin Newsom planned to destroy the planet by shortening the California high-speed rail project from the big dream of a three-hour trip from LA to San Francisco to a sort of fast trip between Bakersfield and Merced. If we are not all dead in 12 years, how will we get around in the future?
The Sacramento Bee has a few corrections to the information we had last week. And the Babylon Bee reminds us that our Washington legislators remain undeterred in their Big Green Dreams:
A new environmental proposal would have the US replace all public and private spacecraft with high-speed trains by the year 2030, reports confirmed Thursday.

"We are wasting so much rocket fuel to generate the thrust necessary to leave Earth's orbit when we could just build a train track all the way to Mars or Jupiter," said a lobbyist for the train industry. "And just think about how pleasant a ride from Earth to Mars would be, coasting along the space tracks at 200 miles per hour for the next 193 years." . . .

California is ahead of the curve and has already begun work on its own high-speed space rail, but it was immediately delayed for 770 years and will now cost 52x the original estimate.
Meanwhile, back on earth, a piece in the Sacramento Bee assures us that Gavin Newsom did not kill high-speed rail. Instead, Newsom's plan is an improvement on the original plan for the Central Valley segment of high-speed rail:
Administration officials point out Newsom's plan expands the high-speed rail line by about 50 miles in the Valley. Under his revised concept, trains will run into downtown Bakersfield, rather than stopping outside the city. And Newsom plans to extend the line farther north to Merced, instead of the previous Valley terminus at Madera.
Think about that: The original plan was to have a bullet train STOP OUTSIDE THE CITY.
I saw a few more surprises in the revised map from the HSR authority: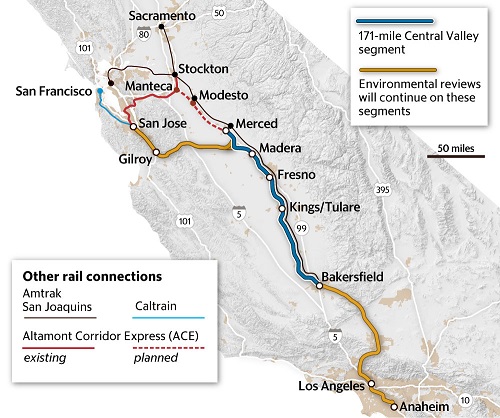 Although the big selling point for this plan was the LA to San Francisco run, there is no future plan for high-speed rail from Los Angeles to San Francisco shown on the map. What about that ultra-expensive new terminal in San Francisco?
Also note that the current planned HSR route parallels the existing Amtrak route. There is a plan for a future "express" route to Manteca. So there's that.
We also touched on Gavin Newsom's emphasis on planning future housing in California, including planning for alternate modes of transportation like electric scooters. Here's a story about electric scooters for tourists in San Francisco, Santa Monica and elsewhere around the country. Electric scooters might make a nice replacement for high-speed rail in Frisco.
The latest way to sightsee requires an app, a sense of balance and a thumb to operate a throttle. Dockless electric scooters are a great way to explore a city, says Paul DeMaio, who manages the bike- and scooter-share programs in Arlington, Virginia. "It can be a lot of fun." In some areas the programs, which offer short-term rentals for just a few dollars, have been controversial: Parked scooters can block sidewalks, and inexperienced, unhelmeted riders have been injured. But cities have adopted regulations, and the popularity is booming.
Have you ever done this? Would you do it? More importantly, should neighborhoods be planned for electric scooter travel, as suggested in last week's commentary on Gavin Newsom's State of the State address?
I am not up to talking about autonomous "green" cars today. You can bring the topic up in the comments if you know anything new. Meanwhile, Chevy is discontinuing the Volt.
Space Travel
While politicians make plans like these, space travel using fossil fuels moves forward. Insty is always a good source for the latest in formation. I just did a search for "space" and got recent results on Virgin Galactic reaching space again, a successful launch by SpaceX, possible lunar travel, asteroids, space junk and more.
Alexandria Ocasio-Cortez probably does not approve.
Some Practical Green Transportation?
Insty also linked a piece on a study suggesting that electric bikes increase brain function in older adults. As long as you don't fall on your head, of course.
And here's a guy dealing with the recent effects of global warming in a creative way: a bicycle snowplow.
Looks like good exercise. I can imagine certain members of The Horde coming up with something like this.

Related
Nice thread (on Thread Reader) concerning cheap energy, by John Hayward:
One important point to understand about the #GreenNewDeal mindset is that socialists HATE middle-class people having access to cheap energy. They really thought they were going to put a stake in the middle-class heart under Obama, who dreamed of $10/gallon gas.
When vital goods and services are cheap and readily available, people don't think an all-powerful maternal government is necessary. Attacking the American energy industry offers the Left a way to make EVERYTHING more expensive, all at once. . .

Another side effect of the war on cheap energy the Left would find very useful is reduced mobility for the American people. They HATE it when the serfs move around too much.

Highly mobile people can seek out opportunity and move out of Democrat-run hell hole districts. More expensive energy would destroy the mobility that makes rural and suburban living attractive. As you might have noticed, the Left loathes rural and suburban living.
Hope you are able to get out and about some this weekend. Have a good one.
Yes, this is the Thread before the Gardening Thread.

Serving your mid-day open thread needs

posted by Open Blogger at
11:26 AM
|
Access Comments