« When reality does not conform to the dream [KT]
|
Main
|
Ace of Spades Pet Thread »
November 09, 2019
Saturday Gardening And Puttering Thread, November 9 [KT]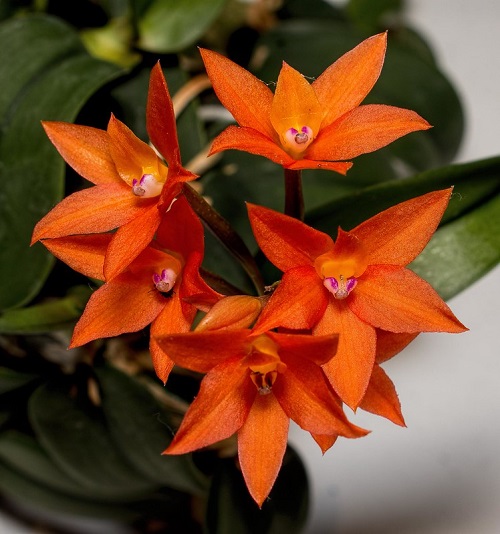 Cattleya cernua
>
Hello, gardeners, photographers, putterers and those who just watch. It's November, but The Horde is still busy gardening and puttering. Don in Kansas has new photos up from the latest orchid show. There's even a Medusa. Check it out at the link.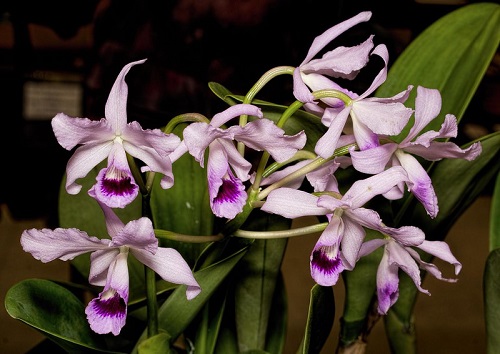 Guarianthe bowringinana
Missed Don's Halloween post, with Dracula orchids. Check out the Dracula simia 'Racha' at the first link. Some of the others also have faces.
Edible Gardening
Do you have garlic sprouting in the kitchen? Thought about rooting it in water, then planting it out, either in a pot or in the ground?
Maybe you could make some nice Garlic Roasted Cabbage Steaks. Maybe to go with a nice ribeye.
Vines, Shrubs and Trees

Last week, we had some great comments after most people had moved on to other threads. One was by LizzieG:
Plant ID:I agree that picture #4 is burning bush. Enjoy it now because the rest of the year it doesn't look like anything but "bush", though the stems are interesting up close. I think picture #3 is bittersweet. I recognize it because I spend an enormous amount of time pulling it out, cutting it down and painting it with Clorox. Both are invasive (but seductive) in CT and for good reason.

Lurker who devours this thread every week.
Burning Bush, a Euonymus, makes the list of 50 dangerous garden plants for dogs. But birds eat the berries.
I got curious about bittersweet, so I looked it up. There are three kinds of bittersweet that gardeners are likely to encounter. One is Oriental Bittersweet, the one with which LizzieG probably does battle. There is also a nicer American Bittersweet. There is a new cultivar out with larger berries called Autumn Revolution Bittersweet.
The last type of Bittersweet is related to tomatoes and potatoes. Think of it as a tiny, poisonous eggplant. Get rid of it.
I didn't think that Admirale's Mate had photographed a Bittersweet, though. I thought it was a Euonymus. The seed capsule is yellow on Bittersweet, rather than white and pink. But it is in the same plant family.
Anyway, I asked Admirale's Mate what he thought his photos were:
He thought the one with yellow foliage was Bottlebrush buckeye. Here's his photo of a seed spire. The seeds are bigger if they ripen, but sometimes they don't. Somewhat toxic, but squirrels eat them.
The seeds of the California Buckeye are HUGE. You probably don't want to grow one. Here are four buckeyes you might like to grow. They attract butterflies and hummingbirds. Some of the flowers are very attractive.
He thought the red berries with no capsule were winterberry, Ilex verticellata.
He thought the berries with the white and pink capsules were Winter Creeper, Euonymus fortunei, which is evergreen. Most people are familiar with this plant. My Mom has one of these (or a similar species). It has never made berries.
And Burning Bush is another Euonymus. Deciduous. As LizzieG noted, it is invasive in the Northeast. I thought it would be fun to look at some of the other deciduous Euonymus species.
The European Spindle Tree gets its name from its hard wood, once used for spindles. One variety is Red Cascade.
Euonymus hamiltonianus comes in varieties with pink or white berries.
Wahoo or Eastern Wahoo is a native Euonymus that might be kind of fun to plant. Here are some Wahoo companions. Wahoo is recommended as a substitute for the more flamboyant Burning Bush where the latter is invasive. It has pink fall foliage.
Some of these plants have great names. What are Wahoos?
Doesn't address the plant name. So how did the plant get its name? Probably because it was used to make arrows.
A similar native plant, Hearts a-Bustin' is harder to find. The seed capsules are fascinating. AKA Strawberrybush. Poisonous, but not to birds.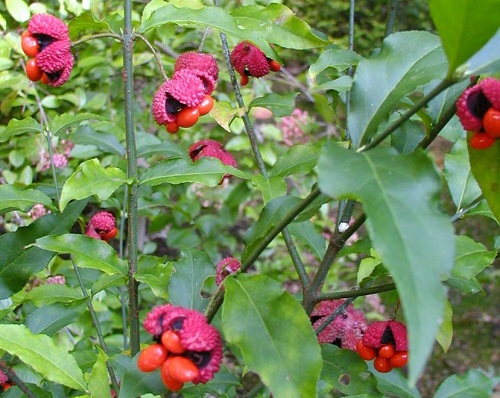 Nice commentary and photos showing some of the more subtle tree-like Euonymus species, like Euonymus phellomanus. You might want to explore some of the other posts, too.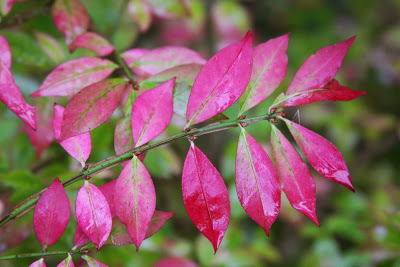 Seed capsules: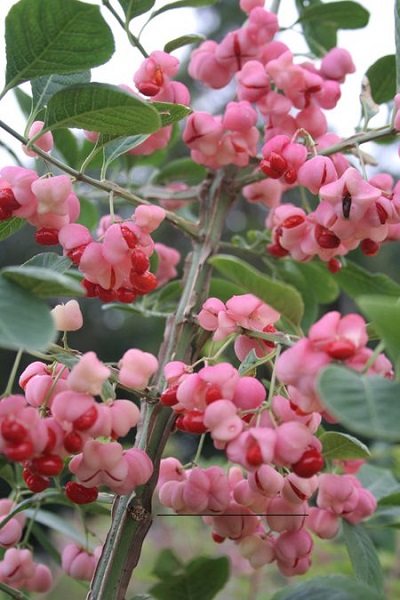 Insect News
Admirale's Mate seems to have gotten personal with a couple of types of insects lately. We have had some discussion in the comments about Woolly Bears. Wow! He has Woolly Bears.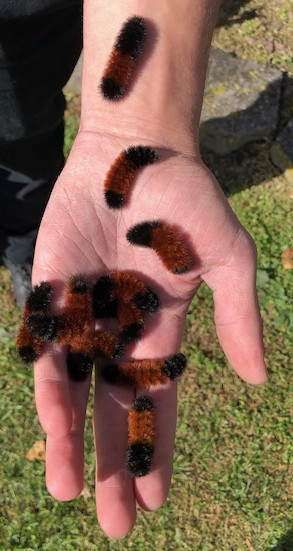 Woolly Bears are fat, furry and in a hurry! A fun post:
During the winter, woolly bears are able to survive freezing temperatures by producing a type of "antifreeze" or cryoprotectant in their circulatory system that protects their cells and vital organs from the damage which would occur if ice crystals formed. So they survive in a frozen state all winter long - at least in the colder parts of their range. These guys are found as far north as the arctic!

That's pretty neat!

In the spring, the frosty caterpillars thaw out and wander around eating a little before settling down to spin a cocoon. The adult moths emerge about a month later, mate, lay eggs, and a new generation begins.
Our author also found a caterpillar of the Giant Woolly Bear, which turns into the Great Leopard Moth. This is not the only nice photo at the link. And there is a lot of great information from the University of Florida, too. For example, these moths have ears. And:
Many tiger moths have thoracic tymbal organs with which they produce high frequency clicks in response to bat sonar. In some species, the clicks may serve as an aposematic signal (warning) of the moths' chemical defenses, and in one species of tiger moth the clicks have been demonstrated to jam the bats' sonar. It is not known whether adult giant leopard moths produce sounds.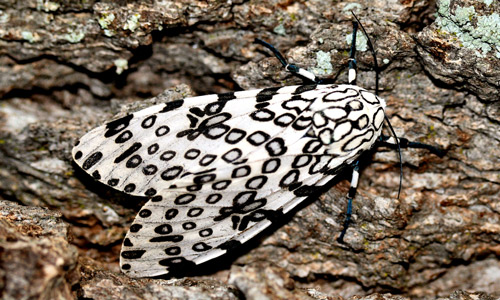 Another caterpillar you can help kids raise.
But be careful that they don't touch this one.
The southern flannel moth, Megalopyge opercularis . . . is an attractive small moth that is best-known because of its larva, the puss caterpillar, which is one of the most venomous caterpillars in the United States.
There are some remarkable details and photos at the link if you are interested in the process of metamorphosis.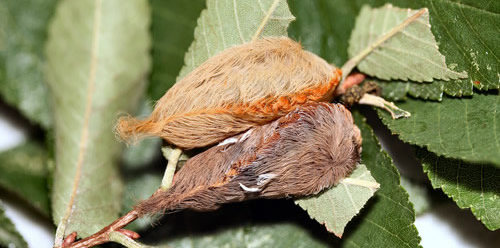 There are other venomous caterpillars in the United States, too. Some of them have tufts of hairs instead of a woolly coat. And don't get ANY caterpillar hairs in your eye.

There is also a beloved British version of the Woolly Bear that grows into an attractive moth: Woolly Bear to Garden Tiger.
A little note to Admirale's Mate: Our Mexican friend thinks Katydids are good luck.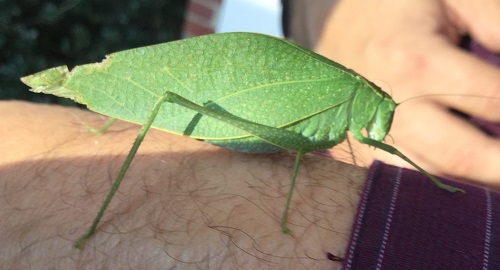 Hank Curmudgeon sent along an interesting piece from WaPo last month about Monarch Butterflies and Dragonflies riding a cold front south through Oklahoma.
A chiseled line shaded green, yellow and red appeared on weather radar in Oklahoma City on Saturday night, but it wasn't rain. It was a cold front chock full of butterflies and other bugs. . .

Butterflies, dragonflies and likely other bugs surfed the front by the thousands. Doppler radar from the National Weather Service in Norman indicates the butterflies likely were present to a height of about 2,500 feet. Many of the insects were swept up in the leading edge of the southward-moving air, with others trailing in its wake.
A population of monarch butterflies can migrate up to 3,000 miles south to the Sierra Madre Mountains, embarking on a trip they have never been on before with remarkable precision. The journey can take up to two months, with individual monarchs flying 50 to 100 miles per day.
Geeky radar stuff, a video and photos at the link. Wonder if the Monarchs have made it to Mexico yet?
At least one Gulf Fritillary made it to Oklahoma, too.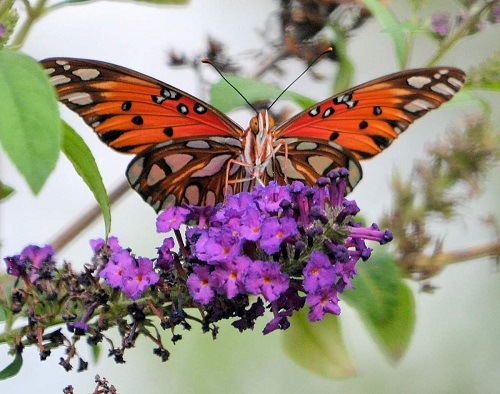 It is still Praying Mantis season in California. By-Tor took this photo: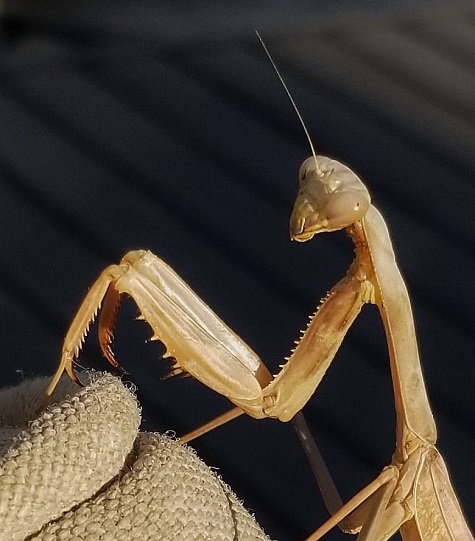 Interesting facts about praying mantises. There are 1,800 species, one of which looks like an orchid (see the link). Some other facts:
The word mantis comes from the Greek mantikos, for soothsayer or prophet.

Mantises were considered to have supernatural powers by early civilizations, including Ancient Greece, Ancient Egypt, and Assyria.

The praying mantis was considered a god in southern African Khoi and San tradition for its praying posture; the word for the mantis in Afrikaans is Hottentotsgot ("god of the Khoi").

Two martial arts separately developed in China have movements and fighting strategies based on those of the praying mantis.

The closest relatives of mantises are the termites and cockroaches.

Praying mantises are among the insects most commonly kept as pets.
I think I would rather have a pet mantis than a pet cockroach or termite. This guy looks sociable.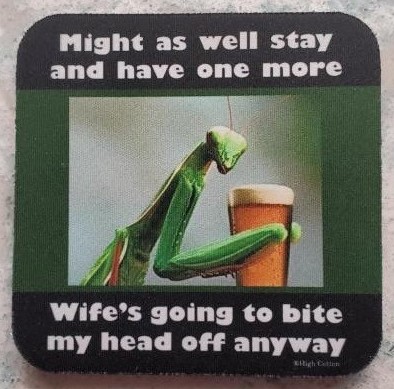 Gardens of The Horde
Our jujube tree is ripening its second crop of fruit, on new stem segments. The fruit is smaller that the fruit in the first crop. We still have pomegranates and Pink Lady apples on the trees.
Looking forward to posting Wee Kreek Farm Girl's special Aloe event. We have an international submission coming up soon, too.
Anything going on in your garden?
More Orchids
Le Vieux Garde found these miniature orchids growing along the driveway in Alabama. How fun is that?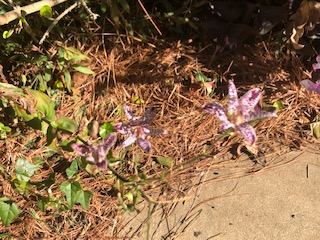 Here's another indoor orchid from Don in Kansas.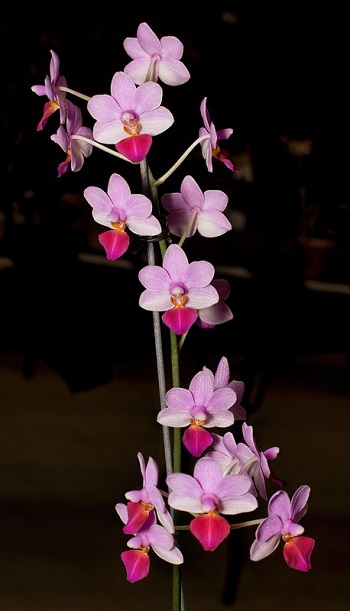 Phaelenopsis Liu's Cute Angel
If you would like to send information and/or photos for the Saturday Gardening Thread, the address is:
ktinthegarden
at g mail dot com
Include your nic unless you want to remain a lurker.

posted by Open Blogger at
01:11 PM
|
Access Comments