« Food Thread: Eat More Sausage...And Less Turkey
|
Main
|
Sunday Overnight Open Thread (2/9/20) »
February 09, 2020
Gun Thread: He's Got a Gun! Shoot 'em!! [Weasel]
If I've said it once, I've said it a hundred times, when the space guys land in your yard and come out with hinky looking space shit in their hands, pop a cap in their ass! And damned if that's not what they did in 1951! Let's find out how that worked out below, shall we?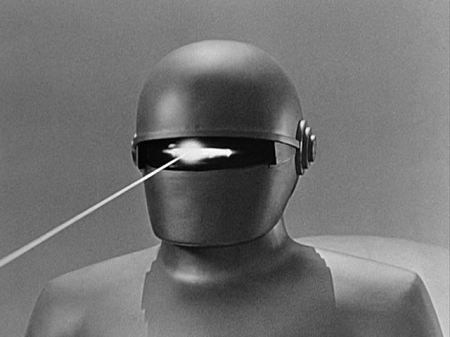 Gort goes all gangster
Well it was working just fine, thank you very much, until this guy shows up! Oh sure, play the robot with the eye ray card! I see how this is going to be. The lesson here is to know your target and think before you shoot.
.22 Plinker Update
Last week I mentioned buying a .22 caliber rifle for shooting steel at the farm, and how you can have a whole lot of fun spending an afternoon just plinking away. So I buy the rifle online and it's accurately listed in "fair" condition when I pick it up. Perfect for what I want and it's priced accordingly. The rifle, a Colt Colteer 1-22, is about 65 or 70 years old and came with a fixed power Weaver B4 scope of the same vintage. The gun is mechanically sound but once I get it out into the sun I can tell the scope glass is cloudy. Not so much as to make it unusable, but pretty far from being clear, too. What to do?
Well I figured there must be a place out there repairing vintage scopes, and lo and behold, there is! Searching for "vintage gun scopes" I found a company with the crazy and imaginative name Vintage Gun Scopes. So after a little poking around on their website, I learn I can have my scope overhauled for around $100 with a 90 day turnaround. A little more poking around and I find I can buy the same refurbished scope graded in excellent condition, cleaned and nitrogen purged, for $150. Well that's getting close to what I spent on the rifle, but who gives a shit? I decide to skip fixing mine for now and just ordered a replacement.
I make it a practice to only recommend companies or products here which I have personally used and am willing to endorse with the Weasel Stamp of Approval, and I'm delighted to add Vintage Gun Scopes to the list. I place the order, a week goes by and I have a box on my doorstep, shipped with tracking and insurance, for $5. The scope was very well packaged with enough bubble wrap to make Greta cry in outrage, and came in a nice wooden presentation box. The condition was exactly as advertised, with only a very slight ring mark evident. The glass is sharp and clear, and I'm a happy shooter. Seriously, if you have a project like this and need glass, take a look at Vintage Gun Scopes in Corvallis, MT.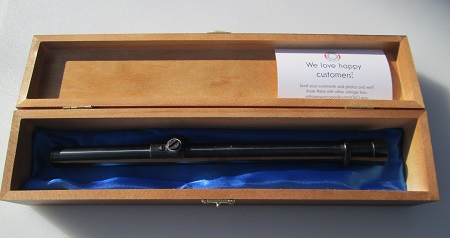 Does it make sense to put a $150 scope on a $200 rifle? I don't know about you all, but it does to me. I once bought a police trade-in S&W Model 10 in beat-to-hell condition, then sent it to the factory to be refinished, making it a $500, $200 gun. It turned out so nice, I never got around to shooting it! To be fair, I have other Model 10's and was frankly just curious to see how it would come out, and get a certain satisfaction from seeing these old and unloved guns and accessories return from the scrap heap.
How about you all? Do you take economics into strict account when making decisions like this, or do you sometimes do things that don't make a lot of economic sense but just seem like the right or a fun thing to do?
******
Virginia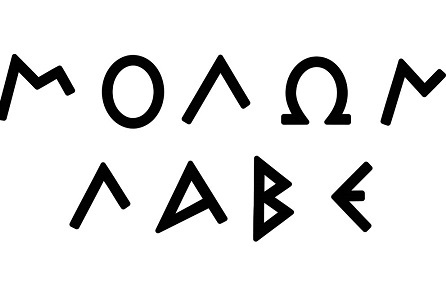 Well the radical leftist gun-grabbers are still at it in Virginia. Governor Asshead (Idiot - Va) and his cronies apparantly interpreted over 20,000 gun rights supporters in Richmond as a mandate to go full steam ahead with their anti 2nd Amendment agenda. This week, House Bill 961 made it out of committee and now heads to the state Senate, albeit with some modification. The current version drops the "assault rifle" registration nonsense, but still prohibits new sales and makes owning suppressors and magazines with a capacity of more than 12 rounds, a felony.
Here's an excerpt from the VSSA press release on the matter, and here is a link to a summary of the bill with links to the current marked-up legislative language.
If you live in Virginia, please stay engaged and keep the pressure on localities which have declared themselves 2nd Amendment Sanctuaries, letting them know you expect them to follow through with their commitments. Remember, what is happening in Virginia could be happening in your state next. Stay tuned.
******
It's About Time
Here's a happy little reminder that we live in a world that is quickly losing it's collective mind. We're all familiar with BATFE Form 4473, or the Federal form used to process the transfer of a firearm. Well the feds are accepting comments on some rather important proposed changes to the document, such as making the questions a lot more confusing, and now being allowed to select "non binary" as your sex. So glad to see my tax dollars being put to such good use. [h/t: everyone who sent this in]
******
NoVaMoMe 2020!!
For those who might've missed it, NoVaMoMe 2020 was announced to great fanfare a few days ago. The NoVaMoMe, a Weaselbell Production, is pretty much the social event of the season, and one you simply cannot afford to miss! Well, at least it's the can't miss social event for May 9th between 5pm and 10pm in the small geographic region of Fairfax, Virginia. All of the details and instructions for claiming a spot can be yours simply by emailing the Central Planning Committee at the link provided on the main page, left sidebar; novamome2020 at gmail dot cee oh mmm. The email address is also usually linked in our nics. As of Saturday, we're about halfway to the 100 person maximum capacity of the new and exciting venue.
Our best buddy and planner/hostess extraordiaire bluebell was quoted recently regarding the big event:
There will be plenty of Horde spouses at the MoMe, some of whom read the blog, some of whom don't, and some completely apolitical. I want to assure everyone that MoMes are a place to relax and have fun and meet your grey-box friends in person, and rarely does politics even come up! Think of it as a big family reunion, only with people you actually like.
Totally not at shiv-point, I vigorously agree with all of bluebell's comments. For the introverts and lurkers out there, its a very casual, low-key, and FUN affair. I have been to a bunch of these around the country, and I can honestly say nobody comes away thinking it wasn't a great time. Some people mingle and others don't. If hiding behind a plant in the corner and just observing is your thing, have at it! If dancing naked on a folding chair with Cheetos stuck in your nose is how you like to roll, you can do that too! You can be as involved or as barely involved as you like. I swear you will enjoy yourself, and if you don't believe me, which is always smart, you can completely believe bluebell!
Don't be a sad, sad loser, and miss an evening of food, drink, laughs and valuable prizes! Register today!
******
Link-O-Rama
I'm really very seriously not kidding around anymore. Buy Ammo
AmmoSeek - online ammo search tool
GunBot - online ammo search tool
SG Ammo
Palmetto State Armory
Georgia Arms
AmmoMan
***Mail Bag***
This week we have a great submission from our pal neon madman
Here are a couple of finds from a recent gun show, a source that I like to prowl looking for boxes of random mixed cartridges that occasionally have a few gems in them. In this case, I struck pay dirt, and picked these up for a couple of bucks. On the left, we have a Fiocchi 32 gauge shotgun shell, and on the right a 20 gauge all-plastic Wanda shell. In the center is a mystery, I have not been able to identify it yet. Nominally about .36 caliber, with a straight copper case (slight taper near the front), and no visible headstamp or primer. I'm assuming that it is inside primed, and in some ways that rimless, grooveless case resembles a Bergmann cartridge, but I don't think that's it. All of the Bergmann cartridges I am aware of are brass cases with a center-fire primer.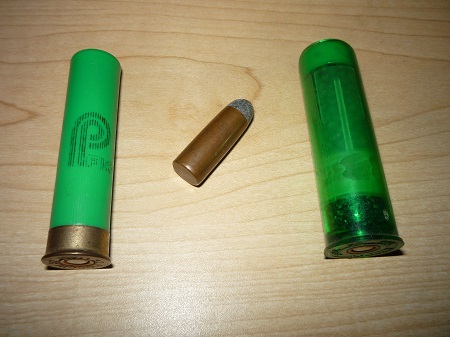 Another great entry by Neon Madman. Thank you! Can anyone help identify the middle cartridge?
******
Please note the new and improved gmail account morongunthread at gmail dot com. An informal Gun Thread archive can be found HERE. If you have a question you would like to ask Gun Thread Staff offline, just send us a note and we'll do our best to answer. If you care to share the story of your favorite firearm, send a picture with your nic and tell us what you sadly lost in the tragic canoe accident. If you would like to remain completely anonymous, just say so. Lurkers are always welcome!
That's it for this week - have you been to the range?


posted by Open Blogger at
07:00 PM
|
Access Comments