« How To Beat President Trump...And Don't Worry, The Democrats Are Far Too Dysfuncional And Insane To Do The Smart Thing
|
Main
|
Gun Thread: He's Got a Gun! Shoot 'em!! [Weasel] »
February 09, 2020
Food Thread: Eat More Sausage...And Less Turkey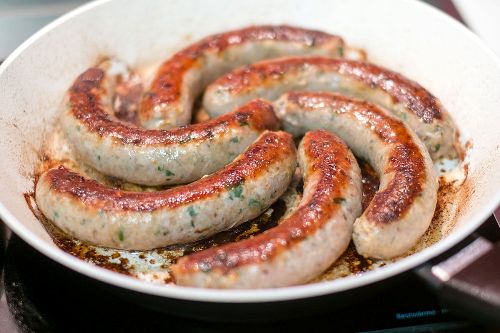 Sausages, in all their glory, are one of my favorite foods. Oh, I might have my favorites, but it is a rare sausage that disappoints, including those plain old dirty-water hotdogs at ballparks and..um...no, I don't eat them from those filthy carts that seem to have just emerged from the sewer system. But pretty much everywhere else is fine by me.
One of the few that often seem to be not quite as good as they should be are American breakfast sausages, especially in comparison to their older brother, the English breakfast sausage, which is simple, unadorned, and spectacular. Our version seems a bit too busy, whether with maple syrup (I warned you people about that stuff) or far too much in the way of herbs. Don't get me wrong, I'll eat them with a smile, but I prefer something different with my eggs.
Lunch and dinner is a different animal. I think the often-sneered-at American hot dog, when made will, is fantastic. There is a local place that makes a perfect version of them, although I will often pace back and forth, muttering and gesticulating for a few minutes before I choose caseless or natural casing. It is agony!
Far too few restaurants serve sausages, but when I see them on the menu it is usually my first choice. I particularly enjoy them as appetizers...a few different types served with a bit of good mustard always make me smile. And that is all a good one needs. Those sausages on a monstrous bun served with eight different condiments and a scoop of chili are just too much. The flavors are muddled, the textures are nonexistent, and it is a huge mess to eat.
So what's your favorite sausage?
******
I had an interesting chat with someone yesterday whose husband loves going to Olive Garden because he likes the food and the inexpensive wine they serve.
Oh...they just went to Jean Georges.
The point? Food is food, and if it makes you happy, then it qualifies as good food. And it doesn't matter what other people think. That goes for booze too! Drink what you like (unless it is a shaken Manhattan), enjoy it, and if it is inexpensive? Then more power to you! That means you can buy more of it. And if you enjoy white tablecloth restaurants that cost about the same as a used car, then good for you!

******
The ongoing attempts to beat my precious seven-year-old Velveeta and take the crown for oldest food are progressing nicely. The competition committee has handed down a ruling that...what the hell...inherited food counts for a special prize.
From "Just Wondering"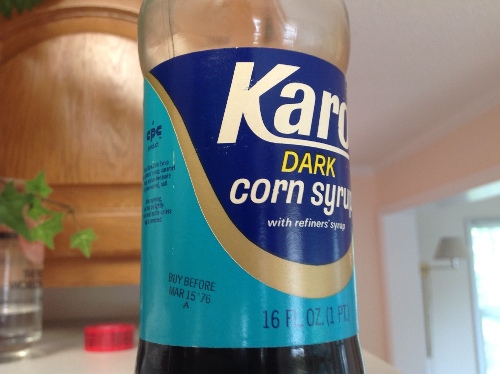 I was cleaning out my mother's kitchen after she died in 2016, and discovered many expired foods and spices. The winner was this bottle of Karo Dark Corn Syrup from 1976. She had using this ingredient from this bottle in her annual holiday pies for 40 years!!! She had moved in 2009, and apparently took her expired foods with her. She was a wonderful mother, generous volunteer and great home cook, and we all miss her.
******
Food and dining as theater, or even worse, as some sort of virtue-signalling pomposity has always irritated me. But this might be the worst thing I have ever seen. At first I thought it was an elaborate joke, but we are too far from April Fools for that. And reading more than the click-bait headline reveals it isn't quite as awful as it sounds, but still, why the convoluted set-up for what is essentially a blind date?
'Self-Love Restaurant' Will Sit Solo Diners in Front of Giant Mirrors on Valentine's Day

Two4One has called itself the United Kingdom's first "self-love restaurant," and its concept is pretty simple: single diners are seated across from large mirrors so they can spend Valentine's Day appreciating themselves.
Can't they just leave food and dining alone? So much of our culture is immersed in virtue-signalling and subtexts and all of the creeping SJW malarkey that is maddening to so many of us. Just let us eat and drink in peace, and if that means dining alone, then so be it.
******
Remember years ago when roasted cipollini onions were all the rage? Well, that is one fad that should not have disappeared.
Roasted Onions with Balsamic Cream
This sounds decadent. I love intense reductions, because they mimic the richness of fat, but can be used as a counterpoint to real fats.
There was a cooking style in France called "Cuisine Minceur," which was in its essence a diet, but which replaced insanely concentrated stocks and sauces for the fat that people then thought kept us all zaftig. Now of course it is more accepted to eat fat, and thank God for that!
But reducing liquids to intensify their flavors is a basic technique in most cooking, and one that anyone can do with great success.

******
A rare nonpolitical glimpse at the Supreme Court.
Beer lover Brett Kavanaugh wants to be remembered as the "Pizza Justice"
If you're looking for a flavor comparison, I'd rank it just below Pizza Hut and just above the average gas station offering.

The meal comes with a small container of mesclun greens that some people (not me) would call a salad. And at $8, it's a decent price point.
Has anyone ever eaten even adequate pizza in a cafeteria setting? I don't think it exists.
******
I accept the existence of turkey as a food to be consumed once each year to celebrate Thanksgiving. But must we be plagued by it on other days?
Cheesy Pan Pizza with Turkey Sausage
The recipe sounds pretty good, and I love the style of pizza...the crispiness of the crust from the hot oil is really decadent. But please, use good pork sausage. Turkey is an abomination.
Hell, if you are going to use turkey, why not just pour a bit of maple syrup on there too?

******
Food and cooking tips, Large-breasted Muscovy ducks, well-marbled NY strips, bartenders who use vermouth in Martinis, crisp bacon (although I am moving toward less crisp), thick and fluffy pita, and good tomatoes that aren't square, pale pink and covered with Mestizo E.coli:
cbd dot aoshq at gmail dot com
. Any advocacy of French Toast with syrup will result in disciplinary action up to and including being
nuked from orbit.
And yes, shaking a Manhattan is blasphemy...it's in the Bible!
&topic=world_news">

posted by CBD at
04:00 PM
|
Access Comments