ę Our Precious Democracy: A Continuing Eulogy
|
Main
|
Trump Dubs Mike Bloomberg "Mini Mike," Says He's Trying to Get A Hidden Lift Set Up Behind Podium to Hide His Shortness; Leftwing Media Then Can't Stop Talking About How Short Bloomberg Is Ľ
February 03, 2020
Oh No: Rush Limbaugh Just Announced He Has Advanced Lung Cancer
Cancer is a terrible, terrible disease.
Update: Here's a transcript of Rush's announcment, courtesy of dartist.
RUSH: Ladies and gentlemen, thisÖ This day has been one of the most difficult days in recent memory for me because Iíve known this moment was coming in the program today. Now, Iím sure that you all know by now, I really donít like talking about myself, and I donít like making things about me other than in the usual satirical, parodic, joking way.

I like this program to be about you and the things that matter to all of us. The one thing that I know that has happened over the 31-plus years of this program is that there has been an incredible bond that has developed between all of you and me. Now, this programís 31 years old, and in that 31 years, there are people ó you hear them call all the time ó who have been listening the whole time. Theyíve been listening 30 years or 25 years.

I just had somebody say theyíve been here three years. But, whatever, it is a family-type relationship to me, and Iíve mentioned to you that this program and this job is what has provided me the greatest satisfaction and happiness that Iíve ever experienced, more than I ever thought that I would experience. So I have to tell you something today that I wish I didnít have to tell you.

Itís a struggle for me because I had to inform my staff earlier today. I canít escapeÖ Even though people are telling me itís not the way to look at it, I canít help but feel that Iím letting everybody down with this. But the upshot is that I have been diagnosed with advanced lung cancer, diagnosis confirmed by two medical institutions back on January 20th. I first realized something was wrong on my birthday weekend, January 12th.

I wish I didnít have to tell you this, and I thought about not telling anybody. I thought about trying to do this without anybody knowing, ícause I donít like making things about me. But there are going to be days that Iím not gonna be able to be here because Iím undergoing treatment or Iím reacting to treatment, and I know that that would inspire all kinds of curiosity with people wondering whatís going on.

And the worst thing that can happen is when there is something going on and you try to hide it and cover it up. Itís eventually gonna leak, and then people are gonna say, ďWhy didnít you just say it? Whyíd you try to fool everybody? Ē Itís not that I want to fool anybody. Itís just that I donít want to burden anybody with it, and I havenít wanted to. But it is what it is. You know me; Iím the mayor of Realville.
More at the link.
@JoeConchaTV

Rush Limbaugh just announced on his radio program he has been diagnosed with advanced lung cancer. Says there will be days he won't be able to be there due to treatment...
I'm very surprised that someone as wealthy as Rush Limbaugh -- who undoubtedly has one of the best doctors in Florida -- could be diagnosed suddenly with advanced lung cancer. Seems like he should have had an earlier warning.
I'm just speculating, but it could be that he's known he had cancer for a while, and has been quietly undergoing treatment, but the treatments have not quite worked and the disease just recently moved to the advanced stage.
Happy says:
From what I've read, lung cancer is one of those where there are very few symptoms until it has progressed quite a bit. Very sad.
Okay, I stand corrected. I was wondering about that. I guess all they can do is take chest x-rays and those will probably only show a fairly large mass.
I mean, no doctors are going to do random biopsies of your lungs to check for cancer unless there's a mass shown on the x-ray, right?
Truly awful news.
A friend send this to me, saying "Take a look at this Hero."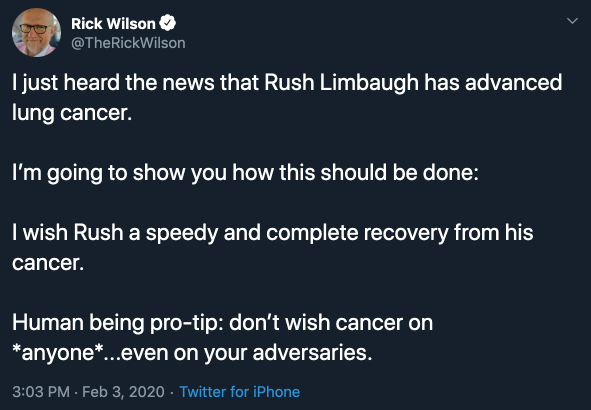 "I'm going to wish Rush a speedy recovery but only in the context of first awarding myself a Gold Star for Twitter Empathy and slipping in a Stunning and Brave virtue signal."
Well, that sure is heartfelt, "Rick."
Soothsayer adds this headline:
Rick Wilson Goes On Twitter And Uses Rush's Cancer As A 'Teachable Moment' For Conservatives

Tom Servo makes a good point: Rick Wilson is probably trying to do some Reputation Management after his Hicks in the Sticks act on Don Lemon.
2 58 Rick Wilson is starting to realize how much he screwed up with that Stupid Trump Supporters meme. He's trying to walk it back. Posted by: Tom Servo
More:
Regarding Rick Wilson:
320 "I'm going to show you how this should be done:"

Apparently well-wishes should be performative.

Posted by: Ace's liver

posted by Ace at
03:23 PM
|
Access Comments