« Saturday Afternoon Chess Thread 09-14-2019
|
Main
|
Saturday Overnight Open Thread (9/14/19) »
September 14, 2019
The Occasional Fishing and Hunting Thread [Bandersnatch]
Welcome Piscators and Piscatrixes - and this time Nimrods and Nimrettes -- to the current installment of the occasional fishing and hunting thread. In fact, we may broaden this to camping, hiking, orienteering, and other worthwhile pursuits of the rugged outdoors. (If you talk about playing your PS4 in the woods, though, you're banned.).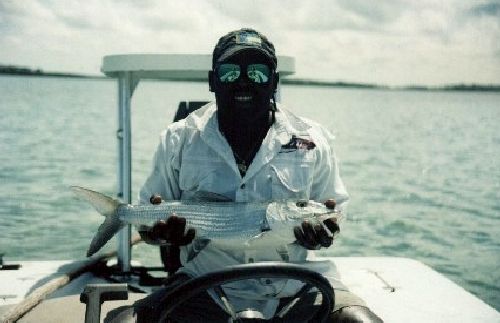 This is Bonefish Bradley, or so he called himself. He's a guide on Andros in the Bahamas. Or was. Who knows what Dorian did. Anyway, I wanted to use this as a jumping off point to talk about guides and guiding. Guides are whores.
Huh. I guess that's all there is to say about that.
[continue reading]
I have a friend from fishing circles who has moved on to wildlife photography, which has some interesting overlaps with fishing and hunting. Here's a picture he took of a wolf Eastern coyote.
So, this guy - his name is Doug Burgess but he doesn't do self promotion so don't look for a website - has been taking fantastic pictures of critters from mostly the North Shore of Massachusetts. You get wild dogs, owls of various sorts (the way owls match their coloring to the bark of the trees they hole up in is uncanny), unusual looking fox kits, herons spearing unfortunate frogs, and sundry other fauna.
What reminds me of fishing is the tension between the desire to share and the danger of burning the spots. He'll find a litter of foxen and follow them and then people will get enough context clues (or someone he trusted will blab) and then the secret is ruined.
So, hunting...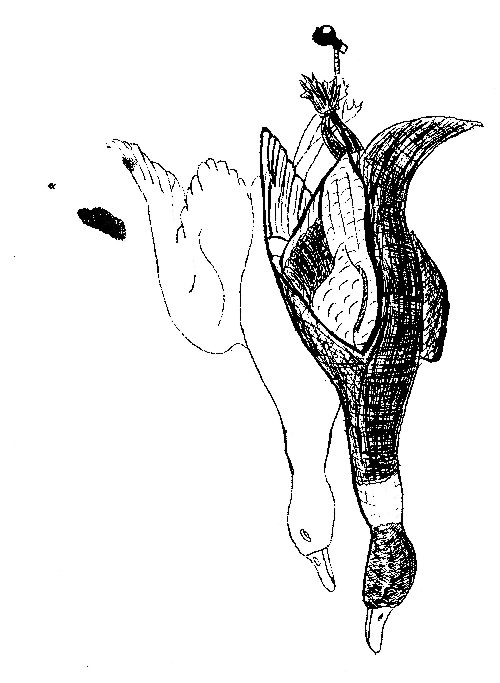 I have done some hunting but only as much as I could figure out on my own, and that's not enough. I have paddled through marshes with a shotgun across my lap attempting to murder waterfowl. It worked sometimes. What's frustrating is that animals know hunting regs cold. Deer disappear on opening day. Up in the marsh when your kayak rounds a bend a duck will take off in terror from 50 yards away. Back at the dock next to the road a dozen mallard dinners will swim about and scoff at you.
During my fowling years I had a friend who is a chef and I'd bring her things, fish or fowl, and she'd try to figure out how to cook them. Some were successful and some less so. P.J. O'Rourke wrote something like "ducks that eat vegetation are delicious, ducks that eat fish taste like fish that's been eaten by a duck." He was on to something. Even a Cordon Bleu trained chef could not make sea ducks with teeth edible. I also made my own attempt at cooking the couple of grouse I kilt, but they're small and dry.
What I really want to do is kill Bambi. And I want to kill Bambi with my father's deer rifle. Massachusetts (where I was) is shotgun only, so I tried New Hampshire. Again, deer are freaking Einstein about hunting seasons and public land. Connecticut (where I next was) was shotgun only except on private land with landowner's permission. Which would mean knowing landowners out there where deer are. Not really me.
The thing about fishing is that it's easy to get someone to take you. It's usually a day trip, it's not much inconvenience, and if you're interested in getting started it's not hard to find someone to show you the ropes. Hunting is this weird tribal thing. People go to deer camp with their grandfather or their uncles every year. You're not going to get invited to someone's deer camp. They're drinking bourbon over a fire and reminiscing about things that are none of your business.
I still want to figure out deer hunting on my own.
Here's some quick camping content: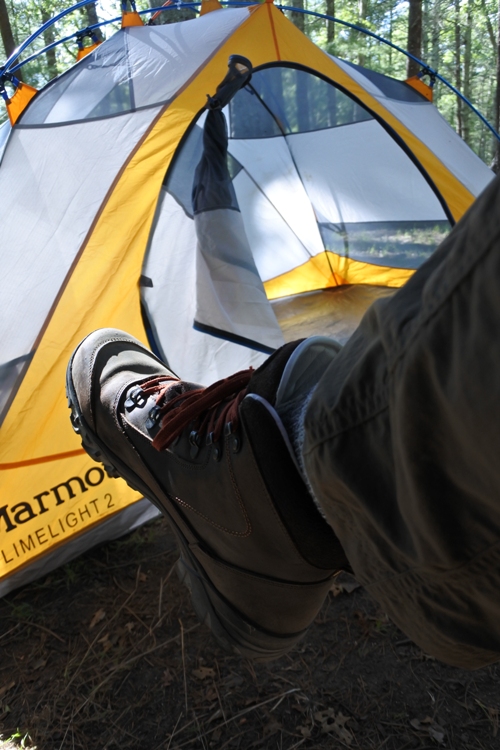 See that #2? That means they think it's a two man tent. Tent designers are odd people. For two people to share that tent they'd have to love each other awfully much, and if they did there isn't enough room to do anything about it. Likewise, a 3 man tent is the perfect size for two people.
Now for the fish brag pics. I was neglectful in begging for reader submissions, so this week's are scant.
Remember how we've had a couple of sturgeon pics and I've called them dinosaurs? Well, Mark Y came up with spoonbills: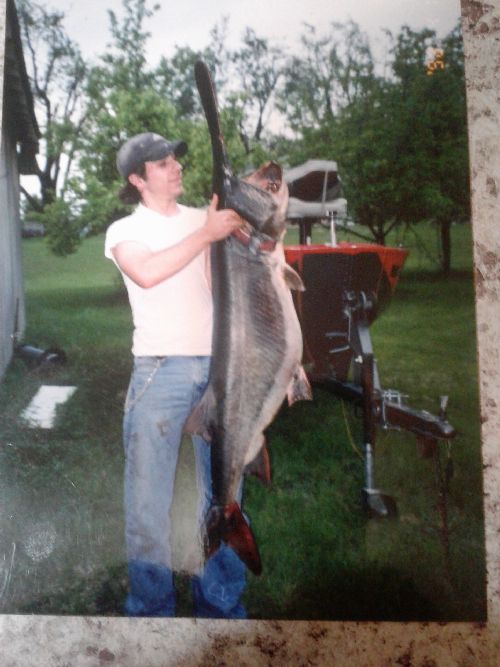 Dunno if this fish has ever been discussed. Primitive. Cartilaginous. Generally tasty. Stiff enough flesh to grill. Can only snag them in Mo.waters, so it's a chore, but the payoff is huge.

Old pic, but son#2 about 20 years ago.
The female went 85#, and was full of roe.
…and then…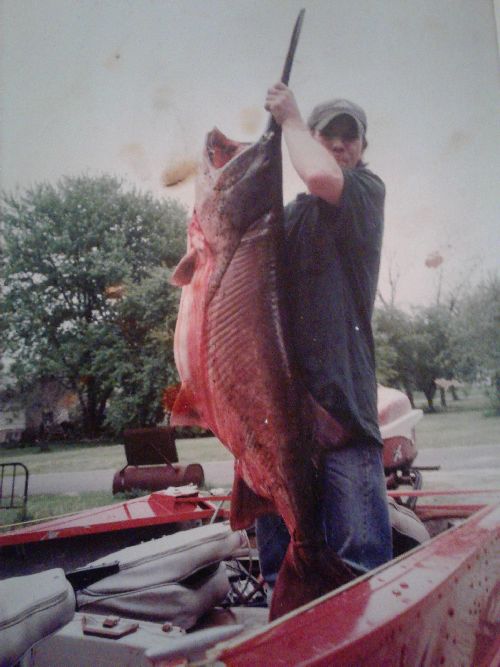 My son pointed out the first pic was of the smaller spoonbill! He thinks 45-50#. The attached was the big one... 85#. I'd forgotten probably because it wasn't me that caught them. Same week, I believe.
Next time I want one of you Morons to submit a coelacanth.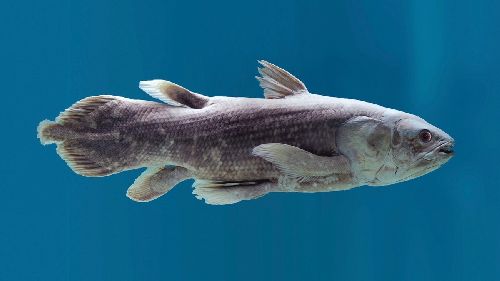 And with that we move on to the raison d'etre of this here HQ, the comments section. Brickbats, praise, and fish brag pics are welcome at aoshqfish at sign gmail thing.

posted by CBD at
07:30 PM
|
Access Comments