« Saturday Gardening Thread: Summer Solstice [KT]
|
Main
|
Saturday Afternoon Chess Thread 06-22-2019 »
June 22, 2019
Ace of Spades Pet Thread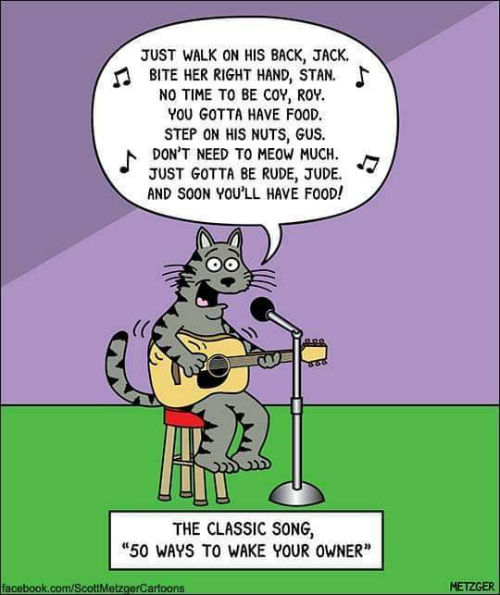 (H/T Ladyl)
***

What time is it? Well, it is time for the almost world famous Ace of Spades Pet Thread. Put down whatever you were doing. Curl up on or lean back in your favorite piece of furniture and enjoy the world of pets.
***

Four ears, quadruple the hearing? Cat with four ears. H/T Jane D'oh
***
You thought feeding time was nuts at your place? Check this out.
***

There was no intent. So the dog must be not guilty. Man survives being shot by his dog.

A dog named Charlie shot a man named "Tex" on the way to a jackrabbit hunt in the New Mexico desert.

"It went through my ribs my lung and busted up my collarbone on the right side," victim Tex Harold Gilligan told ABC News. "I had a gaping hole, you know, and a lot of blood there too," Gilligan said. "I could see the blood and I felt it," he said.

Yes, it is an older story. But, still a good story and a lesson for all of us.
***
How do dogs choose their favorite person?

You would think that a dog's favorite person would be whoever gives them the most food and attention, right? While that is often the case, it's not always that simple.

Maybe you have a friend or family member that your dog loves so much they would knock you over to get to them. Why is that? It turns out that there are several factors that can influence your dog's decision about who their favorite person is. Here are a few of them.

1. Who they socialize with early is a big factor
***

A sad horse says "Good-bye" to its human.
***

Bouncey-Dog

***

A friend of mine's email stationary closing goes, "when God prepared to cast man out of the Garden of Eden, He saw that of all the animals, only dogs were still in a sinless state of grace. So He told them they could stay......
But, because they loved us, dogs chose to walk out with us.
And this next story shows the power of a dog over us mere mortals. H/T Miley the Duchess

This is going to be an uncharacteristic departure for me. This story is deeply personal, for our family, and for our oldest son in particular. But it is a story he's letting me tell, because it is a story he wants people to hear.

My son Max was born in Detroit in 1997, he spent the next summer in Hong Kong when I was interning at Fidelity Investments, and moved to London before he was two when I accepted an offer to work for Fido there full-time.

He was an amazing child, and became an amazing young man. But he had his demons. And just before he turned 16 years old, those demons arrived with a vengeance. I will spare you the details, but for the next three years, he went through a personal hell. Imagine all the things you don't want to have happen to your teenager. They happened to him. For three years my wife and I would wait on our front stoop until 5:00 am, in the shadow of the Albert Bridge, hoping that he would come home. On those nights that he didn't, we would call the hospitals, and call the police. And sometimes the police would call us.
***
Meet The PetMorons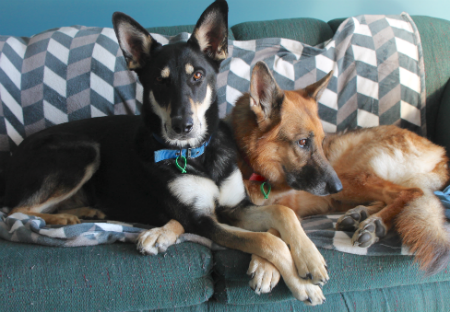 Hello Petmorons Chief

Hope you don't mind a third posting about our GSD Max?

This time he is together with his big sister Nena.

Max is crazy about her, they are inseparable, as you can see.

I've sent two photos. You can choose either or both, as you wish.

As usual, thanks for all your work with the thread. - Ivan
They are an adorable set of sibs. I bet it can be quite boisterous there at Casa Ivan. Thanks for being a regular here at the Pet Thread.
***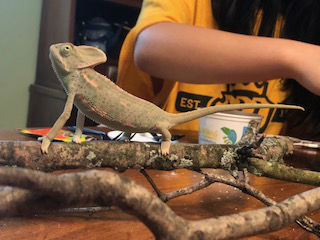 &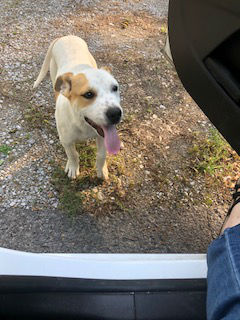 Good morning AofS PET THREAD,

We have updated our pet status from none to 1 over Mother's Day weekend. My 15 year old daughter decided on a juvenile chameleon (full adult size up to 18 or so inches maybe bigger). We named him Charlie Brown. This is the first of this type pet and neither of us know what we are doing exactly. Info we find is confusing to say the least and at points contradictory. We now keep sticks on the dining room table for times to get him out of his cage for cleaning or just because. We don't eat off the dining table so it's not a yucky as it sounds.

My teen enjoys feeding him meal worms with mustard greens attached to them from a spoon. Charlie Brown enjoys eating the meal worms from the spoon while avoiding the mustard greens like the plague. Crickets are his morning meal, another critter I never thought I would intentionally keep in the house. I never thought I would enjoy a reptile as a pet, but he is pretty cool.

The second photo is of a puppy that was dropped off out at my dad's home in the country. We know it was a house pet because it does understand commands, wants to go inside desperately, and seems very friendly. He's kind of cute, but neither I nor my dad are not in a position to have a dog. My dad is the primary caregiver of my mom who is in stage 2-3 Alzheimer's. I work 45 minutes away from my home every day and haven't a fenced yard. Since he lives in the country my town's animal shelter won't let my dad bring it there. Dad is feeding and watering the dog, and the dog follows him around outside.

It would be nice if some Moron would be willing to adopt (ie, come get it and make it part of their animal family), but that may just be my wishful thinking. Anyway, this is too long; use what you will. Love the pet thread. - Thanks, Rambling Mother
Interesting stories about these 2 critters. To be honest with you I wasn't sure where to edit it. Sounds like you enjoy your reptile. The pup is cute. Hopefully, this dog will have a happy ending to its dilemma.
***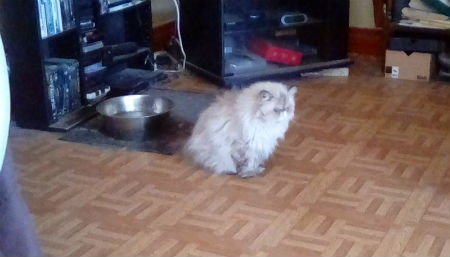 This is KatyDid, a 14 year old Himalayan with a pedigree longer than the Queen of England's. I inherited her about five years back from a friend. Katy was born in a professional cattery, and as a kitten was diagnosed as carrying the genetic markers for Polycystic Kidney Disease, a condition that kills the cat by age five. My friend, who in the past, had bred and showed Himalayans herself, agreed to take Katy because she could not be shown nor bred.I remember Pat practically dancing on the ceiling when Katy hit her fifth birthday with no symptoms. When Pat gave Katy to me, she told me to never forget Katy had PKD, and would probably not live much longer. Katy's been to the vet several times since then to be tested. Every test has come back negative. All I can figure is the original test came back as a false positive. -Captain Josepha Sabin

What an awesome story Cpt. Josepha. She's a beautiful cat and we are so happy for you and her long life to date.
***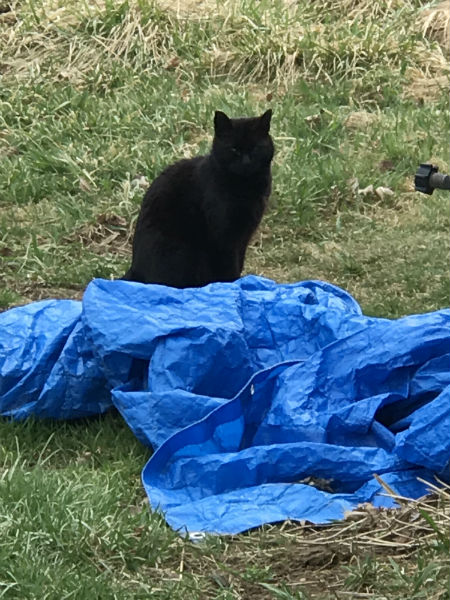 Here is our current barn cat/garage cat, Ray Stizzy. He showed up about 5 years ago. At that time there was already a black male cat living around the house who wasn't people friendly. One day a black cat came up and rubbed on my legs and tried to get into the house. I told my wife the cat is acting weird, she said she noticed that, too. A few days later we saw them both together, mystery solved, and my wife started putting out extra food.

A short time after that, he showed up with a nasty gash in his head. We took him to the vet, he received some stitches along with normal veterinarian cat care. He lived the basement as he healed, we had to be able to catch him to give him his medication, so he was moved into an Xpen. He also received his name at the vet visit. The vet tech asked for his name and that is what she and my wife came up with.

Today our original black cat is no longer with us. Ray spends his time out in the fields, goat barn, and chicken coop killing rodents. He began sleeping in the garage two winters ago. The last polar vortex we had I tried to move him from the garage to the basement, but he'd just run up the steps, back into the garage. I left the basement door open so he could go down if he wanted to, and maybe it let a little heat up. His water wasn't freezing.

Although I'm more of a dogs person, Ray is a pretty darn good cat.

Thanks for the pet thread! - Evasiveboat42
And thank you for your submission of Ray today. It seems the majority of pet "owners" here have some unusual and unique stories on how their pets became part of their lives. Thanks again.
***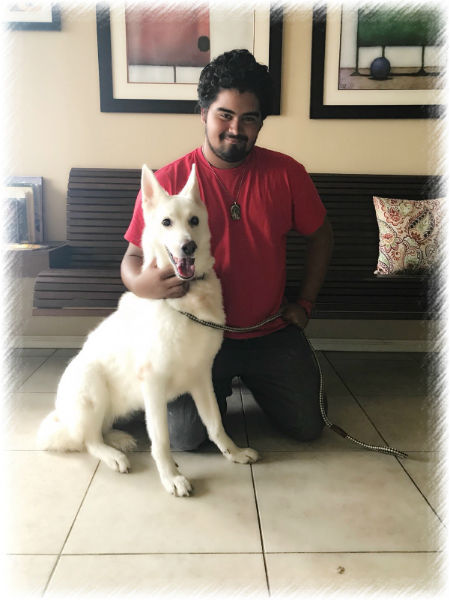 I read Ace of Spades every day but I think the pet thread is my favorite section. My beloved girl Kayla passed this past Wednesday five days short of her thirteenth birthday. I have a broken heart right now. She was a great friend and companion. - Art
Our condolences Art, Kayla was a beautiful dog. Amazing how they become so entwined in our lives. Twelve years pass in the blink of an eye. I appreciate your kind words for the Pet Thread.
***

Quite the group of Pet Morons today. Thank you for submitting the photos and stories. And thanks to all who submit links and cartoons, etc.
Do you have something you would like to share on the Pet Thread. You can reach out to us here, petmorons at gmail dot com.
Have a great week!!

posted by Misanthropic Humanitarian at
03:00 PM
|
Access Comments