« California Report, June 22 [KT]
|
Main
|
Ace of Spades Pet Thread »
June 22, 2019
Saturday Gardening Thread: Summer Solstice [KT]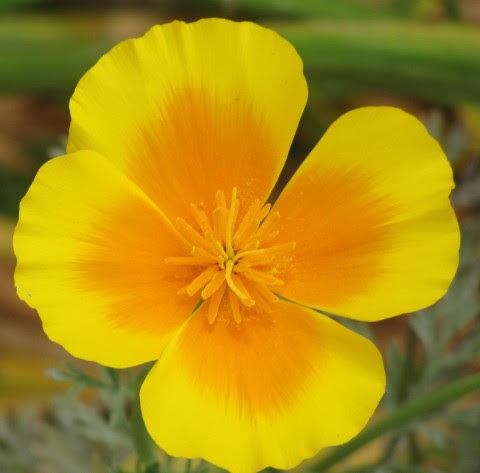 Hello, Gardeners and Friends of Gardeners ! Yesterday was the Summer Solstice. Did you remember? That California Poppy from 40 miles north closes at night, so last night could have been its shortest night.
This week, we have a feature on a small garden pest and on a big one. Plus some fun things from The Horde.

Critters, some nice, some not so nice
From lizabtha, a ruby-throated hummingbird in the catmint: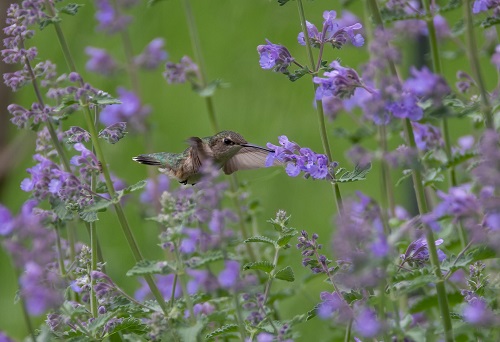 Bet they eat those blood-sucking black flies, too.
Black Flies, AKA Buffalo Gnats, AKA Turkey Gnats
With the late rains and flooding this year, some of this information may still be useful this year. If not, remember it for next year if these insects live where you do:
How to make a hat that traps those clouds of black flies around your face. The trick is not to touch the fly strip. Short videos at the link.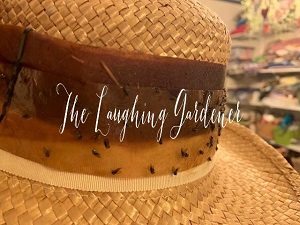 Those are all of the bugs that thought that they would be able to torment me. As an added bonus, and this part is especially for all of you that know what I mean when I say that a black fly swarm around your head - the circling and singing that they do to drive ya crazy - well when they land on this strip they scream. It's incredibly loud for such a small bug and I'm not ashamed to say it's also strangely entertaining. "Who's having a good time now, black fly? Me." - The laughing gardener.
The host blogger for the post above has a little more land than her guest blogger, and wrote this piece on making dandelion salve, for arthritis relief in her case. Perhaps you were wondering what to do with your dandelions.
She belongs to the Homestead Bloggers Network, where I found this piece on keeping black flies (buffalo gnats, turkey gnats) from killing your chickens. Seems pretty thorough. The bit on vanilla-scented chickens is not overly hopeful.
This post also linked the University of Arkansas extension, which notes that flooding conditions increase black fly populations, and that they pretty much go away once temperatures hit 80 degrees. But these black flies are a serious problem while they are around. From last year:
Between heavy rain and temperatures bouncing between the 40s and 70s in the last few weeks, "we're seeing a bumper crop of black flies, likely as a result of floods in February and March," Kelly Loftin, extension entomologist for the University of Arkansas System Division of Agriculture, said on Monday. "These are late winter, early spring pests that usually go away when temperatures warm above 80 degrees."

Grant Beckwith, Arkansas County extension staff chair for the Division of Agriculture, said a cattle producer in DeWitt lost a prize bull and cow to the flies - identified as southern buffalo gnats.

"I've also heard reports that several horses had died and there were some deer lying dead in fields," he said. "I had one farmer tell me he was met at his carport by a deer who was inside trying to get away from the gnats. The gnats don't like to be under a roof or indoors.
Some livestock operations set set up situations which allowed to animals to congregate in heavy smoke to repel the insects.
"Buffalo gnats are a fact of life down here," Beckwith said. "The running joke is that the buffalo gnats will have you looking forward to mosquito season."

Last Thursday, the Arkansas Game and Fish Commission closed its Cook Lake Conservation Education Center until further notice because of the fly outbreak. The center posted photos on Facebook page of with piles of dead black flies on the nature center's doorstep, saying "at this time, it is impossible for visitors to do anything unless covered with mosquito nets."
Hank Curmudgeon sent along this link from Pennsylvania, about avoiding black flies, with Bt. This organism is related to the one used for mosquito larvae and caterpillars. Interesting that as pollution decreases in streams, black fly populations go up.
To cheer us up, Hank also sent this great video on butterfly farming. Ever wondered where those butterfly houses get their butterflies? Hank also likes some of the other videos on this guy's channel.
Illiniwek has sent in a fun video of some big creatures that may or may not be considered to be pests, depending on your point of view. Thanks to CBD for formatting for the blog:
Illiniwek has planned for deer. Have you?
If you have deer in your yard and you're in the East, they are probably here to stay.
For every Staten Island homeowner who gets annoyed when a deer crashes through his yard and takes down a tree, there's another who feeds them out of his hand. How many deer are too many is largely in the eye of the beholder. Whatever their feelings about their hooved neighbors, Americans in deer-rich places will be coexisting with them for the foreseeable future. If you plant tulips (a deer favorite) in your garden, expect to have company.
Farm Report
I know that a lot of farmers have not been able to plant in the midwest because of flooding. What's been going on near you?
A new vineyard has gone in near me. Probably table grapes. Cotton grew there last year. Grapes will take less water. Cotton in the next field is doing well. Nearby, pistachios are nearing maturity. They are in a high-salinity area.
Second-crop corn is coming up in some fields. Other fields have just been plowed down. We have a long growing season.
Hank Curmudgeon sent in this cool heavy equipment gif. Might not want to watch if if you have a migraine. It is remarkable, though.
Gardens of The Horde and Recipes
We posted photos and information about roses from badgerwx earlier, but here is an impressive sight from earlier in the year:
The wet year we had in the state of MD really helped the spring blooms look good this year - my roses had a really strong first bloom this year.

To set the stage, here are my main beds along the main road back in late
April. A good show from the bearded iris, May Night salvia & cheddar pinks.
Cheddar pinks sound wonderful. I hope there were a few extra fragrant blossoms to pick for the house. They go well with the other flowers, too.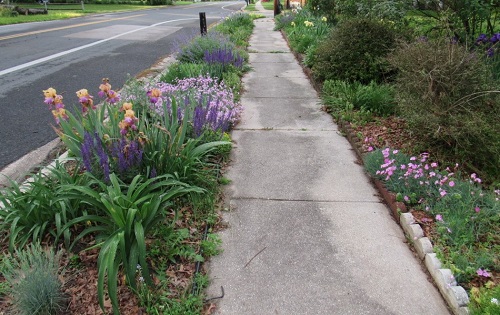 Early in the month, Wee Kreek Farm Girl sent us the following update from the desert:
Just thought I would send a few updates on the garden. The arch experiment is coming along nicely and I have lots of vines growing up, now they just have to grow "over" the big show off is the Armenian cucumber.
Armenian cucumbers are really melons, so they are a good choice for the desert.
Also it is looking to be a stellar year for the grapes, Thompson red seedless if my memory serves.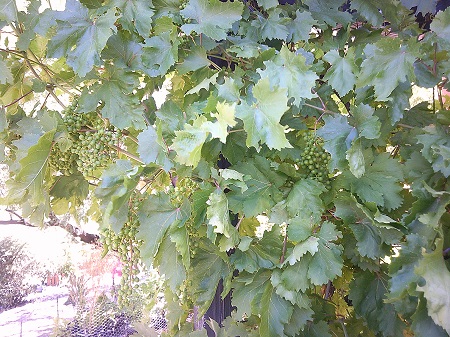 The last picture is the great garlic harvest of 2019. I tried halfheartedly to grow garlic before, sticking store bought cloves in and whatnot and it never amounted to much. This year I buckled down did my research of what might do well here and ordered proper stock. As you can see that made all the difference. These are Moroccan Creole, nice big heads. I have a few smaller heads but those are from a friends garlic that they grew and gave me some. All in I have over 60 heads of garlic. Just started drying them out today and then I will have to hang them for a few weeks. Very excited on how this went. I am going to try and save a few heads to plant for next year. And I did get a few scapes so I am going to try making pesto. Hope the rest of the Horde is as happy gardening as I am.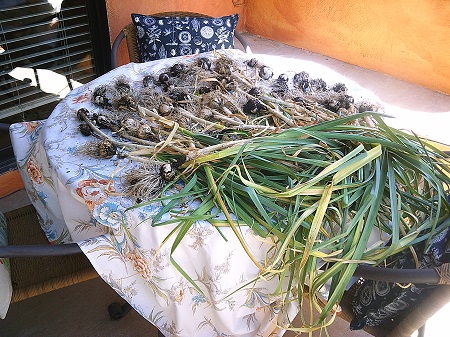 She posted recipes in the comments on June 8 (59 - 61). Garlic scape pesto! I would used pine nuts, too. Also a favorite zucchini recipe that uses other garden ingredients. Fantastic!
Wasp Killer that works
Last week in the comments, S. Lynne recommended a wasp trap combining Frontline for pets, hamburger, red Solo cups (the sign of a gardener) and wasp attractant. This one sounds similar, and the blog post is informative. Kills meat-eating wasps and yellow jackets even in the nest:
But be careful to get the product that contains only Fipronil as its active ingredient. When Fipronil is coupled with other ingredients, the wasps will ignore it.
Thanks so much!
I have transplanted some little Salvias and China Pinks and one Hollyhock in hot weather. Worked out OK. I really firmed the soil in around the root balls.
If you would like to send information and/or photos for the Saturday Gardening Thread, the address is:
ktinthegarden
at g mail dot com
Include your nic unless you want to remain a lurker.

posted by Open Blogger at
01:15 PM
|
Access Comments