« Saturday Morning Coffee Break
|
Main
|
Saturday Gardening Thread: Summer Solstice [KT] »
June 22, 2019
California Report, June 22 [KT]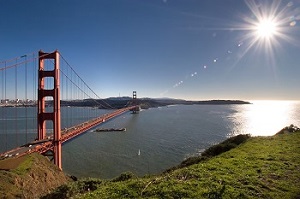 Well, I guess it's time for another periodic, sort of local, California Report.
Recently, I received the following notification from Pacific Gas & Electric:
Given the growing threat of extreme weather, we want all of our customers to be prepared for power outages. If extreme fire danger conditions threaten a portion of the electric system serving your community, it will be necessary for us to turn off electricity in the interest of public safety. This is called a Public Safety Power Shutoff.
This means that my electricity could be shut off for several days if there were a threat of wildfire in the foothills, even though I live in the flatlands.
They want me to prepare in advance. They have a checklist. Update contact information, Plan for medical needs, identify charging methods for phones and keep hard copies of emergency numbers, build or restock an emergency kit and know how to manually open your garage door.
These are not bad things to do in case of other emergencies, either. Every once in a while, we sneak a little preparedness information into the Gardening Thread, too.
But this whole plan for shutting off the power is a drag. Insty linked an excellent piece by James Meigs at City Journal (I have wondered how the Manhattan Institute became so interested in California):

The very idea makes the mind reel: San Francisco, San Jose, Silicon Valley--all gone dark. The electric-car charging stations, the $500-a-plate sushi restaurants, the rows of workstations at Google, Uber, Facebook, Twitter, and Salesforce--all suddenly unplugged. This summer, blackouts could plunge large swaths of California into darkness--an act of deliberate policy, not equipment failure or operator errors.

Pacific Gas & Electric, Northern California's largest power supplier, recently announced that it will begin shutting down parts of the grid, possibly for days at a time, to help reduce the risk of wildfires. Known as "de-energization," the process sounds like a metaphor for societal collapse. . .

California has always had wildfires, but recent conflagrations have been particularly devastating. Last November's Camp Fire burned over 150,000 acres, destroyed the town of Paradise, and killed 85 people, making it the deadliest fire in the state's history. Like many large California wildfires, that one was sparked--quite literally--by an electric power line and then spread by intense winds. . .
Of course, there is more to the story.
I read somewhere that Gerard Van der Leun, who lost his home in Paradise in the Camp Fire, had recently lost his 103 year old mother. Now I'm not so sure. He wrote this lovely piece for his father. With memories of Paradise.
Housing in the Bay Area
With techies trying to live in cars and trailers, housing is becoming a big issue in the Bay Area. Via J.J. Sefton's Morning Report, Google commits to funding housing in the Bay Area. (J.J. will believe it when he sees it). It will be interesting to see if Newsome is serious enough about his new emphasis on housing to smooth the regulatory process for Google, and (more importantly) for people who don't have Google's inside influence.
Google CEO Sundar Pichai has announced that over the next decade his company will convert $750 million worth of its own land to build at least 15,000 new homes across the Bay Area. Google will also establish a quarter-billion-dollar investment fund to encourage developers to build at least 5,000 affordable housing units, along with additional money to tackle homelessness.

Google's pledge comes on the heels of similar announcements by its tech peers. . . .
Now if they can keep the homeless out of that new housing . . .
Homelessness and Trash in Los Angeles
Via J.J. Sefton's Morning Report: Homeless crisis boils over in Los Angeles, residents call for mayor to step down.
"That starts with me," he said in the letter. "As your mayor, I take full responsibility for our response to this crisis. And like everyone who has seen families in tents or spoken to a homeless veteran in need, I am both heartbroken and impatient."
What a quote! I hope his statement went beyond an expression of personal feelings. I seem to remember that last name from years past. Is this guy one of those heritage politicians?
The large amount of waste in the area also poses a threat to the community's health. City hall has attempted to organize cleanup events, but their efforts have made little impact on the area. There is a "large backlog" of complaints being sent to the city's sanitation department.

Garcetti blamed this issue on "illegal dumping" by residents and businesses in the city and encouraged people not to blame the homeless.
As Victor Davis Hanson has noted, the amount of illegal dumping around Selma increased dramatically with the increase in illegal immigration. I have seen the big bags of trash, furniture, appliances, etc. by the side of the highway myself. Might this not also be true in Los Angeles? If it is not the homeless dumping trash, what about the population of Los Angeles has changed? Is Los Angeles a Sanctuary City? Sure looks like it is.
Music
The good Roger Simon has left California. He has written a concise little piece about why there are so many homeless people in California, but gives particular attention to one thing:
I left Los Angeles for Nashville slightly over a year ago. When I call friends back in my former home (for 50 years), most of them tell me I got out just in time.

Actually, they're wrong. I should have gotten out ten or even fifteen years before. The handwriting was on the wall. "California dreamin'," pace Mama Cass, "was no longer a ray-al-it-tee." It hasn't been for a long time.
He thinks the number of homeless are a lot larger than the official numbers.
So how'd this happen?

A lot of reasons come to mind, but it may be the most important one gets overlooked. Remember the words to that other song by The Mamas and the Papas, "Creeque Alley"?

McGuinn and McGuire still a-gettin higher in L.A.,

You know where that's at

And no one's gettin' fat

except Mama Cass
More than you wanted to know about the lyrics to this song.
That's the way it was when I first came to LA. We were all that way, "gettin' higher" at one level or another, at least most of us. A new kind of freedom was in the air, but we never thought about where it might lead. We were supermen and women in our own minds, free of the constraints of tired, bourgeois society.

In a sense, the California Dream chickens have come home to roost. All those joints and acid tabs have morphed into syringes for extremely depressed people who don't know how to handle life and prefer to live on the streets, medicating themselves into oblivion. . .

Meanwhile, their betters, the elite classes of the Golden State, come from a society that was the same way but just knew how better to handle their drugs (still do). . .
There were pot parties at Governor Moonbeam's house?
No wonder these people have trouble dealing with the homeless. They can't face the essence of the problem, whether it's Mary Jane or crystal meth. It's back to the old Pogo cartoon: "I have met the enemy and he is us." It's easier to look away than to acknowledge culpability. But even if all those Boomers beat their chests with guilt and self-loathing, I'm not sure it would help now. As the anthem goes:

All the leaves are brown (all the leaves are brown)

And the sky is grey (and the sky is grey)

I've been for a walk (I've been for a walk)

On a winter's day (on a winter's day)

I'd be safe and warm (I'd be safe and warm)

If I was in L.A. (if I was in L.A.)

Someone has to write another verse about rolling on the sidewalk with fentanyl. I'd do it myself but it would make me too sad.
Fortunately, they have banned vaping in San Francisco. Maybe they will ban vaping in Los Angeles, too. People could trip over syringes while vaping.
The Big Picture
Meanwhile, Stephen Green has identified Ten Plagues of California. Can you think of others? Which do you think are most important?
This piece came out not long after my e-mail notification that I should prepare for an extended energy blackout:
Statewide, California's problems aren't limited to trash dumpers, the homeless, rat infestations, and infectious disease... as if that weren't already too much Third World fun in the once-Golden State. Stories about San Francisco's Human Poop Hurdle Olympics are now de rigueur, and you'd better watch where you stick the landing or a used syringe might stick you.

Elsewhere, rolling blackouts are about to become not only normal, but celebrated.

The editors of the Los Angeles Times opined last week that in order "to prevent wildfires, California may need to endure power blackouts."
. . . downed power lines do cause wildfires, but mostly because there's so much flammable brush that the state government refuses to clear in one way or another. And rather than clean it up -- sound much like the trash situation? -- California is going to deny electricity to some of its poorest inland residents during the hottest time of the year.

Because caring, or whatevs.
Meanwhile, Gavin Newsom says that the GOP is destined for the waste bin of history.

Hope you have a great weekend. Think about buying a generator.
This is the Thread before the Gardening Thread.
Serving your mid-day open thread needs

posted by Open Blogger at
11:20 AM
|
Access Comments