« Chess Thread 01-26-2019
|
Main
|
Saturday Overnight Open Thread (1/26/19) »
January 26, 2019
Occasional Fishing Thread [Bandersnatch]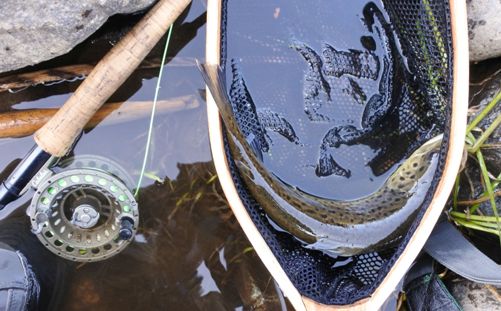 Hello, pretty Hordelings! Welcome to the first official Occasional Fishing Thread. I have long wanted an occasional fishing thread, performed by someone else, but someone was beastly enough to suggest that I do it myself. Grudges may ensue.
So, do you fish? If you do, what does fishing mean to you? It can be a lark or deeply earnest. It can even be those competitive bass guys in their NASCAR shirts. There is a tremendous amount of great writing about fishing, partly because fishermen are contemplative by nature and partly because all of the time spent alone with their thoughts spawns an urge to share those thoughts with everyone.
One of the things fishing can be is an all-encompassing study of Nature and Life. How do you catch a fish? Give it something that looks like bait and show it to him where the bait would be. Why is the bait there? Now you want to know if it's bugs that live in streams that well up from limestone or tumble down hills in freestone creeks. At which time of year do the bugs crawl up from the streambed and sprout wings, and at what time of day? Are the adult herring dropping back to the sea after spawning in fresh water? When will the juveniles drop back and what size will they be? What is the tide doing? Where is the structure?
Bring all that together and feel your line go tight with just a bunch of fur and feathers tied to it and you feel a literal connection to the web of life.
Of course, "usually when I fish off this pier I catch something" is a wholly valid approach. I did not grow up with holistic fishing. My father took me to Shepard's Pond when I was five. We dropped our lines over a railing and caught Yellow Perch. I was in love. He didn't really care for that, though, so I did the rest of my worm and bobber sleuthing by myself growing up.
What Dad liked was catching fish. We'd go "deep sea fishing" on what are called party boats, or head boats. Twenty or so unrelated guys show up at the dock at dawn, pay a fee, and the captain steams to where he thinks he'll find fish. Drop your lines to the bottom, reel up 18", and work your jig or clam bait. When the action slows the captain moves. It's the opposite of the holistic fishing I described above, but it was magic. Being on a boat. The company of real men who would rub my whiffle cut for good luck while playing poker and sometimes give me a quarter if they won. Fresh chowder on the way back to port. And catching fish. Catching fish was awesome. I'd read Saltwater Sportsmen and get full of ideas that the codfish was putting up a game fight.
I have evolved or become snobbish, but it's all good. "Trout Bum" author John Gierach said something like "we go on about dry flies and split bamboo rods but the truth is we'd fish for turds in a sewer if that was all there was".
It's a fishing thread, anything fishing is on topic, but maybe this is a place to begin: how did you start? Did you fall in love? Were you unmoved and chose not to fish any more? What kind of fishing was it and what about it made you keep going?
THE TESTAMENT OF A FISHERMAN
ROBERT TRAVER 1964, (JUDGE JOHN VOELKER 1903-93)

I fish because I love to;

Because I love the environs where trout are found, which are invariably beautiful, and hate the environs where crowds of people are found, which are invariably ugly;

Because of all the television commercials, cocktail parties, and assorted social posturing I thus escape;

Because, in a world where most men seem to spend their lives doing things they hate, my fishing is at once an endless source of delight and an act of small rebellion;

Because trout do not lie or cheat and cannot be bought or bribed or impressed by power, but respond only to quietude and humility and endless patience;

Because I suspect that men are going along this way for the last time, and I for one don't want to waste the trip; because mercifully there are no telephones on trout waters;

Because only in the woods can I find solitude without loneliness;

Because bourbon out of an old tin cup always tastes better out there;

Because maybe one day I will catch a mermaid;

And, finally, not because I regard fishing as being so terribly important but because I suspect that so many of the other concerns of men are equally unimportant – and not nearly so much fun.

posted by CBD at
07:55 PM
|
Access Comments