« Saturday Gardening Thread before Thanksgiving [KT]
|
Main
|
Chess Thread 11-17-2018 »
November 17, 2018
Ace of Spades Pet Thread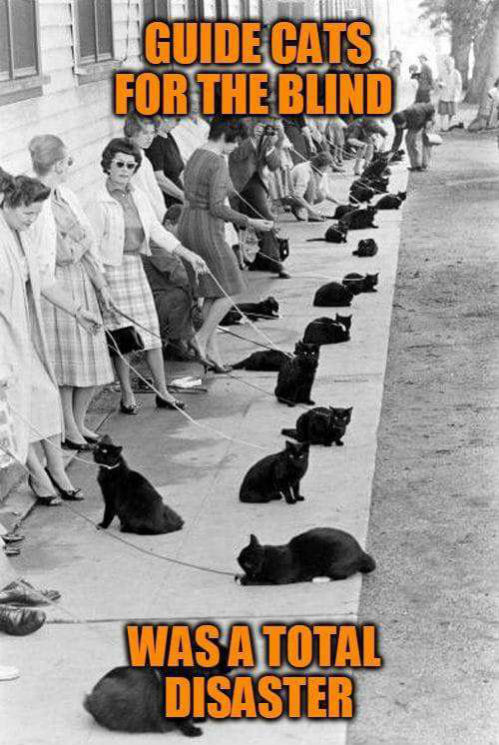 ***

Welcome to the almost world famous Ace of Spades Pet Thread. No need to herd the cats. Just enjoy the world of pets.
***
A Little of This. A Little of That.

Man's best friend and a solider's best friend. The dogs of war.
***
A hobo's best friend? Why silly that would be a cat.

t's been over 3 years since I left our hometown of Hobart, Tasmania, to travel around Australia. Although I sold my house and all my stuff, there was one thing that I just couldn't leave behind.

My cat Willow.

The solution was simple. Road trip with my best friend!

Since May 2015 we have traveled over 70,000 km, seen forests, beaches, and deserts, and even took a boat out to the Great Barrier Reef together. Late last year we finally made it all the way around and even spent summer back in our hometown
***

Who knew cats were so persistent?

According to the guards at Onomichi City Museum of Art, about a year after the black cat's first attempt to enter the venue, another red cat adopted the same routine, and since then, they have been taking turns showing up at the front door at least two or three times a week.
***

Three Dog Night
Three Dog Ride.
***
Meet The PetMorons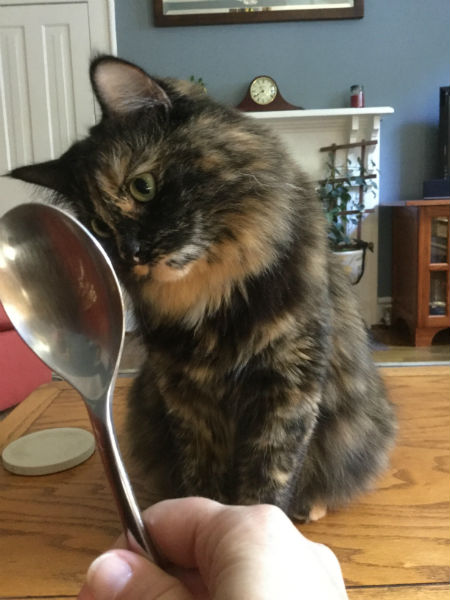 This is one of our cats, Cinnamon. She's the most chill cat I've ever met! We rescued her and her sister (Ginger) just over two years ago, and they've kept our laps warm (and hearts happy) ever since. In this picture, Cinnamon is recreating her favorite scene from the Matrix, hampered only by the fact that the lack of opposable thumbs prevents her from holding the spoon herself.- CatalogingJointly
I think all pet owners parents have heard the lament, "If I only had thumbs!"
Wonderful photo, thanks for sharing with us. Don't be afraid to send in a photo of Ginger.
***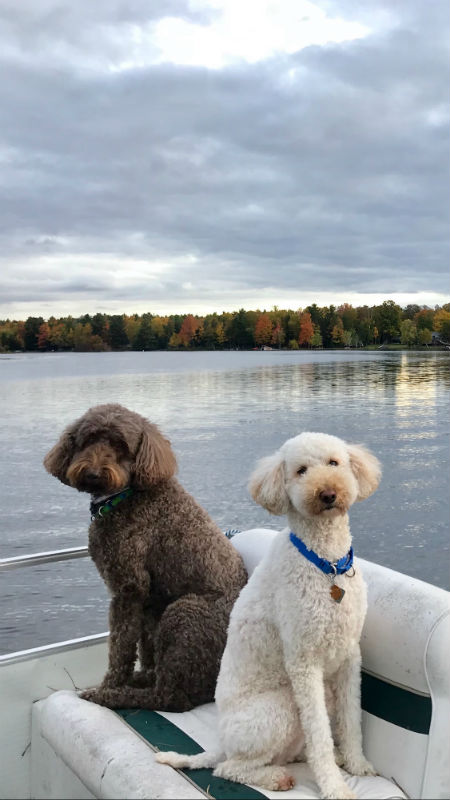 Hello

I very much enjoy your pet thread and your kind words on the Pet Morons.

I think I'm a lurker or something but here are my two poodles - brown standard and white moyen.
Super smart, clean, quiet, kid loving dogs who swim superbly with their webbed paws.


Enjoying the freedom of the north woods vs Madiganistan aka Illinois -Tailgunnersam
Wonderful looking pooches. Are they related? They look right at home at the lake. We appreciate the time you took to submit the photo.
***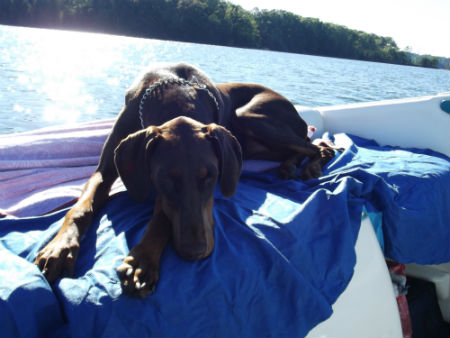 This is Ruby the red doberman. She is 2 years old, we have had her for almost 3 months now and have been introducing her to lots of new things like water, boats,trails,people.
Our previous Dobie (made the pet thread 18 months ago) liked the water and swimming but did not enjoy the boat, especially in motion.
This dog enjoyed the ride and a sunny October day on the lake.
Susan (long time lurker)

Ruby appears to be all skin and bones. Poor puppy could use a cookie. But she does look at home on the boat. Thanks for thinking of us here at the Pet Thread.
***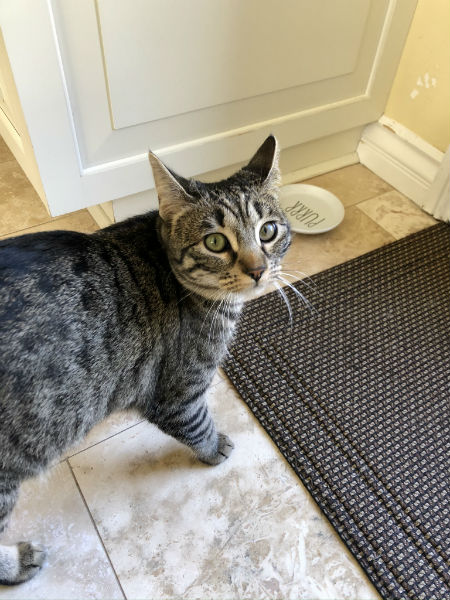 This submission was sent in with the following Subject "SORRY, NOT SORRY". No other information provided. It appears this is quite the couch hog.
***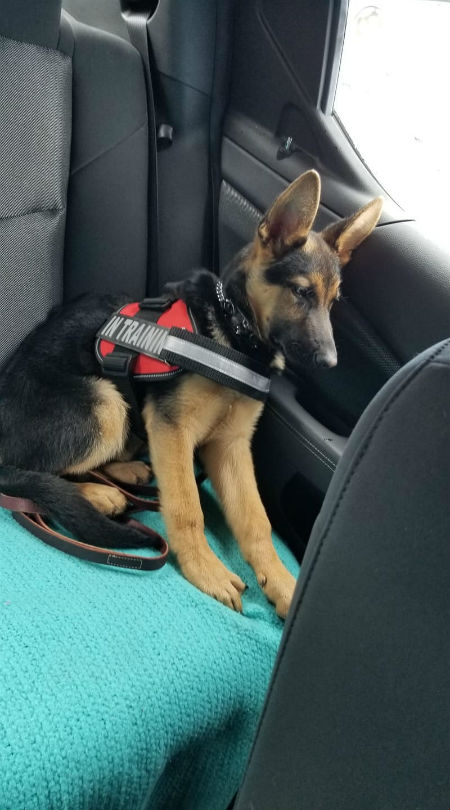 Long time lurker here!

Here's our service pupper in training, Rommel. He had a ruff day at obedience training!


Keep up the awesome work at Ace. It's keeping this household laughing at the absurdity that is the Mid-Terms. I think we're all going to need Psychiatric Service dogs if this keeps up!

Thanks Plushie

What a cute puppy! How long did it take him to recoup and become hell on wheels? 10, 15 minutes? Best of luck with your campaign and the obedience training!
***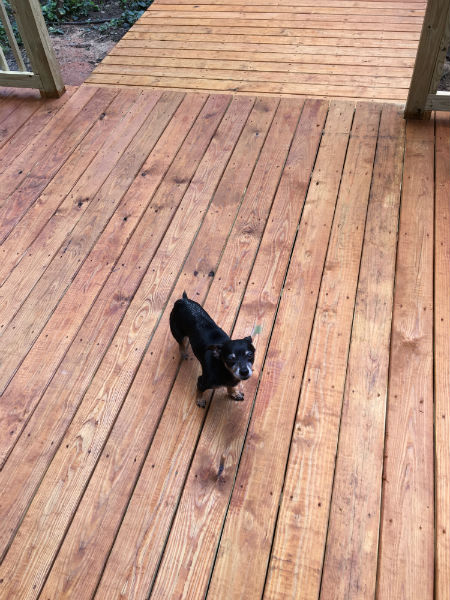 This is little bits the cat dog. According to my vet he is a cheweenie, half chihuahua half dauchsund. He showed up one day in my driveway shortly after I lost my 20 year old cat Sassy. He was skin and bones and all I had was old cat food so I gave him that. To this day he won't eat dog food, only cat food and he LOVES kittehs but HATES doggehs. Go figure. He now has 4 feline siblings that he takes great delight in tormenting. Love the pet thread!

Midaz

What an awesome story. It is amazing how certain animals show up in our lives at times. Thanks for the submission.
***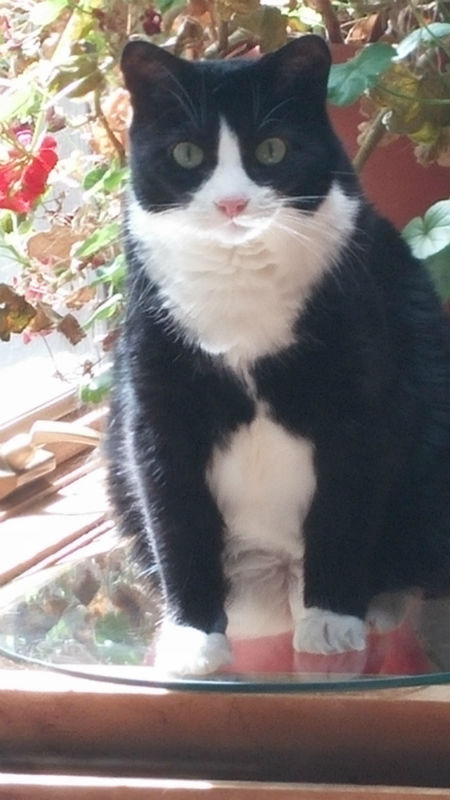 Meet Kangie. This beautiful lady is always dressed and ready to attend the opera. Full black theater cape, white gloves and boots--check. She is quite a diva. She has even picked up notes from a few favorite arias and often sings (in a dramatic Wagnerian soprano voice) for her supper. If you can figure out how to resize and use her picture my nic is "corn and beans" although I lurk more than post. We all enjoy the Saturday Pet Morons feature and look forward to it each week here at our house. Thank you.
I'm not much of a computer guy but I can resize a neat PetMoron photo there "corn and beans". Sounds as if this kitteh has quite the personality. Thanks for sharing with the Horde.
***
Attached is a 37 sec video file of one of my Bloodhounds (The Duchess of Marlborough) discussing how she was missing her BFF Scarlett O'Hara who was at the vet getting vaccinations. This is a brief clip out of 45 minutes of her trilling for Scarlett.

You have featured Duchess and Scarlett before.

I look forward to the Ace of Spades Pet Thread each week. I thought I was one of the few humans owned by dogs.

Thanks, Swim Mom
***

My what a sad doggeh. I bet she was happy when her companion returned. Thanks for taking the time and effort to make a video and submitting it.
***

Thanks to you who have submitted photos of your pets. The Pet Thread appreciates your patience.
Do you have some fun pet items, such as a story or photo you would like to share? You can submit your pet items to petmorons at gmail dot com.
If you send in a video it has to be a You Tube video for formatting purposes.
From the management and staff of the AoS Pet Thread a Happy Thanksgiving to you and yours.
We'll see you next Saturday with another Pet Thread.

posted by Misanthropic Humanitarian at
03:00 PM
|
Access Comments