« Pre-Thanksgiving California Fire Update [KT]
|
Main
|
Ace of Spades Pet Thread »
November 17, 2018
Saturday Gardening Thread before Thanksgiving [KT]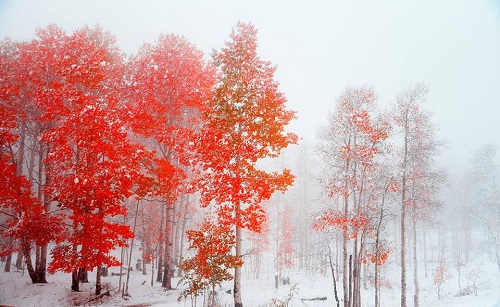 Happy Saturday, Gardeners and Friends of Gardeners! Are you going Over the River and Through the Woods this Thanksgiving, or staying home? Either way, I hope you have some time to enjoy some plants, or at least some places where plants grow when it's not too cold, hot, etc. Or maybe you can stay indoors and dream of next year. My Pinetree catalog came. Peppers on the cover this year. One is striped. Have you received any gardening catalogs yet?
Thinking of ways to use some of that garden produce for Thanksgiving dinner? Got some time off to observe nature a little?

The Horde and Friends Observe Nature, Gardens, etc.
RS sent in the following not long ago:
Greetings from a "Mostly Lurker, Rare Commenter," Not sure if what's attached falls in the "Gardening" wheelhouse, but a couple of weeks ago, my spouse and I spent a weekend hiking "Prairie State Park" in western Missouri. It preserves some of the last tallgrass prairie east of Kansas and is a delight.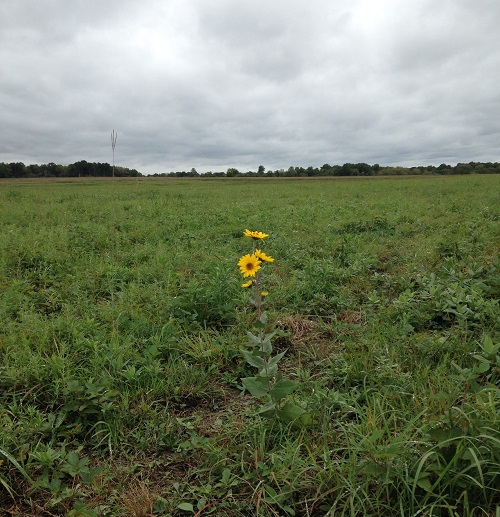 Flower I.D., anyone?
Bison and elk roam freely and it's a preserve for prairie chickens, whitetail deer and other fauna. There's enough trail mileage to spend a long weekend with either a nice conventional campground or backpacker options.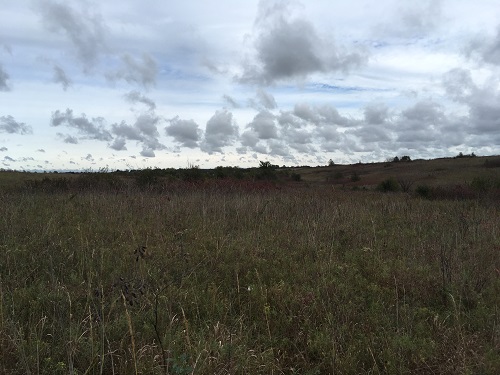 Anyway, the flora is starting to die back, but there are still remnants of summer.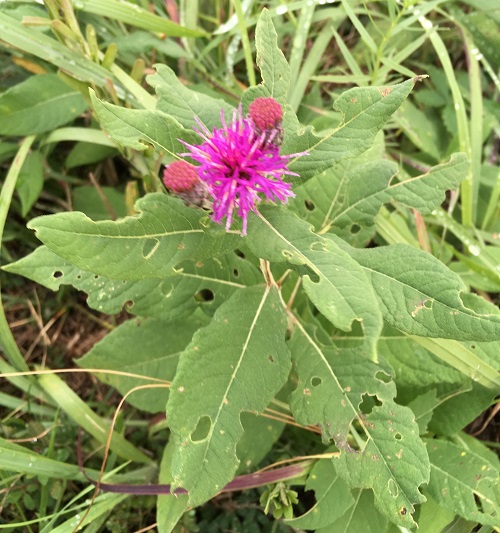 Care to I.D. this one?
Photos attached, including a panorama from a high point in the park.

Thanks for sending these photos and the details about this place, which I did not know existed.
Cumberland Astro checked in recently:
My garden is played out for the year - all I have left to do is cover the strawberries in pine needles after we have our first significant freeze. Although there is nothing to show from the garden, nature is putting on a pretty good show in the woods just beyond the garden.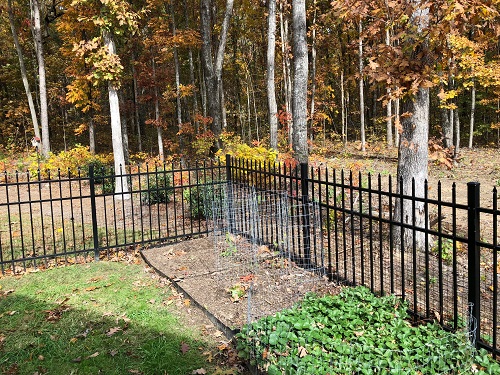 I've also attached a few pictures taken while walking around my mountaintop neighborhood outside of Chattanooga.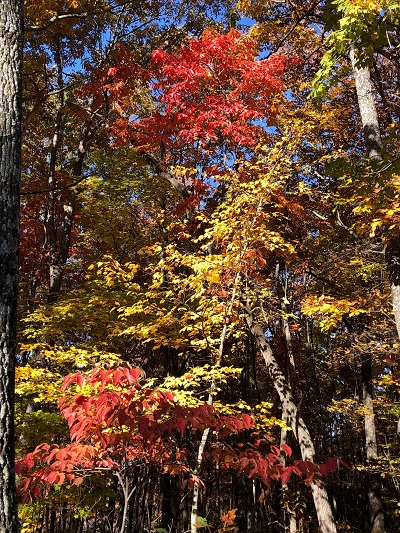 Thanks for sending these in. Lovely.
The Edible Garden
Here's a surprise from The Invisible Hand. Didn't think he was the farmer type.
Fall in San Clemente. Apples, Lemons and a lonely Avocado. And a table of fruit we're happy to share.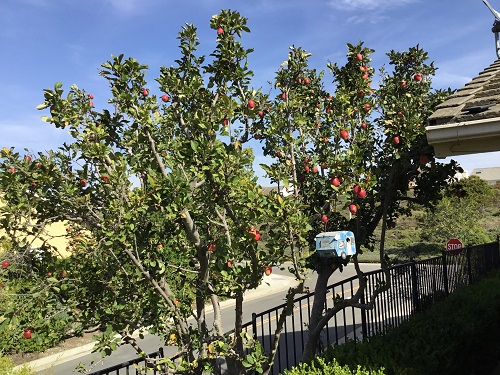 Not many apple varieties will grow in San Clemente. Not a lot of winter chill in San Clemente.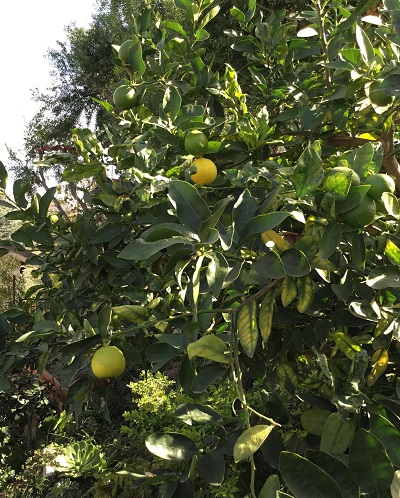 Meyer lemon?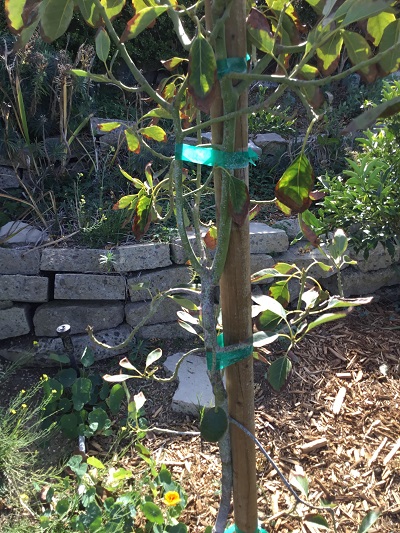 New tree? Do you know which kind? Any of your neighbors have an avocado?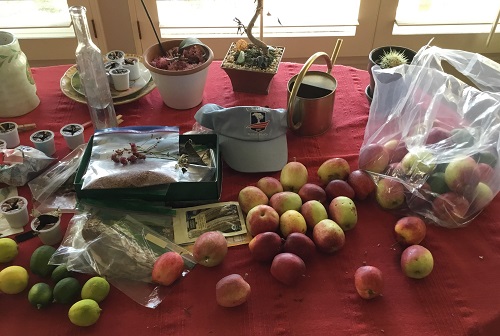 I see some other plants on that table, too . . .
We have some fans of fermenting garden produce in The Horde. There is now a study out suggesting that pickled foods may reduce anxiety.
Hillmire and his colleagues enlisted 710 college students at William & Mary to record how much fermented food they ate and any symptoms of neuroticism, anxiety or social phobia that they felt over the same period. The team found a link between the amount of fermented food subjects consumed and the level of social anxiety they felt. Particularly neurotic subjects saw a decrease in their symptoms of shyness and fear of social situations when they ate more fermented food.
Well. That's interesting. Kind of unsettling to think that your social confidence might be highly influenced by bacteria in your gut.
Because Thanksgiving is coming, here are "three ways to fall in love with fermented cranberries": Cranberry-orange relish, Raw carnberry-apple chutney and Pickled Cranberries. Not as sweet as most cranberrie recipes we're familiar with.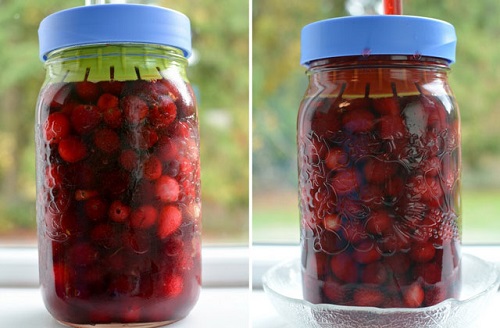 Pickled Cranberries before and after fermenting
There is quite a lot of information about cranberries, plus a video, before you get to the recipes, so keep scrolling.
We have discussed growing cranberries at home before. Not for everyone. There are also some cranberry substituted like Roselle and Natal Plum that can be grown in certain climates.
Here's a recipe for Hot Pink Onion Relish. Pretty.
Weigh the onions and measure the salt correctly. We don't want anyone getting botulism. If it doesn't bubble, toss it.
Let us know if you cooked up any of your garden produce on Thanksgiving. Maybe you could send us a recipe for next year if it turned out well.
If you would like to send information and/or photos for the Saturday Gardening Thread, the address is:
ktinthegarden
at g mail dot com
Include your nic unless you just want to be a lurker.

posted by Open Blogger at
12:58 PM
|
Access Comments