« College Football Thread
|
Main
|
Shut Up....It Works! [CBD} »
November 22, 2014
Saturday Gardening Thread: Seeing Red [Y-not, WeirdDave and KT]
Earlier this week when I was drafting my portion of the Gardening Thread, I was inspired by this: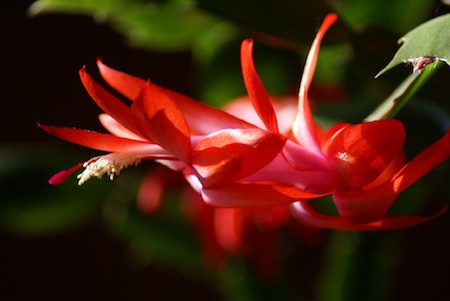 Mister Y-not and I had dinner at some friends' house and, unable to bring them a bottle of wine, I brought a spectacular Christmas cactus as our thank you gift. As you probably know, Christmas cacti come in all sorts of colors, but this red one was particularly striking. So my "theme" was going to be red "holiday" plants and favorite plant gifts.
Then I saw that one of my partners in crime, KT, was working on a cranberry post, so all was well. We had quite a good little theme going.
But after Thursday night, I am seeing red for an entirely different reason:
President Obama's primetime speech Thursday night caused feelings of anger for many, and not only because he granted de-facto amnesty to millions of illegal aliens.

During the speech the president referred to illegals as "workers who pick our fruit and make our beds." Astounding when you consider this was a prepared speech written, read and edited by a team of professionals who somehow allowed that line to get through.

He also mentioned a young woman named Astrid Silva, who was brought to America by her parents at the age of four, became a great student and is working on her third degree from college.

"Her father worked in landscaping. Her mom cleaned other people's homes," he said in describing her parents.

That was enough to set the Twittersphere on fire with at least one person referring to it as the most racist speech since Woodrow Wilson.
And that, dear friends, is why there was no Politics Thread today. As Steyn pointed out Elections Matter... except when they don't. My heart just wasn't in it after Obama flipped the entire nation the bird, so we'll pick up the review of 2016 candidates next week. (Probably.)
Now on to nicer things...
Thanksgiving and Christmas Cactus are possibly the second most common plants (after poinsettia) enjoyed in North American households in December, but they had their origins in the tropics. They are from the plant family Cactaceae, or cactus, and the Genus is now known as Schlumbergera, but older works may refer to the prior name of Zygocactus.

These are succulent perennials which lack spines and are native to the South American tropics of Brazil, high in the Organ Mountains north of Rio de Janeiro. Like many tropical cacti, these holiday favorites are epiphytes, which means they live on other plants, using the other plant as substrate, or a place to live. (As opposed to a parasitic plant, which uses its host for nutrients.)
It turns out the plant I gave my friend was probably a Thanksgiving cactus based on what I learned in this article.


My mother-in-law has a great green thumb and always has a wonderful collection of Holiday cacti in her sunny sitting room. If you know what you're doing, I gather these plants can become real family heirlooms, passed on from generation to generation. (My friend reported inheriting one from her grandmother and estimated that it was at least 50 years old, possibly much older.)
As for their connection to winter holidays, I found this:
A young boy who lived in the Amazon jungle had asked God to give him a small Christmas sign in his hot and oppressive world. On Christmas morning, he awakened to the realization that the jungle had filled with flowers in the course of the night. The cactuses which grew on the branches of the ambient trees had all started to flourish at once.
As much as I enjoy the poinsettia displays that are common at this time of year, as a single plant, these holiday cacti are hard to beat. What are some of your favorite holiday plants?
And now, take it away, KT!
CRANBERRY CORNERS, USA
Considering that they're not very tasty out-of-hand, cranberries are remarkably popular in the USA. Of course, they do play a part in American history and culture. Would you like to grow your own cranberries? You might appreciate these plants as a small-scale evergreen ground cover, in hanging baskets or as a specimen planting if you live in the North. There are some stand-ins that work in other climates and situations, too.
In the USA, the only true cranberry most people know about is Vaccinium macrocarpum, the Large Cranberry or American Cranberry. Cranberries traditionally cultivated in Europe are small, pale pink and grow in acid peat bogs. What farmers here mean when they say "cranberry bog" is something very different: a carefully engineered (and expensive) field that can be flooded (for harvest, weather protection in winter and weed or pest control) then drained during the growing season. How about a little wakeboarding during harvest?
Of course, if you are going to flood cranberry bogs, you need a river, reservoir or lake to supply the water. Better stay on the good side of the Army Corps of Engineers and the EPA. If you do not want to tangle too much with regulatory authorities, you can still set up a serious cranberry bed in full sun without even a mud puddle, if you're really into cranberries and your soil and climate are compatible. The plants need ample water, so they are a good choice if your water table is on the high side. But you will have to use a dry-harvesting technique.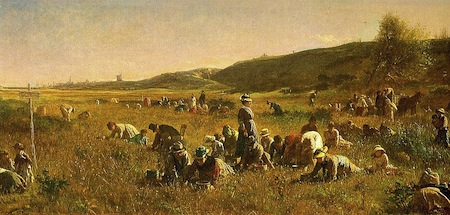 The Cranberry Harvest on the Island of Nantucket, 1880
Jonathan Eastman Johnson
LINGONBERRY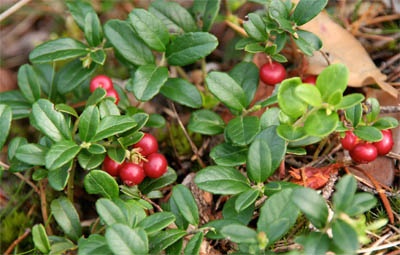 Lingonberries, as featured by IKEA, are related to cranberries, but are a little taller and grow in part shade or shade. AKA Foxberry or Cowberry. They are nice in woodland settings with organically-enriched soil. Avoid phosphate fertilizers. They need ample water, especially if grown in the sun (in cool-summer climates). Some commercial European selections produce two crops a year. The little American Lingonberry is hardy into arctic regions and can be grown in containers.

Raintree is one reliable source for unusual garden fruits. Note the berry rake. It is useful for harvesting either lingonberries or cranberries. Raintree also sells more conventional fruiting trees, shrubs and perennials, especially those adapted to the Pacific Northwest.
HIGHBUSH CRANBERRY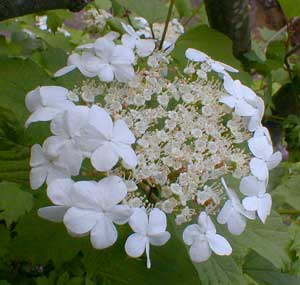 Another stand-in for true cranberries in the North is the Highbush Cranberry, usually sold as Viburnum trilobum. It has a single heart-shaped seed in each fruit instead of the tiny seeds in cranberries. Therefore, its most common use in the kitchen is for jelly.
A selection with large berries and red fall color is "Wentworth". When picked after a couple of light frosts, it is "easily adaptable to recipes for low bush cranberries". "Hahs American" also has large fruit. Along with Redwing ("J.N. Select"), it is shorter than Wentworth - 6 to 8 feet. You will have a better fruit display if two different cultivars of the same species are planted within 100 feet of each other.
You might want to avoid the similar European Cranberry Bush (V. opulus), which is invasive, has very tart, astringent berries and is more susceptible to aphids. It has escaped into the wild in North America, and is sometimes mistakenly sold as a native plant.

FLORIDA CRANBERRY, OCTOBER HIBISCUS, ROSELLE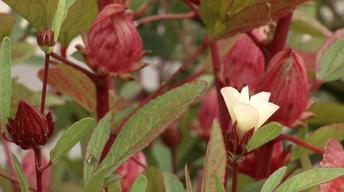 The calyces of Hibiscus sabdariffa can be used like cranberries in sauces and such. But they are most commonly used to make fruity drinks like Agua Fresca (Agua de Jamaica), Margueritas or herbal teas. Grow like tomatoes, spacing 1 1/2 to 2 feet apart for a temporary hedge. Otherwise, plant 3 feet apart or in a container or border. This hibiscus flowers as the days shorten, and the calyces may not ripen if there is an early frost. Great reference here at Dave's Garden.
The Cranberry Hibiscus, H. acetosella, is often confused with Florida Cranberry. It generally has striking red leaves. The young leaves are eaten like sorrel and have a tart, lemony flavor. The flowers are used in drinks to provide color rather than flavor. If you've ever wondered what's in the purple lemonade in Central America, now you know.
Some people grow this plant as an annual ornamental, even in Wisconsin. It is resistant to root knot nematodes. There is a selection called Haight Ashbury with sort of tie-dyed leaves. Those were the days. Heh.
NATAL PLUM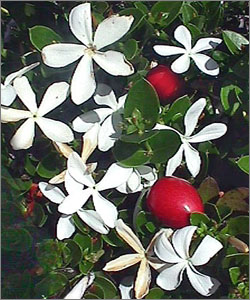 In the USA's mildest climates, Natal Plum grows into an attractive, usually thorny bush with flowers that smell like Star Jasmine. It tolerates salt spray. When fully ripe, the fruit is much larger and tastier than a raw cranberry - slightly sweet. Before it is fully ripe, you will see white latex when you break or cut a fruit. It's not nearly as flavorful at that stage, and the latex is a bit unpleasant. When I lived in So. Cal., I learned to judge when they were fully ripe.
If you want to grow this plant for the berries, choose the upright cultivar "Fancy" for large fruit or compact 'Tuttle' for prolific flowers and fruit. The latter is probably better for firescaping.
Wow! That was awesome, KT!
Finally, here's WeirdDave!
So, I've been in the market for an old pickup truck for a while now. It's not a need, it's a want. It's nice to have a truck around, just for those times you need to haul something. Strange to think of a beater truck as a luxury, but in my case it is. I used to have an old '78 f-150 with a stake bed that was a tank. I loved that truck, but 7-8 years ago I thought "I never use this", so I sold it. Ever since then I've thought "why did I sell that truck?"
So I've been looking, primarily on Craigslist. Late 80s to early 90s is the sweet spot. In Maryland, anything 20 years or more old can be tagged historic, no inspection necessary. I'm not averse to something newer, but inspection adds a whole additional layer to the calculation. I almost bought a '98 Dodge Ram, but the seller got hinky on some claims he had made WRT inspections. There was a long bed Chevy with an extended cab that seemed just the ticket...but it had a BIG rust through on one quarter panel. And so on. The watchword has been patience. Good deals are to be found for the patient.
Anyhow, this week has been nuts. Sister in law's husband was killed in a snowmobile accident in the NWT and so wife is crazy running around packing for an emergency trip to the arctic. Work is busy with open enrollment. I'm looking at two weeks of being a single parent, so I have to make sure I know school schedules, etc.
Yesterday I see an ad for a '94 Ford Ranger XLT. Looks pretty good, good price, 83K miles. I squeeze in looking at it this morning. It's pretty clean, runs well, good acceleration, no wobbles, no real rust. It needs new shoes, but I got a guy. Drivers door has to be slammed, but I can see where it was sideswiped (small dent), so understandable. Seller tells me that the door hinge bolt is loose and can just be tightened. (P.T. Barnum smiles).
So I buy it. Title & tags, drive it to an appointment and then home, total of about 50 miles. I realize that ergonomically, it's not comfortable (big guy in a little truck!), and that had not been obvious on the test drive. Second, I look closer at the door and realize that the left front quarter panel has been replaced, and that door frame is creased, and that's not a simple fix, there was a significant accident. That's body and a little doorframe damage, but mechanically the truck is sound. I can live with it. I'll slam the door. $1500 for a serviceable truck isn't so bad. I ended up with what I set out to get, a beater truck that I'll use occasionally.
Still....I'm disgusted with myself for getting impatient. In the whirlwind stress of the week, I forgot the watchword. Looking back I'd rather have the Chevy with the rusted quarter panel. That I could fix, and it had an 8', not a 6' bed. I spent all this time determined to do this right, and in the end I did it wrong. It's fine. I just wanted to do so much better. Ahh well, such is life.
So now I have a farm truck. All I need is a farm.
Thanks, WeirdDave!

To close things up, how about a song? This one seems to fit our theme:

posted by Open Blogger at
01:50 PM
|
Access Comments