« Late Summer Saturday Open Thread August 11 [KT]
|
Main
|
AoSHQ Pet Thread: The Pet/Garden Interface [KT] »
August 11, 2018
Saturday Gardening Thread: Yes, It's August Alright [KT]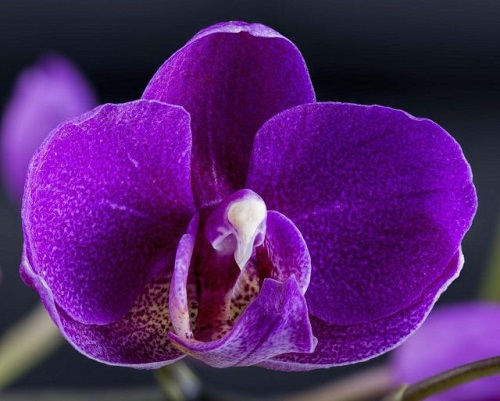 Hello, Gardeners and Friends of Gardeners! And a special welcome today to animal lovers and geneticists. The photo above is of a new orchid acquired by Don in Kansas, Queen Beer.
Meanwhile, in Illinois, Illiniwek has taken a photo of something that would be welcome in California about now: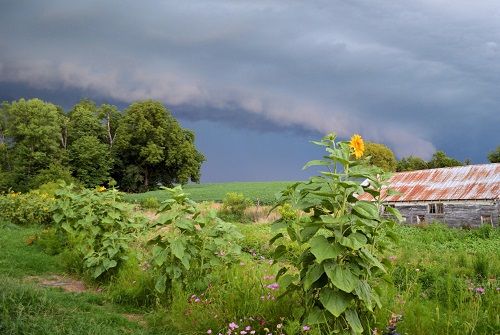 This one was kinda neat, big front came through, this is the wall cloud (if my terminology is correct).

Adds a little drama.
Yes, Illiniwek, that kind of drama would be welcome in photos of many California yards.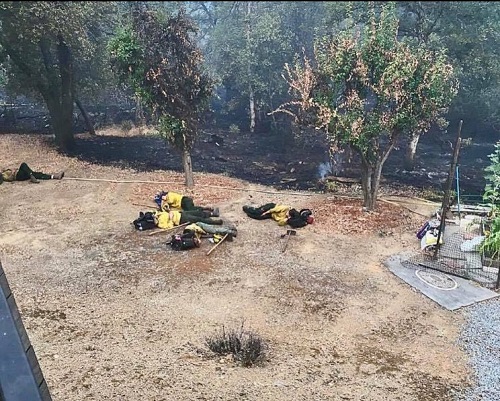 Fire fighters curled up on the ground in the back yard of the house they just saved the night before, resting up for the next shift in their battle with the #CarrFire.
Looks like a close call. This photo was taken back in July, and the fires have moved to new areas since then. My sister's home was one saved by firefighters, though from a different fire. Don't think the fire got quite that close. California could use some rain. Or even clouds that aren't smoke.
The Pet/Garden Interface
Something a little different today as Misanthropic Humanitarian will be spending a lot of time in an alternate dimension for a while. You're stuck with me for the Pet Thread today, too. I will be posting companion photos to the photos in this segment in the Pet Thread. It won't be the almost world-famous Ace of Spades Pet Thread, but hey.
Tom W sent in this photo of his dog Jimmy B waiting for figs to ripen. I think I am in love with Jimmy B.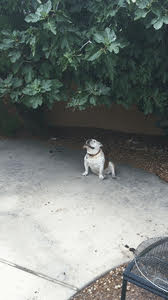 You can meet this adorable dog up close in the Pet Thread a little later. Along with his little sister, who doesn't seem to be that into figs.
Below is The Invisible Hand's dog, Darla. Look at that expression.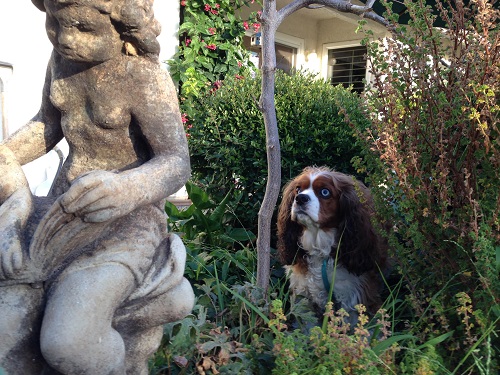 And this is his other dog, Kaz. What a photo!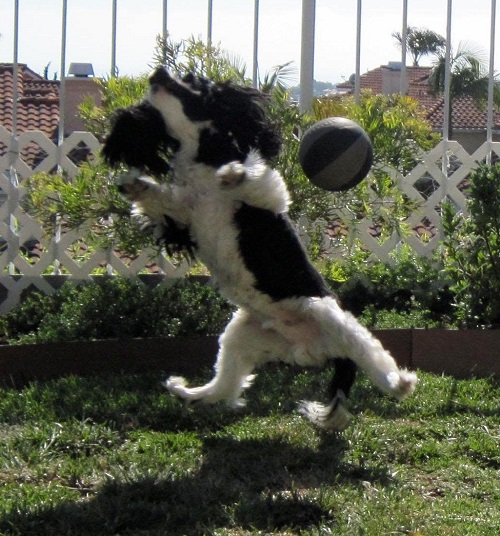 Don't they make his yard more fun? Learn more about them in the Pet Thread today.
Something different - Gloriosa Lilies
We received the following from an Anonymous Poster:
Each year my gloriosa lily comes along and never disappoints me with its beauty. I naturalize my bulbs so I don't dig any up and basically most of them do just fine.

I ordered a reddish-orange one and have it planted but it's not coming up yet, or won't until next year.

Love for Saturdays to come and get the garden thread and pet thread!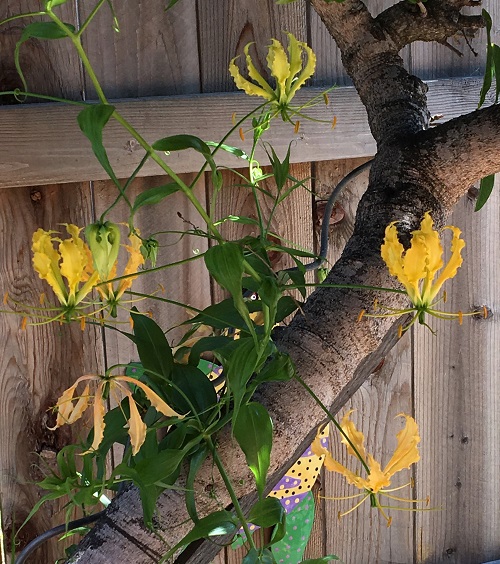 It is lovely, isn't it? This is the National Flower of Zimbabwe. It is native to tropical and southern Africa and parts of Asia. The entire plant is highly toxic to people and pets, unless you have a pet porcupine. Some porcupines eat the tubers. You might want to skip this plant if you have one of those pets that likes to chew on strange stuff. It is used as an arrow poison in parts of Africa. Neverthless, it is widely used medicinally in Africa and Asia, and cultivated in India. I wouldn't be surprised if it were now a source of colchicine in the West, too. It is becoming scarce in parts of its native range due to harvesting of wild plants for pharmaceutical use.
As you can see in the photo above, the Gloriosa Lily is a vining plant. It has tendrils at the ends of its leaves, which is kind of unusual.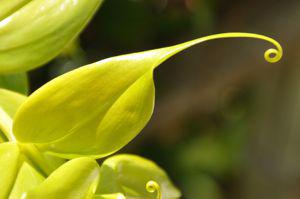 The ones with orange to red flowers (which generally include some yellow) are also beautiful. They are only hardy in the ground in USDA hardiness zones 10 and 11, and in zone 9 with protective mulch. They need to be protected from too much water in winter.
Where winters are colder, you can plant the tubers (rhizomes) in pots with drainage, plunge them into the ground during the growing season and dig them up, pot and all, to move them to a dry, frost-free location for winter. Or leave in a container and move to a patio during the growing season. They can grown 5 or 6 feet tall here, taller in their native range.
Got your bulbs and tubers and such for fall planting?
Gloriosa Lilies are not actually lilies. They are related to the Autumn Crocuses of the genus Colchicum. We talked about bulbs called "Naked Ladies" last week. Well, here are some more. They are shorter, though. This is a garden cultivar called The Giant. Sometimes they are sold like this, for people to set on the windowsill to bloom without any potting mix or anything. But many of them are hardy to Zone 5 in the garden, and generally more pest-resistant than true crocuses, some of which also bloom in fall. That's because they contain colchicine, like Gloriosa Lilies. More on colchicine a little later.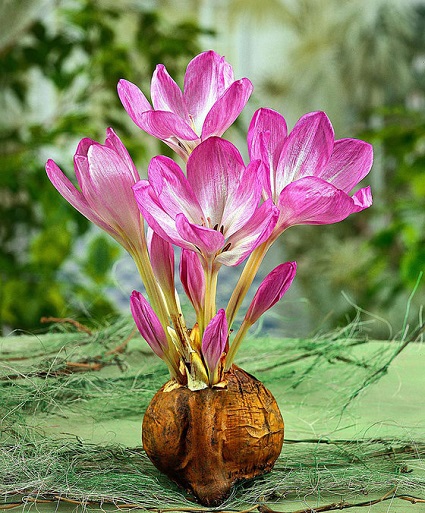 If you want to plant Autumn Crocuses, other fall-blooming crocuses and other fall-blooming flowers that grow from bulbs, tubers, rhizomes and such, you don't have much time to order. White Flower Farms ships its fall-blooming bulbs in early September. Their limited (compared to some catalogs) selection includes the Lycoris Squamigera photographed by Le Garde Vieux (see the end of last week's post) even though it blooms in summer in many climates.
They also sell Saffron Crocuses, which bloom in fall, and they provide harvesting directions. You can grow the most expensive spice in the world in your own yard if you live in Zone 6 or above. You may want to plant the bulbs in a wire basket to deter burrowing rodents. To avoid being poisoned, remember that toxic Autumn Crocuses have 6 stigmas, while true crocuses have 3.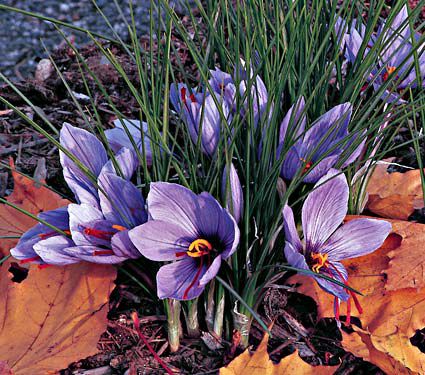 While you're planting fall-blooming bulbs, maybe you can plant, or map out, some spring-blooming ones, too. Got any in mind?
Science: Colchicine in Medicine and the Garden
Since we have photos of both Gloriosa Lilies and Autumn Crocuses up today, maybe a couple of comments on colchicine would be appropriate. This very toxic chemical has been used medicinally for centuries. Its primary remaining use in the West is for gout. I noticed something kind of interesting in the Wiki:
An unintended consequence of the 2006 U.S. Food and Drug Administration (FDA) safety program called the Unapproved Drugs Initiative -- through which the FDA sought more rigorous testing of efficacy and safety of colchicine and other unapproved drugs -- was a price increase of 2000 percent for "a gout remedy so old that the ancient Greeks knew about its effects." Under Unapproved Drugs Initiative small companies like URL Pharma -- Philadelphia drugmaker -- were rewarded with licenses for testing of medicines like colchicine. In 2009, the FDA reviewed a New Drug Application for colchicine submitted by URL Pharma. URL Pharma did the testing, gained FDA formal approval and was granted rights over colchicine. With this monopoly pricing power, the price of colchicine increased.
Okay, what's the difference between "unintended" and "unanticipated"? You ask a small company to do very expensive testing on a substance known to have very toxic effects. I don't know what testing costs on a substance like colchicine, but testing on a new drug runs into the billions. By doing this testing, the company makes itself liable in future lawsuits for adverse reactions far into the future, no matter who manufactures the product administered to the patient. Then you give that company monopoly pricing power for a limited time period. After that time period, they will be largely forced out of the market by generic manufacturers, but will likely continue to bear most of the liability risk from use of the drug. Do you really expect the price to remain the same?
But back to gardening. Do not self-dose with your Gloriosa Lilies or Autumn Crocuses, please. The famous use of colchicine in botany is to induce polyploidy:
. . . colchicine is also used for inducing polyploidy in plant cells during cellular division by inhibiting chromosome segregation during meiosis; half the resulting gametes, therefore, contain no chromosomes, while the other half contains double the usual number of chromosomes . . . and lead to embryos with double the usual number of chromosomes (i.e., tetraploid instead of diploid). While this would be fatal in most higher animal cells, in plant cells it is not only usually well tolerated, but also frequently results in larger, hardier, faster-growing, and in general more desirable plants than the normally diploid parents; for this reason, this type of genetic manipulation is frequently used in breeding plants commercially.

When such a tetraploid plant is crossed with a diploid plant, the triploid offspring are usually sterile (unable to produce fertile seeds or spores), although many triploids can be propagated vegetatively. Growers of annual triploid plants not readily propagated must buy fresh seed from a supplier each year. Many sterile triploid plants, including some tree and shrubs, are becoming increasingly valued in horticulture and landscaping because they do not become invasive species. In certain species, colchicine-induced triploidy has been used to create "seedless" fruit, such as seedless watermelons (Citrullus lanatus). Since most triploids do not produce pollen themselves, such plants usually require cross-pollination with a diploid parent to induce fruit production.
You just might be able to create your own tetraploid plant at home. Might want to leave breeding the triploids to the professionals. Not that you can't grow some triploid plants in your yard. Had good luck with seedless watermelon? Ever grown orange watermelon?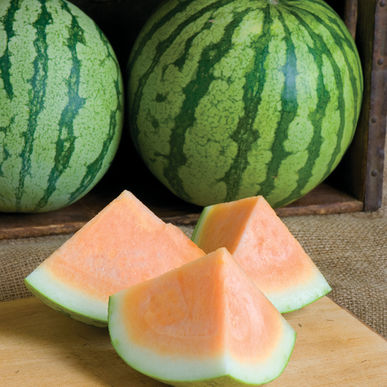 Triploid Watermelon 'Orange Crisp'
Wildlife in the Yard and Garden
I had really intended to save wildlife photos for next week, but then yesterday Seamus Muldoon sent in an updated yesterday on the The Elephant's Hat. (Don't comment on old threads).
From a few weeks ago, the hummingbird nest on top of the elephant wind chime ended up with two eggs.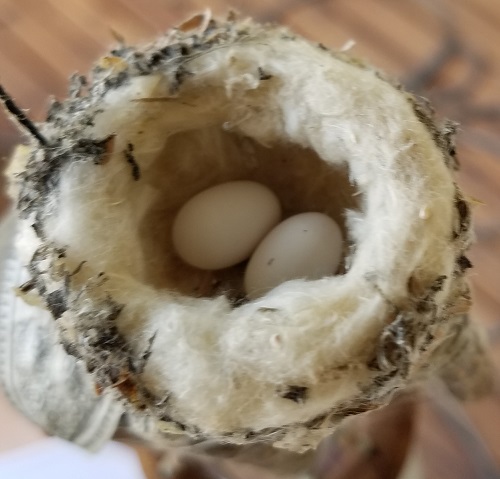 After an incubation period of about 16 days the eggs hatched about 10 days ago. They are hard to get a good picture but the two little hatchlings looked like little aliens. Here is a snap from today, about 10 days old. You can see that the beak is not long and thin like a hummingbird adult, but it is starting to elongate from when they were first born. They should nest for about 3 weeks before fledging and being able to venture out on their own. We wish them luck in the big wide world.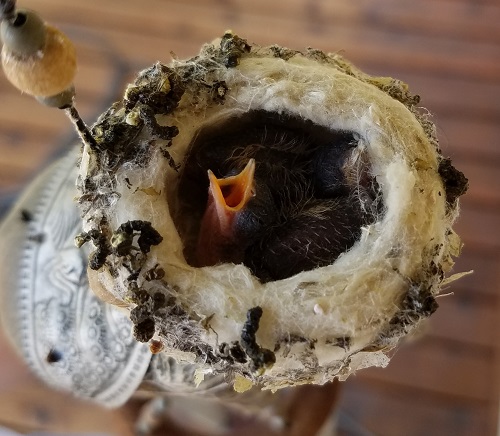 Thanks for the great photos, Muldoon. Hope the little ones stick around your yard for a while after their alien phase.

Gardens of The Horde
We have lots of smoke in the air here in the San Joaquin Valley. Fresno may still be getting ash from the fire near Yosemite. I have seen reports of too much rain elsewhere in the country. Wish we could even out the rainfall some.
We have been dependent on friends for garden tomatoes this year. The ones in the photo below are cherry and plum tomatoes that another friend in Southern California is going to be preparing himself, for snacks and salsa. He has some dark tomatoes, too. A nicer photo than the ash on his windshield.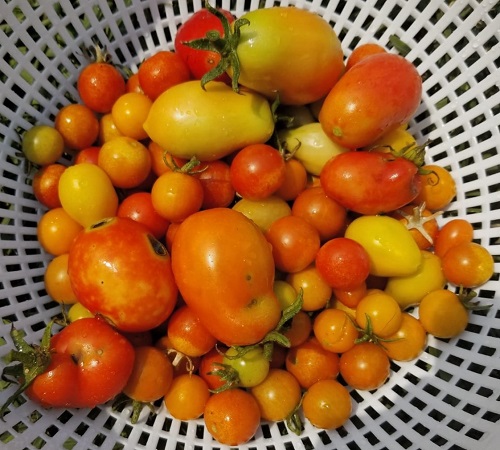 We have harvested some ripe Dapple Dandy Pluots, and had some stolen. Anything going on in your garden?
If you would like to send information and/or photos for the Saturday Gardening Thread (or temporarily for the Pet Thread), the address is:
ktinthegarden
at g mail dot com
Include your nic unless you just want to be a lurker.

posted by Open Blogger at
12:16 PM
|
Access Comments