« Late Summer Saturday Open Thread, August 4 [KT]
|
Main
|
Ace of Spades Pet Thread »
August 04, 2018
Saturday Gardening Thread: It's August? [KT]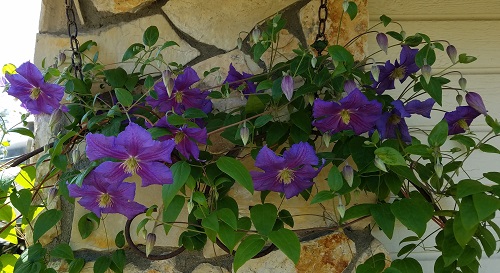 Happy Saturday, gardeners and friends of gardeners! Our opening photo today is from The Invisible Hand, of some lovely, cool-looking Clematis in the shade, at least temporarily. Nice contrast to all the Western fires. Take care if you are affected.
Heritage Plants: Bonsai Division
The Horde's own carnivorous plant expert, Tony Litwin, also has Bonsai plants in his yard! Last week, we discussed my cousin's begonia, handed down from her great grandmother, but that plant was grown from a cutting. Bonsai is an entirely different category. The entire plant can be an antique.
The Gingko is around 60 as I have had it for the past 40 years now as well, and when I got it it was flowering and Gingkos don't start flowering until they are 20 or more years old.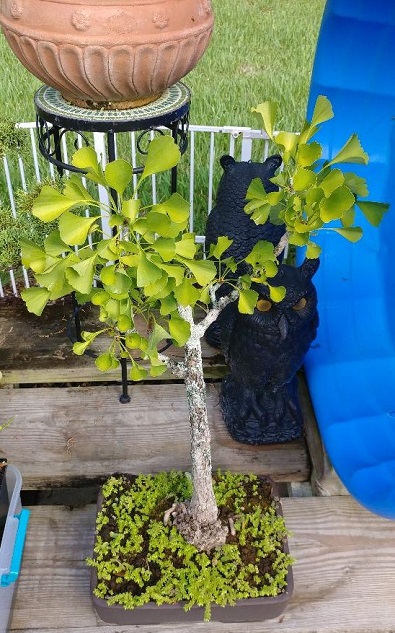 The Juniper Bonsai I have been working on for the past 40 years and it was old when I got it.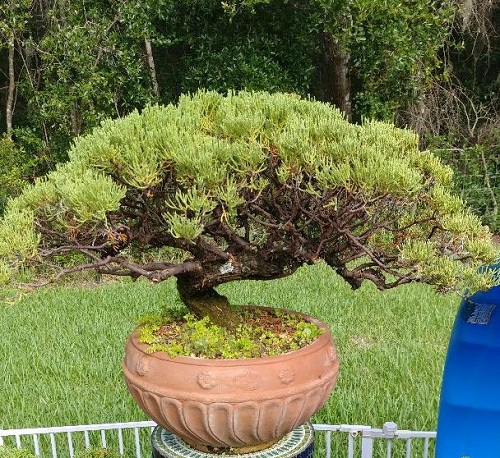 As for the Shimpaku Juniper, I don't know the age. All I know about it is that it was old when I got it and I've had it for around 5 years now. They are really a joy to work on and just like people, as they get older they get grumpier.

As for where they are going when I die, The Gingko is going to my son, the Juniper to my daughter and the Shimpaku to my grandson, although at 4 he doesn't know it yet.

Anyway take care and be well.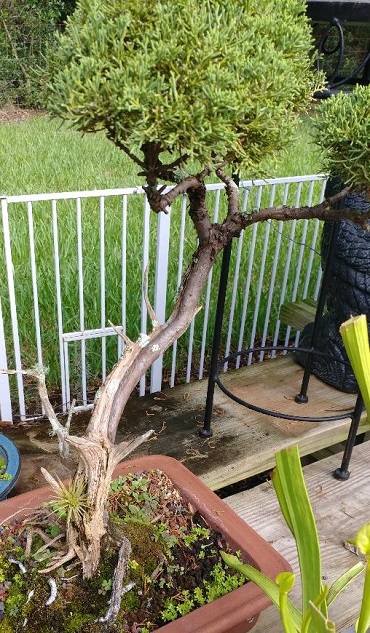 Thanks, Tony. Fascinating plants. I like the Bonsai Garden at The Huntington where you can often see full-sized specimens of the same species of trees outside the walls of the Bonsai garden. A few of their bonsai specimens are thought to be a thousand years old. But Tony's trees compare well with those shown at the link (though I don't see a Ginko there).
And if you go to The Huntington during Camellia season, you will likely smell the apricot fragrance of Osmanthus fragrans there, too. As noted at the link, O. f. aurantiacus and Fortune's Osmanthus have fragrant flowers in autumn. Holly Osmanthus has fragrant flowers in late fall or winter. This is Variegated Holly Osmanthus 'Goshiki', generally grown for its foliage more than its fragrance. In real life, I have usually seen Holly Osmanthus much shorter and smaller than the sizes stated in references: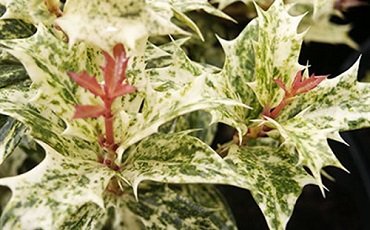 Wildlife in the Garden
Hank Curmudgeon sent in a link to a Bug Guide run by actual naturalists. "Bugs" include some animals like land crabs and crawdads, as well as some creepy critters like sea spiders. On the "Milkweed Butterflies and Glasswings" page, you can see examples of Monarchs, Queens, Soldiers, Glasswings and their relatives. Glasswings don't look like most American butterflies.
There is an ID Request page to which bug photos can be sent. If they do not "add value", they are eventually removed to the "frass" page. Heh.
They seem to be partial to moths. Dang! I missed National Moth Week again. Anybody remember to go out for beers and moth-watching?
Speaking of milkweed butterflies, don't be discouraged if your milkweed has some other insects on it. Hank also sent in a couple of links on insects that like milkweed. There are 457 kinds, according to Iowa State University. And if you see more than one caterpillar on a leaf, it probably belongs to a moth rather than a butterfly species. This guide is more practical for actual gardeners. Mildly entertaining, too. Aphids are the most often-mentioned pest in my experience. Some of the others are more colorful
The Edible Garden
MarkY sent in the following from Kansas City, MO:
We've had some problems with beans this year. The first shows Blue Lake pole beans that are thriving... they flower, but we haven't gotten a single bean!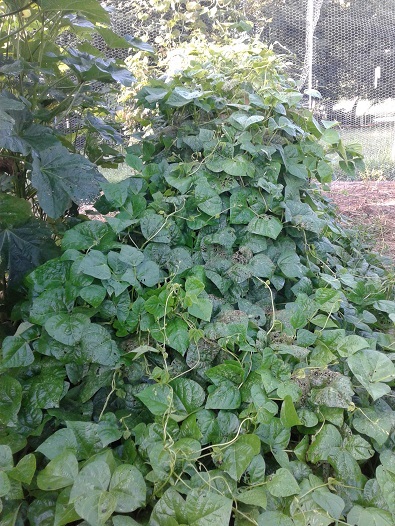 The second picture is of one called Asparagus Bean. Giant things. While they don't "snap" like a standard bean, they pickle beautifully, and are wonderful in stir fry.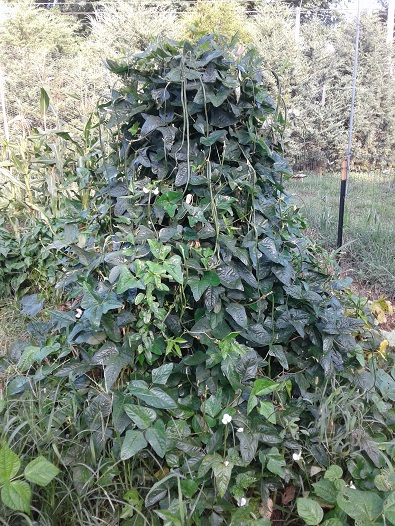 Asparagus beans are related to cowpeas and the mung beans used to make bean sprouts. They are quite heat-tolerant. They give me migraines. Remember that most beans need to be cooked before eating. You can get away with eating a few green beans raw if the seeds have not expanded too much.
Anyone else having trouble with Blue Lake beans? Our bush beans were a Blue Lake also. Pitiful things. Japanese beetles absolutely prefer them over everything else in the garden (with okra a close second). NOT A SINGLE BEAN!

Weather?

We were still freezing mid April (average frost free date 3rd week in April, drop dead frost free May 10th) and had 95+ temps the first week in May. No spring.

We're just now getting cool nights, so perhaps they'll start.
We'll usually harvest beans mid-June til the plants die.

We're also in a drought, but we water regularly, and even have a bee-hive within 100 yds.

It's climatic, no doubt, but just don't know what part of the climate it is.
Gardening.
Regular beans don't need bees to produce. Some kids of beans do. It's possible that MarkY may get some beans as the weather cools. That often happens with Runner Beans, which are a different species.
In my experience, bean varieties are best chosen regionally and for the season. Among bush beans, Contender is a great beany bean in Southern climates in spring, but develops a terrible plastic-like membrane when grown in cool fall weather. New England favorites like Provider and Bountiful don't make in in the San Joaquin Valley. Bountiful actually sunburns.
One year I did a challenge to find the most heat-tolerant bush bean in my garden. Brio was the winner, but there have been further developments since then. More in the comments.
There is a reason Blue Lake beans were traditionally grown West of the Cascades in Oregon.
Gardens of The Horde
Or maybe in this case, Gardens of Neighbors of The Horde. Le Garde Vieux sent in the following challenge:
Here in northern Alabama/Tennessee Valley these are called naked ladies (because no leaves) or surprise flowers ( because they just pop up in the middle of your lawn). These however were planted by my neighbor. She of the one bloom in 18 years bird of paradise.

If anyone knows a proper name, speak up.
As it happens, the family from which this plant comes seems to be popular with The Horde, and we have discussed it from time to time. Back in February, we linked a chart with clues for identifying which Naked Lady you have there. So, which lady do you think it is?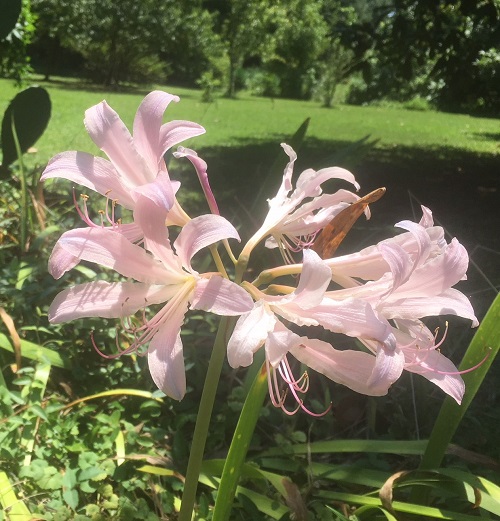 Hope you get to spend a little time enjoying the yard or garden this weekiend.
If you would like to send information and/or photos for the Saturday Gardening Thread, the address is:
ktinthegarden
at g mail dot com

posted by Open Blogger at
12:18 PM
|
Access Comments