« Thread before the Gardening Thread: Women and femme-identifying people fight [KT]
|
Main
|
Mini Chess Thread 02-03-2018 »
February 03, 2018
Saturday Gardening Thread: Getting Real in Winter [KT]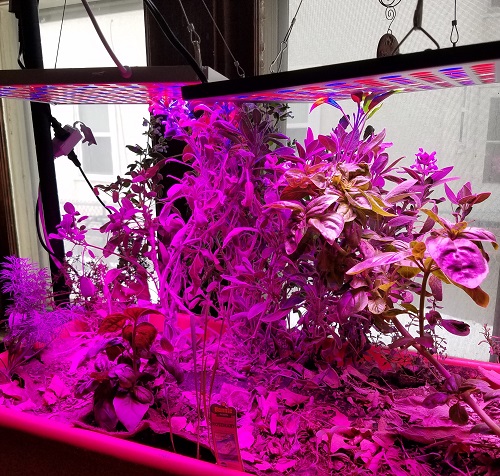 Purple Sage blooming in Minnesota in January
Hello, Gardeners and Friends of Gardeners! Today we have a couple of indoor photos from the Frozen North (plus technical information) and quite a bit of information and some pretty pictures from sunnier climes. And it's barely February! Hoping to hear about some winter/spring bulbs coming up soon. Today's bulbs are summer/fall types. Mostly.
The grow lights are heavily red and blue, which are supposed to encourage blooms in certain plants. . . .

I am ordering a watt meter so I can determine if the lights are using the rated amount of power. Both of those are rated at 45 watts, but manufacturers lie. I am also measuring lumens. So far I am using a light meter app on my phone but I may order a lumen meter just to be sure. I also have a 300 watt monster that is white light that I will deploy this weekend in the basement. Once I have a little more data I will write something for you.

I have not had great interest in hydroponics. But thanks to YouTube it is apparently pretty easy if you can cut PVC, and of course, employ Solo cups. We should look into Nobel prizes for the estates of Henri Victor Regnault and Eugen Baumann. They independently discovered vinyl chloride at different times. PVC is everywhere.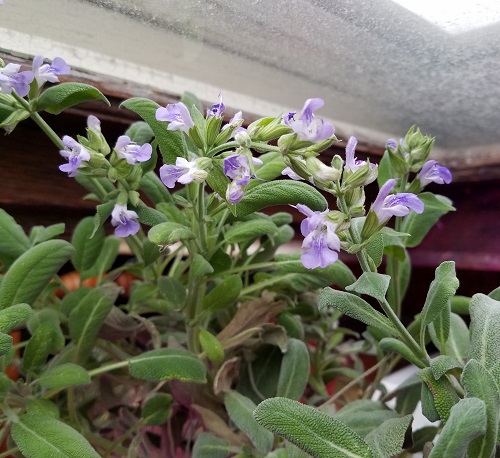 The idea behind replacing fluorescent, HPS and HPD lights with LED lights is that you get the same light for less energy, and there is not as much heat to dissipate. A "300 watt" LED fixture is supposed to deliver the same amount of light as a 300-watt HPS, but use only about 120 watts. But one company is saying this is false savings. Because what matters is photons, the more the better, use the same power as before. So one would use, say, two 300-watt white LED fixtures, plus a couple of lights like my smaller ones to add some extra red and blue. Result: same energy, but 2.5 times the photons, and much longer life as you don't have to change bulbs. LED fixtures are rated for 13 years use at 16 hours/day. So your yield should rise enough to pay off the investment in a year or so, because more photons means more, um, buds.

Would more photons mean more jalapenos? I don't know. No one is talking about jalapenos
Gordon, if you are intending to start seedlings of jalapenos or tomatoes to grow outdoors, you probably want to skip those special colored lights. You don't want to induce flowering too early, while the plants are small. Anybody starting seedlings yet? Using Solo cups, maybe?
The Horde Observes
In this segment, we have new information from members of The Horde who have been paying attention to past posts. Plus a couple of tangents.
Crinums and other members of the Amaryllis Family
CaliGirl noticed something familiar about the photo of the plant from Slowflight 17 which we eventually identified as a Crinum last week. At first, people seemed to think it was an agapanthus. This week, CaliGirl sent us this photo from her trip to Hawaii. Check out the pyramidal flower buds on the far left:
I thought theses were some sort of agapanthus too.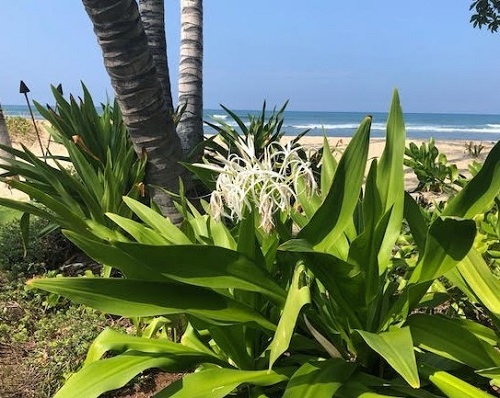 That is one spidery-looinkg "Spider Lily". I guess this plant must do really well by the ocean. Sunset says some Crinums are salt-tolerant.
But mistaking it for an Agapanthus is understandable. The most usual kind of Agapanthus in gardens and commercial landscaping is evergreen, like most Crinums. And they are related to each other.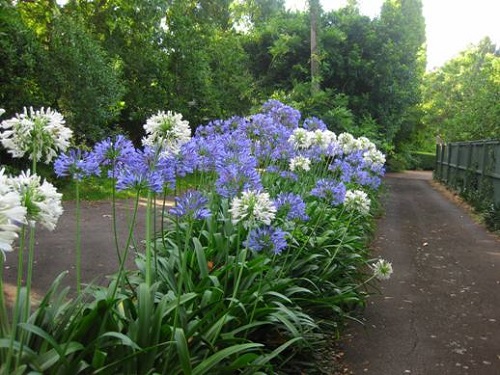 There are a couple of deciduous Agapanthus species with droopy flowers that are a little hardier than the evergreens, if you live in a borderline Agapanthus climate. If evergreen Agapanthus are "safe" in your climate, you probably know it already, because you will see them in commercial landscaping. They are pretty tough. They are over-used commercially in the sun in our hot climate here in the San Joaquin Valley, so you see a lot of sunburned leaves. But they do well in part shade here. Even under trees where other plants have a hard time competing.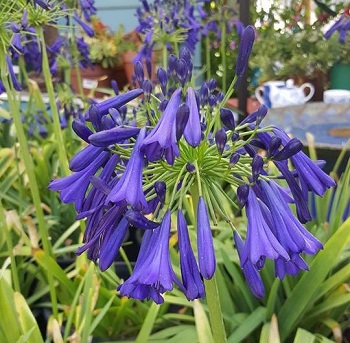 Amaryllis belladonna, or Naked Ladies
Amaryllis is a genus with only two species, and one was discovered quite recently. The only one grown in gardens is this one. It is grown mostly in California (in the USA). The Pacific Bulb Society has a lot of information on it:
Most bulb species should be transplanted when they are dormant (no leaves), but this is not true of Amaryllis and their relatives. The best time to transplant Amaryllis is just after they bloom in the fall, as the leaves are starting to emerge. Give the bulbs a good soaking at bloom time so the soil will be soft, then dig them up as the blooms fade. Save as many roots as you can. Separate the clumps gently, and plant the bulbs into a new spot that has also been watered so the soil is ready for them. Keep the roots lightly moist during this process. Plant them with their tops at ground level. If you transplant in summer while the bulbs are dormant, they may not flower for a year or two.

Amaryllis are notoriously difficult to flower in other parts of the United States. If you're trying them in those areas, take special care to protect them from rain in summer, and avoid winter freezing. If you're using pots, make them large ones, as these are massive bulbs with very large root systems. If you have trouble growing Amaryllis, you might want to try Lycoris, which have similar flowers but are much more tolerant of wet summers.
You should also plant seeds right after they form if you can. They are translucent then, and you can see little leaves inside. Clivia has similar seeds.
More on Lycoris a little later.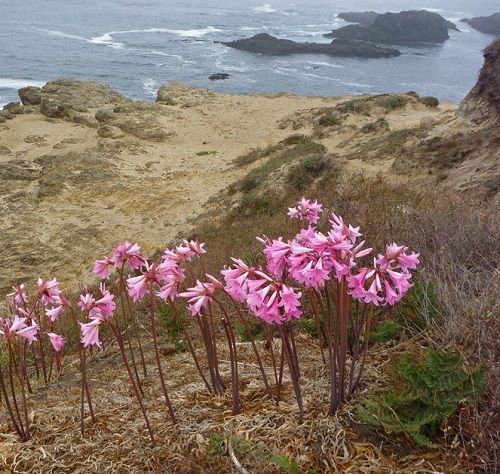 Naked Ladies,
Mendocino Headlands State Park, California
Amaryllis belladonna brings me back full circle to the Crinums that started this whole conversation. Because I used to live in a house that had a hybrid between that plant and a Crinum, an Amarcrinum, growing in the front yard. The first edition of the Sunset Western Garden Book I have only lists one kind, the kind I knew in Southern California. A friend here in the San Joaquin Valley has one too. Planted by his mother. I think there was a thing for this plant in California during the '50s. The one below is a newer hybrid, called a Crinidonna Lily. You can see that it has quite a long flower tube, characteristic of its Crinum parent.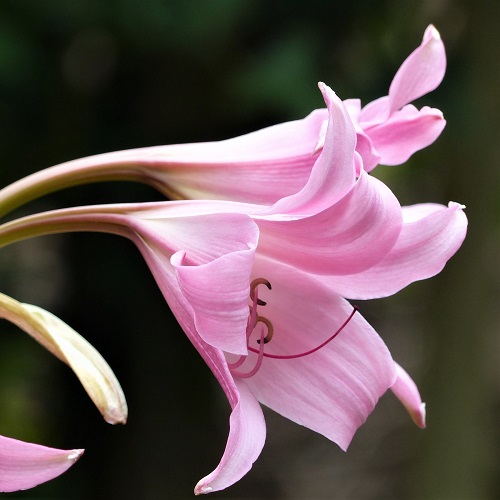 This is a photo of my friend's older Amarcrinum plant (unfortunately growing in a Bermuda grass lawn, which shows that it is tough), yesterday. In the off-season. You can see that it needs a few minutes of grooming. It could be evergreen all year with ample water and snail protection. It will probably look a little ragged during the summer, but will have lots and lots of fragrant blooms over quite a long season.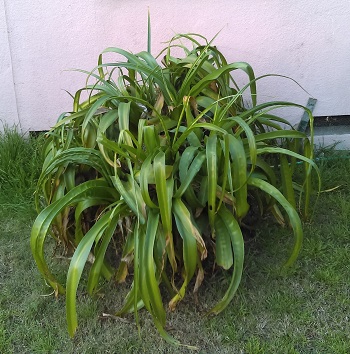 The Other Amaryllis
The flowers most of us call "Amaryllis" are really Hippeastrum, a genus with lots of species and even more hybrids. Retailers have figured out how to time their bloom for Thanksgiving or Christmas. Last year, CBD was considering planting one out after bloom to see if he could get it to bloom again. I never heard what happened to that plant.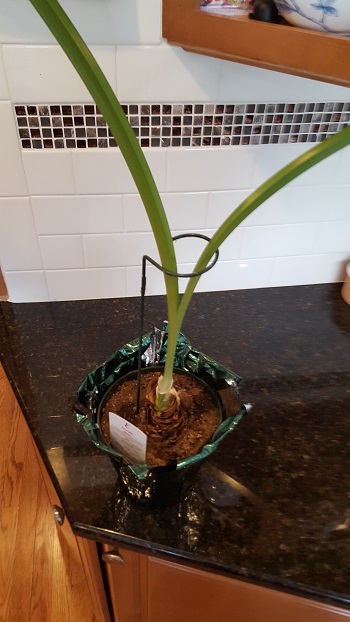 The little musical number "Amaryllis" in the video below was written by the 19th Century composer Henry Ghys, after a melody from an old court piece which he mistakenly attributed to an air written by Henry XIII of France. It was actually from an older 5 1/2 hour court ballet. "The Ballet Comique de la Reine was created under the auspices of Henry III's mother, the dowager queen Catherine de' Medici, as part of the wedding celebrations for the Duke de Joyeuse and Queen Louise of Lorraine's sister, Marguerite de Vaudemont." The video shows not Amaryllis, but Hippeastrum hybrids of various flower forms and colors.
I read that this piece has some sort of significance in Japan. Anybody heard it there?
Lycoris
If your not ambitious enough to try keeping your Hippeastrum over the summer, you might try growing a Lycoris. Lycoris radiata is one of the flowers in this family that really fits the name "Spider Lily". It is a hybrid between two species. The Japanese form is a sterile triploid that only spreads by offsets. Because the plant is so poisonous, it is used in Japan to keep pests and mice away from homes and rice paddies. Ant to signal the arrival of fall. It is naturalized in North Carolina, Texas and other parts of the Southeast.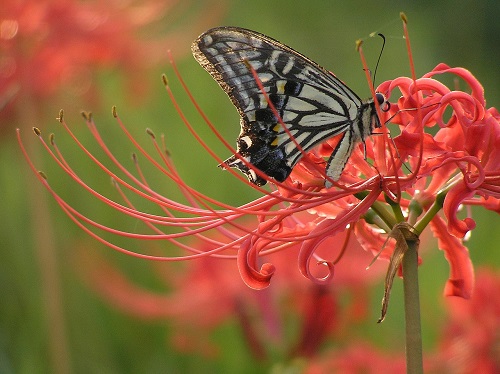 Photo by Autumn Snake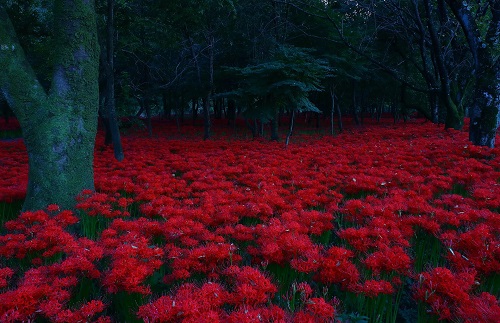 Kakidai
From a distance, Lycoris squamigera looks a lot like Amaryllis belladonna. But it is the most cold-hardy of the Lycoris bulbs now in commerce, a big contrast to A. belladonna. It used to be called Amaryllis hallii.
The Pacific Bulb Society has an Amaryllis vs. Lycoris page so you can compare the two. Both have been called "Naked Ladies". Both have been called "Resurrection Lilies".
Dragon Fruits
Wee Creek Farm Girl sent in a correction to a link about Dragon Fruit from last week:
I disagree with whoever said it won't grow above a hundred degrees because mine thrived and I am a little north of Phoenix and it was plenty over a 110 for a number of days and it was fine, likes a bit of afternoon shade is all.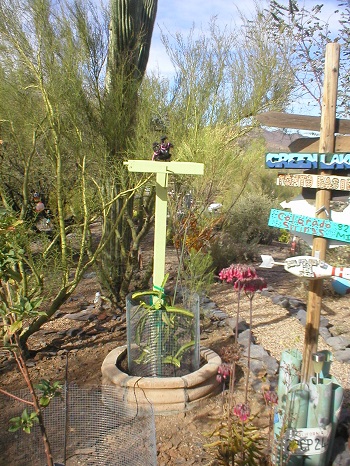 Some pictures of the Dragon fruit trellis we just put in. I had my dragon fruit in a pot for a year, got it at Home Depot, didn't understand the climbing habit when I got it and so mine is a bit unruly. Hopefully I can now train it to go up the trellis and through the top.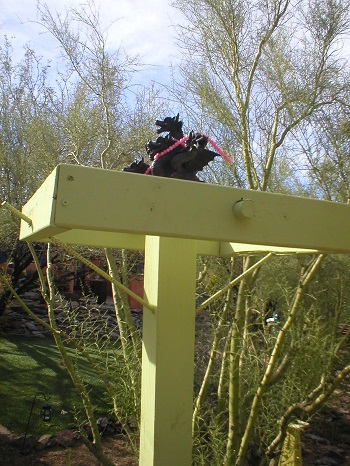 We like to placard all of our fruit trees for identification (my husband struggles with what they all are) and he came up with this way of identifying our dragon fruit. He put a pink necklace on the dragon statue to turn them into dragon fruits! The snowflake police are on their way.
Now THAT is a fun garden.
Gardens of The Horde
My rosemary is really blooming now. Including the rosemary that killed my Amaryllis belladonna.
Anything going on in your garden?
If you would like to send information and/or photos for the Saturday Gardening Thread, the address is:
ktinthegarden
at g mail dot com
Include your nic unless you want to be a lurker.


posted by Open Blogger at
12:13 PM
|
Access Comments