« EMT 08/11/18
|
Main
|
Saturday Gardening Thread: Yes, It's August Alright [KT] »
August 11, 2018
Late Summer Saturday Open Thread August 11 [KT]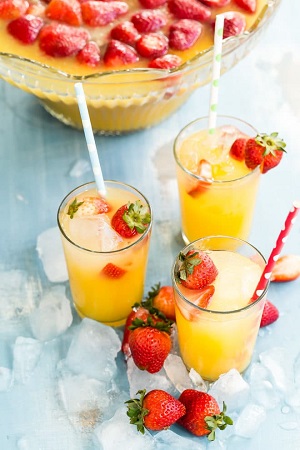 Really, really sweet fruit punch
Inventions
Hello, Horde. When you saw the photo above, did you think my topic for today was going to be plastic straws? That polka-dot one is cute, but I actually chose the photo for the ice. The recent media attention on straws seems sort of excessive to me. Yesterday I was talking to my Mom on the phone. She has been at a family reunion, and they must have talked about family history, because she mentioned how nice it was to come home to a refrigerator. She also mentioned her appreciation of "nice roads". Nice roads bring up a whole different set of inventions.
Refrigeration makes most lists of the world's important inventions. This is a pretty good one. Can you think of an important invention that they missed?
I appreciate air conditioning (a form of refrigeration) this summer. Don't care if Europeans sneer. We didn't have it for part of the summer last year. Would have been miserable with the smoke in the air this year.
Leaving Important Inventions Behind
There were no refrigerators at that New Mexico compound that major media outlets have been trying to ignore. USA Today has a new piece on the compound up today. It actually mentions that the men living there were Muslim. The townspeople nearby didn't seem to know that there were women and children living there, too.
The difficulties of the landowner where the compound was built sort of remind me of the difficulties faced by homeowners in California when squatters move into a vacant home. Though I have to wonder if the land owner wouldn't have gotten more help and attention if the residents of the compound were white.
The Imam who is apparently the grandfather of some of the kids wants custody. He says he is the one who alerted the authorities. Hmmmm.
Another invention that has been left behind in the West is forest management. Rodney Graves has a fine little rant over at Wizbang:
m a third generation natve of California's Santa Clara Valley. It was once the Orchard of the West, but has since morphed into Silicon Valley, where once we grew fruit and other produce, we now grow houses and startups. Sadly we also birthed and funded the Sierra Club, and it has come back to bite us.
Inventiveness that ruins inventions
Yesterday, my computer was attacked by one of those stupid malware thingies where a page pops up and won't close, telling you that you have a virus that is stealing your personal information and that if you try to close the window before calling their phone number, they will have to disable your computer to keep it from infecting others.
Well, I shut down the computer for several hours and checked on another one to see if there were reports of a new, real virus of this description. It seems to have been one of the fake ones. But it set my schedule back considerably.
Things could have been worse. People sure can come up with some nasty ways to mess up a good thing.
A little nicer bit of inventiveness
I think it is a college kid who set these images to music. I like it even if it is kind of geeky. Try to stay out of the way of Mountain Kings today. Got anything planned for the weekend?

posted by Open Blogger at
09:41 AM
|
Access Comments