« Thread before the Gardening Thread: Marx, Marx, Marx [KT]
|
Main
|
Ace of Spades Pet Thread »
May 12, 2018
Saturday Gardening Thread: Civilization and Mothers Day [KT]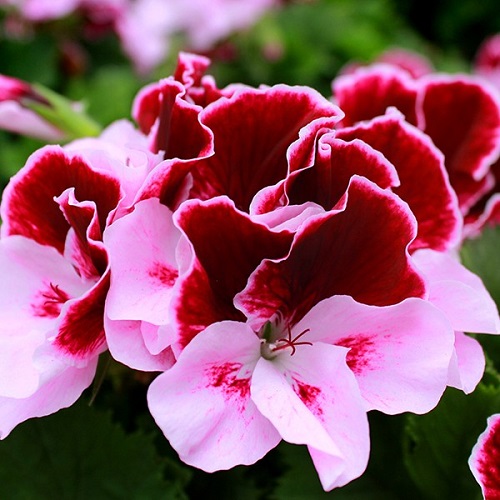 Happy Mothers Day Weekend, Gardeners and Friends of Gardeners! What better way to commemorate mothers than with a geranium (well, pelargonium) named for Martha Washington? These plants were creations of both nature and human beings. Hybrids with extravagant flowers not found in nature. Outside of certain favored climates, Mom shouldn't be expected to try to nurse the plant along for another season. It's a spring bloomer. It's a thing of beauty for Mothers Day!
This week, I have come across some information to remind me that gardening and farming, like motherhood, are a lot of work. A LOT of work. They are connected with maintaining our civilization. Sometimes we work to provide a place for a garden, sometimes to grow food, and sometimes we battle not-so-friendly nature. But there are rewards, too. Hope you enjoy some of those rewards along the way. Starting with a sense of accomplishment.
Aggressive Natives in the East
The fight for civilization in the garden and environs continues -- against Smilax in this case. Some species have both nasty thorns and tendrils for climbing. The struggle is real.
Today I pulled at least 200' out of a grove of trees. It cut and bloodied me a few times, but on the last (huge) bundle, I found myself trash talking: "How do ya like me now?!"
They sound like formidable plants. From Florida:
Smilax (Greenbrier) has the most vigorous growth habit of all vines, with dead as well as live stems sometimes forming impenetrable entanglements. Climbing is by tendrils. Preferred habitat is moist to wet places, pond margins, pinelands and swampy areas. . . .
Several species are described. Here is S. laurifolia with mature berries: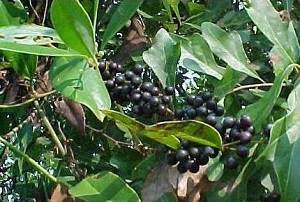 These aggressive plants are native East of the Rockies, but I guess there is one species in California, too. I saw a report of a thornless one in Texas, also. Smilax is edible, at least. Cook the tips like asparagus or green beans. The Jamaican species is used to make Sarsaparilla. The genus name comes from a nymph turned into a plant in one of those Greek God melodramas. Her human lover was turned into the Saffron Crocus. Doesn't seem like a good match: a little crocus that blooms in the fall vs. a massive, ultra-aggressive thorny climbing bush or vine.
Don't confuse Smilax with Smilax Asparagus, which we have discussed earlier (don't comment on old threads). In mild-winter climates, it is an extremely tough plant and can be hard to control. It can grow to 20 feet in some conditions, but it is not thorny like real Smilax. Often seen around old homes in the South. Sprays of leaves are used for table decorations. Grows in Tucson, but dies back in the summer. "Baby Smilax" may be a good choice for beginning gardeners if they are not in an area where the plant will spread by itself. Good in containers, can be used as a houseplant.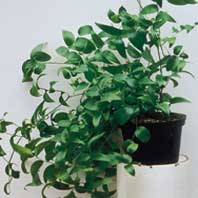 Speaking of asparagus, the one above is not edible. But as noted above, young Smilax shoots and roots are edible. The shoots are cooked like asparagus or green beans. If you have not planted green beans yet and live in a climate with a relatively moderate summer climate, consider the gold standard, Fortex Pole Bean. It can be eaten as a filet bean when young and as a Blue Lake type when a little bigger. If you live in a more challenging climate or if you plan to can or freeze, we can discuss your choices in the comments. We will be going over green beans, one of the delights of gardening, soon. If all goes as planned. Here's a row of Fortex plants coming up between corn and bush beans. Nice photos at the link.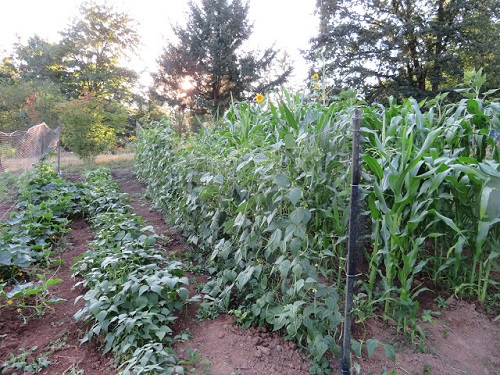 But it will be a while before most gardeners can serve fresh green beans from the garden. In the meantime, maybe you could make Mom some honey-roasted carrots from the garden for Mothers Day. Instead of Smilax roots:
Hank Curmudgeon sent along a recipe for
confiture de crameillotte
(dandelion flower jelly) to go with those sweet carrots, maybe.
Use the yellow parts only of those Mothers Day dandelion bouquets.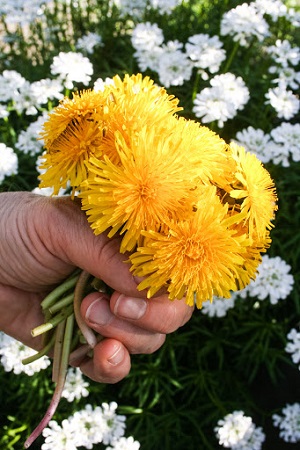 Aggressive Invader in the West
Dandelions were an early invader into the USA. But here is another that sounds worse. The seedpods of Myrtle Spurge explode in May, and "propel seeds up to 15 feet". Plus, the seeds are spread by birds, even though the plant is toxic. My cousin says you can hear the seedpods pop.
Imagine a lovely evergreen ornamental plant that flourishes with little watering even in the driest and poorest soils, spreads with no care and repels deer.

Perfect for gardens in Utah and other arid Southwestern states? That's what the Royal Horticultural Society opined when it gave myrtle spurge an Award of Garden Merit several years ago.

But what was once billed as a "waterwise" perennial by Utah nurseries has proven to be an eco-nightmare after the plant escaped residential yards and spread into the Wasatch foothills, where it is forming thick monocultures that crowd out native plants, destabilize soils and undermine biodiversity.
San Marcos Growers has a nice summary on the positive and negative characteristics of this plant.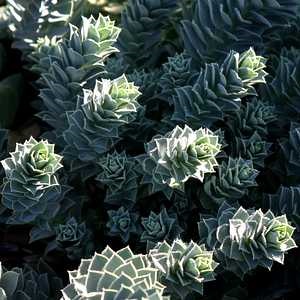 And the Missouri Botanical Gardens still has a monograph on the plant. Here it is in bloom: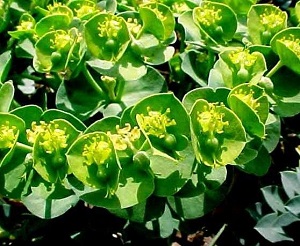 The University of Wisconsin Master Gardener Program does not seem overly concerned about the invasiveness of this plant in the East. Though they recommend cutting out the stalks that bloom before they set seed (during their second year). It's related to Poinsettias and some weird plants with names like Firestick, Crown of Thorns and Euphorbia horrida
It is also related to a plant sold not long ago as a gopher and mole repellent, Gopher Spurge, Gopher Purge, or Mole Plant. Good luck locating it on top of gopher runs. I bought seeds once back during the anti-gopher promotions, and got a few plants that didn't last long. They can get two or three feet high, but this young plant is more representative of the ones I got in my yard. It can apparently become invasive in some circumstances, but not like its cousin above.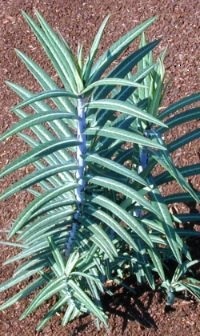 It is also known as Caper Spurge because the flower buds resemble capers. Don't try eating them, though. The silvery buds open to attractive little green to yellow flowers.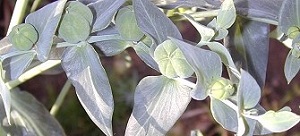 For comparison, here are some real caper buds and blossoms. The smallest buds are the most valuable for turning into edible capers. Caper bushes prefer climates similar to those where olives do well.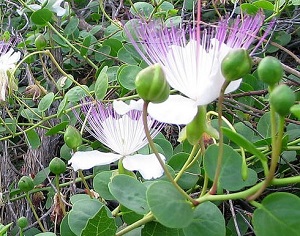 Gopher Spurge is sometimes sold as an annual or biennial ornamental in the desert. And, as a curiosity, even in Washington State. Please don't get the latex in your eye.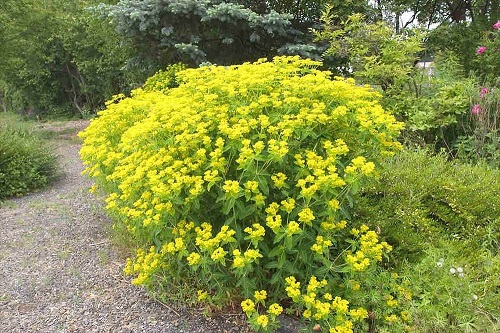 A REAL Caper
Since we brought up capers above, we might as well discuss the ones that are not poisonous. There's a helpful entry on growing and brining capers on the blog of the Huntington Library, Art Collections and Botanical Gardens. The half-acre herb garden, is seen below: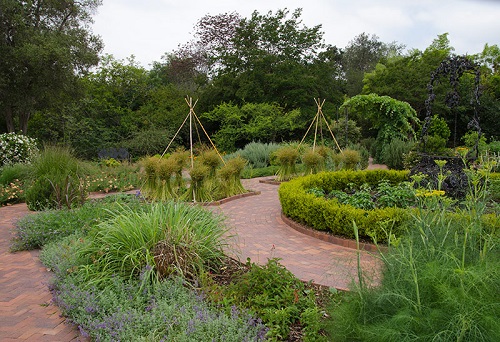 The author describes some of her favorite herbs for summer before getting into the culture of caper bushes. She notes that they can double as ornamentals. An intern collected and brined some of the buds:
Hitz collected a bag full of plump buds and took them home to brine, promising to report back on how they turned out. A week later the results were in: "Delicious!" she pronounced. To celebrate her first successful caper brining, Hitz served them up to friends, not in a saute, sauce, or salad, but in icy gin cocktails garnished with some lemon peel and coriander seeds from the brine.
There's a recipe. Has anybody ever grown or brined capers? Ever wanted to?

This piece included a couple of bits of information I didn't know:
1. Some cultivars of Capparis spinosa are not spiny.
2. The fruits (caper berries) are also edible.
Below, Caper plants growing on the castle walls in the Balearic Island of Spain and fresh caper berries, ready for preserving.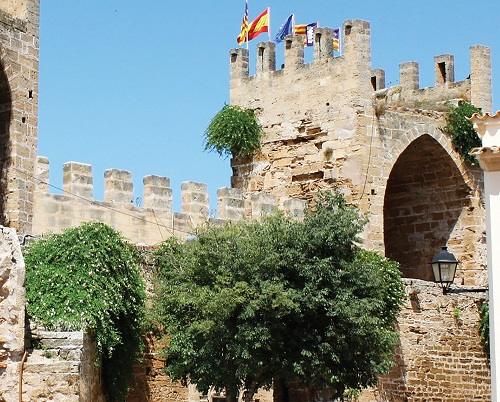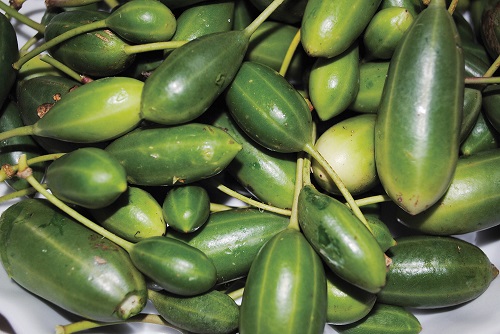 A fan of both capers and caper berries provides some culinary and bartender's tips.
Tough plants in the right climate. Here are caper plants growing from the women's section of the Western Wall in Jerusalem.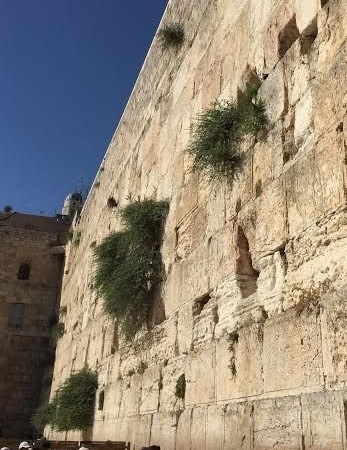 You may also recall the recipe for making
poor man's capers
from immature Nasturtium seed pods, from a post earlier this year. (Don't comment on old threads). I think I might prefer them to real capers. And if you're outside the climate range for capers, they may be a
nice alternative.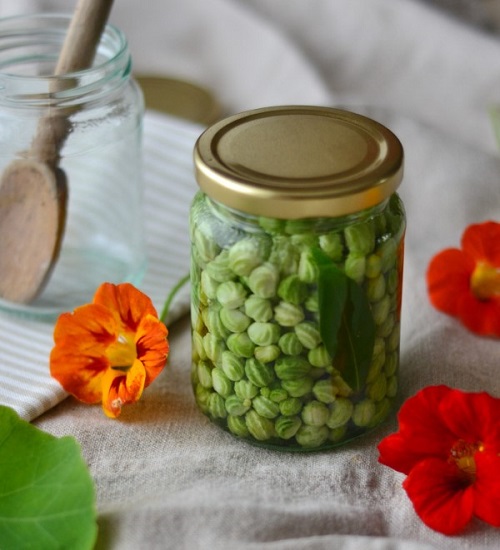 Gardens of The Horde
Bonecrusher sent in a photo of a mystery plant. Maybe we can identify it. I think it is in the mint family. But is it a Mentha? Salvia? Scutellaria? Agastache? Perovskia? Or something else?
My wife thought these were weeds when the sprang up from seeds dropped from mother plants last year. It smells like mint. This is the first flower following the winter die off. It has spread a lot. I haven't noticed any hummingbirds this year or last, but I saw bees on it last year.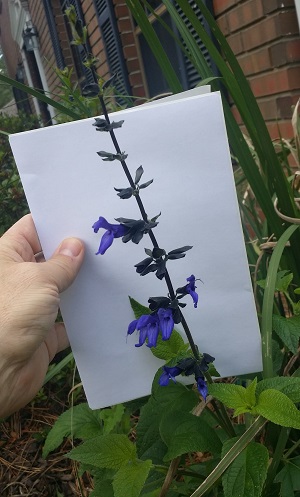 We're also gonna try Bonecrusher's photos from last week again. See if we can do 'em right:
My first 4 o clock of the season. The lazy sob never shows up till close to 6.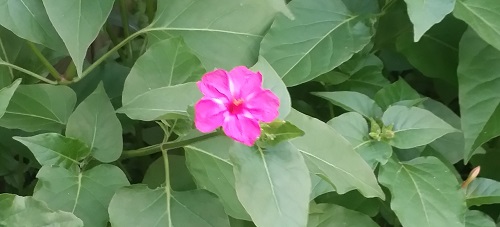 And it looks like his Mandevilla is waking up, too. Should look gorgeous when it fills in that arch.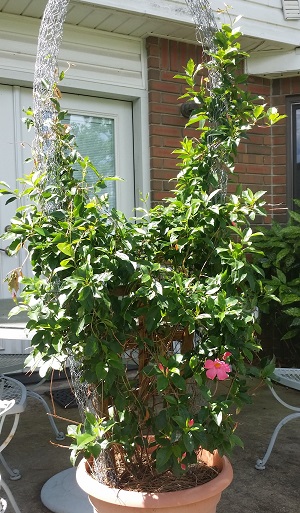 After his difficult experiences last week, Weasel has acquired a new lawnmower for WeaselAcres. Wow! Just a lawnmower?
I'm getting bull horns for the front.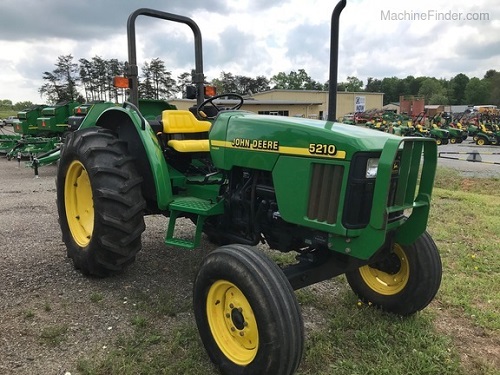 Here in the Central Valley, I got to see and hear part of a mockingbird pole dance kind of like this, but with two birds and more wing display:
And here's a photo of a happy baby, with flowers, for Mothers Day. Hope yours is nice.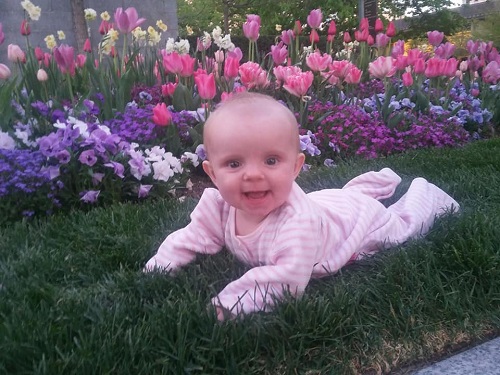 If you would like to send information and/or photos for the Saturday Gardening Thread, the address is:
ktinthegarden
at g mail dot com
Include your nic unless you want to be a lurker.

posted by Open Blogger at
12:47 PM
|
Access Comments