« Thread before the Gardening Thread: State of Unreality [KT]
|
Main
|
Ace of Spades Pet Thread »
January 20, 2018
Saturday Gardening Thread: Pickle-O [KT]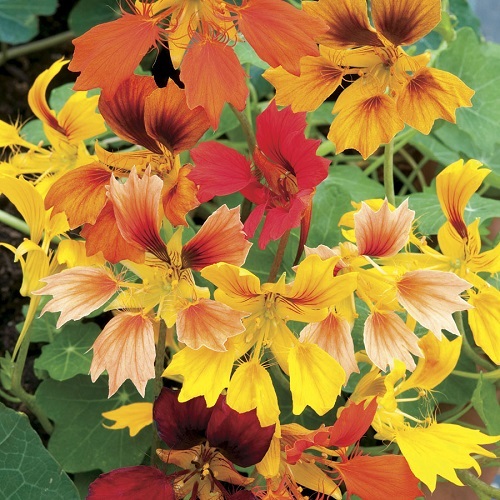 Phoenix Nasturtium
Happy winter Saturday, gardeners! Doing some garden planning? You probably knew that you could eat nasturtium flowers and young leaves. But did you know that you could pickle green nasturtium seed pods to make Poor Man's Capers (or California Capers)?
If you didn't check back on last week's thread on Sunday, Pat* had an interesting summary from Idaho, as usual. Hyacynths showing some green already! Anyway, she and her husband are looking for a pickling cucumber they can also use for salads. Have you got a favorite?

Cucumbers for Pickling
I have grown Cool Breeze in the past as an early cuke. It is a very bumpy gherkin type, early, bitter-free and all-female. Doesn't make it later in the heat here. Seems to have been dropped by many catalogs. Homemade Pickles and County Fair are others to try. More American in style. Preppers may want to try Wautoma, an open-pollinated, bitter-free variety with multiple disease resistance.
Cucumbers for pickling: They're not all alike:
Whenever I start talking about cucumber varieties, people give me that look that says, You are weirder than I ever imagined.

Why isn't cucumber breeding a more compelling subject? A gardener can introduce every tree and shrub in the yard in mock Latin, and nobody blinks. Ordinary people talk about rose breeders by name. But what vegetable gardener hasn't suffered with disease-ridden cucumbers, bitter cucumbers, cucumbers that blow up like balloons before they reach four inches long? What cuke grower hasn't felt frustrated by inaccurate catalog descriptions and a single photo standing in for several varieties? Why don't we dirt-scratching picklers compare notes more often?
As far as I can tell, the things that make a good pickling cucumber include tight seed cavities, firm flesh prone to producing crispy pickles and youth. Pick them young. There are other criteria for commercial varieties, I think.
Here's a good summary on how to grow pickling cucumbers. Covering with floating row cover until time for pollination (for varieties needing pollination) protects from insects. Cucumber beetles, which spread bacterial wilt, are mostly a problem in the East. A big problem. Some cucumbers with less of the bitter cucumber compounds are less attractive to the beetles, but more attractive to other insects. Can't win.
I have found that you can use slicing cucumbers for refrigerator pickles. Here's a brief summary on some types of cucumbers
Some good choices for picklers are recommended by a dedicated canner.
Just to confuse things, there's a cucumber relative called the
West Indian Gherkin that was grown by Thomas Jefferson at Monticello.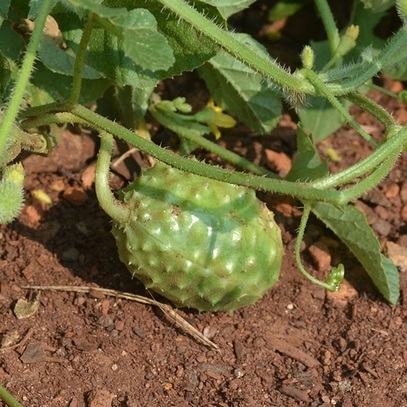 There's also a Mexican Sour Gherkin. Not closely related to cucumbers.
AKA "Barbie Watermelon". Growing instructions here. A good plant for neglected gardens. Not so good for pickling.
Winter means sex for filberts
Kindltot has an eye for detail. He sends in the following sexy filbert photo:
Winter is here, and the one thing that happens in January is that the filberts put out their catkins, but most people don't realize these are just the male flowers, there are female flowers too: they are tiny little scarlet flowers on the fat buds.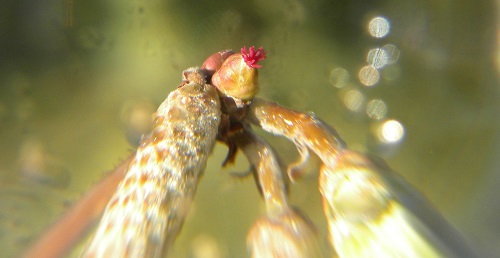 Grape Pruning
It's grape pruning time here in the San Joaquin Valley. If you need to know more about cane vs. spur pruning and such, we can do a segment sometime. A while ago, CaliGirl, who is closer to the coast, sent in the following, our Big Machine of the Week:
I saw this today in a big wine grower's ranch. Those arms on the machine spins. They cut the vines back so when they go through to prune there's not as much to hand prune.

My husband tells me some growers have tried to just use those machines for pruning but it makes the yields lower.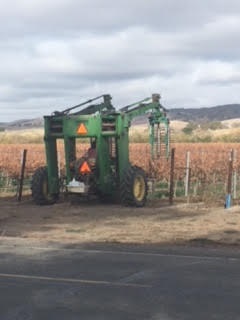 Winter Cheer
Here's one of the lovely photos from Hawaii that Slowflight 17 (not JQ) sent to cheer us up during winter. Recognize the flower?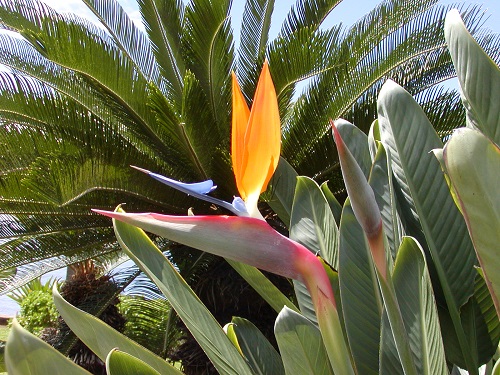 Gardens of The Horde
It rained again here in the San Joaquin Valley. Yay!
Anything happening where you garden?
If you would like to send information and/or photos for the Saturday Gardening Thread, the address is:
ktinthegarden
at g mail dot com
Got any bulbs coming up?
Include your nic unless you want to be a lurker.


posted by Open Blogger at
12:46 PM
|
Access Comments