« Weird News Dump
|
Main
|
Saturday Gardening Thread: Civilization and Mothers Day [KT] »
May 12, 2018
Thread before the Gardening Thread: Marx, Marx, Marx [KT]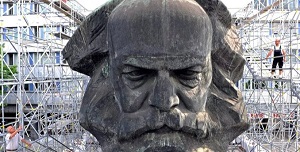 Serving your mid-day open thread needs
Sorry, but I'm still having a hard time getting over the praise and birthday wishes heaped on Karl Marx recently. I think Iowahawk is spot on. PT Barnum was right.
Via David Thompson, a couple of ideas that struck me:
If your ideas require impossible standards of purity in implementation in order to work, then maybe your ideas are not as great as you think they are. A good idea will still work out okay even in a distorted and poorly implemented version. That, arguably, is a big part of what makes a good idea good... Political and economic theories are never implemented in pure form, and their adherents are rarely impressed by politicians who claim to be inspired by them. That's just par for the course. Marxists, however, are pretty much the only thinkers who accept no responsibility whatsoever for real-world approximations of their ideas.
And from the late Leszek Kolakoyski on "Marx's knack for being wrong":
What in the twentieth century perhaps comes closest to the working class revolution [predicted by Marx] were the events in Poland of 1980-81: the revolutionary movement of industrial workers (very strongly supported by the intelligentsia) against the exploiters, that is to say, the state. And this solitary example of a working class revolution (if even this may be counted) was directed against a socialist state, and carried out under the sign of the cross, with the blessing of the Pope.
What do you think?
Doing anything interesting on the day before Mothers Day?

posted by Open Blogger at
11:28 AM
|
Access Comments