« The Regulatory Leviathan [CBD]
|
Main
|
A Mostly Peaceful Shooting Spree [CBD] »
February 14, 2015
Saturday Gardening Thread: Beauty and the Beast [Y-not, KT, Weirddave]
Happy Valentine's Day!
In honor of Valentine's Day, the theme for today's edition of the Saturday Gardening Thread is "Beauty and the Beast."
Here's the Beauty, courtesy of KT:
Growing Love in the Garden
Every year, just before Valentines Day, we see articles about the purported aphrodisiacal properties of certain foods. We can grow many of these foods ourselves. The first spears of asparagus are starting to poke their heads up in my garden, so asparagus is the one I am writing about today.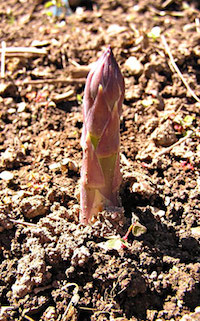 Asparagus Emerging
There does not actually seem to be much clear-cut evidence that the ancients considered asparagus to be an aphrodisiac before the Middle Ages. There is plenty of evidence that the ancient Romans loved asparagus, even if they didn't put it on pizza. A special fleet just to carry asparagus indicates devotion, don't you think? Not to mention carrying it to the high alps to freeze it for the feast of Epicurus.
Many of us remain devoted to asparagus today even though it is a vegetable. I found a recipe that sounds pretty much Full Moron: Valentine's Asparagus with Pecans. Ingredients not mentioned in the name: bacon, butter, lots of garlic, and shallots. Quite a contrast to a delicate Cream of Asparagus Soup. Of course, I am not suggesting that Morons cannot enjoy a good asparagus soup, even if it seems pretty healthy. Especially if it turns out to be an aphrodisiac.
We will be looking for your Valentines Day asparagus cooking (or eating) reviews when CBD's AoSHQ Food Thread is posted on Sunday. Your comments there could help many in The Horde prepare for the weeks ahead when really fresh, local asparagus is available.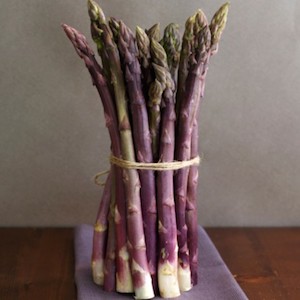 Purple Passion Asparagus, anyone?
Asparagus is one of those crops for which "fresh picked" makes a big difference in quality. The asparagus growing wild (or at least feral) on the ditch banks in my grandparents' apple orchard intrigued me when I was a child. But nowadays, if you are not into Stalking the Wild Asparagus, you may need to grow your own if you want the freshest asparagus possible.
One of the most informative sites I found on growing and harvesting asparagus is the UC Davis information page for small-scale farmers. It appears that much of the information originally came from Ohio State University*. Some things I did not know about asparagus:
1. Fiber development (toughness) of the spear is related to the tightness of the spear tip. The tighter the tip, the more tender the spear is. Spear diameter has no bearing on toughness.
2. Asparagus, native of temperate regions, succeeds best where either low temperatures or drought stops plant growth for a "rest." Asparagus should not be considered for commercial production where warm conditions result in the plant's growth all year.
I guess if you live where drought is the best method for "resting" plants, you should maybe check locally to find out how to do it.
The UC Davis page above also includes a concise rundown of older standard asparagus varieties for cold and warm-winter climates, including disease resistance, etc. As with many veggies, picking a cultivar suited to your area can be crucial to success.
The purple asparagus cultivars may not have been around when this page was originally written, and I haven't seen as much cultural information on them. They are described as sweeter than the green cultivars, with more tenderness.
I sometimes hear conflicting statements about male or female plants producing thick or thin asparagus stalks, respectively. It looks to me like the main advantage of all-male or mostly-male cultivars is that they produce more stalks - because they don't have to put energy into making berries. The thickness of the stalks seems to depend mostly on the age and condition of the plants and the time within asparagus season when you are harvesting.
There is also a section in the UC Davis small farmer page describing an easier way to grow the European delicacy known as White Asparagus. "Unlike its green-skinned counterpart, white asparagus has a tough, bitter peel that must be removed before cooking."
The only ways I have personally encountered white asparagus are canned and/or as a garnish on fancy little open-faced European sandwiches. Seemed over-rated to me, considering how labor-intensive it is. If you have had better experiences with white asparagus, let us know.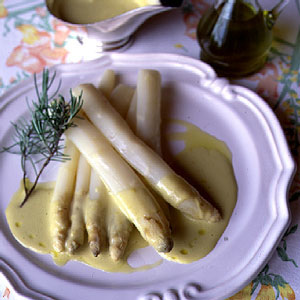 White Asparagus Sabayon
One thing that I DO know about growing asparagus is that your planting area should be free of perennial weeds before you plant. Particularly Bermuda grass and bindweed. You can plant asparagus either as seeds or crowns (usually a year old).
UC Davis also has an asparagus information sheet for home gardeners in California. Similar resources are available from other agricultural colleges and extension agencies. Burpee has additional, detailed growing information for home gardeners. One unusual feature of asparagus is its salt tolerance, which has led some gardeners to control weeds with salt. Not a good idea where I live. The soil is already salty enough here.
Here are a couple of ideas for those in The Horde who already have large, established beds of asparagus. I have only read about these. I cannot vouch for them personally:
1. In cold-winter climates, put a thick, insulating mulch over a section of your asparagus bed after the ground has become cold from winter weather. Uncover it a few weeks after you remove any winter insulation from the main part of your asparagus bed, to lengthen the asparagus season.
2. Allow the first stalks of asparagus in a section of your bed to "go to feather" rather than harvesting them. Fertilize. In late summer, cut the plants in that section back to the ground for a short season of fall asparagus.
False Fronds
There are many, many species of asparagus in addition to the edible kind. Some of them are tougher than they look. Asparagus asparagoides is known as Bridal-veil Creeper or Smilax Asparagus. No spines. Often seen around old homes. The 2007 edition of the Sunset Western Garden Book says about it, "Roots are nearly immortal, surviving long drought and sprouting when it rains. Cut foliage sprays are prized for table decorations."
Stems can grow to 10 feet. It grows outdoors in warm-winter areas including Tucson, but it dies back in summer there. Can become a pest. There is also a "Baby Smilax", which has finer leaves and is more manageable.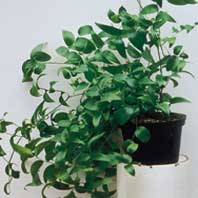 Asparagus asparagoides
The "leaves" or "needles" on fern-like asparagus plants are actually "cladodes" - specialized stems. And of course, no member of the genus is a true fern. The two most common ornamental asparagus ferns are A. aethiopicus and A. setaceus.
Asparagus aethiopicus is available in two main types. Meyers Asparagus (foxtail fern) has upright, 2-foot stems. Sprenger Asparagus has lax stems with curved spines. The species can climb to 40 feet in its native area (10 feet in gardens). Berries are toxic and the plants can cause contact dermatitis. Makes me wonder why people would want them around. Plants and berries are also toxic to cats and dogs.

Asparagus Aethiopicus
Asparagus Setaceus (Common Asparagus Fern, Lace Fern, Climbing Asparagus) is the lacy kind you often see in Valentines Day bouquets.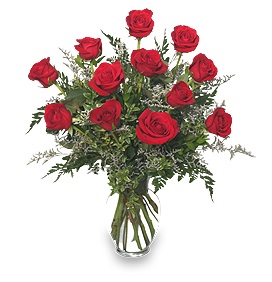 The species can climb 10 - 20 feet. Its berries are toxic, but I have never seen one on a plant. I had a dwarf cultivar outdoors when I lived in Southern California. Not as dwarf as the plant below.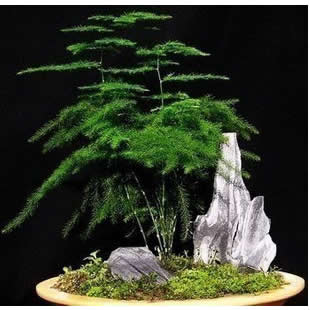 Asparagus setaceus, grown from seed, in a mini balcony bonsai
Valentines Day Miscellany
Hearts and Flowers – inspirational images for ornamental gardeners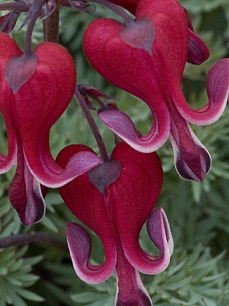 Dicentra "Burning Hearts"
For romantics with room for only one easy houseplant: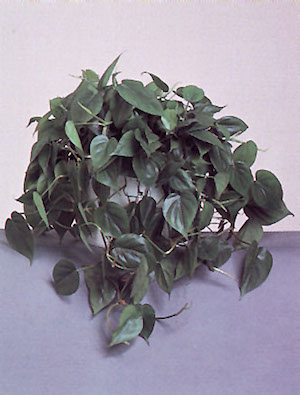 Heart Leaf Philodendron - The Sweetheart Plant
Note to Mr. and Mrs. JTB:
The Monarch butterflies will mostly be gone from their California wintering grounds, such as this one near Pismo Beach, by the end of February.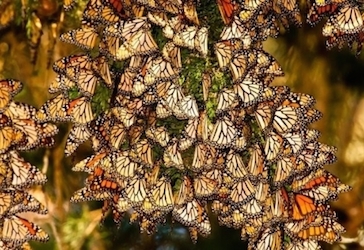 Don't know when the Monarchs leave Mexico for the Eastern US, but you might want to plant some tropical milkweed as an annual. It is one of the most attractive to Monarchs. Aphids, too. But you can't have everything.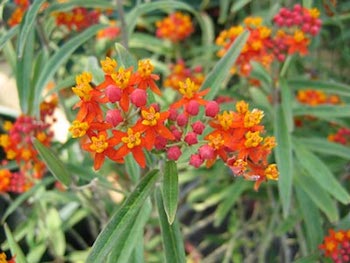 *Link added by Y-not for SEC fans. You're welcome!

Y-not: And here's the Beast...
If you've ever noticed a strange, not-entirely-pleasant scent coming from your urine after you eat asparagus, you're definitely not alone.

Distinguished thinkers as varied as Scottish mathematician and physician John Arbuthnot (who wrote in a 1731 book that "asparagus…affects the urine with a foetid smell") and Marcel Proust (who wrote how the vegetable "transforms my chamber-pot into a flask of perfume") have commented on the phenomenon.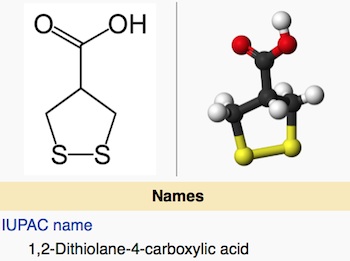 Asparagusic acid, not champagne
As it turns out, not everyone is afflicted by "asparagus pee":
The most recent study, from 2010, found that differences existed between individuals in both the production and detection of the scent.

Overall, scientists now conclude that most of the difference is in perception -- that is, if your urine doesn't seem to smell any differently after you eat asparagus, it's likely that you simply can't perceive the sulfurous compounds' foul odor, but there's a small chance it's because your body digests asparagus in a way that reduces the concentration of these chemicals in your urine.

It's still unclear why some people don't produce the smell, but we do seem to have a clear explanation of why some people don't perceive it. In 2010, the genetic sequencing company 23andMe conducted a study in which they asked nearly 10,000 customers if they noticed any scent in their urine after eating asparagus, and looked for genetic similarities among those who couldn't. This peculiarity -- which you might consider useful if you eat asparagus frequently -- appears to stem from a single genetic mutation, a switched base-pair among a cluster of 50 different genes that code for olfactory receptors.
How about a poll?
I can't wait to see how many of you are mutants!
Next week: the hair-raising story of the first time Mr. Y-not ate freshly roasted red beets and his pee turned pink.
What, TMI?!
Hot boxes - Weirddave
Hard as it is to believe, it's now mid February. I thought that I might build a hot box this week and put some starter seeds in it to get a jump on the growing season. I haven't done this before, so I figured I'd Bing "Hot Boxes". Let's see this looks interesting, but the girl in the thumbnail sure isn't dressed for gardening......
*Ahem* WTF. where did that last hour to, and when did my pants shrink? Let me try this again. I better try another term. How about "hot frame"? Ahh, here are some plans:
http://www.diynetwork.com/how-to/how-to-build-a-hot-frame/index.html
That's pretty basic. One drawback seems to be that you'll have to dig up the seedlings for replanting, and I'm not sure of what spacing you should use between plants. Still, for those without access to hand or power tools or without the aptitude to use said tools, this should be just the ticket, all you really need is a shovel. This type of hot frame is also neat because it uses the natural heat from decomposing manure as a primary source of warmth. I like this idea, and wish it could be used in other application. My wife is allergic to dogs, so the first year we were married my beautiful lab Raven had to go live outside. I built him a doghouse and heated it with a hot pad in his bedding. He didn't seem to mind, but I always felt guilty, the next year I sent him south to live out his years with my mother in Florida. I couldn't have used manure in his doghouse, he would have dug it up and spent the night rolling in it, but it is an elegant solution.
I have a whole garage full of power tools and I haven't cut any appendages off lately, maybe I could build something. Lets see what else is out there.
http://www.vegetablegardener.com/item/2504/cold-frame-gardening/page/all
This seems to be the most common application. My problem is that I don't have much space, and what I do have isn't exposed in the right direction. I really enjoy the wooded nature of my property, but the shade really works against my gardening. Even my summer garden doesn't get proper sun. I may need to cut some trees this year. Here are a couple more links on hot/cold frames:
http://m.almanac.com/content/cold-frames-gardening
This one is very thorough, it's damn near the last word on the subject.
http://www.savvygardener.com/Features/cold_frames-hotbeds.html
The temp today is in the single digits, but it's almost time to plant.

To close things up, how about something heartwarming?
'Thought I was joking, huh?

What's happening in YOUR gardens this week?

posted by Open Blogger at
01:30 PM
|
Access Comments