« Saturday Gardening Thread: Civilization and Mothers Day [KT]
|
Main
|
Chess Thread 05-12-2018 »
May 12, 2018
Ace of Spades Pet Thread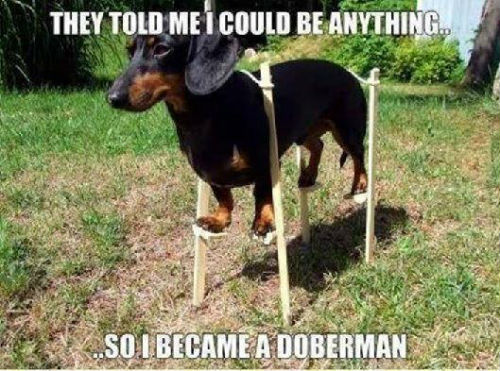 (The power of positive thinking!)
***

Good afternoon Horde. Welcome to the almost world famous Ace of Spades Pet Thread. Kick back for a while and enjoy the world of pets.
***
A Little of This. A Little of That.
Hey, OM, could you please forward this video to Mis Hum for the Pet Thread. I don't frequent it, nor do I have a pet, but I came across it and thought the 'rons and 'ettes would like it. Thanks!

SandyCheeks

Thanks Sandy for sending this to OregonMuse.
***
The Tower of London, guarded by a Ravenmaster and his ravens.

One sunny afternoon in the ancient courtyard at the Tower of London, Christopher Skaife stands in full ceremonial regalia: a towering top hat and thick navy tunic, his chest emblazoned with a crown in scarlet fabric. Among the guardians of the thousand-year-old fortress of the murderous King Henry the Eighth, Skaife has a unique position: He's the official Ravenmaster, in charge of a six-bird flock kept there to fulfil their mythic role as guardians of the tower.

Exactly how Common Ravens came to occupy the fortress centuries ago isn't known for sure. But their presence is driven by a superstition powerful enough to have survived the ages. "Should the ravens leave the Tower of London, it will crumble into dust and great harm befall the kingdom," Skaife says solemnly, citing popular legend. "That's a lot of pressure.
A fun little read and a h/t to Lurker L.
***

If there is such a thing as Karma. I hope that it beats these 2 like a rented mule.

A cruel dad and son have been spared jail after one of their dogs was found whining in agony while being eaten alive by maggots.

Van Huynh, 52, and his son, Hai, 22, were banned from keeping animals for life after admitting eight neglect offences against three dogs which all had to be put down.
***
They have transformed from basement savers to shitty rescuers. One lucky dog.

Firefighters responded to a water treatment plant in Colorado to rescue a poop-covered dog spotted struggling in a sewage pond.

The Pueblo West Fire Department said in a Facebook post that workers estimated the dog had been stranded in the aeration pond for about 90 minutes before they heard her barking for help.
***

Different strokes for different folks.

Woman Rescues Wingless Queen Bee; Builds Her a Tiny Garden to Live Out Final Days

Last Spring, Fiona Presly was gardening outside her home in Scotland when she noticed a queen bumblebee at her feet. She quickly sensed that something wasn't right as the bee seemed shaky and disoriented.

Afraid she might get stepped on, Fiona bent down and noticed the queen bee had no wings, she tells The Dodo.
Hope she doesn't fall in love with a disabled mosquito.
***
Meet The PetMorons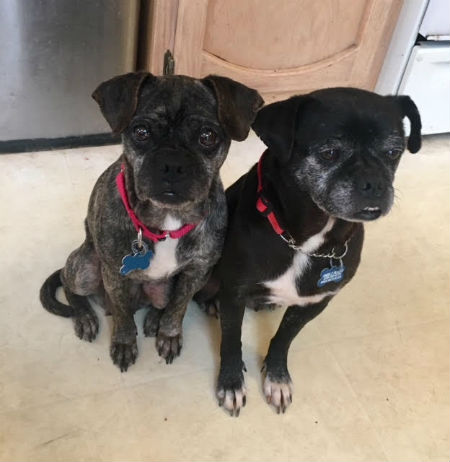 I foster dogs and cats for an Atlanta area rescue. I'm pretty good at asking the mister before agreeing to foster, but I have carte blanche to foster Pugs without requesting permission. These two were Puggy enough to satisfy the Pug rule (I'm a rule-breaker anyway). Meet Palani and Pernelle. Forgive the names, our database is name driven and we long-ago ran out of normal names.

(I'm a lurker, but the few times I've commented I think I'm "Leicester's mom". He wasn't late, great soul dog. -Leicester's Mom
Thanks Leicester's Mom for the photo and the great work you do. If I were to ever foster I'm afraid that I would never them go.
***

Do you have a pet which wants to be on the AoS Pet Thread? Do you have a cute pet story or a funny animal video? You can send these to petmorons at gmail dot com
Have a great week!

posted by Misanthropic Humanitarian at
02:54 PM
|
Access Comments