ę Thread below the Gardening Thread [KT]
|
Main
|
Ace of Spades Pet Thread [Misanthropic Humanitarian] Ľ
May 21, 2016
Saturday Gardening Thread: Rise and Shine! [Y-not and KT}
Y-not: Greetings, gardening morons and moronettes!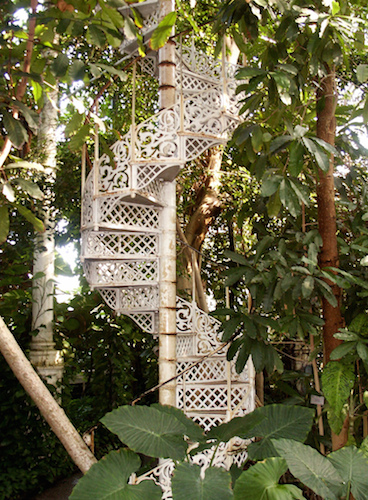 Stairway to Heaven? at the Copenhagen Botanical Gardens
Today's theme is Rise and Shine. There will be more rising (in the form of KT's ladders) than shining at Casa Y-not today as we're experiencing yet another Spring storm. I though April showers brought May flowers, but not here in Kentucky!
Looking at these cumulative rainfall maps at AgWeb, I guess I shouldn't complain too much. Looks like Texas and Florida have really been getting hit!
In any event, the storms have done a number on my sinuses, so my contribution will be quick hits and links from my bookmarks file:

Oh Deer!
A couple of weeks ago the subject of invasive species came up (in the context of burning bushes). Here's a report on the effect that deer populations have on invasive plants' competition with native species:
Clearly deer are shifting the composition of plant species in eastern forests, from distributing seeds that cling to their fur and pass through their digestive systems, to selectively browsing on certain native plants rather than exotic species, the study co-authors write.

Deer also exert significant influence on the structure of the forest, reducing the understory which allows more sunlight to reach the forest floor. After 25 years of relief from grazing deer, seedling height was on average 2.25-times greater in the fenced plot than in the unfenced plot. In addition, four times more tree saplings were found inside the fenced plot.

The changes deer bring to the forest often favor non-native plants, but also have cascading effects on an ecosystem whether or not invasive species are present. In fact, the researchers had originally set out to study the influence of white-tailed deer on birds and small mammals, not on invasive plants.
Might be time for a Gun Thread focusing on the best firearms for deer hunting.
Spring Across the Pond
I've been enjoying noting which of the politicians and writers I follow are interested in plants and gardens. A few weeks ago, I shared a tweet from Justin Amash. This week it's Daniel Hannan. Follow the Twitter thread to see pictures from his weekly "garden" report:
A Garden Fit for a Fairy
Also via my Twitter feed, this is adorable:
Have any of you gotten into the Fairy Garden craze?
Take It Easy
I'm always on the lookout for ways to make my garden beautiful and easier to maintain. Here are some ideas from Country Living. One recommendation they make is to plant lavender near patios because it acts as a bug repellant.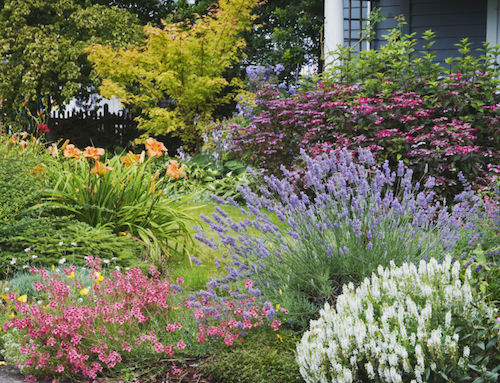 I've never heard that, but apparently lavender repels mosquitoes. I can say that they are most definitely a bee attractant, something I learned during my years out West when walking my dogs along lavender-lined pathways. My advice is to keep lavender a foot or so back from high traffic areas.
The Benefits of Being Selective
Here's a fascinating link about selective breeding in horticulture that I saw on Glenn Beck's Twitter feed a couple of weeks ago:
Inspired by the recent Peach info graphic, I set out to find the least natural fruit in existence, and decided it was probably the modern watermelon. Take a look below: which one would you rather eat?

The watermelon, delicious as it is, has increased from 50 mm to 660 mm in diameter, which represents a 1680-fold increase in volume. While ancient "wild watermelons" weighed no more than 80 grams, modern watermelons can range from 2 kg to 8 kg in the supermarket, while the Guiness World Record for the heaviest watermelon recorded exceeded 121 kilograms in the year 2000. Thousands of years of human-induced evolution have worked miracles on these fruits. Let's not forget that they're completely artificial.
I really hate this current trend on the Left of vilifying any human activity as negative. Human activity has been a net positive.
Speaking of positive humans, heeeere's KT:
Hello, Horde. Any news from the yard or garden? Our little Plumcot, introduced by Luther Burbank, has been ripening. It's an unusual fruit tree. Very pretty bark, leaves and blossoms. It is rather slow-growing, and it was slow to start bearing (compared to a Japanese plum or apricot). The fruits are kind of on the mushy side, and most years the flavor is kind of bland. If you catch them just right, though, they have a perfumed flavor, with both some sweetness and a little acid. This year they have been better than usual. Maybe I should restrict water near harvest every year.
LADDERS
I started thinking about ladders this week while caring for the dogs of a hospitalized friend. His mobility has been limited for a while, and his fruit trees are way too tall for him to care for. Way too tall and over-grown for anyone to care for, really. Some heavy equipment including a cherry picker might help. There's a reason cherry pickers are called cherry-pickers. This would be way too expensive for our friend's trees, though. Mr. Bar-the-Door is over there now with a chain saw, cutting out dead undergrowth and live suckers. It's a start.
I am an advocate of keeping most deciduous fruit trees in the home garden short enough to care for from ground level, or sometimes with a little step ladder. We don't always succeed, but we make an effort.
Perhaps those persimmon, pomegranate and apple trees at our friend's house can be brought back to a reasonable size, too. There are instructions out there for taming the big old tree.
Orchard Ladders
Really tall orchard ladders used to be very common in the commercial fruit orchards of the San Joaquin Valley. The tall fruit trees of yore were pruned regularly, and many were majestic plants of great beauty. They took a lot of work to maintain.
The trees in some commercial citrus orchards in the nearby foothills are still fairly tall despite dwarfing root stocks, but most commercial stone fruit trees in the Valley are pretty short now. Ditto apples and pears, though they are less common here. Trees are planted much closer together than in the old days. Many stone fruit trees are now topped straight across the top by saws traveling down rows on a specialized equipment.
Orchard Ladder Alternative
When trees are pruned short with an apparatus like the one above, a lot of hand-pruning, thinning and harvesting can be done from the ground. Trees can be sprayed by an operator in a closed cab. This year, I have seen several huge orchards in which long rows of stone fruit trees are covered with a filmy gossamer-like netting. I don't know if it is for protection from insects, sunburn, hail, birds or something else. But the sight is impressive. Must take some fancy equipment to cover the rows. Many of these orchards are made up of really short trees - considerably shorter the apple trees in the photo above.
But back to trees in the home garden. A relatively short orchard ladder can still make sense for landscaping today. The most common kind of orchard ladder has only three legs. The tripod design increases the stability of the ladder, and the top is narrower, making it easier to place among trees. Here is a contemporary example.
All about orchard ladders
From a site about Japanese Gardening, how to build your own tripod ladder.
Do you have a favorite style of ladder?
The Farming Ladder
Interesting title for a book. I ran across a very enthusiastic combination book review/blog post by a guy who inherited some farm land and decided to improve it. "This is a fascinating and life-changing book! I have said that before about other books. . . " This post includes musing on how to read books of value. Speaking of musings, don't miss Oregon Muse's highly-acclaimed Sunday Morning Book Thread tomorrow. Clarity is a great thing.
The kitten is "just for clicks"
This blogger also has a nice post from April about the magic of planting trees.
I'm sure there are other things you can do to build inter-generational memories but trees put down roots. There is a giant burr oak tree in my pasture that my grandpa Chism said was always big. Roots. Ties to previous generations.

What is that worth?

Where are you planting your trees? You donít need a farm. You just have to stay put for a while.
Looks like some of those trees he values still require ladders. Harvesting fruit from those ladders will become part of the memories. I still think that short fruit trees are a good idea for a lot of people, though.
Victor Davis Hanson has suggested that people with a working connection to land, particularly farmland, help keep a society grounded in reality. Further to Y-not's informative segment above on deer population, here's an example of what happens when the Ruling Class loses its connection to working the land:
Last week, the de Blasio administration unveiled their plans to manage Staten Island's exploding deer population by giving every single male deer a vasectomy.
Maybe it would be a good idea for them to learn something about how successful farmers think. Might be interesting for some of us, too. You can get a copy of The Farming Ladder through the AoSHQ Amazon Store. "This fascinating work is thoroughly recommended for those with an interest in the farming industry and its historical technologies and developments."
Plant Ladders
We have mentioned plant ladders more than once in our discussions of supports for tomatoes and other plants. I think that the plant ladder below is kind of different and interesting. There are also directions for a horizontal tomato trellis in a raised bed here.
horizontal plant ladder
If that one is a bit pricey for you, The Survival Sherpa has detailed directions for building your own plant ladders.
Ladders for Locusts and other grasshoppers
Big brains aren't always best?
O.K. Ladder-walking locusts succeed with small brains.
Those locust ladders have a novel design. When did a locust ever build a ladder for a scientist to climb on?
Is it just me, or do we have some headline sensationalism going on in the scientific press? I get that most insects with long feelers and small eyes use feeler-leg coordination to walk. But is anyone really bowled over to learn that insects with great big eyes and short feelers can use their eyes instead of their feelers to determine where to put their feet when landing after flight, or when walking?
Seems to me that the real news here is that the study clarifies the suitability of the locust (a big, short-horned grasshopper) as a study model for limb control. Maybe I am missing something. Any neuroscientists in the audience?
Those wee little locust ladders are interesting, but my main personal concern with all sorts of grasshoppers is keeping them from using my plants as ladders. And then as dinner. Yes, grasshoppers can be kinda cute. One at a time. But what happened near Chico last year was alarming. Grasshoppers lined up on wire fences. Covering the sides of houses. Decimating plants. I thought that this was locust behavior.
Here are some suggestions concerning grasshopper-resistant plants and biological controls. I don't think that hand-picking them and saving them for a neighbor to use as fishing lures would have worked in Chico. Besides, grasshoppers fly. In my experience they will often use visual cues to guide their tiny brains to coordinate evasive action when somebody tries to capture them. And big grasshoppers can hurt you a little when they kick.
If you still want to catch them by hand, maybe with a net, and don't have a neighbor who fishes, remember that NPR and the UN would like you to consider eating these insects. The name "Locust" comes from a word that also means "Lobster" in vulgar Latin, and there IS a Locust Lobster.
Everything's better with some garden produce.
Jacob's Ladder
Most species of Polemonium, or Jacob's Ladder, are from arctic or alpine regions. Members of The Horde in cooler climes may find this plant to be very useful in part shade to full shade. Some cultivars succeed under trees where adapted. Polemonium is reportedly deer-resistant.
There are many wild species in the USA and Canada. Some choice types are grown by enthusiasts. But garden clones are usually the easiest for the average gardener to grow. I think that the variegated ones show the ladder-like arrangement of the leaves best.
Polemonium caeruleum 'Snow and Sapphires'
Sky Pilot is pretty short for a ladder. It is unlikely that this is the Jacob's Ladder you would choose for your garden. It usually grows at 10,000 to 14,000 feet in areas with little visible soil. "The flowers are at full bloom for approximately one day apiece in the very short period of appropriate flowering conditions. The plant has a strong scent reminiscent of urine which attracts pollinators to its short-lived flowers. . . "
I am glad that a graduate student associated with the Rancho Santa Ana Botanic Garden hiked up to a "Sky Island" in the mountains to my east to take the photo below. Geology buffs may be interested in the details. Sounds like a rugged trip. He was able to confirm that Global Warming has not killed off this plant yet. Whew.
Sky Pilot

Y-not: Thanks, KT!
KT's section on Jacob's ladder prompted me to share this:
Follow this link for a "tour" of home and garden writer Kevin Lee Jacob's garden in Hudson Valley New York. You'll even spot some Jacob's ladder!
And here's an appropriate song to go along with the tour:
I kind of dig it.

What's happening in YOUR gardens this week?
Link to the Saturday Gardening Thread archives here.


posted by Open Blogger at
12:30 PM
|
Access Comments