« Thread Below the Saturday Gardening Thread [Y-not]
|
Main
|
Ace of Spades Pet Thread [Mis. Hum.] »
May 07, 2016
Saturday Gardening Thread: Hedging Your Bets in Blackberry Winter [Y-not and KT]
Y-not: Good afternoon, gardeners!
Want:
I had a bad sinus headache yesterday, so my section will be pretty short. (Fortunately, KT has come through #LikeABoss again this week!)
Blackberry Winter
My little corner of Kentucky has experienced a lot of cool, rainy weather this past week. Locals tell me this is "Blackberry Winter:"
Every gardener knows there are vagaries of weather following the first warm days in early spring, but not all gardeners know their names, or that they have names, and why. Old-timers in the Appalachians know there are several named "winters" following winter, and Blackberry Winter is perhaps the best known. There is also Dogwood Winter, Locust Winter, Whippoorwill Winter, Redbud Winter and even Linsey-Woolsey Britches Winter. Long before there were visuals on TV showing long-range weather patterns of the jet stream and ocean currents, local folks had sure signs for when to plant and when to wait. In the eastern United States, especially the Appalachians, most of that seasonal lore was named, and is still used by the old-timers today. Dogwood Winter occurs about the time the dogwoods bloom, usually between mid-April and mid-May, varying from year to year. In some areas, Blackberry Winter and Dogwood Winter occur at the same time, while those living two or three states away may experience two distinct, separate cold snaps.
Here are some Kentucky's other folklore seasons.
When we lived in Southern California there was something called "June Gloom" that we only experienced there.
How about where you are? Are there any unique "folklore seasons" in your neck of the woods?
Less is More
I'm always looking for low-maintenance enhancements to our yard and garden. Some nice ones here. (I'm not sold on the artificial grass idea, however.)
Hedge Your Bets
Last week chemjeff was asking for some hedging advice:
43 Well I have this area in front of my house that is basically weeds, I"d like to put some nice easy-to-maintain hedging in front for some curb appeal.
JQ Flyover provided a couple of links. This first one outlines things to consider when looking for something that would provide front yard privacy. While this second link is more of a gallery of Before and After photos. Both provide some food for thought.
Being a lazy gardener myself, I always gravitate to low-mainenance options. Our current yard has boxwoods and hollies, both of which require pruning. That would not have been my choice. I lean more a more natural look such as recommended in this article. I like the idea of a "mixed hedge" of shrubs and small trees.
The Missouri Botanical Garden offers this list of best shrubs. One of my favorites is Euonymus alatus, which they call the "red spindle tree" but that I know as "burning bush." You can learn more about this popular shrub here.
Since I believe chemjeff is in Missouri, this list of native plants might also be of interest.
Tree of Liberty
Could Representative Amash be a gardening thread lurker?
Related: Return of the Redwood to Northern Michigan. Nice little piece about the trees spotted during a visit to the Lake Bluff Bird Sanctuary in Manistee, which is about 2 hours north of Grand Rapids.
Famous Trees of the South
Now, here's the incomparable KT with some more about trees and other things:
Fallen Trees
I have noticed that we get quite a few comments about trees or big branches falling here at the Saturday Gardening Thread. A lot of trees went down just a little to the north and east of us in an unexpected windstorm a couple of weeks ago, and some big branches fell locally. Last Saturday, Utah was hit.
They don't have hurricanes in Utah, but occasionally winds roar out of the mountains along the Wasatch Front reach hurricane speeds. Wind was clocked at 91 mph in Farmington during the last storm. The storm took down a big tree at Mom's rental property in Ogden, not too far from Farmington.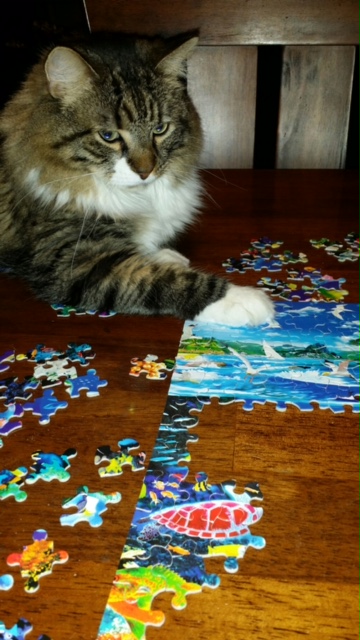 This tree belonged to the city. My brother had asked for permission to cut it down in the past, along with a similar tree poised to fall on the house in the next storm. These trees had already lifted the sidewalk and clogged the sewer. Permission was denied. I am not sure what kind of tree fell, but "elm" sticks in my memory banks. "Aggressive, shallow roots" (Sunset) sounds right. Most of the roots were confined to the level of the grass sod. The tree took out about 20 feet of sidewalk. The city DID remove the tree after it fell. According to news reports, this particular street looked like a "war zone" after the storm. Maybe the city had planted the same kind of tree all along the street.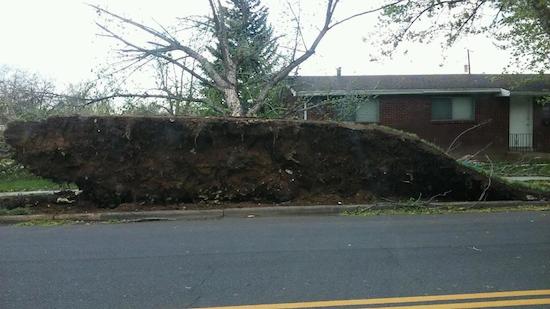 Choosing wind-tolerant trees and caring for landscape trees to reduce the chance of wind damage is too big an issue for me today. But what do you do with the stump when a tree looks like it should come out, or when one falls? Do you call Crafters Anonymous for on-site chainsaw art?
Several people came by asking for wood or sections of the trunk after the tree pictured above fell, but it was not the family's tree to give away. My nephew posted a message to others that if they had a tangle of roots from a fallen tree, a woodworker he knew would haul the roots away.
Mr. Bar-the-Door once got permission to cut up some uprooted stumps from a walnut orchard. Walnut orchards in the Valley are planted on black walnut rootstocks. He cut the burled wood into lengths suitable for gun stocks. Has anybody in The Horde ever tried carving gunstocks? Guitars? Other stuff?
Mosquito Tall Tales
You know that people are starting to take the Zika virus seriously when it starts to affect baseball. I hate that the mosquito responsible for spreading Zika flies in the daytime, when we are out in the garden. It was not long ago that people on Facebook, especially, were convinced that the the grave problems caused by Zika were not due to infection by a virus. Instead, they were reactions to an insecticide used to kill mosquitoes. It was all Monsanto's fault, because Monsanto has a partnership with the company that produces the insecticide. Mosquito season will start in earnest in much of the country soon. Hope the Powers That Be can keep a lid on false rumors so we know how to effectively deal with this threat.
Some less-serious mosquito misinformation has been in circulation for decades. I have frequently been startled by the sudden appearance of a crane fly in the garden or in the house. I believed at one time that it was a very dangerous giant mosquito. Can't remember who told me to be afraid. There is also a tall tale out there that the crane fly is a heroic predatory mosquito that eats the young of other mosquitoes. How could we have believed such lies about this "fragile, clumsy, goofy bug"?
Crane flies do look like gargantuan mosquitoes, but aren't. Both are members of the same insect order, Diptera, classifying them as two- (di) winged (pteron) flies with two functional wings and two haltares, knobbed lesser wings that flap and act as gyroscopes to control body rotation. Maybe his haltares are too small for the crane fly's big body, unable to provide him complete control. He can, however, stand on water without sinking because of the structure of fine waterproof hairs on his body.

The order is divided into a multitude of species of which 1,500 are in North America. Some species have spongy mouth parts to soak up liquids, and some have piercing/biting mouth parts, which is the major factor separating crane flies and their grubbier cousins the house flies from mosquitoes and horse flies. The crane fly can neither bite nor sting.
I would much rather deal with "Montana Mosquitoes" than with real mosquitoes or with horse flies.
Adult Crane Fly
Native crane flies are not much of a problem in the garden, but the European Crane Fly is another matter west of the Cascades:
There may be leatherjackets munching your lawn.

No, there's not a motorcycle gang having a picnic in your yard. There's a non-native species of crane fly - the European crane fly ("Tipula paludosa") - now found west of the Cascades, whose large leathery larvae feed on plant roots, including the grass in your lawn.
Drat! That is not what I wanted to learn about this insect.
More on Shaker Herbs

Last week, Y-not gave us a wagon load of fascinating content on useful plants grown by Shakers. But like they say, when it comes to growing plants yourself the devil is in the nitty-gritty details - which ones to plant, when to plant, whether you can grow the plant in pure grit, etc. Below are a few details on a couple of the plants Y-not profiled:
Calendulas
Of the "useful plants" Y-not observed at the Shaker farm, I think the one most likely to be grown by Gardening Morons and Moronettes is Calendula officinalis. Some have already reported in the comments on their success with self-sown plants. I don't know if calendulas self-sow in our hot valley, but they are among the most common bedding plants around commercial buildings in our area. They can provide sheets of color during the cooler late fall, winter and early spring seasons when the choice of easy, cheap bedding plants for full sun is kinda slim.
I generally see dwarf cultivars with very double blooms in either bright orange or bright yellow. But one of Y-not's links notes that calendulas can be grown in the garden to attract hover flies that will later eat aphids. As a general rule, less-double flowers are better pollen sources for beneficial insects. I like this dwarf calendula with only a couple of rows of petals:
Oopsie Daisy
Calendulas can take a little frost and most years here the blooms will last over winter, though the plants don't live through summer. They may live over near San Francisco. Thompson and Morgan has developed a few cultivars that it advertises as hardy enough to be perennial in the UK. Maybe they hybridized C. officianalis with a similar species.
In cold-winter climates, calendulas bloom quickly from seed in spring, but generally don't last long when the weather turns hot. Commercial growers start them at 70 degrees and offer them for sale just a few weeks later. Enjoy them during the early season, maybe near chrysanthemums, dahlias or other plants that will bloom later. For quick color in containers, I like the fancy pastels, with or without dark eyes and darker reverses on the petals. They make good cut flowers, too.
Bronzed Beauty
If you were intrigued by Y-not's summary last week of the many herbal and other uses for calendulas, Johnny's offers a bright orange and a bright yellow cultivar (Alpha and Resina) bred for "high resin content". These are for the herbalists. An old thread on edible flowers includes a video from Johnny's demonstrating the use of "calendula confetti" for salads and such. They also carry some fancy cultivars that they promote as edible flowers.
Soapwort
Saponaria officinalis may be of special interest to members of The Horde faced with gardening in mountain setting. Also to gardeners with very poor, rocky or gritty soil. It can be grown in those rustic-looking dry stone walls. It is evergreen in parts of Texas. I love the name "Bouncing Bet". Not to be confused with "Bouncing Betty", the German WWI land mine.
It appears that Y-not's Missouri Botanical Garden link is right about the invasive potential of Saponaria officinalis. So, that means it is easy to grow in the right situations! It is from a genus that includes several alpine plants and it is hardy to USDA Zone 3. Sunset notes that:
This is a tough plant; before the days of herbicides, it could be seen growing in the cinders along railroad rights-of-way.
There are double garden forms (like 'Flore Pleno') but I prefer the single ones up close. The double cultivars are probably showier in the landscape.
Saponaria officinalis 'Flore Pleno', still perky at 95 degrees.
The flowers attract nocturnal moths (like the big Sphinx months) during the night with extra nectar and fragrance. There are reports that it smells wonderful.
During the day, soapwort attracts hover flies (like calendula, above), bumble bees and butterflies. This plant has a fairly long blooming period, especially in relatively cool weather, if it gets some water. But it is also drought and deer tolerant. The plants are a little bit floppy sometimes. If you want to enjoy the fragrance up close, you might consider growing it in a container with a little support. This would also lessen worries about its potential to invade where not wanted. You might like a white cultivar next to a bench in your Moon Garden.
When I think of other soapwort species and cultivars, I think of those gorgeous rock gardens in the Northwest. Not that the Northwest has a corner on rock gardens. But rock gardens are harder here in our hot, incredibly flat-bottomed valley. Y-not was asking where we go for garden inspiration. When I visit the Northwest, one of my favorite things is to see how regular people landscape their yards.
Saponaira ocymoides (Rock Soapwort) and S. o. 'Rubra Compacta' have both won RHS Awards of Merit for rock garden plants. There is a Xeric Plant Profile on this species at the Back Yard Beehive Blog. I like the way this plant is used in the photo below. "Despite never being irrigated, the Rock Soapwort must produce a lot of nectar, as it draws the attention of hummingbird moths and it's always covered with bees."
Mocha inspects some Rock Soapwort
I also like little Bressingham, which may be an inter-species hybrid. It is seen below in a photo from the Delaware Valley Chapter of the North American Rock Garden Society. I think private plant and garden societies can be great sources of garden inspiration.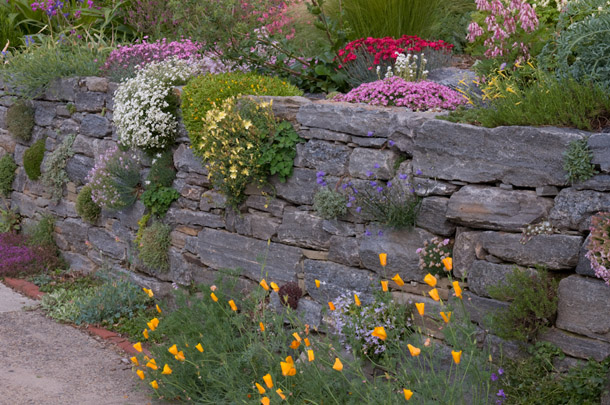 Saponaria 'Bressingham' atop a dry wall
Other interesting species of soapwort are grown by alpine specialists. They are truly specialists. They tend to be interested in individual plant specimens rather than in garden design. I think that I have tendencies in this direction. It's nice that Y-not looks at the big picture.
Y-not: Thanks, KT!
To close things up, I stumbled into this video of the Tremenheere Sculpture Gardens in Cornwall and thought it was very soothing. Has anyone been there?
What's happening in YOUR gardens this week?
Link to the April 30th update to the Saturday Gardening Thread Archives.

posted by Open Blogger at
12:30 PM
|
Access Comments