« Emergency Backup Open Thread [Y-not]
|
Main
|
Programming Note: Saturday Night Cigar Lounge »
March 07, 2015
Saturday Gardening Thread: Let's Eat! [Y-not and KT]
Good afternoon, Gardeners! Welcome to the Saturday Gardening Thread. Today's thread is brought to you by "Mushrooms and earthworms and fancy stuff to eat":
There's not much happening in my garden yet. Our mint and strawberry plants are coming back, as are a few onions and shallots. My neighbors' crocuses and daffodils are also starting to make their presence known as I discovered while walking my dog yesterday: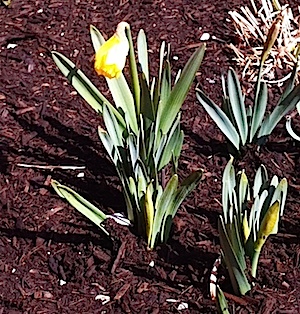 However, I do have a little indoors growing project underway, courtesy of a kit that Santa brought me: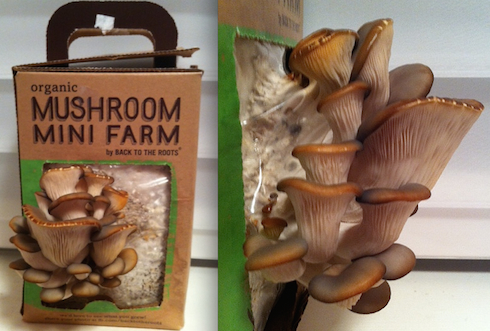 I started it a couple of weeks ago. I'm not sure I'll know when it's time to harvest the mushrooms. I may go ahead and cut some off now and see if more will emerge as I free up some room on the growing surface.
This particular kit is easy as pie. You just scrape the surface to promote growth, soak the growing surface for half a day or so, then keep it moist by spritzing it with water. I have it on a counter in my utility area, away from direct light.


I like mushrooms, although as I've gotten older I find them a little harder to digest. My local grocery store carries a lot of fresh "wild" mushrooms, including chanterelles which are my favorite type of mushrooms.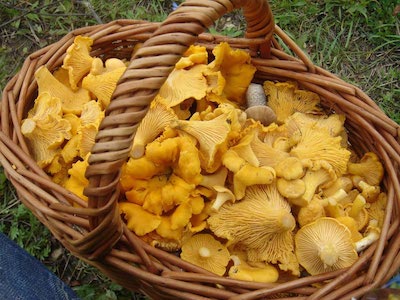 But they're pricey! A small container (one of those square ones that I believe holds a pint) is about $6 at my grocery store, so I don't indulge very often.
(If, like me, you enjoy wild mushrooms, but are unsure of what their different flavor characteristics are, you might find this detailed article at Mushroom.com of interest.)
Although it's been dead easy, I doubt that the mushroom-growing kit Santa brought is even close to economical. So is there a cheaper (or better) way to grow your own mushrooms?
Our friends at Better Homes and Gardens provide this brief overview of growing your own mushrooms:
You can buy mushroom kits already packed with a growing medium that's inoculated with mushroom spawn. Buying a kit is a good way to begin your knowledge of mushroom growing. If you start without a kit, the type of mushroom you choose to grow determines the substrate you grow the mushrooms on. Research each mushroom's needs.

Button mushrooms are among the easiest types to grow. Follow Kansas State University's directions for growing button mushrooms. Use 14x16-inch trays about 6 inches deep that resemble seed flats. Fill the trays with the mushroom compost material and inoculate with spawn.

Use a heating pad to raise the soil temperature to about 70 degrees F for about three weeks or until you see the mycelium -- the tiny, threadlike roots. At this point, drop the temperature to 55 to 60 degrees F. Cover the spawn with an inch or so of potting soil.

Keep the soil moist by spritzing it with water and covering it with a damp cloth that you can spritz with water as it dries.
One method that I learned about during my research involves using waste coffee grounds as a substrate:
Now, it must be said that growing your own mushrooms is definitely more difficult than growing nearly any other crop if you use the standard methods. Mushroom farming normally relies on significant pasteurisation equipment and climatic control. This can be hard to recreate at home without spending a fortune.

The best advice for success is to start by growing Oyster mushrooms, the easiest and most forgiving variety for any home cultivator to grow. Next you must consider the growing medium. The most common materials to grow Oysters on are usually freshly cut hardwood logs or shredded straw. Growing mushrooms on logs can be quite hit or miss and will take up to a year for your first harvest. Growing on straw requires you to pasteurise the straw first, to kill off resident micro-organisms that will compete with your mycelium.

This is where coffee comes in. The beauty of growing mushrooms on fresh coffee waste is that the substrate is already pasteurised by the coffee brewing process, so you can bypass the whole pasteurising step and get straight into the inoculating. Plus, spent coffee grounds are a huge waste resource, and are packed full of nutrients which your Oyster Mushrooms love to grow on.
More details at the link.
These folks recommend you check out Fungi Perfecti for more resources to help you get started.
Another place that I found was this place (Mushroom Mountain), a farm that offers a wide variety of mushroom strains, substrates, indoor and outdoor growing kits, and even classes. They are located in Easley, South Carolina (about 20 minutes west of Greenville). I admit, the idea of a class appeals to me as I found the nomenclature associated with mushroom growing is a bit confusing.
Speaking of mushroom "farms," here's a fun article about a wild mushroom grower in Israel. (Here's a link to their website, Charm Mushrooms.)
Alternatively, it sounds like if I wait long enough I won't have to learn how to grow mushrooms. According to this link that KT provided, 3D-printed crackers are being used as a substrate for growing mushrooms: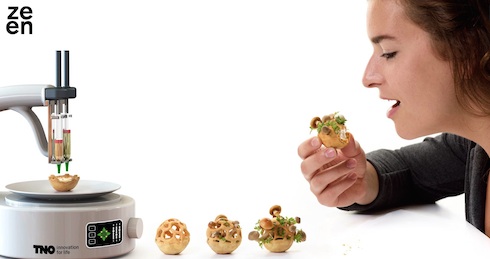 One day, 10 years from now, you might find yourself hankering for a snack. No, you don't plunk a few quarters into a vending machine in return for a salty bag of potato chips. Instead, you reach for a 3D-printed cracker, which over the last few days, has sprouted nutritious-and-delicious mushrooms and greens.
(Follow the link for a video. I couldn't figure out how to embed it.)
By the way, another clever person has used this technology to build "bricks" out of mushrooms for building. He claims they're stronger than concrete.
And here's another cool link: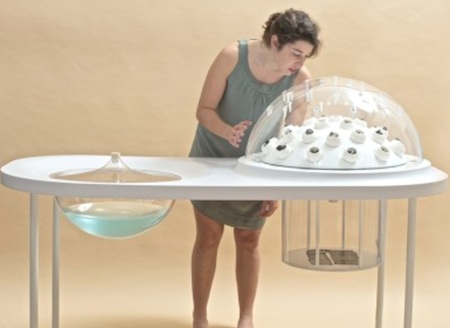 "Fungus", "plastic", and "edible" are three words you probably wouldn't think would go together, but Austria-based Livin Studio is keen to make you think again. It is responsible for the Fungal Mutarium, a prototype terrarium that uses bioremediation techniques to destroy plastic while creating edible fungus creations in the form of little pods that can be flavored and filled.

Using mushrooms for bioremediation, the use of organisms to remove or neutralize pollutants, is not new. Pleurotus ostreatus, or what you commonly know as the oyster mushrooms floating in your Chinese takeout, is a common species for bioremediation. Schizophyllum c. is less well known in the West, but commonly eaten in parts of Asia and Mexico. Both species are used in the Mutarium along with an agar substrate, and of course, plastic.
Neat-o!

Do any of you have experience growing mushrooms?
And now here's KT:
Edible Flowers -- Beyond Nasturtiums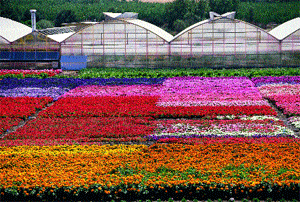 "Oregano is very good against the wambling of the stomacke"
As a child, I learned that people eat nasturtiums. But it was several years before I learned much more than that about edible garden flowers. As noted at the link above, edible flowers can be used in many ways. Johnnys Selected Seeds emphasizes flowers for use in salads. This is probably where the beginning flower-eater typically starts.
The following video produced by Peaceful Valley Farm Supply includes ten pretty sensible safety and taste tips for eating flowers. The edible flower lady mentions sticking to petals and trying to avoid eating pollen if you are an allergic type. But some people eat bee pollen as a remedy for allergies, so I don't worry too much about eating flower pollen from plants to which I am not allergic.
The guy in this video identifies Pineapple Guava petals as his favorite edible flowers. They really do have a nice, fruity flavor that is perfectly compatible with a fruit salad. If you live in a mild climate where pineapple guavas make good-flavored fruit, choose named cultivars. You might want to stick to eating the flowers in hotter climates where pineapple guava is used as a landscaping shrub, but where fruit quality is inferior.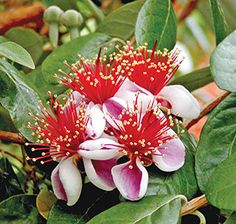 Pineapple Guava flowers attract hummingbirds
And other birds, which eat the flowers
The video guy linked above didn't convince me that he actually enjoys eating French Marigolds. Heh. Over at Eat the Weeds, three kinds of marigolds are identified as being tasty enough to eat:
Tagetes patula - French Marigold
T. tenuifolia - Signet Marigold
T. lucida - Mexican Tarragon
I'm not too wild about the idea of eating French Marigolds myself. I might try Signet Marigolds. I have grown "Mexican Tarragon". The leaves taste a lot like French Tarragon -- a little heavier on the anise flavor. The annual plants are probably easier for some people to grow than perennial French Tarragon from cuttings. (Pro tip: Don't plant Russian Tarragon for culinary use. It has no flavor even though it is "real" tarragon. Also beware of any tarragon pretending to be French Tarragon, even though it is grown from seed.) The Mexican marigold stand-in is on the rangy side, probably not the best choice in a formal garden setting.
"Mexican Tarragon" marigolds bloom in autumn. In parts of Mexico, stems with clusters of small golden flowers are used in a religious celebration. Shepherds Seeds used to sell a cultivar that bloomed longer because it wasn't as sensitive to day length. I think it was also shorter than the species. Wish I knew where to find it now.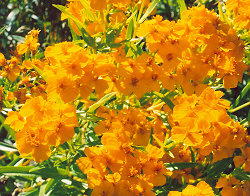 Tagetes lucida -- Mexican Tarragon
Ninety-eight kinds of edible cultivated flowers are described here. I think the author is pretty careful about confirming edibility of flowers before recommending them. But I think he missed his earlier description of Corn Poppies. I read years ago that the seeds of Papaver rhoeas could be used like the more familiar seeds of opium poppies, but that they had a different flavor. I also read that the flower petals were used to color syrups. From his description, it sounds like the flowers and seeds were widely used in the past.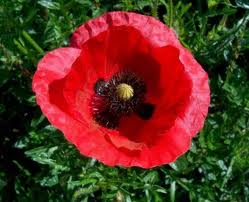 Corn Poppy
The author also seems to have missed Kudzu in his list of ninety-eight. Well, I guess that Kudzu is not cultivated by many people, even thought the government introduced it. But one of our own Morons makes Kudzu Jelly from naturalized Kudzu flowers. Sounds pretty good.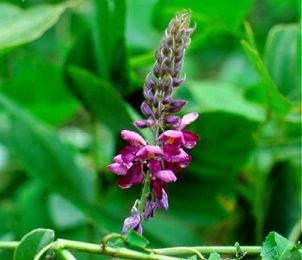 Kudzu flowers have an intense grape aroma
This brings me to a Garden Kitty Update. I did not name the newest refugee kittens Quince and Kudzu, as suggested in the comments a few weeks ago. I was out of ideas. Thanks to the plant name suggestions, I did choose plant-related names. The calico is now "Sweet Ginny" because her ears are the same color as Orange Ginseng Sweet Potatoes.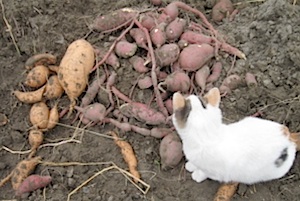 Sweet Ginny with Orange Ginseng and Korean Purple Sweet Potatoes
The little brunette classic tabby is "Lana Turnip".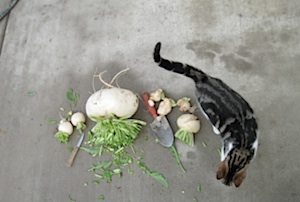 Lana Turnip with Oasis, Just Right and Hakurei turnips
I also re-named the latest two mackerel tabbies (they arrived last year) "Quincy" for quinces and "Piers" for pears. "Kudzu" is a name that is going to have to wait for a really special kitty.

Y-not: Thanks, KT! To wrap things up, here's another mushroom-y song:
That'll be stuck in your head all day!
You're welcome!

What's happening in your gardens this week?

posted by Open Blogger at
12:45 PM
|
Access Comments