ę Thread Below the Saturday Gardening Thread [Y-not]
|
Main
|
Ace of Spades Pet Thread [Misanthropic Humanitarian] Ľ
April 09, 2016
Saturday Gardening Thread: Appalachian Spring [Y-not and KT]
PLEASE USE THE THREAD BELOW THIS ONE FOR NON-GARDENING TALK. THANKS!
Y-not: Greetings gardening morons and moronettes!
Let's start things off with something pretty:
Cheekwood in the Spring
Last weekend Mr Y-not and I spent an afternoon at Cheekwood, a botanical garden in Nashville. (You might recall that I shared some photos from our visit last Fall in a previous Saturday Gardening Thread.) This was our first visit to the gardens in the Spring and, boy, was it impressive.

We managed to catch the tulips at their peak: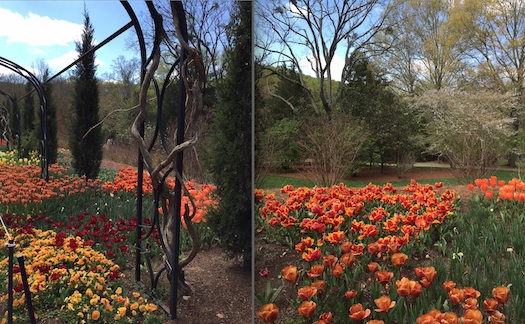 These were my favorites: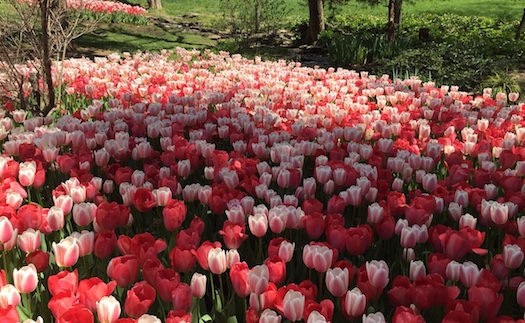 (The tag nestled amongst these tulips read Beau Monde.)
I loved the contrast of the vibrant tulips with the crepe myrtles, which have yet to bud: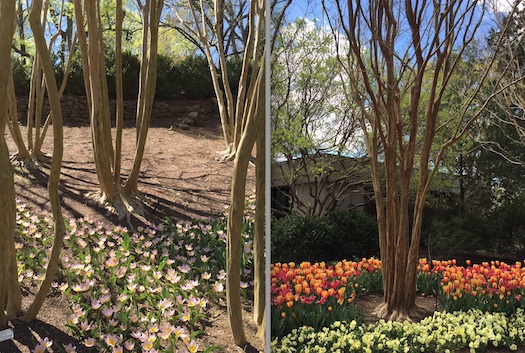 In addition to an explosion of color from tulips (and some daffodils, although most seemed to have gone past their bloom time), Cheekwood's collection of redbuds were quite impressive:
Here's a close up for those of you who are unfamiliar with these striking trees: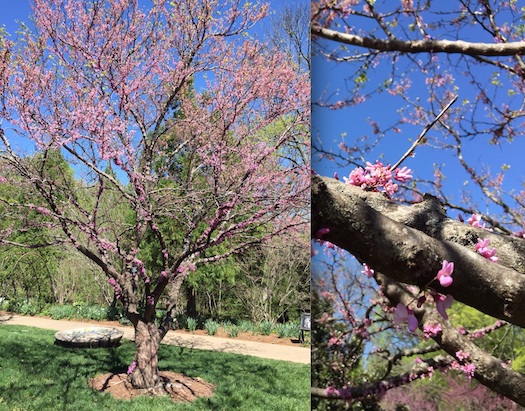 Did you know redbuds are members of the legume family?
Redbud flowers are edible, with a slightly nutty flavor. They can be added to pancakes or fritters or used as an attractive garnish on salads. Or you can use them to make a unique pickle relish! If you want to sample Redbud flowers, remember, as with the gathering of any wild edible, don't take all that you find. Leave plenty for the tree to produce seeds, for the insects to get nectar and pollen and for people to enjoy for their beauty.

When green and tender, the seed pods are also edible and can be cooked and served with butter just like peas. As they mature, the pods become brown and papery. They may persist on the branches until the following spring. Considering the abundance of seeds produced, it is interesting that only a few birds are known to make them a regular part of their diet.
I honestly don't remember seeing these beautiful trees where I grew up in Maryland, although it is part of the redbud's range. In any event, they are spectacular and appear to be amongst the earliest to bloom in our corner of Kentucky. Mr Y-not and I will probably plant a few in our yard this Fall.
The dogwoods were also in bloom during our visit. Sadly, none of my pictures turned out very well.
Off in a quiet section of the gardens, we found a lovely mossy spot: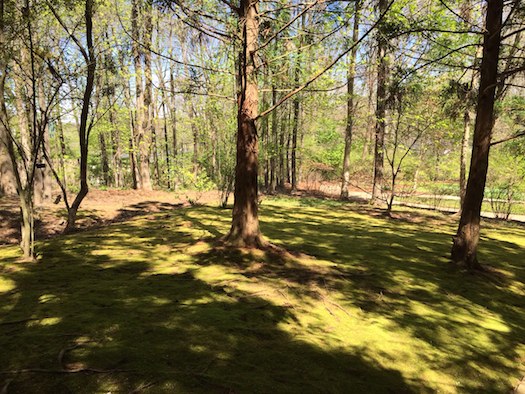 We especially loved this bench: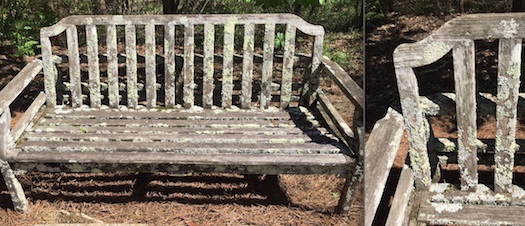 We spied this Witch Alder nearby: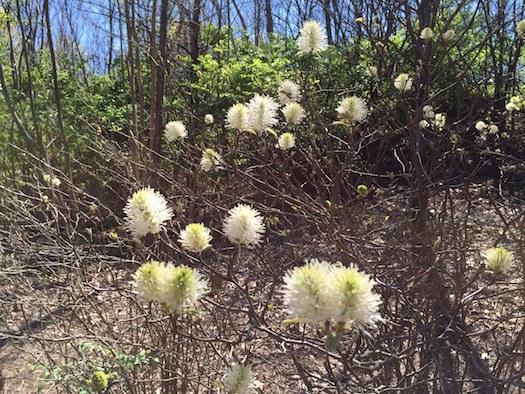 It sounds like it could be a good shrub to plant near our cedars. I like the idea of planting things that add year-round interest.
Finally, I have two "mystery plants" that we saw during our visit to Cheekwood, but whose tags I failed to find. First, this low plant was in a shady spot: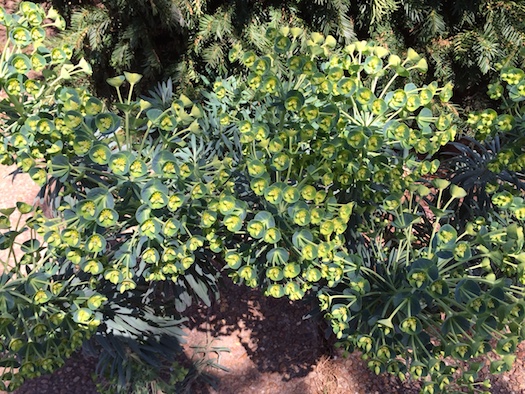 This plant seems familiar, but I couldn't identify it.
Second, several large trees that had not yet leafed-out seemed to have clusters of foliage on them: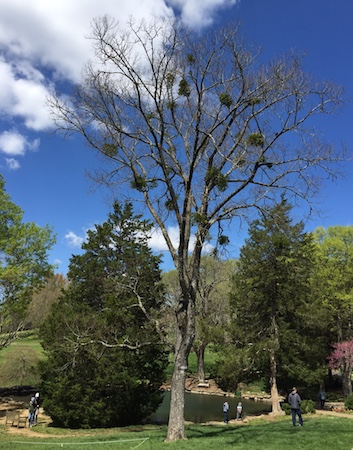 I am pretty sure these were not squirrel nests. They appeared to be comprised of green leaves. Here's a close up: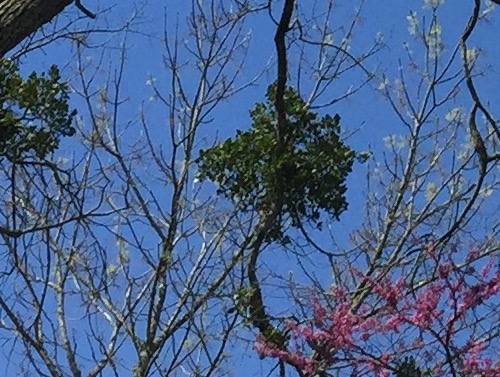 Does anyone know what this phenomenon is? I was wondering if it could be some sort of parasitic plant. It reminded me of ball moss, although I don't think that's what it was.
Spring in the Countryside
On our way back home, we enjoyed seeing the first signs of Spring in rural Tennessee and Kentucky. One striking display that I was unable to photograph were fields of brilliant yellow flowers. I'm pretty sure they were rapeseed (aka canola).
I was more successful photographing some farm scenes. Many of the farms around here display "barn quilt" squares: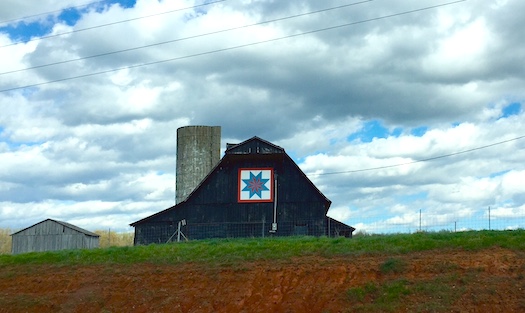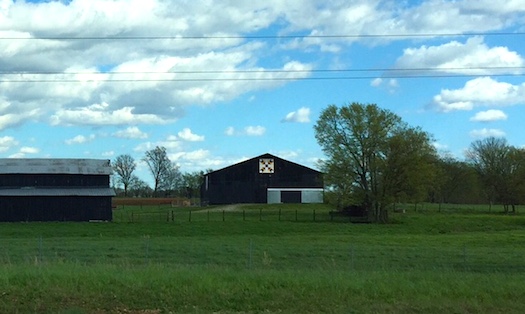 No quilt square, but I liked this old barn: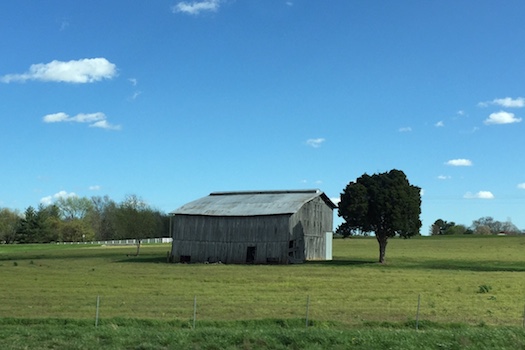 How far along is Spring in your neck of the woods?
Backyard Ponds
Last week, commenter UDM asked the following:
Wondering if any of you Morons have information on pond care. We bought a house with a small pond, about 45 ft across and around 8 feet deep in the center. It is home to many frogs and snails that we would like to keep, and lots of vegetation that we would like to remove. Is there a good product that anyone has used with success? Any suggestions (regarding the pond) would be greatly appreciated!
He asked his question toward the end of the thread, so I thought I'd include it in this week's post so the collective wisdom of the Gardening Horde could be put to work.
I have no experience with ponds, but I found a few resources that may be of help:
Courtesy of SF Gate, here are some recommendations on safe ways to kill pond weeds without harming fish.
This website suggests "natural" ways to keep pond water clear.
Finally, here are some suggestions on farm pond weed control from Mississippi State.
Do any of you have suggestions for UDM?

Now, here's KT:
Hello, Horde. It pained me to learn about the Global Warming that hit so late in the season in the East. Hard on gardeners. Harder on farmers. The blizzards are bad enough without those really, really cold temperatures this time of year.
Out here in the San Joaquin Valley, the daytime temperatures got into the high 80s, with 50s at night, at midweek. Then it clouded up and started to sprinkle a little. Hoping for a little more rain today. A lot of rain would be better. We are still on water restriction. But I can't complain too much. Our weeds love the weather. The other plants seem to be doing OK, too.
How is your garden handling the weather where you are?
I figured that Y-not would be presenting some eye candy this week to cheer us up, so I thought I would write about something we could eat, and some related plants.
Chervilry is not dead (at least until summer)
I have noticed a dearth of ummm. . . refinement in public discourse lately. Post-modern codes of social conduct are kind of complex topics for a gardening thread, so I thought that maybe we could discuss chervilry instead. Depending on which of the following plants you choose (and your growing conditions) you could make your garden either more refined or less refined and civilized. Choose wisely.
Garden Chervil
Chervil is an annual herb that is most often associated with spring. Though I should have planted some last fall. It will grow in the low deserts over winter, too. If you live in USDA Zone 7 or higher, consider planting it in the fall for harvest during winter and spring, with some frost protection as necessary, or in a cold frame.
High Mowing Seeds sells an extra-hardy cultivar, Brussels Winter Chervil. It requires only 18 days from planting to your first harvest of micro-greens. And just 40 days to the baby leaf stage or 60 days to full-grown leaves. Chervil is a good plant to try if you are not into long-term commitment in the garden.
Chervil resents transplanting but does well in containers. So you can start it early indoors if you live where winters are cold. Put it out when the weather is moderate, bring it in when global warming threatens your garden with a hard freeze:
These tender young leaves have been used in spring tonics for thousands of years, dating back to the ancient Greeks. . .

Chervil is also linked to the Easter celebration in parts of Europe, where it is eaten as part of the ceremony for Holy Thursday. Chervil is associated with Easter because its aroma is similar to that of myrrh (one of the gifts to the baby Jesus from the three wise men) and because its early spring sprouting symbolizes renewal.
Chervil is one of the classic French Fines Herbes, a mixture of four herbs which loses much of its flavor when dried. Fines herbes are typically added to dishes at the last minute. Chervil, in particular, "does not last long once cut and is easily bruised, which is why it is not commonly available in stores. Sometimes you can find the potted plants at farmerís markets."
Chervil is also an ingredient in traditional mesclun mixes. It is a prominent herb in French and Armenian cuisine. Here are quite a few Things to Do with Chervil as a solo herb. There are also recipes hidden in some of the links above.
Chervil's name is derived from the Greek chaerophyllon, meaning the herb of rejoicing or, less reverentially, the happy herb. It's a notion that spread beyond the ancient world, too: in European folklore, the eating of chervil was encouraged because it was said not only to aid digestion, but to inspire cheerfulness and sharp wits.
Could anyone besides me use some cheerfulness and sharp wits these days?
Keep in mind that the writer is in the UK, where moist, cool conditions favor the growth of chervil during the summer:
This has to be one of the prettiest plants in the herb bed; so pretty, in fact, that it would merit a place in the flowerbed, too. It looks like a lacy, very dainty version of parsley, which is no surprise seeing as they're close cousins . . . . As you might expect from its refined appearance, chervil tastes mild and subtle, a little like parsley, but with a sophisticated yet gentle, aniseedy warmth.
Chervil is one herb you can grow in dappled shade. One site recommends planting it with cilantro, another quick-growing herb. They look kind of similar. Might be a surprise getting chervil in your salsa.
Both chervil and cilantro bolt easily. Sometimes keeping them picked (and removing flower stems) delays bolting. As with cilantro, those in suitable climates can re-plant chervil every few weeks and pull out plants that bolt, unless you want them for flowers or seeds. As the leaves get old, they may darken in color and lose flavor. That is another reason for succession planting if you are mostly interested in eating chervil rather than looking at it. Though the plants are nice to look at as they flower, too. The flowers attract ladybugs.
Tasty Flat-leaved Chervil starting to bolt
I was an adult before I tasted chervil. I think it is more popular in Europe than in the USA because summers in much of the USA are warmer than in most of Europe. And maybe also because of wild relatives that formed negative associations in peoples' minds. I grew chervil in Southern California, near the coast. I like it. I donít remember what time of year I planted it, but it died before the plants got to the flowering stage. Not sure I gave them the proper conditions. I have fed Anise Swallowtail caterpillars on chervil and I expect that it would work for the Eastern Black Swallowtail, too.
Both flat-leaved and curly-leaved cultivars are available. I have only grown the curly-leaved kind. I don't think the curly-leaved plants are as striking as the flat-leaved ones, but the curly leaves are distinctive on a plate or in a salad. There is a photo of curly chervil plants, plus instructions for growing indoors in a fancy apparatus here. With a video.
Outdoors, you may need to watch out for slugs. Some people say chervil attracts slugs strongly enough to use it as a bait plant. Others say it repels slugs. I never saw slugs on it in Southern California, but your results may vary. It may cause strimmer dermatitis if whacked back with a string trimmer. This is also a risk with some other members of the carrot/parsley/celery family.
Root Chervil
There is also a plant called Root Chervil or Turnip-rooted Chervil (Chaerophyllum bulbosum). It is from a different genus, but the same family, as Garden Chervil. The link above includes a great deal of information on this rare vegetable, including planting, cooking and storing guidelines. It comes from a book on unusual root crops, some of which may surprise you: "One of the most rewarding parts of having your own vegetable garden is being able to grow plants that you will almost never find at the grocery store." The book may be of special interest to Gardening Morons in the Pacific Northwest. Available in print or on Kindle at the AoSHQ Amazon Store.
Root Chervil - the size of a small, fat carrot
It is interesting to me that the roots don't taste particularly good until they have been left in the ground during cold winter weather or exposed to refrigerator temperatures after harvest. The flavor is reportedly subtle, with hints of carrot, chestnut and chervil.
Root chervil seeds should be sown when fresh (try buying seeds in the fall). They must be stratified, either by leaving them in the ground over the winter, or by cold treatment in the fridge. Or maybe by wintersowing. Purdue University notes that when grown for the gourmet market, Root Chervil is sown either in November or in February after stratification. It is harvested in July.
The plants are taller and ganglier than chervil plants, though they were once grown as an ornamental in the UK. They were encouraged to flower, sort of like Queen Anneís Lace.
Wild Chervil, Ornamental Chervil
Speaking of Queen Anne's Lace, one of the plants that goes by this common name is in the same genus as Garden Chervil. It is also known as "Wild Chervil", "Mother-die" or "Cow Parsley".
Cow parsley can be mistaken for several similar-looking poisonous plants, among them poison hemlock and fool's parsley. . . . Cow parsley is rumoured to be a natural mosquito repellent when applied directly to the skin. However, it can be confused with giant cow parsley/giant hogweed (Heracleum mantegazzianum), the sap of which can cause severe burns after coming in contact with the skin.
Actually, while wild chervil (cow parsley) does look an awful lot like deadly poison hemlock, giant hogweed looks more like the native cow parsnip. And I thought cow parsnip was a big plant!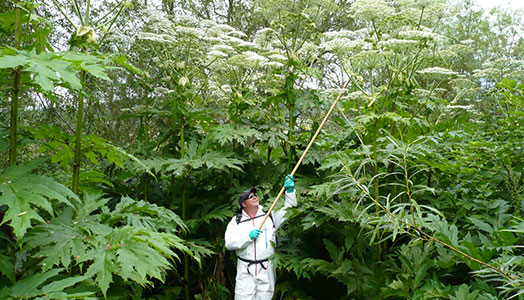 Giant Hogweed
Be careful out there. Wild Chervil (Cow Parsley) is listed as a noxious weed in Washington State and it is on watch lists in the Northeast. But at least it won't kill you or burn you like some other plants in the same family. There is another chervil relative you might run into called Bur-chervil or Burr Chervil. It is an invader at the Kaweah Oaks Preserve, which I visited last November with Cub Scouts. Didn't get any burrs in my socks.
Sunset lists one garden cultivar of Wild Chervil. Fine Gardening also seems to like Anthriscus sylvestris 'Ravenswing'. Its main attraction is its lovely dark foliage. It can be somewhat invasive. Unlike Garden Chervil, this plant is a biennial or perennial. It takes low to medium moisture and full sun to light shade. It is listed as hardy in USDA Zones 6 Ė 10. Could be worth a try in colder climates, too. Sunset lists it for our hot valley, but not for the desert.
You may want to cut off the tall flower stalks as they appear, unless you want the plant to self-sow. Or unless you are aiming for an effect like the one below. Check out some of the garden design posts by the blogger at the link under the photo, too.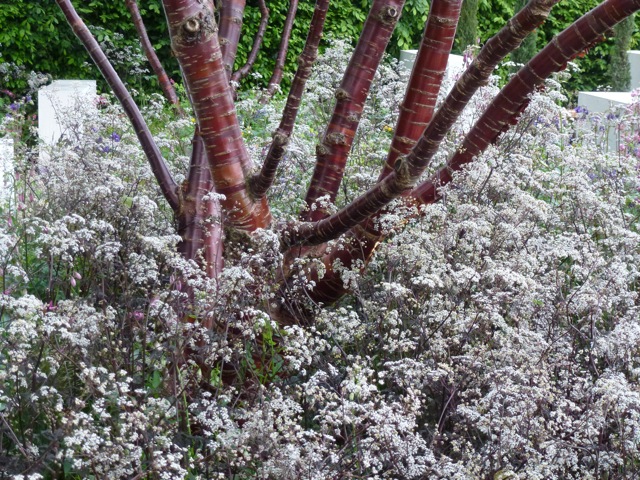 'Ravenswing' flowers with Tibetan Cherry Tree
Have a great week. I hope you get a chance to try something new. But not poison hemlock or giant hogweed, please. YIPES!

Y-not: Thanks, KT!
To close things up, a song about Spring:
This is one of Mr Y-not's favorite pieces of music.

What's happening in YOUR gardens this week?


posted by Open Blogger at
12:14 PM
|
Access Comments